The Disney's California Food & Wine Festival is soon upon us and each year brings a little more anticipation.  While it isn't as famed as its older sister at Walt Disney World's Epcot theme park, it is gaining quite a bit of ground.   One of the favorite things to do at the Festival is a Wine Walk.  Jaime Walden and I set out to experience one first hand at last year's 2009 Food & Wine Festival.  I thought our adventure would make a great lesson for the first time Festival visitor, so the audio that you are about to listen to, recorded in April of 2009, documents our experience. Keep in mind that some of our commentary refers back to the Discussion podcast from

1. April 22

and related events of that year. That show (which is currently available on iTunes) was a great reference for folks thinking about coming to the Food & Wine Festival this year, as it featured an interview I did with Jim Ames, 2009 Food & Wine Producer.

I want to share with you a little about the walk, before you listen to us discover, drink, and pontificate on the California wines offered.   Jaime and I had a blast going through the exhibit and tasting 8 of the 12 wines offered. Before you think that we each drank 8 wines, let's discuss how the wine walks work.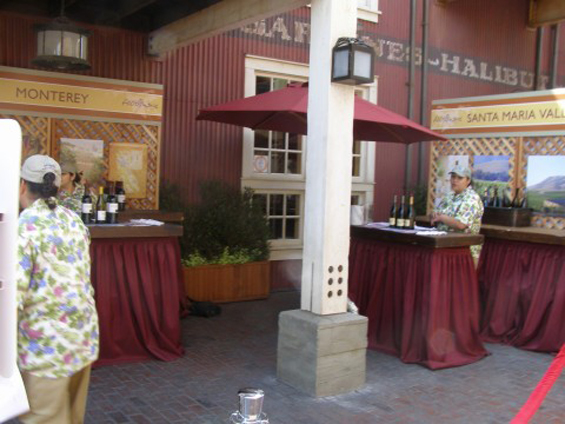 First off – We chose the "California Classics" walk, which was located in the Pacific Wharf area, right alongside the Mission Tortilla Factory building. Oddly enough, the Festival Guide (booklet) states it is in the Bountiful Farm area, next door to the Wharf. The "Wines of the World" was actually in that location, having been moved from by the Golden Vine Winery (now Blue Sky Cellar). My thoughts were that this might have reflected an executive decision to move the walks to better and less trafficked locations. But I digress…
Next – You must be 21 to even enter the area.  That meant that my husband and I had to take turns to watch the girls while the other went through the walk. After surveying the set-up, Jaime and I went to a podium at the entrance.  Here, we presented our IDs for proof of age (Yes – we were carded! Woo Hoooo!!!)   We were then handed a booklet and a small disposable wine glass that was about an ounce – maybe two – we wouldn't ever use the full volume anyway….  Then, they collected the price of admission.  Last year, it was $10 – the restaurant price for a mid-range glass of wine. (We'll find out this year's price this weekend and let you know on our special Disneyland Food & Wine Festival edition of the podcast.)
Accoutrements in hand, we crossed the rope into the wine walk. The walk consisted of 4 stations or trade-show style kiosks, representing the 4 most famous wine regions of California. Each kiosk had 3 wines for us to choose from – representing some of the well known vineyards in that area (or some with extra money for marketing and sponsorship lying around – I couldn't decide…). The backdrops for each kiosk had details of that region, for those who wished to educate themselves further. We were in a bit of a hurry, so we kind of by-passed that feature.
Each booth also had representatives to talk about the wines you tasted and answer any questions that you might have about wine. Some were from the vineyards represented and some were Disney cast members. Since you were only allowed to sample one of the three wines, this was rather helpful. I have included web links to the wineries that we tasted, so you can look into the ones that might sound interesting to you.  Keep in mind that most of these websites require you to be 21 to access them, due to alcohol sales regulations.
As we head into the tasting, I want you to keep in mind as you listen that neither one of us is a wine expert, although (as Jaime infers) at parties, I can definitely sound like one…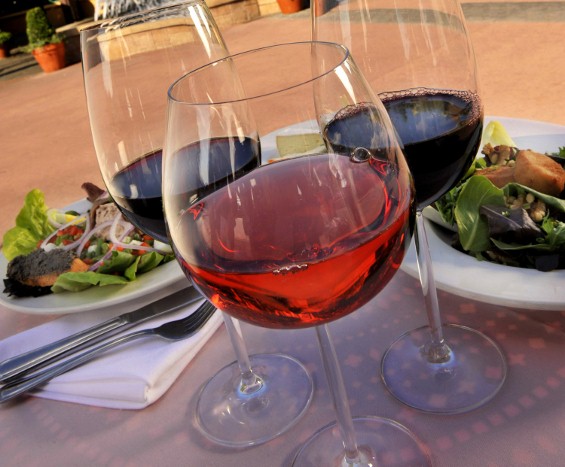 The northern coastal region of Monterey was our first stop, with all of its wines from the Chalone Vineyards. www.chalonevineyard.com
2006 Merlot

2006 Cabernet Sauvingon

2007 Chardonnay
Since they were all from the same winery, we went for a random choice. Jaime had the Cabernet and I had the Merlot, which I thought was very subtle and smooth. We both thought the cabernet had a stronger flavor and higher alcohol content. Jaime like the cabernet, but we thought both wines had a pleasant taste.
Happy with our selections, we moved on to the next – the more southern region of Santa Maria and its Cambria Vineyards. www.cambriawine.com
2005 Benchbreak Vineyard Pinot Noir

2005 Chardonnay Santa Maria Valley

2007 Tepsequet Vineyard Viongier
Again, we decided to go red for Jaime and interesting for me. Jaime had the Pinot Noir and I had the Viongier, a variety of wine I had never tried. Viognier is actually an ancient type of grape that is a bit rarer and harder to grow than most. 
Jamie thought the Pinot was strong and gave her a happy, "warm" feeling. I'm not normally a fan of extremely dry wines, but I really liked the Viognier, which was very dry and crisp – very clean. I decided "Spa clean".
We then moved on to the famous Napa Valley, which hosted 3 different vineyards.
Jaime decided that since the servers and I recommended the Merlot, she would try that and I had the Syrah, also another variety of grape. (Something I didn't know was that the petit sirah wine is not made from the Syrah/Shiraz grape, but actually the Durif grape.)
Jaime decided it was strong and mentioned her love of Boone's Farm… I thought the Syrah was lighter and "ethereal" – Jamie thought it to be "not as burney…" – an apt decision. The former Napa Rose manager and master sommelier, Michael Jordan, once told me, "The key to drinking wine is whatever you like and whatever tastes good to you, is good."
We then came to the last station – Sonoma Valley, which also hosted 3 wineries. This was a tougher choice.
Jaime decided that since she hadn't had a white yet, she would have the Sauvignon Blanc and I decided on the Pinot for the novelty of it being a celebrity vineyard. Trivia bit: The MacMurray Ranch Vineyard actually has a Disney connection, as it is owned by the family of actor Fred MacMurray – the star of The Shaggy Dog and The Absent Minded Professor series of movies.
Jaime thought that since she didn't have a taste for wines, she felt that her Sauvignon was pretty good. She decided to do the "wine sniffing" and thought it was the fruitiest of all the wines she had tasted. We both really liked it because it was light and not too sweet. I thought the Pinot had a nice flavor, but a very strong kick for my taste. Jaime thought "alcoholy" was a good description.
My favorites were the Viognier and the Sterling Merlot. Jaime liked the ones she chose to taste, but decided her ultimate favorite was the plum wine at the China Pavilion in Epcot…. All in all, our recommendation – bring at least three people through the line with you. That way you can fully take advantage of the tasting. Since your glass is only poured about 1/3 full at each stop, it was just enough to make the entire experience about equivalent to a normal serving of wine. We thought that, and the enjoyment of the experience with friends, was we worth the price we paid.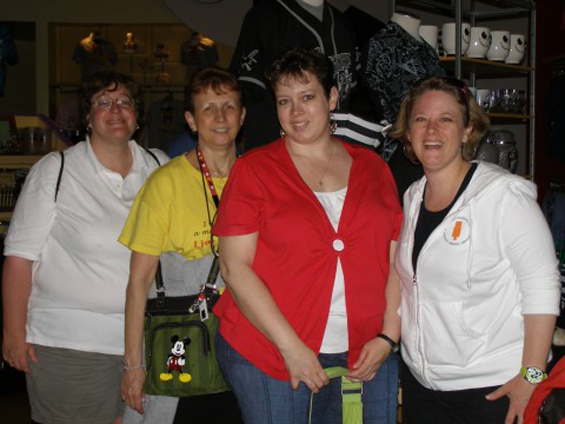 L to R  Ros Tobe, Rhonda Cortez, Jaime Walden, and Nancy Johnson
More information on this year's 2010 Festival can be found here on our website http://www.wdwinfo.com/Disneyland/events/foodandwine.htm.
Photos Courtesy of Jaime Walden and Disneyland Resort Media Relations
Category: Dining, Disneyland, Editorials
Disneyland Podcaster for the DIS Unplugged