As we enter April, the 17th annual Epcot International Flower and Garden Festival, "Celebrate the Great Outdoors", is nearly halfway through its 2010 run.  Recently I chatted with Eric Darden, the Horticultural Manager for the Festival and co-manager of the Disney Nursery.  This is Eric's 7th year in the manager role for the festival, and his 23rd year overall as a Disney Cast Member.  Read on below for an insider perspective as to how some of the signature floral and landscaping showpieces were created.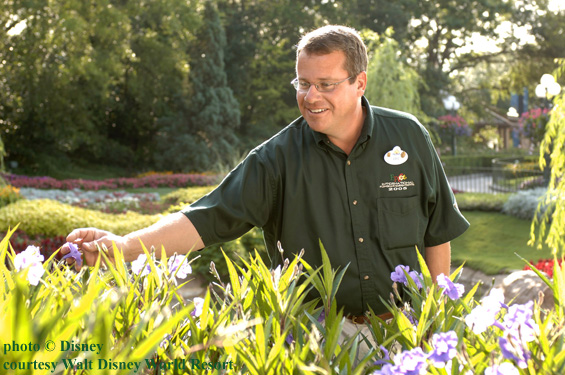 Image: Eric Darden, Disney Horticultural Manager for Epcot's International Flower and Garden Festival, checks blooms at the Canada pavilion at Epcot in Walt Disney World Resort.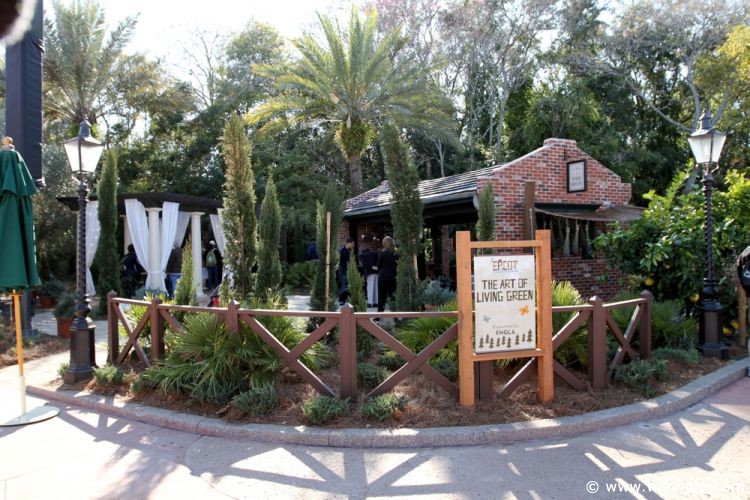 Over the 17 years, the festival has gone through changes – sometimes dramatic and sometimes incremental.  For example, the "Art of Living Green" garden between France and Morocco conveys the same message as the "Green Garden" of last year's festival, but the way the message of sustainability, water conservation, and environmentalism is conveyed is totally different.  In addition, Eric thinks this particular garden is their most pleasing.  He described it as a beautiful Tuscan themed garden with groves of olive and citrus trees (currently blooming and emitting smells of sweet, citrus flowers) and an edible landscape of herbs and vegetables.  There is an indoor kitchen area and an outdoor pergola with "live green" walls.  "It's the kind of place you walk in and say 'Wow, I want my backyard looking like this.'  However, at the same time the garden is full of green messages," says Darden.  Vegetable gardening plays a prominent role not only in the "Art of Living Green" garden, but throughout the festival.  Eric notes guests were disappointed last year's festival eliminated vegetables, but he noted they made up for it by including them this year.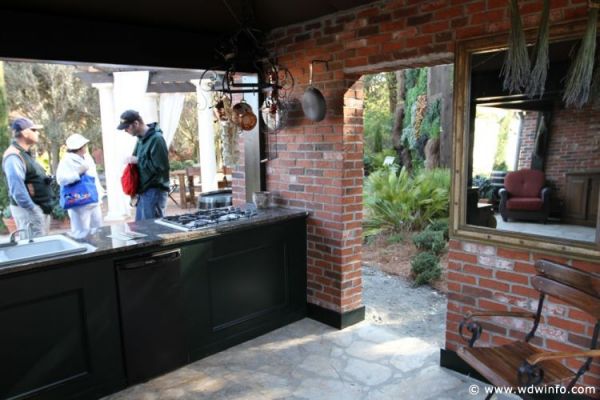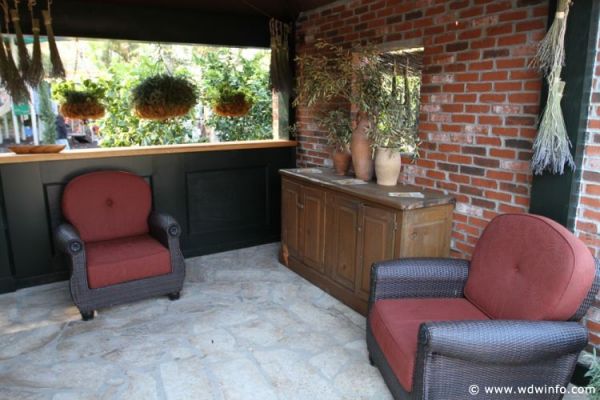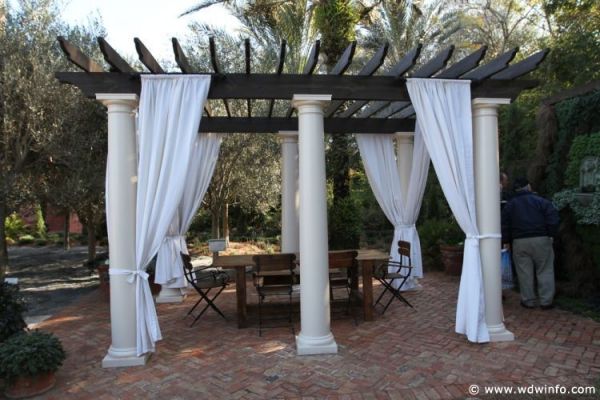 One of the favorites of festival-goers this year is the Pixie Hollow Fairy Garden, described by DIS Founder Pete Werner as "arguably, the best of the exhibits on display."  This particular garden debuted last year, and continues to be very popular and score rave reviews.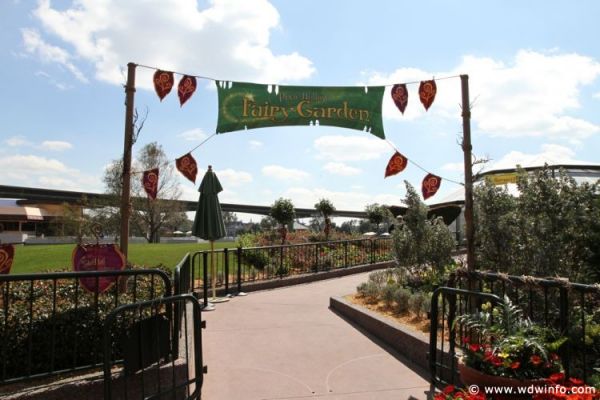 Regarding the display, Eric declared, "I didn't know if we could get better.  I knew we could get bigger.  However, I think we got bigger AND better."  He then described last year's Pixie Hollow Fairy Garden as the most finished of all the festival gardens, but this year they added even more elements in addition to making it a lot larger.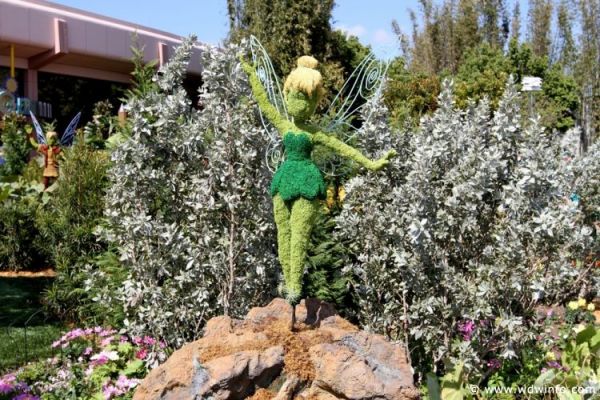 I asked what it takes to create a garden with the artistry of the Pixie Hollow Fairy Garden and Eric quickly replied "people more creative than me."  Darden's role is not to create the garden, but assemble the team and drive the overall idea of the garden.  He relies on his team of creative designers that now have 17 years of experience under their belts creating gardens for the festival.  For example, Darden explains, "I don't have little girls.  However, one of my designers does, and she knew that fairy houses in the landscape were the thing they had to do, and they've proved to be very popular."  As the father of two girls ages 9 and 12 (I'm not allowed to call them little anymore), I whole-heartedly agree with the designer, and the fairy houses look incredibly similar to the constructions made by my own daughters in our backyard.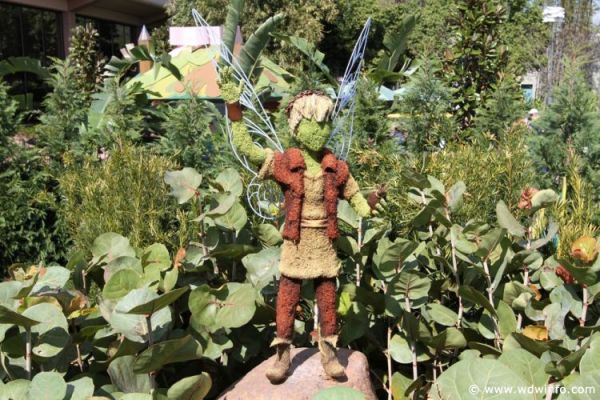 Eric makes no apologies that Pixie Hollow is a "girl-friendly garden", but he is quick to point out its appeal to avid gardeners as well.  He explains, "part of that garden has the most beautiful annual mix we've ever done.  It's a mix of all kinds of what we typically consider northern plants."  He describes how the wide-variety of plants including: pansies, petunias, poppies, ranunculus, milk thistles, artichoke plants, and fully-blooming lavender, to name a few, all contribute to the wildflower look.  Tall snapdragons also give height to the garden, and bare spots are covered with bright green Irish moss.  All these elements combine to yield an atypical look for Florida gardens.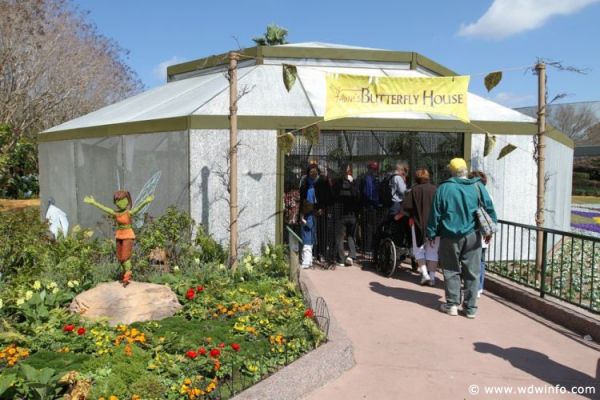 Minnie's Magnificent Butterfly House has been "re-themed" and incorporated into Pixie Hollow.  Darden explained the easiest way to expand was to take over the butterfly house's space.  In addition, the last "Tinker Bell" movie had the fairy Fawn training butterflies – therefore, it made sense to change from Minnie's to Fawn's Butterfly House.  "She is an animal-talent fairy after all," says Eric.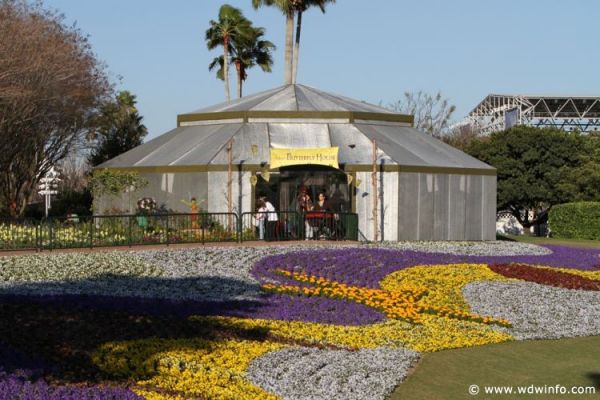 They've also capitalized on the popularity of this garden with their seed packet giveaway.  In Pixie Hollow, the fairy Iridessa stands among a rainbow of vibrant multi-colored violas.  The seed packet given to children in the butterfly house and during activities is "Iridessa's viola mix", and is the rainbow mix of violas actually used in the Pixie Hollow Fairy Garden.  When the children get their seed packet, they can instantly turn around, look at the flowers by Iridessa's topiary, and see what flowers their seeds will become.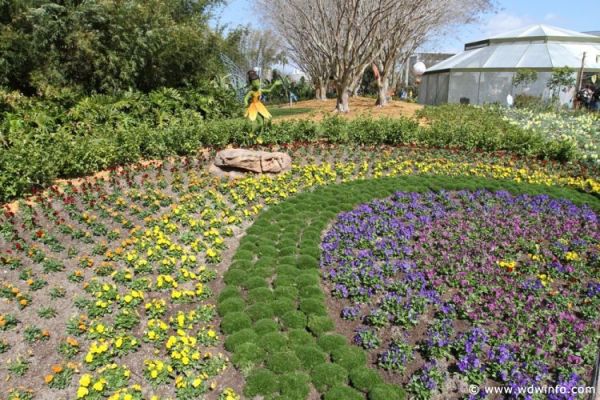 As long as the Tinker Bell film series continues, Eric Darden believes the Pixie Hollow Fairy Garden will continue at the Epcot International Flower and Garden Festival.  In fact, if you are at home and want another inside look at the creation of the fairy garden, you can find an 8 minute segment on the bonus material for the "Tinker Bell and the Lost Treasure" DVD.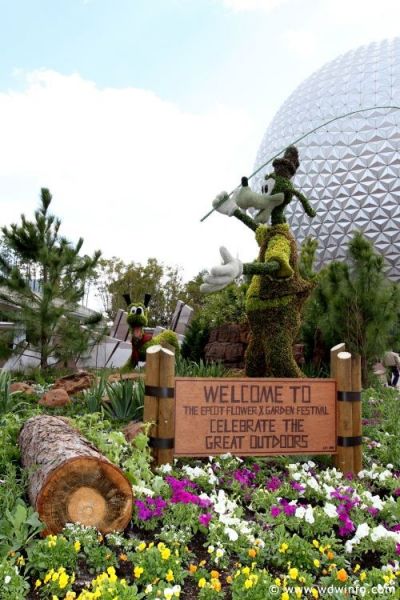 Eric ended with pride saying, "Many people consider the front entrance display as good as we've ever done."  However, what people don't know is the inspiration for the front entrance came from Walt Disney's cartoon shorts of the 30's and 40's.  Darden continued, "Walt was Walt, and rather than us trying to think of something that Disney fans will love, if we can use something that Walt thought of (which created Disney fans in the first place), we can't go wrong."  Look for displays and installations for future flower and garden festivals to continue to draw direct inspirations from Walt Disney's films and shorts.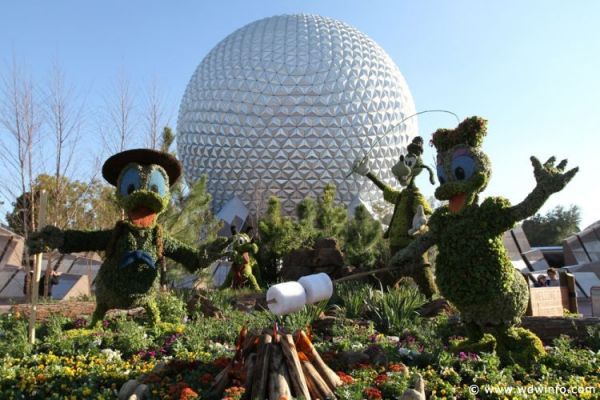 Speaking of the future, as I thanked Eric Darden for taking the time to talk with me, and wished him luck on the conclusion of the festival he replied, "In our mind it's all about 2011 right now – we gotta come up with next year's plan."
The Epcot International Flower and Garden Festival continues through May 16, 2010, and is included with admission to Epcot.  Have you attended this year's festival?  How do you think it compares to the festival in past years?  What was your favorite garden?  Log in with your DISboards username and password in order to leave a comment below.
www.wdwinfo.com photos by Corey Martin
Category: Disney World