Review by Kevin Klose
I live very close to Walt Disney World. I visited yearly (since 1971) prior to moving to Central Florida. I write restaurant reviews for the DIS and I'm a self-proclaimed Disney geek.
All that being said….I'd never visited the Flying Fish Café at Disney's Boardwalk Resort prior to our recent visit for this review.
I'm not certain how or why that is….but, I have now experienced the Flying Fish Café and I'm here to tell you about the experience.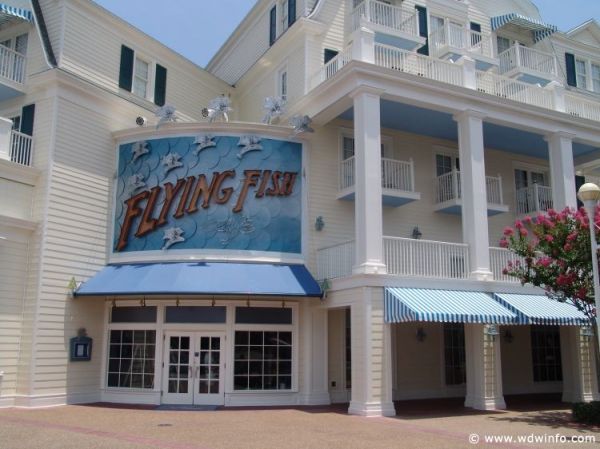 We made our advanced dining reservation for 5:50 pm on a Sunday evening. 5:30, 5:45 and 6:00 were all full but that magic number 5:50 did the trick.
As the day of our reservation was marked by almost torrential rain that lasted most of the day, we set out a bit earlier than normal. We figured that we'd take our time and arrive at the appropriate time. Lo and behold, the weather cleared for the first time that day as we left the house for Disney World.
We ended up arriving at 5:30pm. We were one of three parties checking in. As the restaurant was virtually empty and didn't really fill until 6:30 or 6:45 pm, I'm not sure why getting a 5:30 reservation was so difficult. I'm not sure I will ever truly understand Disney's ADR system.
After we checked in, we were handed a pager to alert us to when our table would be ready. Again, there were three parties waiting in the lobby and all three pagers went off simultaneously and within 30 seconds of receiving them, so all three parties handed their pagers in at the same time. It seemed to be an exercise in futility…. but, again, I'm sure there is a Disney reason for doing things like this.
While waiting the few seconds for our just received pager to buzz, we were able to look at an empty restaurant and a very nice restaurant it is.
The Flying Fish Café occupies a premier piece of real estate on the Boardwalk in front of the resort. Upon entering the restaurant, you are greeted by a very stylized reception area. A small dividing wall separates the reception area from the restaurant.
The décor is full of whimsy and elegance. Hanging from the ceiling are large parachute type things like you'd see in photographs of a long gone amusement park. Under these parachutes are bars with stylized flying fish. This flying fish motif is seen throughout the restaurant. They're even part of the carpeting. Blue and gold are the colors that pop out, but the place is colorful without being overdone.
We were shown to our table near a window and greeted by our server. As we were getting seated, our server started explaining the papers on the table, and there were quite a few. As we had a person in a wheel chair and it had been raining, we were a bit slow in getting settled. Trying to make sure everyone was set for dinner and listening to him rattle off descriptions of wine lists and menus and cheese selections seemed a bit overwhelming and I had to ask him to give us a few minutes. This was the only miss-step as far as his service and it was certainly minor. Otherwise, he was did a terrific job.
One of the papers on the table was a listing of the cheeses on the cheese platter. The heading reads "Degustation of Flying Fish Artisanal Cheeses". The list consisted of Saint Andre, Beemster Gouda, Manchego, Humboldt Fog and Point Reyes Blue.  This sounded like something we'd enjoy, so we ordered one while we perused the menu. The platter includes a "tasting portion" (their words….not mine) of each of the cheeses, raisins on the vine, honeycomb, kiln dried cranberry and red onion compote with raspberries. The cost of the cheese platter is $16.00.
We've had a similar platter at other Disney restaurants and found it to be over-priced with too small portions. The platter at the Flying Fish Café not only had a good selection of cheeses, but the portions were larger than at other locations.
I should mention that our server brought a basket of honey wheat, sourdough bread and salted butter, which went very nicely with the cheese platter.
On to our appetizers….we chose a bowl of the soup of the day….Creamy Roasted Parsnip Bisque with savory vegetables, Maine Crab Beignets and Dill Crème Fraiche ($9.00), the Signature Flying Fish Café "Crispy Maine Coast Jonah Crab Cake" with savory vegetable slaw, roasted red pepper coulis and Ancho Chile Remoulade ($16.00) and Fresh Mozzarella di Bufala with "Ugli Ripe" Beefsteak Roma and Tiny Florida Grape Tomatoes with balsamic glaze, exotic peppercorns, petite basil and Sicilian Olio Verde ($16.00).
All three appetizers were good to excellent. The soup was creamy and filled with vegetables we couldn't recognize. The crab cake was huge and flavorful, but spicy and the tomato and mozzarella was excellent. I believe the prices were sky high as we were charged by the word in the description. There is a lot of verbiage there to describe three appetizers.
While we had no trouble picking appetizers that appealed to us…..entrees were trickier. We chose Signature Flying Fish Café "Potato-wrapped Red Snapper" with leek fondue with a veal demi glace, red wine and cassis butter reduction ($36.00), Oak Grilled Maine Diver Scallops with forest mushrooms, mascarpone and pecorino laced Risotto di Carnarolli with truffle-basil infused oil ($34.00) and Our Chef's Special Pasta Thunder: Orrechiette "Frutti di Mare" with rock shrimp, Cape scallops. Clams, sweet crab, fennel, fresh and sundried tomatoes and baby arugula with a rich, Pernot-laced shellfish crema ($28.00). As side orders, we chose "truffle and herb laced Idaho fries with roasted garlic, truffle aioli ($8.00) and grilled winter crop asparagus with sauce Foyot ($9.00).
Again…you get the feeling that Flying Fish is charging extra for the descriptions.
Let's start with the snapper. It was a good sized portion of fish. Using the term "potato wrapped" is misleading in that the fish is covered with what appears to be potato flour or potato dust. There is nothing recognizable as potato. The fish sits on top of a pile of leeks. Leeks add a nice mild oniony flavor but are pretty non-descript on their own. All of this sits in a puddle of veal gravy. The gravy was absolutely delicious, but in our opinion had little to do with the fish or leeks. We used the bread served earlier to soak up some. This was not a horrible dish, but it wasn't anything any of us would order a second time.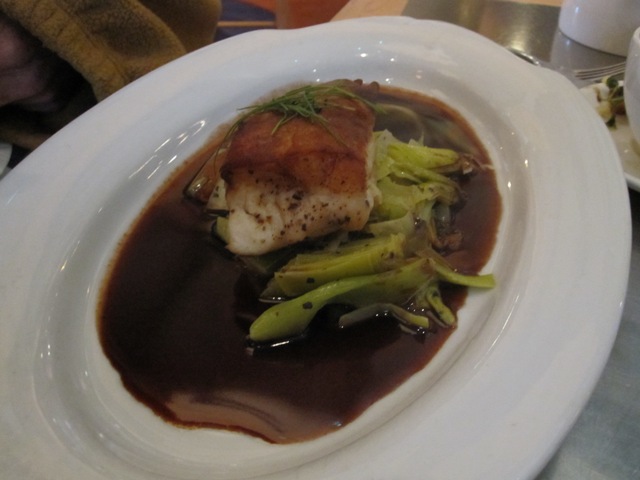 Moving on to the pasta with seafood….the pasta was little ear shaped orrechietti with seafood. This was a very large portion of pasta. There were a few scallops, shrimp and some crab. None of us could find a clam. The biggest problem with this dish was the spiciness. Nowhere in the description (and it was wordy) was there any hint of any heat. This was a subtle burn that built up, and after a few bites was overwhelming. While the heat was overwhelming, the dish itself was underwhelming. The majority of this dish went back with the soiled dishes. Again….not something any of us would re-order.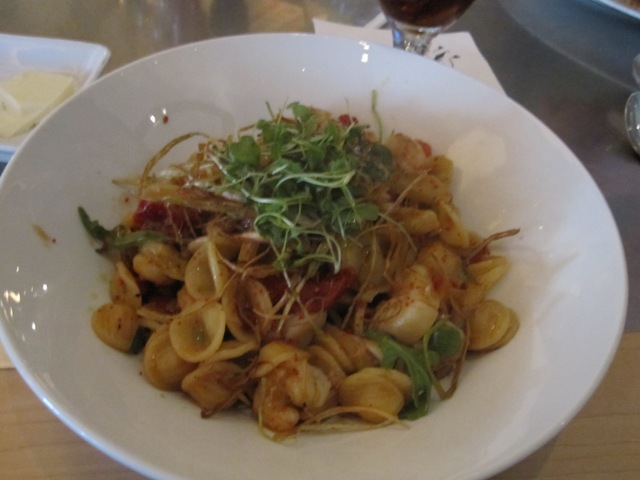 Our final entrée was the scallops and risotto. This was the most successful dish of all three entrees. It contained 6 good sized scallops on a very good, creamy mushroom risotto. It's my opinion that this was the most successful dish, as it wasn't over worked. It was a good, simple dish with wonderful flavors.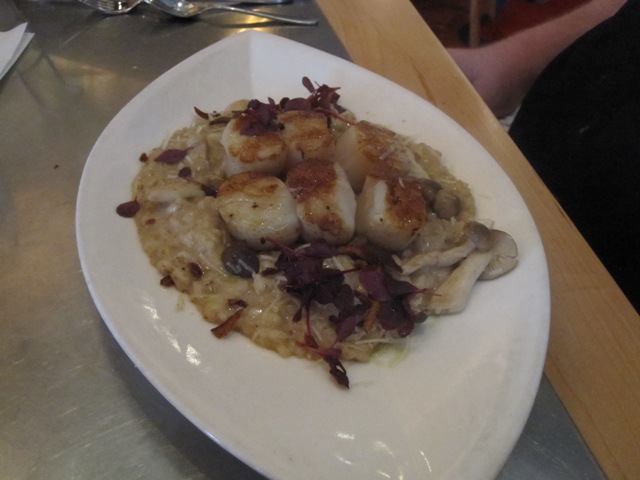 The French fries with truffle oil were absolutely delicious and the asparagus was good. By the way….sauce Foyot is another way of saying hollandaise.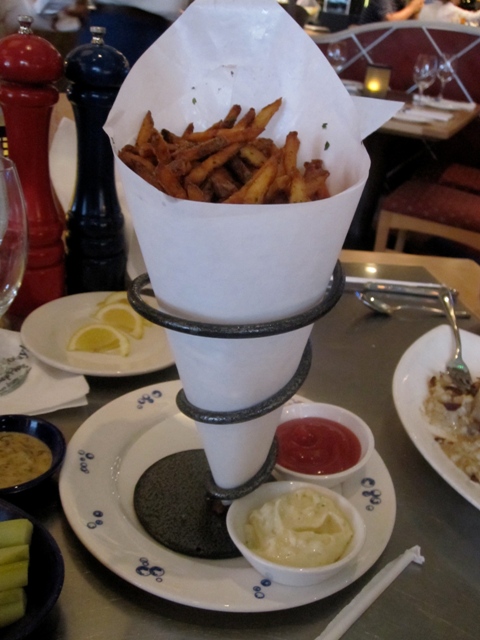 After all of this, we had two wonderful desserts. We chose "a celebration of Plant City Strawberries" that included "Sinful Valrhona Chocolate Strawberry Delice", Toasted Almond Polenta and Strawberry Torta" and "White Chocolate – Strawberry Crème Brulee ($11.00) and Ginger-snap Winter Crop Apple and Pecan Tort with cinnamon ice cream and salted caramel ($8.00).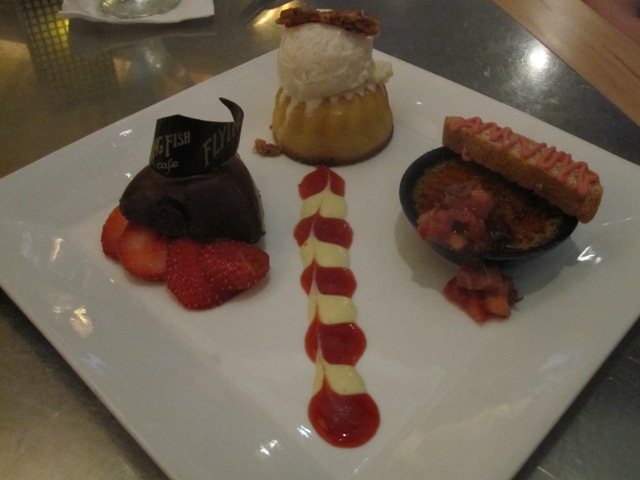 Both desserts were excellent…superb…wonderful. You get the idea. The Strawberry celebration was three small desserts on one platter. All three were very good, but the almond and strawberry torta was the best. The apple tart was served warm with the cinnamon ice cream and salted caramel. I don't know about anyone else, but salted caramel is something I think should be part of every dessert. It's a taste that I truly love.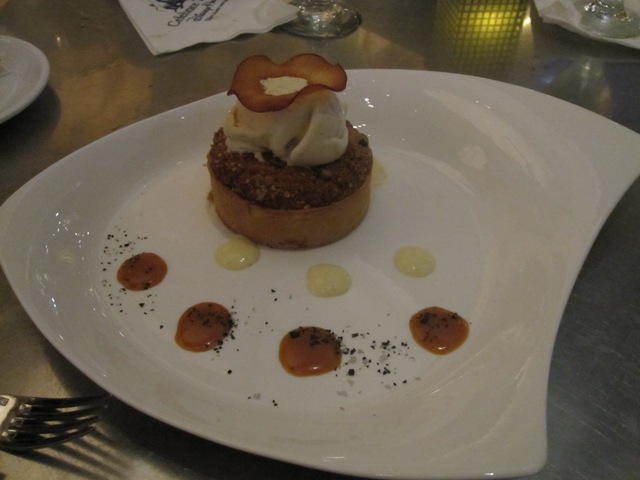 Flying Fish Café offers a children's menu with five choices (chicken skewers, beef skewers, fish "sticks", pasta and grilled cheese that range in price from $6.00 for grilled cheese to $12.00 for beef skewers).
Dinner for three of us with four appetizers, three entrees, two sides to share and two desserts came to approximately $206.00 before tip.
There were things we liked about the Flying Fish Café. There were also things that we didn't care for. If I were to find myself in the Flying Fish Café again…..I'd make a dinner out of appetizers and dessert. I'd skip the entrée course. With that being said……there are other restaurants on Disney property in which I look forward to all of the courses, which makes for a much easier decision when deciding where to go for dinner.
Category: Disney World
Leah grew up in a little farming town in Illinois, right on the Mississippi River. Her Chicago-born husband, David, left the city for her, and they're now raising their three children (Jacob, Jonah and Lydia) just 12 miles from her hometown. As the Senior Editor of the DIS (wdwinfo.com), Leah spends a lot of time writing about, reading about, and discussing Disney. So, it should come as no surprise that one of her family's favorite ways to spend time is going to Walt Disney World and traveling on Disney Cruise Line. She also enjoys shopping, watching movies with her husband and doing crafts with and for her kids.