Date of Review – March 13-15, 2010
DIS Rating: 82 out of 100
Recommendation: A great place to visit, but beware of some 'family un-friendly' aspects.
Royal Pacific Resort | Info | Photo Gallery | Video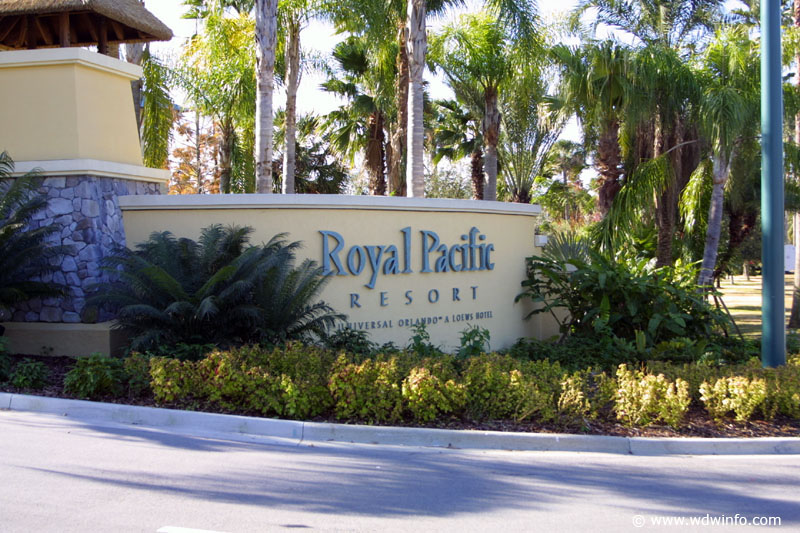 I feel like I end up starting every review with this line, but it's true – Royal Pacific has never been my favorite of the three on-site resorts at Universal.  Not that there's anything really wrong with it – it's just I've always had a real affinity for the Portofino Bay – which is one of my favorite resorts in Orlando.  When you consider that my (close) 2nd favorite is Disney's Fort Wilderness Cabins you'll understand that my taste in hotels vary greatly.  Unfortunately, after spending three nights at the Royal Pacific, I'm even less enamored with the property than I was before I checked in.  The good news is (with apologies to Bill Clinton) that there's nothing wrong with the Royal Pacific that can't be fixed by what's right with the Royal Pacific.
(Video at end of review)
The Royal Pacific is what Universal considers their 'value' resort – mainly because its pricing tends to be lower than the other two on-site properties- the Hard Rock Hotel and the Portofino Bay Hotel.  However, that should not imply that this is by any means a sub standard or 'budget' type property.  This is a very nice hotel, with very nice rooms, and at prices that start around $179 per night, it's not exactly inexpensive either.
The resort is located just across from Islands of Adventure and several rooms have a view of the park.  The parks can be accessed either by boat or via a walkway (roughly a 10 minute walk).
The hotel is themed with a South Seas motif that is brilliantly carried throughout the resort.  Orchids, bamboo, and Balinese accents provide a comfortable, yet elegant environment at almost every turn.  Visually, this is a beautiful hotel.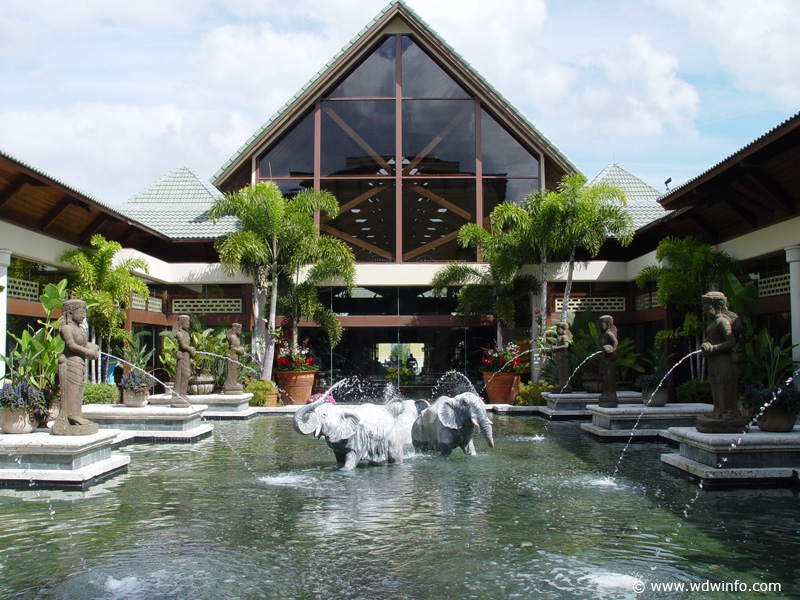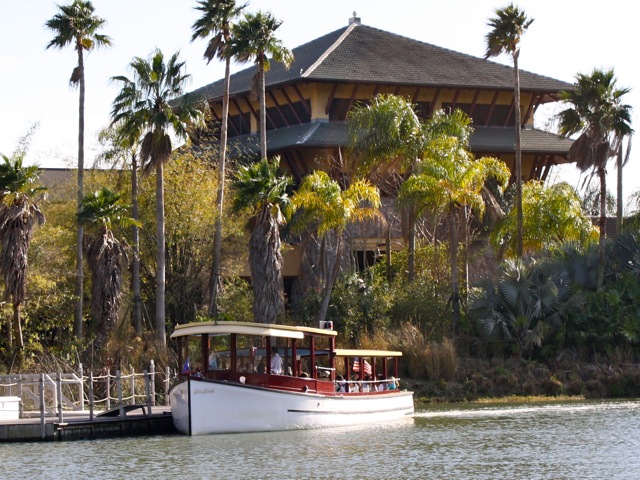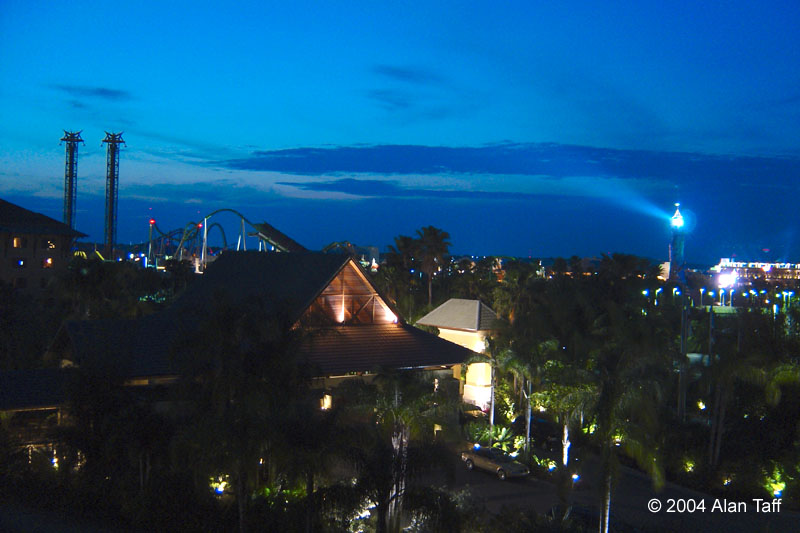 As with all the Universal resorts, the hotels 'common areas' do a great job of carrying thru the theme.  Royal Pacific in particular really gives you that "I'm on vacation" feel as you walk around the lobby area.  The lobby is where you'll find a coffee bar / full bar, as well as a fresh sushi bar that opens in the evening.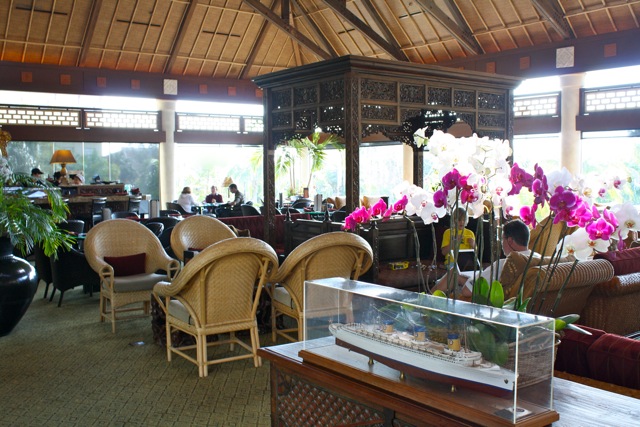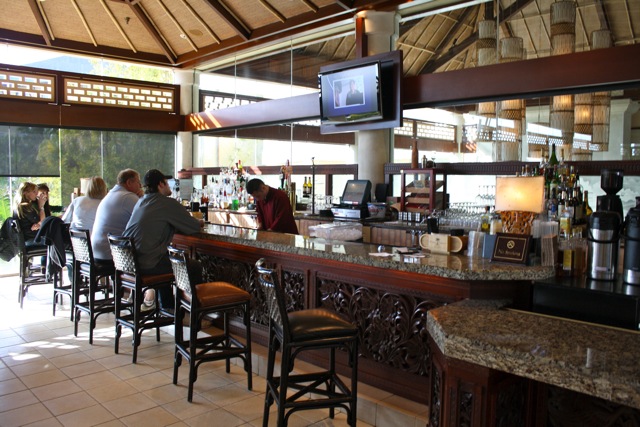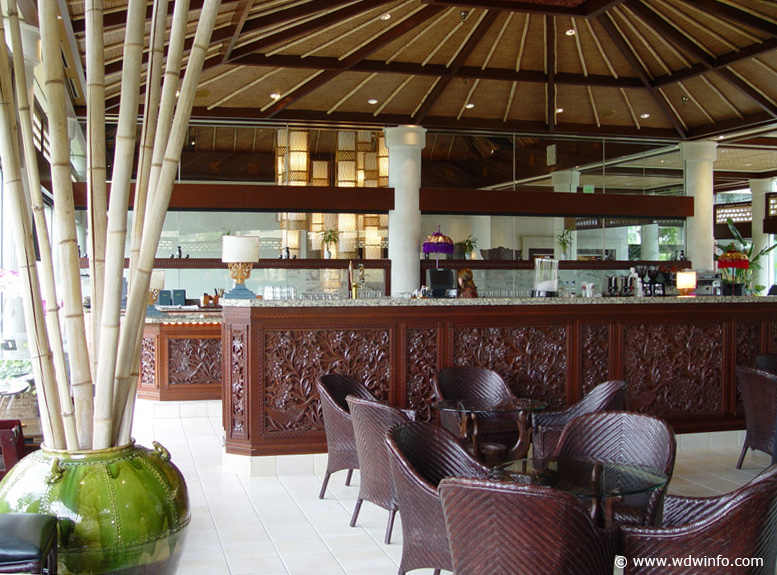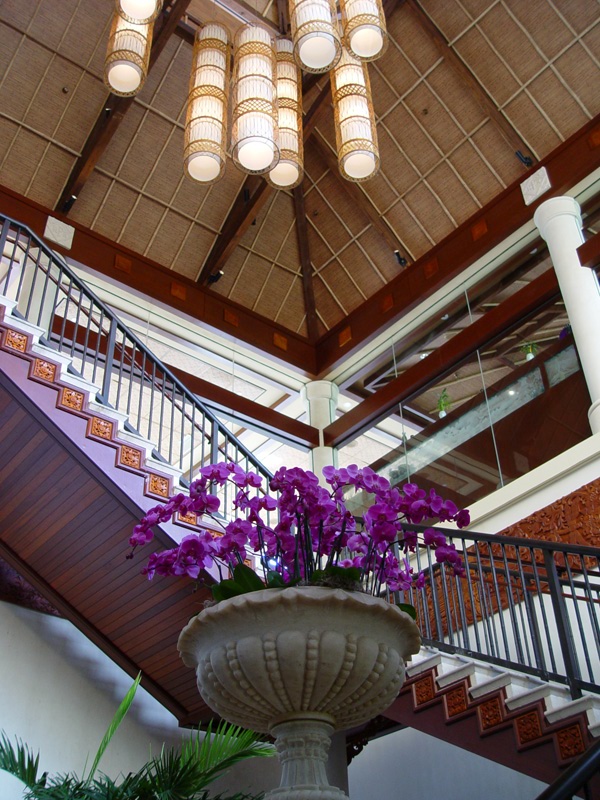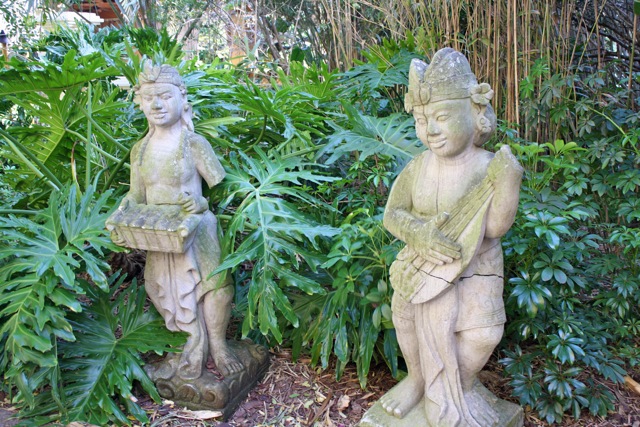 I've always been impressed with the level of service at Universal's hotels.  The hotels are managed by Loews, which has a great reputation and upon check-in, I was greeted by a friendly, knowledgeable young man who handled the check in process very efficiently.  I checked in early (11:00am) and was surprised to find my room was ready.  Always a plus.
I booked a standard room with an annual passholder rate of $179 per night (non passholder rates for the time frame I was there were $229).  The standard rooms here are 335 sq. ft. and include one king or two queen beds, Kuerig 'one cup' coffee makers, honor bar, flat screen HDTV, iron and ironing board, as well as  an in room safe.  While the rooms here are somewhat smaller than the other on site resorts, they are extremely comfortable – especially the beds which are pillow-top and have good quality bedding.   It's very easy to spend time in this room.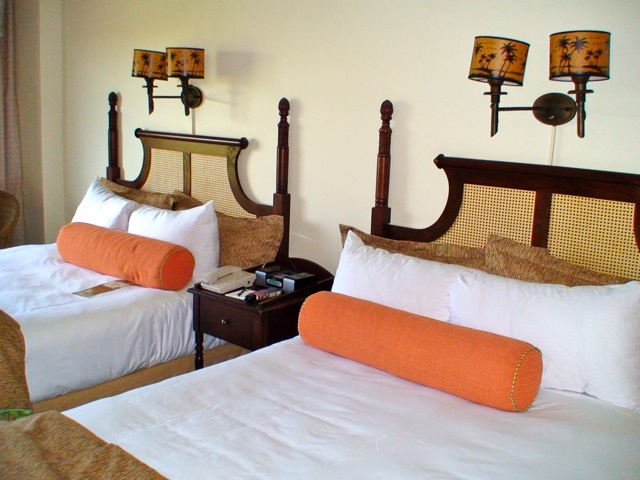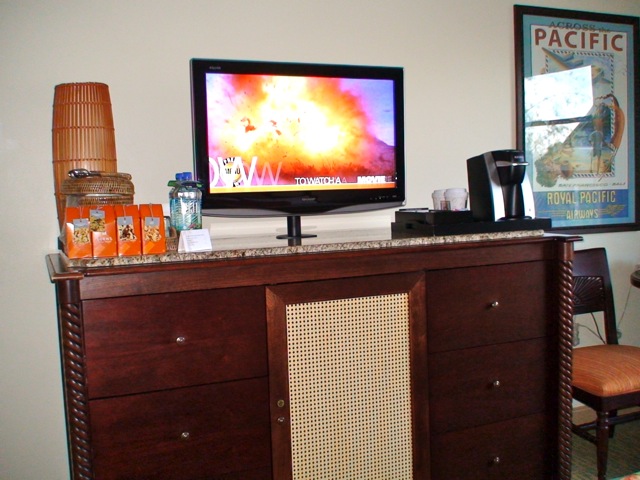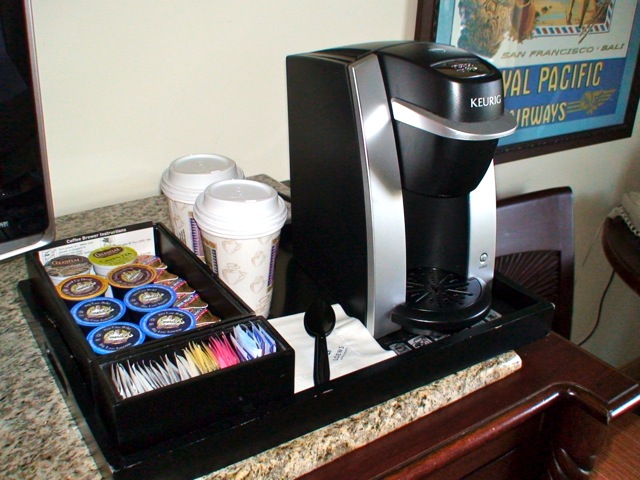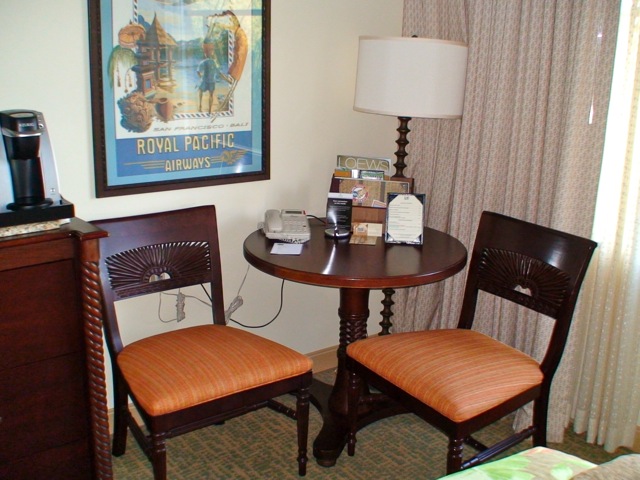 Our room was very clean, no obvious signs of wear.  The bathroom was spotless, and there was no heavy 'cleaning product' smell.  A tip to the wise – when you enter a hotel room that smells like someone dropped a bottle of cheap perfume 20 minutes before you entered, it's a guaranteed sign that the room has mildew problems.  It's one of the first things we look for when reviewing any property in Orlando as mildew is a common problem.  It's more likely found in older properties, or in properties that aren't properly maintained – the Royal Pacific does not fall into either category, at least from the standpoint of the rooms.
Although I was perfectly happy with the room we were assigned (a pool view), I really wanted to see a King suite.  The upgrade from a standard room to a King suite was $100.  I was a little miffed as Premier annual pass holders are supposed to get the upgrade to a king suite for $50 a night, but I was told that the price would be $100.  I was in a mood to splurge, so I upgraded.
The King suites are almost twice the size of the standard rooms, about 650 sq. ft. and feature a large sitting room with sofa, chairs, desk and flat screen TV.  The bedroom features a king bed with the same amenities found in the standard room.  Our room was on the 2nd floor overlooking the entrance to the Wantilan luau – very quiet, and a decent view.  Again, the room was spotless, clearly well maintained, and for the size, more than worth the $279 a night I was paying.
Wired and wireless internet service is available in all guest rooms at a cost of $9.95 per day.  According to the hotels guest services, the billing period begins and ends at 1pm.  The guest services person I spoke with stated that the billing period ends at 1pm regardless of what time you sign up.  So, if you sign up at 12:00 noon, you'll be charged $9.95 for 1 hour of service.  You would then need to register again at 1pm for another 24 hours.  I did not test this out myself, and I found it a little hard to believe, but thought I should pass the info along regardless.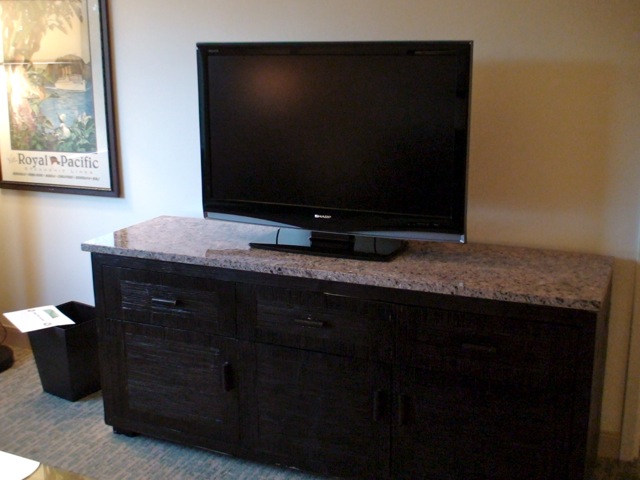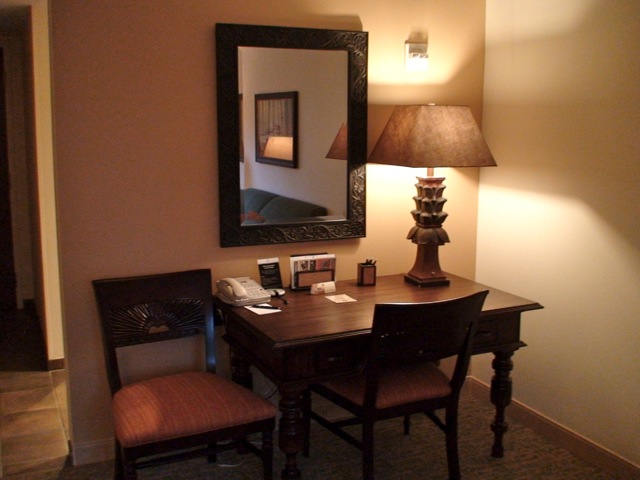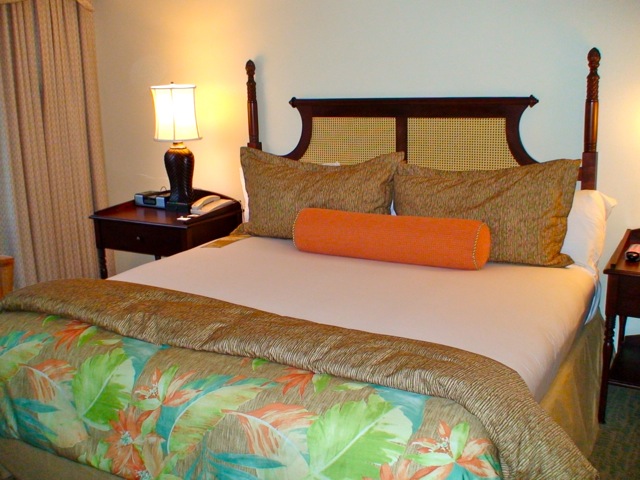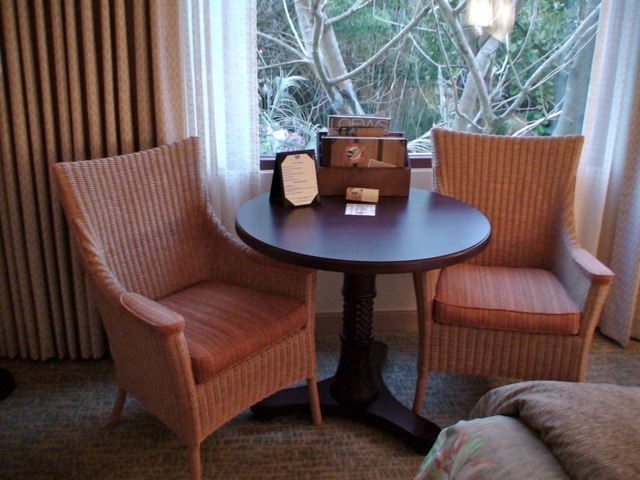 Since I don't have children of my own, I like to borrow my nieces and nephews to check out the pool and kids areas.  My sister-in-law came over to the hotel with children in tow – two of them took off for the parks while the youngest (7 years old) wanted to go swimming.  Make no mistake – the pools at all three Universal hotels are excellent.  They are large, well themed and have plenty of amenities to keep everyone happy, and the Royal Pacific was no exception.  A pool bar for the adults, a kiddie pool and childrens play area for the little ones, and an outdoor dining area.  It was a beautiful day, and my sister-in-law and I enjoyed sitting poolside, having a nice lunch while my niece played in the pool.  Perfect, right?  Almost.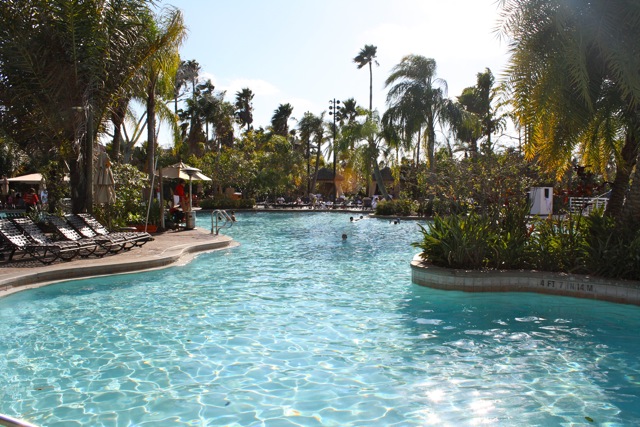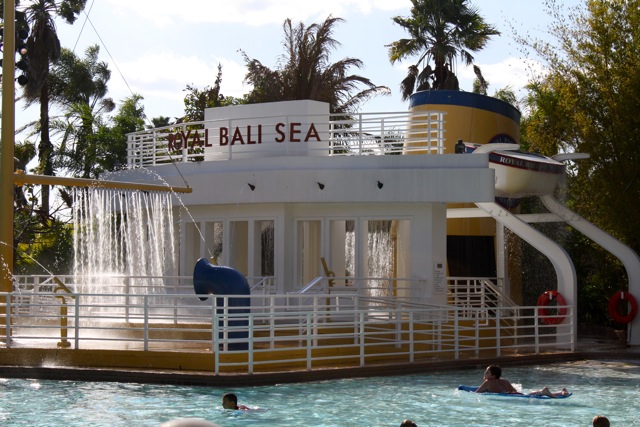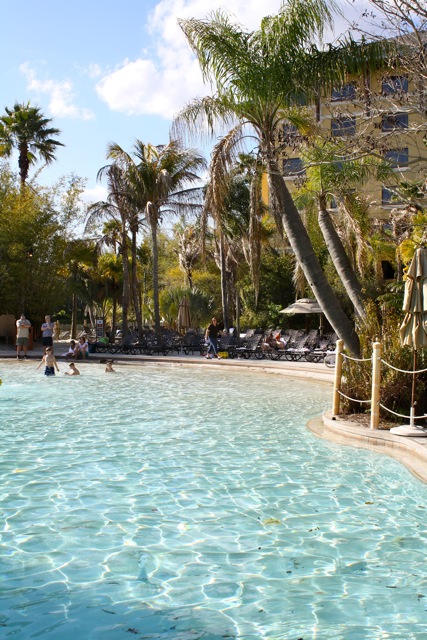 First, a look at the kiddie pool revealed no 'kiddies' but plenty of leaves and debris floating around.  It looked more like something you'd expect to see at a run-down or abandoned resort, not someplace like this.  I was surprised, but it was windy and the outdoor areas of the hotel are heavy on landscaping (in keeping with the theme).  I figured at some point I would see someone walking around with a net to clear it out.  Sure enough, there was someone walking around with a net full of debris, but they were only focused on the main pool – not the kids pool.
Around 4pm the "DJ" (and I use the term loosely) set up shop and started playing music.  Keep in mind now that the pool was FULL of younger kids.  There were a few songs played that I thought were probably inappropriate (something about ripping off bikinis and smacking girls asses), but I held my tongue – that is until he played a song that included the lyrics "Don't Trust a Ho" came on.  Yes, you read that right – a song with lyrics "Don't trust a ho" being played for a pool full of children in a resort that bills itself as 'family friendly'.  Well, either I'm really old and the definition of 'family friendly' has changed wildly in recent months, or this guy was just there to entertain himself and play music that HE wanted to listen to.
So, I approach him and ask if it's really necessary to play songs like that when there are kids around.  His dismissive response was to point to a manager walking nearby saying "if you don't like the music, go tell him".  At this point the review really starts writing itself.  I approached the 'manager' he pointed to and repeated my concerns.  I was told that no one had ever complained before – so I guess this made it okay.  I swear he rolled his eyes at me while I was talking and questioning the logic behind the song choices.  After our 'chat', he did go up to the DJ and have him switch songs.  As we were leaving the pool, the manager comes up to me and tells me that they "play a top 40 playlist – kids can hear this on any radio station".  Of course he misses the point that a radio station can be shut off or changed, not so much when you're sitting at a pool having that blasted in your ear (and I do mean BLASTED).  He also misses the point that there are a number of songs that are considered "top 40" that are far more appropriate than some of the ones being played.
Let me be crystal clear here – if it were me alone at the pool, or with my friends, I wouldn't have cared – but I had a 7 year old with me.  I know that kids are exposed to things today that were unthinkable 20 years ago, but I think most reasonable people can agree that there SHOULD be a line drawn at resorts that claim to cater to families – that's all I'm saying.  The attitude of the staff was nothing short of shocking and especially given the audience that we have on the DIS, I have to say that I cannot in good conscience recommend this property to ANYONE with young kids.  That kills me to say, because in almost every other respect it's a great resort – but I'll be honest – if I won't bring my 7 year old niece back there again, how could I suggest than anyone else do it?
The situation really underscored for me that Universal adds features and attractions for younger kids because they have to in order to compete in this market, not because they are genuinely trying to create a 'family friendly' environment.  I understand that Universal is a much different beast than Disney, and that's one of the reasons I love Universal so much – but lets be blunt – Universal is not normally the destination for people visiting Orlando, it's what people do before or after their Disney vacation.   One of the reasons they've suffered so much thru the recession is that they don't always do a great job playing to that audience, and this is exactly the kind of overlooked detail that further drives that point home.  If Universal ever wants to reach critical mass and attract a larger share of the market Disney has secured so well – then they need to pay much better attention to details like this.
Enough of that, and back to the kiddie pool.  I went down the next morning about an hour after the pool opened expecting to see that the kiddie pool had been cleaned.  No such luck.  It was still full of debris .  As I walked around the pool area I started noticing discarded bottles, cans and coffee cups, both around the pool and directly outside the Islands Dining Room.  Clearly there's a management issue here, and one they need to fix and fix fast.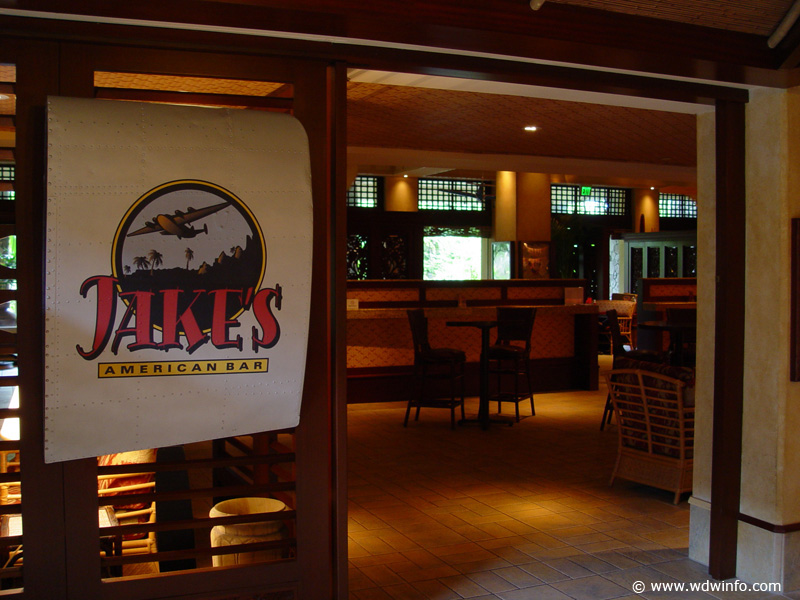 So lets talk about the food.  Overall, I give them very good marks on the food.  Jakes American Bar has always been better than average in terms of its food and quality.  I had dinner there twice – once with a group of 6 and once by myself.  Service, food, taste, quality were all excellent.
We also had lunch at the pool (before DJ 'Ho' started amusing himself).  I have to say, this was a great lunch.  I ordered a veggie burger that was by far one of the best burgers I'd ever tasted – beef or otherwise.  It was large and delicious to the point where I was making noises as I ate.  Granted, it was $11, but worth every penny.  Teresa ordered the Fish Tacos, also with rave reviews and Stella ate what just about every 7 year old on the planet seems to eat these days – chicken fingers!  With a few unsweetened iced teas for me and a strawberry daiquiri for Teresa, the poolside lunch came in just under $65.  Expensive yes, but the quality and taste justify it.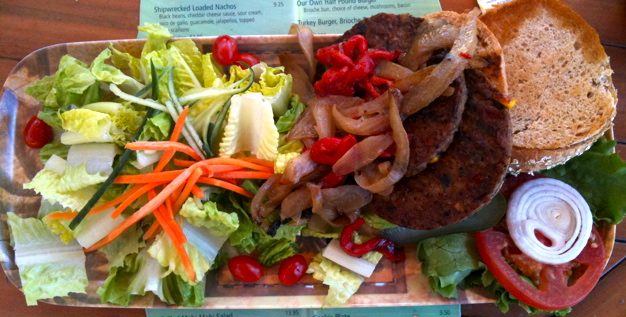 The Island Dining Room has a real history of hit-and-miss experiences with me, and this visit was no exception.  I had lunch the second day of my visit, and it was excellent – as was the service.  I had lunch there again the next day and it took an hour for our food to arrive (the restaurant was virtually empty), and when it did, it was stone cold and not prepared as described.   However, both the manager and chef came to the table to apologize and did everything imaginable to make it right. A sincere willingness to correct an issue can often make up for the issue itself.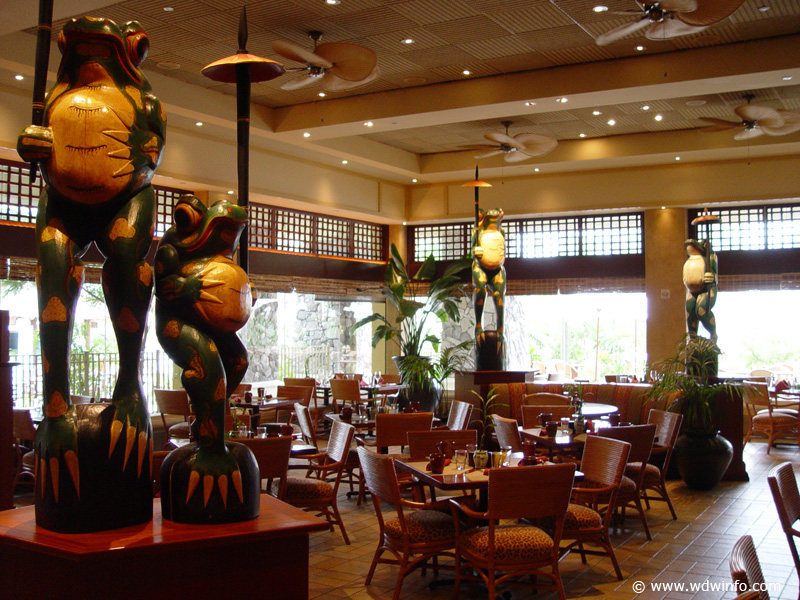 I ordered room service for breakfast (for one person) and although it was $26 I'm not overstating it when I say it has to rank in the top 5 breakfasts I'd ever had.  Delicious, well prepared, fresh ingredients and the room service attendant could not have been nicer or more helpful.
The Royal Pacific is also home to Emeril Lagasse's Tchoup Chop.  For this review I didn't get a chance to eat there, but I have eaten there in the past and have had both positive and less than positive experiences.  That seems to be a trend when looking at online reviews.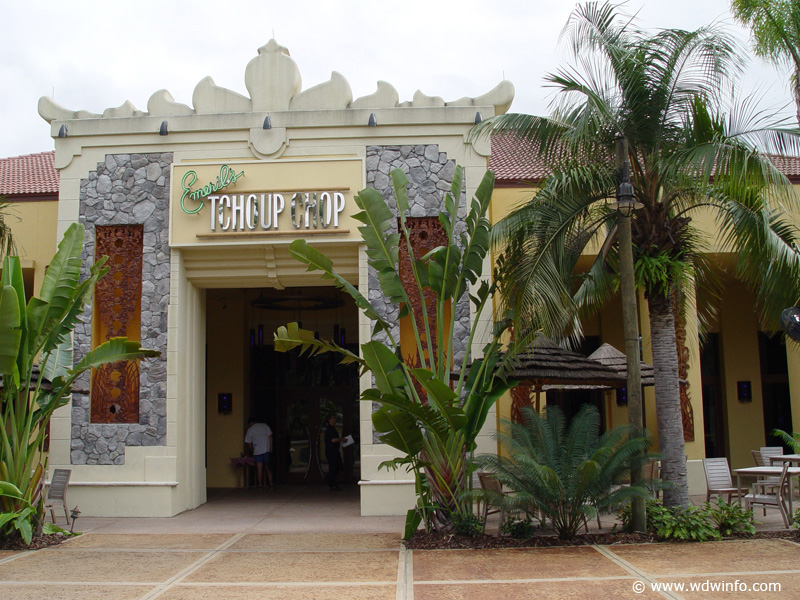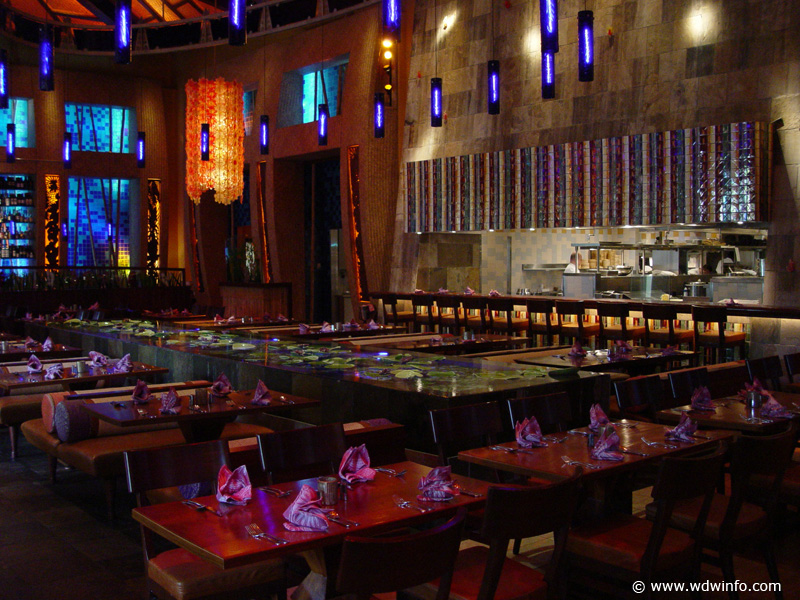 My ONLY issue with the dining here is the lack of a counter service / price conscious option.  The food is excellent to be sure – but every meal from breakfast to lunch was coming in at $20 to $30 per person or more.  Yes, you can head to CityWalk and find some less expensive options there – but that's a bit of a pain.  This isn't a huge complaint, but I do want to make people aware that even if you get a good rate on the room, you'll pay top dollar for food.  It's good food – but expensive.
Another 'expense' that hurt was self parking at $20 per night.  This just seems unnecessarily expensive and I muttered obscenities to myself every time I entered and exited the lot.  I realize that most places charge for self parking, but $20 a night in Orlando is definitely on the high side.
Overall, this is a good hotel if you're traveling with adults only, or older kids.  The fact that you can't be sure what's going to be playing at the pool would be an issue for most families who frequent our site (and that's how we rate these things).  It's a shame because that experience marred an otherwise excellent hotel.  I hope that the Royal Pacific takes steps to correct this in short order – there are a lot of families on their way with the opening of Harry Potter.  I'm guessing most of them could do without the advice of "don't trust a ho".
How they rated:
Rooms – 38 points out of 40 – near perfect.  At a slightly lower price point, the rooms would have warranted a perfect score.  Very well maintained, excellent housekeeping, great in-room amenities, no visiible signs of wear on furniture or carpet.
Staff – 24 out of 30 – Generally speaking the staff was excellent.  The DJ at the pool, and the manager I spoke to about the music were less than "Loews" standards in my opinion.  That cost them points.  Check in staff, housekeeping, restaurant servers and all other staff interactions were great.
Restaurants / Food – 12 out of 15 –  Pool service and Jakes American were above average.  On the expensive side, but the quality and presentation warrants the cost.  Islands Dining Room had its good points and bad points, but the manager and chef both went out of their way to correct the problem – that's all anyone can ask for.  The only points lost here were for the lack of a more value-conscious/quick service option.  For that, you need to head over to CityWalk.
Common Areas / Pools – 8 out 15 – The cost for self parking is unnecessarily high.  The refuse around the pool, the debris in the kiddie pool and the obscene choice of playlists by the DJ really marred the experience for me.  This is way below acceptable standard.  It's easy to fix, but until they do – this is not a place I recommend for families with young children.
Category: Universal / Sea World, Universal Orlando