"Finally!"  and "I don't have enough points!!!!" were the simultaneous thoughts I had when they announced that the Disney Vacation Club Villas at Disney's Grand Californian Hotel were open.  I've been a member of the Disney Vacation Club (DVC) since 1993 and with as much as we use our membership points at the hotels here at Disneyland, it was exciting to see we could be booking the same great accommodations as we get on our Florida vacations!
Off we went to visit with our friends, Drake and Kathy Thibodaux, when they came out here to Anaheim to stay in a new one-bedroom villa.   One thing to keep in mind is that the Thibodaux family and I are coming from the experience of having stayed at almost all of the 9 Walt Disney World DVC properties.  My family alone has stayed in 5 out of the 7 that were there on our last visit – 2 have opened since then.  Therefore, we all felt we were experienced enough to compare the quality of the accommodations and amenities. We especially wanted to hear what Drake and Kathy had to say about their villa and it was our chance to really see the rooms for ourselves and have a bit of a spontaneous weekend away!
The Villas are decorated in the Arts and Crafts style and are full of woods, greens, creams, earthy reds, and Tiffany glass. As you walk into the foyer and pass the hall closets, the first things you really notice are the large windows waiting at the other end of the living room. In the first floor villas, they aren't all sliding doors to the outside balcony, as you find in the rest of the rooms. These have a side door, which leads straight to the outside patios – a good thing to note for families with young children like ours. My youngest tried to escape straight-away! Good thing they have a bolt.   The view outside is pretty great on the first level though, with easy access to the Barbeque area , if you are on the California Adventure Park View side.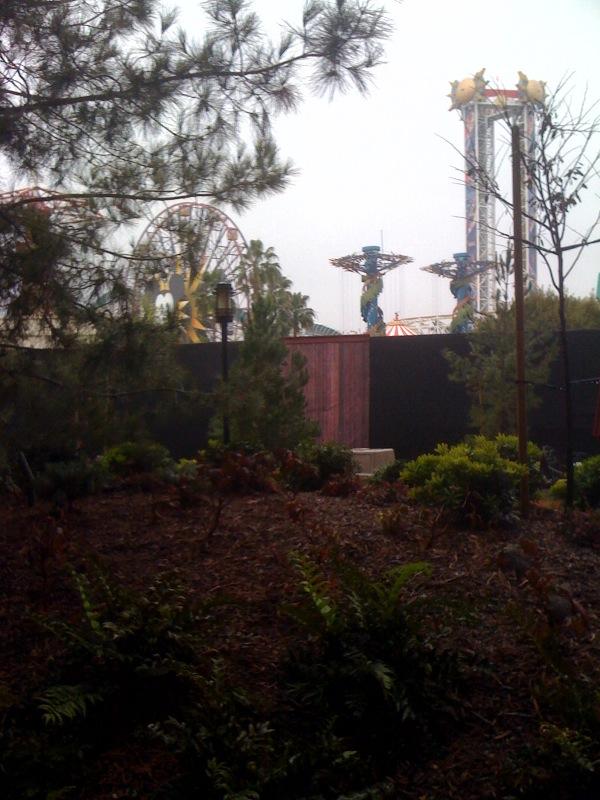 Once you get past the view, your eye is drawn to the surrounding room. When we entered Drake and Kathy's room, we decided that the models did not do justice to the final product.   Sure we had toured the Disney Vacation Club sales model rooms a few times.  In fact, some of my photos in this article were actually taken there. I still decided to use a couple of the photos from the model room tour, because the wonderful natural lighting in the rooms is not as "reader friendly" as that in a controlled sales environment.  You can see that in my photo of the living room…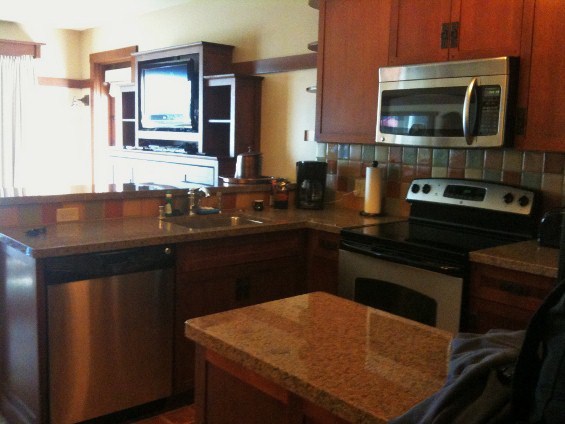 and the model…
Let's face it.  Not even the folks on the top floors will get quite that same view of the wheel and coaster, but it was a nice mock-up…. Most DVC units are pretty darn homey when you come inside. It's amazing how the feel of coming home from a long day at the parks to your living room and Jacuzzi can change the feel of your entire vacation.  We expect that from the DVC resorts. You get that kicked back, special condo feel.
However, this one is special. We all felt that way. You come in and it really is warm and inviting. One of the big surprises, though, was the addition of a Murphy bed under the television. In the modern, Flat Screen TV generation, gone is the larger armoire that housed clothes for those sleeping in the living room. That open space is more evident in the design. Instead, it's mattress thick, to house a bed for one – perfect for kids of any age. The only thing that I really felt was awkward about it was being able to watch television while lying in bed. It provided a very weird angle.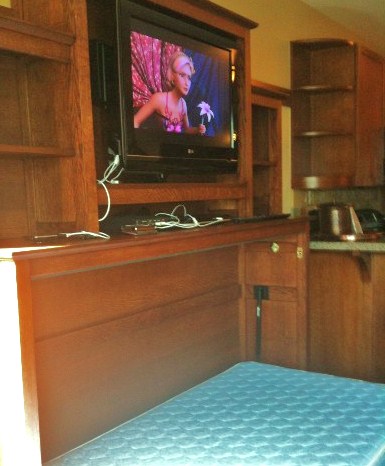 Now the Murphy Bed wasn't a twin, and it wasn't a double.  Obvious from the above photo.  It was sort of "in between", you might say.  I actually did some research on Murphy bed companies, and found out that this is known as a "three quarter" model, measuring 48 inches across (twin is 39″ and double is 52″) by 72 inches long.    Good enough for two little ones, a teen, or a mother in law….   The best thing to say in favor of the Murphy is that it is an excellent solution to not having your kids share the same bed, especially if they are of different genders and that "oh-so-uncomfortable-with-acknowledging-my-sister" age bracket.  Since the sofa pulls out into a Queen sleeper, this allows everyone to be comfortable and less whiny!
As we sat chatting in the living room, we couldn't help but reflect upon that kitchen.  We all couldn't get over how much it really does feel like one you could have in your own house. It's practical, yet extremely stylish. Plenty of room to stash goodies and groceries alike.  There are several grocery delivery services for those who don't bring a car, but if you have one, there are groceries, as well as a Target store, within a mile or two – straight down Harbor Boulevard from the resort. Drake and Kathy had done just that and found it very convenient to bring in their personal needs.  Let's face it – if you can get your food and beverages (especially sodas and alcoholic ones) cheaper, why not?  After all, they have phased Uncrustables Peanut Butter and Jelly sandwiches off the kid's menus…..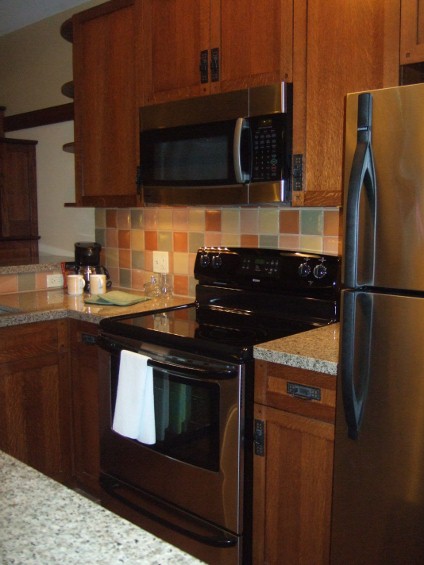 Even the banquette style dining room table, that has become the common thread in all of the newer DVC resort designs, has more of a cushier and cozier feel. It's longer, too. You can see where it could comfortably seat at least 6 to 8 people, in the need arose. I felt it is much larger than the tables set at Animal Kingdom Lodge Villas and Saratoga Springs.  I didn't get out a tape measure (I will next time), but I felt the table was actually much longer in its construction.  You can tell by the place settings (Model Room) that there really is more room on the table!  We really liked the stock dishes, too.  Very simple, but elegant pattern.  Good sturdy wine/water goblets, too.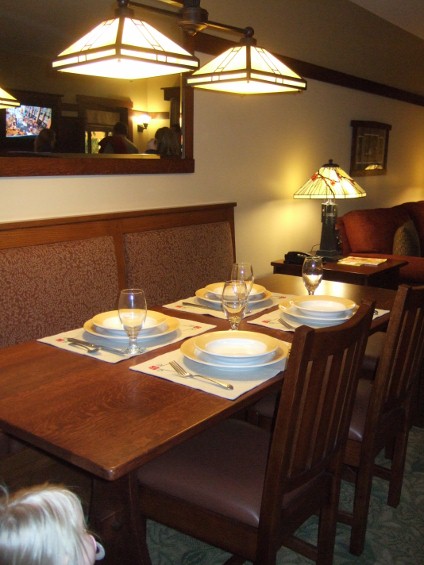 One of Drake's comments was that he really liked all of the little details that went into the room design.    Hidden Mickey fans will thrill at all of the places that Mickey appears in very subtle ways, such as the ends of the kitchen snack counter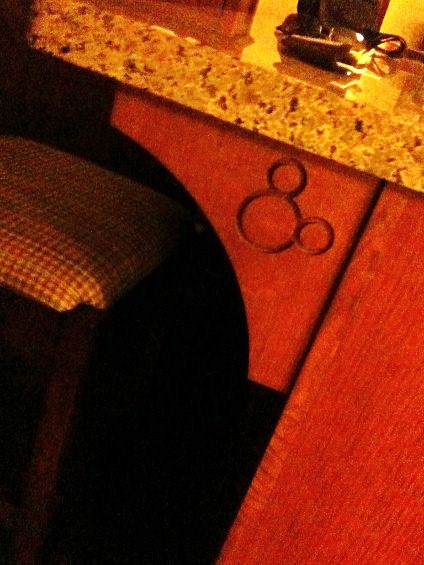 under the end tables,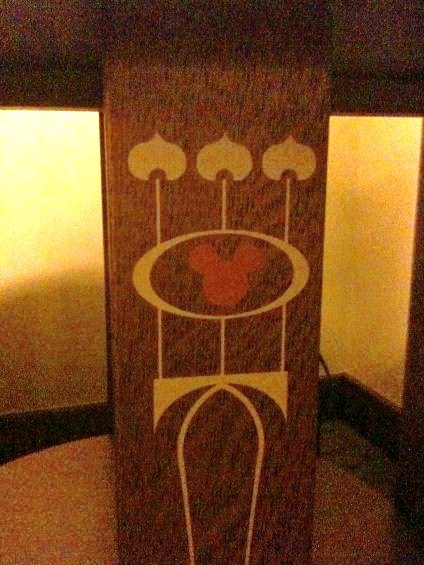 and in the carpet – which was my favorite.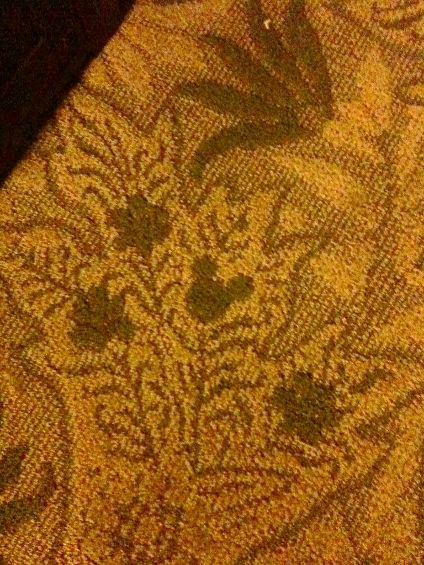 So now that we have seen the living room, let's move on to the bed and bath.  Keep in mind that we were in a 1 bedroom unit for this experience.  When we did the tour, they took us through a 2 bedroom unit – which was a lock-off model.  What the heck does that mean, for the DVC-Unintiated?  Simple.  A lock-off is a larger room that has a lockable door between its two bedroom units – kind of like connecting rooms in a regular hotel scenario.  That way, they can offer the unit to two different families, who would separately need either a 1 bedroom or a studio.
For the 1 bedroom, a King bed is the benefit.   The headboards are beautifully done, with multiple motifs and open carving work,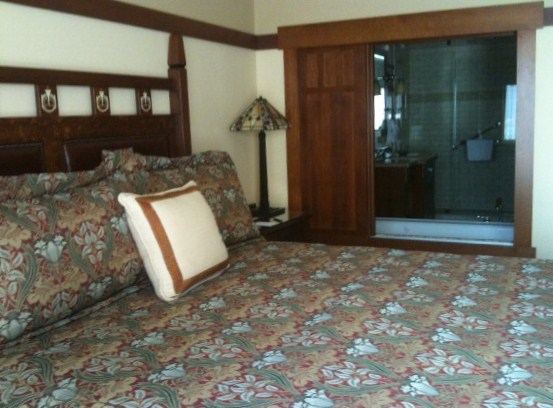 much nicer than in the model room….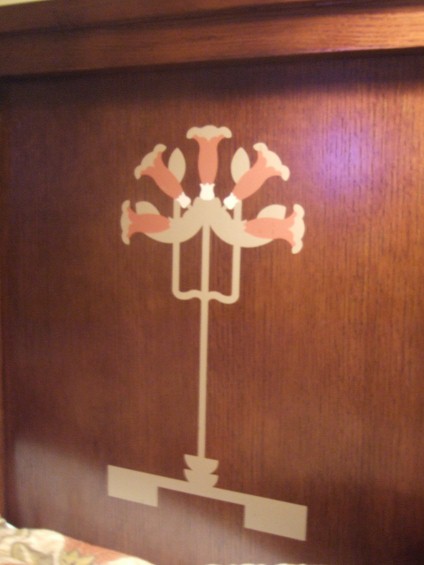 There is plenty of storage space in the Master, too.  A desk, a large armoire hosts drawers for the folded clothes, a bench provides seating or luggage storage, and a double, mirrored door closet awaits your Napa Rose attire.
As you can see, the other "must-have-a-1-bedroom" need is that Jacuzzi tub.   Simply slide the panel that separates the tub from the bedroom, pull your curtains, and boom.  Watch the World of Color from your bath (if you are on an upper floor).  Take that, Bay Lake Tower at Disney's Contemporary Resort…..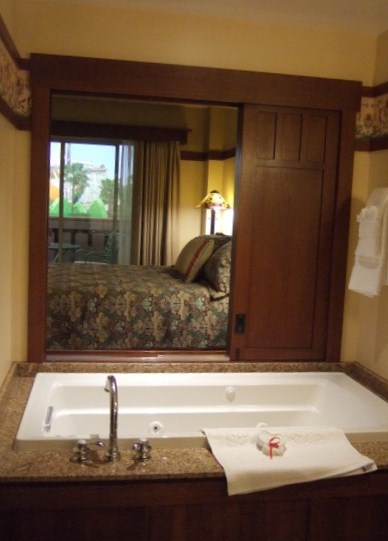 The thing I felt was the most charming about the bathroom was the wood trimmed border.  Now this room, for all the Hidden Mickeys, is not extremely Disneyfied.  The bath, more so.  Cleo, the fish from Pinocchio, really takes center stage.  For those of us with potty-training or just younger kiddos, Pinocchio reminds them not to lie that they went before we left for the park!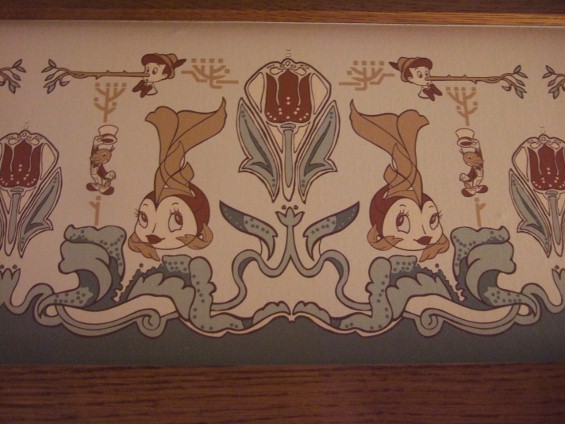 The walk-in shower hosts a full bench seat to accommodate most travelers, and the toilet has its own lockable door.  That way, …..well, ……you know.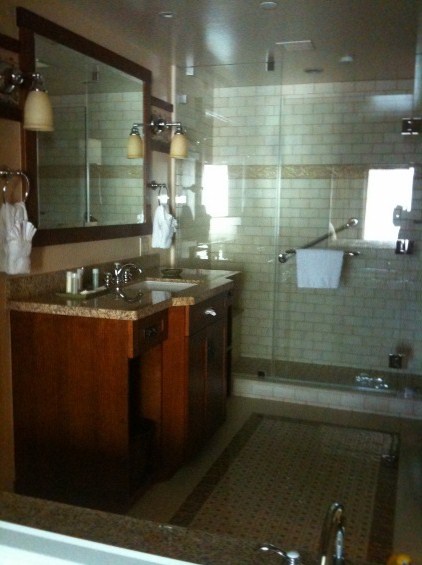 Be forewarned and pleased that the Master Bath has its own doorway into the main hall, which contains the slatted door to a stacked washer/dryer .  That way your guests on the sofa bed can use the Jacuzzi and go back to their rooms, while you sleep off a churro coma.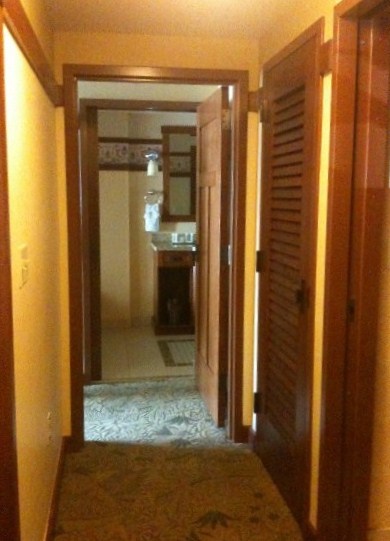 They do have their own bath, so worry not.  The nice design here, not present in many of the other DVC resorts, is a 3/4 bath – with a reasonably sized shower.  It's not huge, but when you figure that its audience will usually be kids and Grandma, or another couple coming on vacation with you, then it's okay.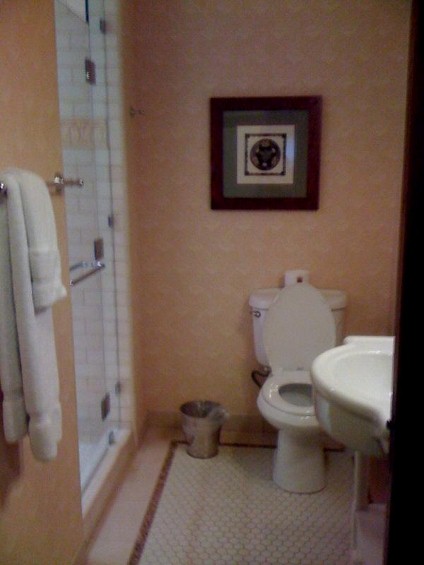 For those of you only getting a studio, the bath will consist of shower/tub and toilet, and a really gorgeous sink with storage.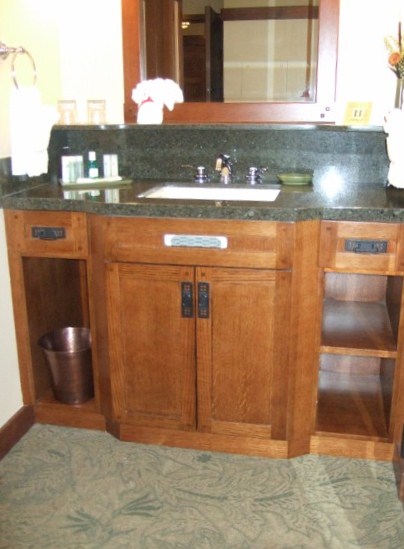 As we sat in the living room and took all of this in, our three precious Princesses were squealing with delight, running around in costumes, and having the time of their lives.  We were actually impressed that they had their space to be free and energetic and we could relax from all the walking.   And, they could play the way they wanted to.  The island became a stage curtain, and we were treated to our own version of the Princess Fantasy Faire Meet and Greet attraction.  It was a fabulous way to really wind down our day and enjoy the serenity of the resort.  Heck, Ian even made the short run over to the Hearthstone to get hot cocoa for me.  How pleasant is that?  All of the great things at the Grand Californian at our disposal.   The Grand Adventures programs are also available to folks staying in the Villas, so make sure you enjoy them.  They are one thing that the other Disneyland Hotels cannot offer.  I'll be covering them in a future blog!
While the point expenditure for DVC owners may be as comparable as using them for Bay Lake Tower, I think the value of the extra expense is good.  For folks looking to book them as a regular room, make sure you check availability.  There aren't that many units and there are an awful lot of people looking to enjoy them!
The DIS Unplugged Web Radio Show Podcast

Listen to Drake and Kathy Thibodaux discuss the features and benefits of staying in the new Villas.

Discuss | Blog | RSS Feed | Add to iTunes
Category: Disneyland
Disneyland Podcaster for the DIS Unplugged