Review by Kevin Klose
We recently visited the Rose and Crown Pub, located in the United Kingdom area of Epcot's World Showcase. As it was not a busy time at Disney, we were able to secure a same day advanced dining reservation for 3 pm. As we hit very little traffic, we made great time and actually arrived at the restaurant just a bit before 2 pm.  Read on to find out about our experience.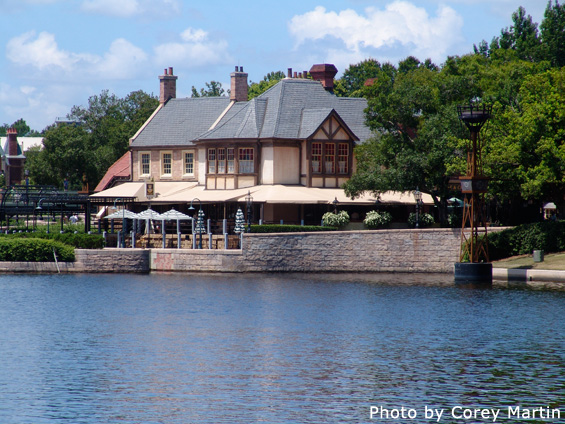 We approached the podium and explained our situation….we had a 3 pm ADR and arrived an hour early. We asked if it was possible to be seated at that time or if we need to wait the additional hour for our allotted time frame. The Hostess suggested that it would depend on how busy the dining room was at the time.
I took this to mean that she was going to check to see if the dining room was busy and she didn't. She just stood there looking at me. I asked if she could check and see if we could be seated. Her response was "Oh, you mean now?" She checked and decided that we could be seated immediately.
We were shown to our table in a near empty restaurant.
Our server approached our table and asked if we had any questions. When we said we didn't, she asked if she could make suggestions. We agreed and she proceeded to read the menu to us. Verbatim. I explained that we could read the menu and she left.
We decided to start with a bowl of the Potato Leek soup (5.49), the Butter Poached Shrimp over risotto ($9.99), the Rose and Crown Meat and Cheese selection for two ($12.99) and the Scotch Egg ($8.99).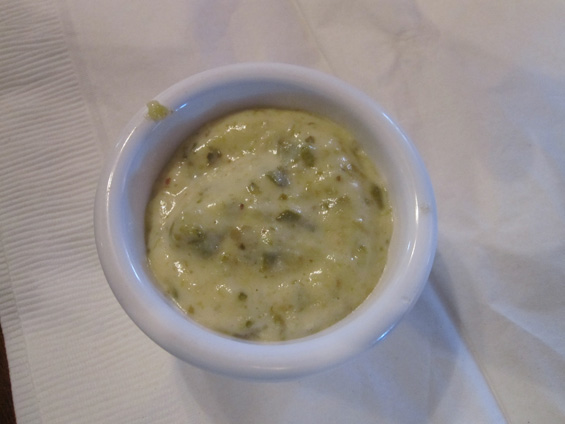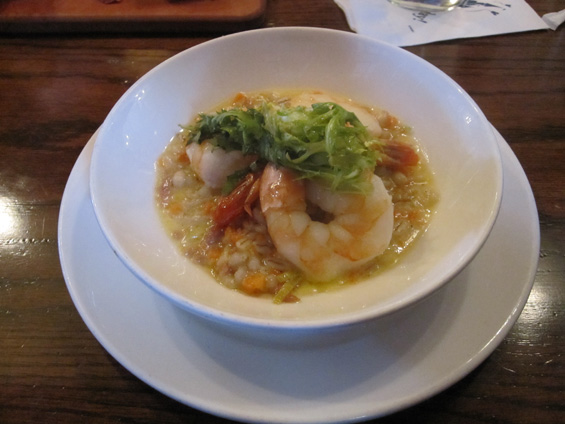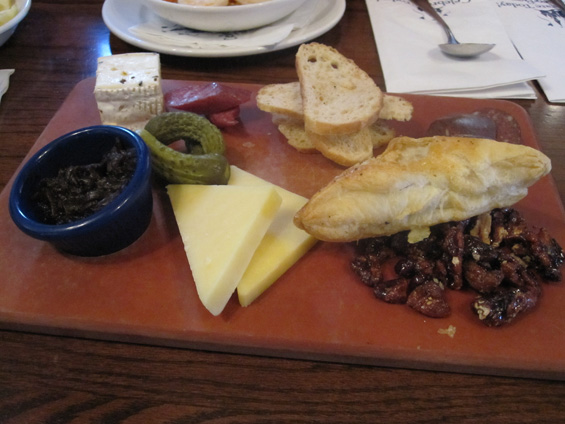 Our soup was delivered and resembled a bowl of slight solidified paste. As we were very hungry, we asked for a small portion of hot milk to add to the soup in order to thin it to "soup consistency".
We ordered our entrees and after this, our server disappeared.
Our other appetizers arrived…delivered by another server.
The butter poached shrimp consisted of four non-descript shrimp with little flavor on a bed of undercooked barley. As the description stated barley risotto, we expected risotto containing barley. Nope…this was just under-cooked barley.
The meat and cheese platter was better, but I think it's misleading to think that this would serve two. There were two very small servings of cheese, two very small servings of sausage and some accompaniments. They consisted of two gherkins, 11 grapes and approximately 12 roasted pecans. While these things were tasty, unless there were two very small eaters, this was only enough for one.
I had heard of a Scotch egg before and was intrigued to try one. It's a hard boiled egg encased in sausage, rolled in bread crumbs and deep fried. It was served with a grainy mustard.
I was surprised to find that this was served at room temperature and asked a passing server (not ours) if it was supposed to be that way or if it was supposed to be served hot.
I was told that this was the appropriate presentation.
I can tell you the intrigue is no longer there. This was surprisingly lacking in flavor. I was expecting savory, salty sausage and instead found it to be mild to the point of tasteless. I was also surprised that there was so little on the plate for $9.00.
After finishing our appetizers…we waited. And waited. And waited.
Eventually, a server approached our table with three orders of fish and chips. While this was not what we ordered, we figured that a mistake was made and we'd just roll with it and accept what was delivered. One order of fish and chips hit the table before the server realized that this was for a different table. Our fish and chips were whisked away.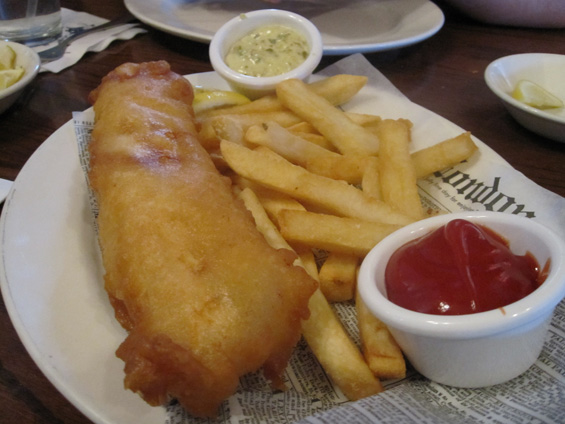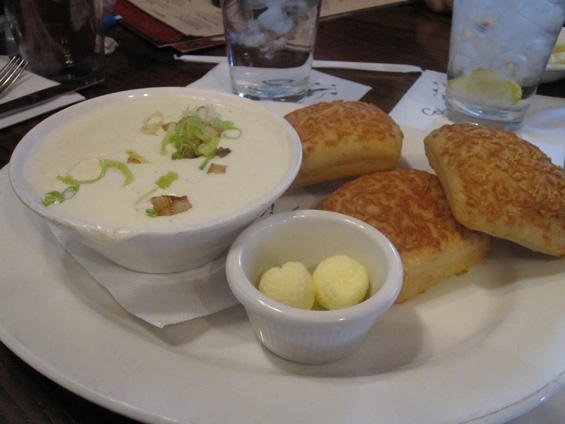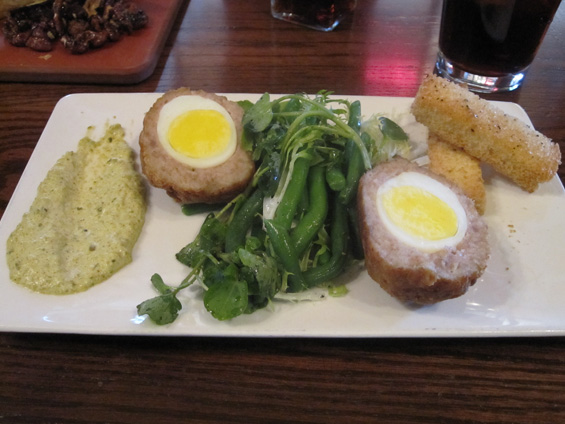 And we waited.
I finally got up and headed for the kitchen to find our server. I did locate her headed our way with a full carafe of steamed milk.
She arrived at our table with a full liter of hot milk. She explained that this took her a great deal of time to get the whole pot of milk to temperature.
I told her I appreciated her efforts, but there had been a misunderstanding. We were looking for a small amount (making the small finger gesture using your index finger and thumb the entire time) of milk for soup that had already returned to the kitchen.
I asked if our entrees would be arriving soon and she said she didn't know. She then asked if we still wanted the liter of hot milk. When we explained that we no longer had any use for the hot milk, she disappeared yet again.
It's at this point that I had another Disney first. I called Disney Dining from the Rose and Crown Pub and made dinner reservations for Chef's de France for one hour later.
After waiting a bit longer, one order of fish and chips arrived…..for three people.
Neither the cottage pie nor the chicken and mushroom pie ordered at the same time as the fish and chips were ever delivered. No explanation. No apologies. Nothing.
Three of us tasted the lukewarm soggy fish, ate the tasty chips / fries and asked for our check.
When delivering the check, our server asked how everything had been. We explained that we never received two of our entrees. This meant more waiting while the check was re-figured.
We then left and went to Chef's de France and had a wonderful dinner and extraordinary service.
I don't think this is a typical experience, but…it just goes to show that anything can happen.
Category: Dining, Disney World
Leah grew up in a little farming town in Illinois, right on the Mississippi River. Her Chicago-born husband, David, left the city for her, and they're now raising their three children (Jacob, Jonah and Lydia) just 12 miles from her hometown. As the Senior Editor of the DIS (wdwinfo.com), Leah spends a lot of time writing about, reading about, and discussing Disney. So, it should come as no surprise that one of her family's favorite ways to spend time is going to Walt Disney World and traveling on Disney Cruise Line. She also enjoys shopping, watching movies with her husband and doing crafts with and for her kids.