Recently I attended the D23 First Anniversary Party held at Disneyland along with a small group of DIS friends.  An after-hours party at Disneyland…fancy desserts…all the rides in Fantasyland….obscure characters…VIPs….what more could you want??  Read on to find out….
When D23 announced their anniversary parties at Disneyland and the Magic Kingdom, I knew I had to be at the Disneyland party.  I guess $65 might be a bit much for a 3-hour party, but I knew that D23 always has some surprises up their sleeves.
I was told that tickets to the party were limited to 1,500 guests, but the event never sold out.  In the days leading up to the party, D23 even released additional details, including an exciting VIP guest list, in an attempt to boost sales.
The party didn't start until 9 pm, but guests were able to pick up their wristbands starting at 4 pm.  The line went quickly and soon we were officially registered.  Interestingly enough, we were asked to sign filming release forms….should I be worried?
At around 8:45, we were allowed into Disneyland and gathered in the hub.  Sleeping Beauty Castle was beautifully lit and adorned with a D23 Anniversary banner.
Just after 9, we were welcomed to the party (via recorded message), treated to a portion of Walt Disney's Disneyland dedication speech and then invited to cross the bridge through Sleeping Beauty Castle into Fantasyland.
There was only one slight problem with that.  Picture 1,500 people all trying to get through Sleeping Beauty Castle at the same time….not a pretty sight.  Luckily, they had Plan B already in place and we were directed to the right, between the Castle and the Matterhorn…and finally Fantasyland was ours.
(pictured: Martin, Deann, Rob, Daniel, Chrysty, Marla, Tom)
There was so much going on:  What to do first?? VIPs? Characters? Drinks? Rides? Sweets?  Eventually our stomachs got first choice and we hit the dessert tables.  There were dessert tables set up everywhere you turned, loaded with cookies, cupcakes, rice krispie treats and other assorted gourmet desserts.  There was also coffee and ice water available.  As the night wore on, some of the fancier items were gone, but there was always a supply of cookies and rice krispie treats.
Now that our stomachs were taken care of, it was time to work on our livers.  I didn't really have the inclination (nor the budget) to get drunk at the party, but when you're presented with the chance to have an alcoholic beverage in the middle of Fantasyland, you can't pass up the opportunity.  There was a limited selection of beers, wines and sodas and the prices were typical theme park prices.  Beers were $5.50-$6.00, wine was $8 and sodas were $3.50.  At the beginning of the evening, there were small lines at the bars, but by the end of the night they were closing down some of the bars early due to lack of business.  I guess the novelty faded quickly for everyone and with no tables or chairs, we would've ended up wandering around Fantasyland with a Mickey Rice Krispie treat in one hand and a cup of beer in the other (plus an autograph book under our arm and camera hanging from our wrist).
Now that our livers were sufficiently angry, on to the characters.  D23 had promised guests that we would see characters not seen in Disneyland for awhile.  They technically delivered on their promise, but to me it wasn't on a large scale.  While the characters they presented were different and fun, I expected much more variety than what was offered.  Characters spotted at the party included:
Bandleader Mickey
Pinocchio & Jiminy Cricket
Koda & Kenai
Cinderella and her coach along with Perla & Suzy
The Witch from Snow White
Malificent
Clarabelle Cow & Clara Cluck
The Country Bears
and The Three Little Pigs
We're an hour in, let's review our list.
Dessert? check
Booze? check
Characters? check
VIPS?
Rides?
Wow.  We still had VIPs and rides on our list, and the night was going fast.  First the VIPs.
Here's where I think some improvement could be made (in addition to reworking the whole stick-a-thousand-people-through-the-castle theory).  The characters are easy to spot…just look for the fur…but finding Margaret Kerry, the live-action model for Tinkerbell or Bill Farmer, the voice of Goofy, proved to be a little more difficult.  Most of the VIPs were stationed between the Village Haus restaurant and Casey Jr. Circus Train, but there was no sign directing you there, nor any identification of the VIPs apart from their name tags.  The only saving grace was that they had announced most of the VIPs in advance, so we knew who we were looking for and, lucky for me, we had some Disney experts in our group.
In addition to Kerry and Farmer, some of the other VIPs announced in advance included Dave Smith (Chief Archivist) [above], Daniel Roebuck (Actor-LOST) [above background], Tony Baxter (Imagineer) and Bob Gurr (Imagineer) [below].  All of the VIPs would pose for pictures, sign autographs and take the time to talk to you.  On the down side, since they were taking their time with everyone, the lines were sometimes long and snaked into walkways.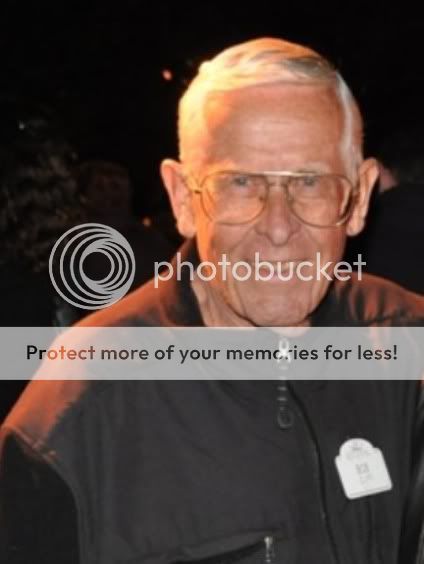 Even more interesting were some of the unannounced VIPs that were just wandering around the party, including former Mouseketeer Bobby Burgess, composer Richard Sherman and artist Robert Olszewski [below].
We now had an hour left and still haven't gone any rides any rides! We quickly rode Mr. Toad's Wild Ride, Snow White's Scary Adventures, Peter Pan's Flight and Pinnocchio's Daring Journey.  We're almost sure that was Richard Sherman we saw getting off of Pinnocchio's Daring Journey and wondered aloud if he went on It's A Small World.
With that, the party was over.  We walked down an empty Main Street, received our collectible pin (which is huge, by the way) and said goodbye to our DIS friends.
I think that just like any trip to a Disney park, someone's opinion of this party could vary based on what they were most interested in and how they approached the party.  For someone that wanted to experience the attractions of Fantasyland over and over again, this party was perfect for them.  If you were someone who wanted to meet Disney Legends (and the dude from LOST) at any cost, you should have been able to accomplish that as well.  I ended up somewhere in the middle.  I entered the party without a plan, not exactly sure how to proceed or what I wanted to accomplish, and I think that's clouding my judgment about some things, including the unorganized way the VIPs were presented.  I'm sure some guests loved the random way you were able to rub elbows with Disney Legends or bump into VIPs.
I ended up doing a little of everything at the party and spending time with some great DIS friends (and that was worth the cost of admission).
Will I attend this kind of party again?  Probably.  Will I approach it differently next time?  Definitely.
Thanks to D23, in the last year I was able to attend the D23 Expo (where I was treated to a song by Miley Cyrus and got to see Johnny Depp as Jack Sparrow), attend a tour of the Walt Disney Studios (where I got to meet Dave Smith and hold an Academy Award) and finally this private party in Disneyland. What a year.  Happy First Anniversary D23!
Additional photos by: Rob Brookhart & Martin Magaña.
Category: Disneyland