An interview with Disney Legend Richard M. Sherman
What evokes strong memories of your last visit to a Disney Theme Park?  A smell?  A food?  A character?  A sound?  Yes, for many of us sounds, particularly music, make up a large part of our theme park experience and memories.  Recently, I had the pleasure to speak with Disney Legend Richard M. Sherman, one half of the prolific, sibling songwriting team who created much of the music we associate with our Disney Park memories: "it's a small world (after all)", "There's a Great Big Beautiful Tomorrow", "The Tiki, Tiki, Tiki Room", "One Little Spark", and "Winnie the Pooh" to name a few.  Continue after the break to read and listen to my interview with two time Oscar® winner Richard M. Sherman.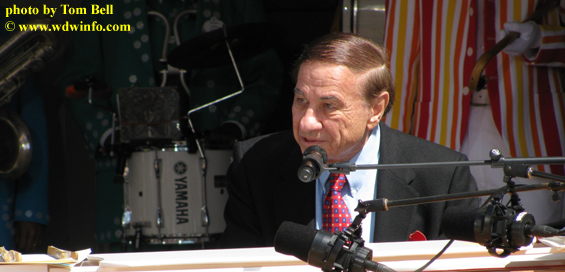 Image: Richard M. Sherman performs on Main St. U.S.A. in Disneyland, March 11, 2010.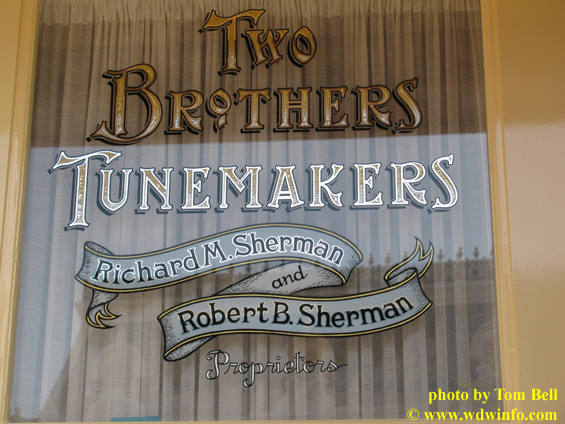 Richard and his brother Robert B. Sherman not only co-wrote music for Disney Parks, but they worked extensively on musical film scores such as The Jungle Book (1967), Chitty Chitty Bang Bang (1968), the Aristocats (1970), Charlotte's Web (1973), and The Many Adventures of Winnie the Pooh (1977).  However, the Sherman Brothers are undoubtedly best known for their unforgettable songs from the 1964 Disney film Mary Poppins including: "Supercalifragilisticexpialidocis", "Feed the Birds (Tuppence a Bag)", and "A Spoonful of Sugar".  They would win 2 Academy Awards for Mary Poppins; one for best song (Chim Chim Cher-ee), and one for music score (substantially original).  They also won a Grammy for best original score.  Richard and Robert Sherman continued to work directly with Walt Disney until the time of his passing in 1966.
Mouseketeer to Mary Poppins
Initially, the Sherman Brothers struggled as songwriters writing "pop songs" when one of their songs, "Tall Paul (He's My All)", was recorded by Annette Funicello – the most popular Mouseketeer of the original Mickey Mouse Club.  Eventually, the song became a top 10 hit in the late 1950's, and the record executives at Disney asked the two to write more songs for Annette.  Little did the Shermans know Walt Disney was also listening and enjoying their music.  So much so, one day Walt Disney approached the brothers, gave them a book to read, and asked for their thoughts.  That book was "Mary Poppins"; the Shermans thought a lot of it, and the film would go on to be their biggest success.  They worked for four years on the film and on more than just songs; Walt Disney involved the brothers in the total creative process for the film.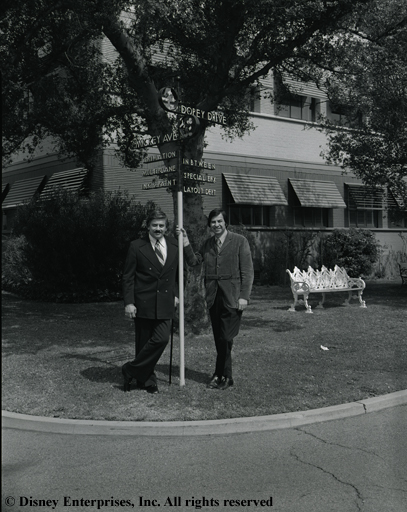 Image: (L to R) Robert B. Sherman and Richard M. Sherman at Dopey Drive and Mickey Avenue sign at the Disney Studios.
Walt Disney needed their creative help because he had a problem with Mary Poppins.  There was no storyline in the book – Mary Poppins flew in on the East Wind, took the children on great adventures, and flew out on the West Wind.  The Sherman Brothers were tasked to tie the stories together, and invented the dysfunctional family with parents so busy the children were deprived of love.  Therefore, Mary Poppins came in and taught a life-lesson to the Father and the Mother.  "Feed the Birds (Tuppence a Bag)" had nothing to do with the cost of breadcrumbs, but, instead, it does not take much to give love.  These were the themes Richard and his brother injected into the story.  They did not write the script, but had much to do with shaping the story.  The story concept was inspired by the characters of P.L. Travers' book "Mary Poppins", but the film was not her book.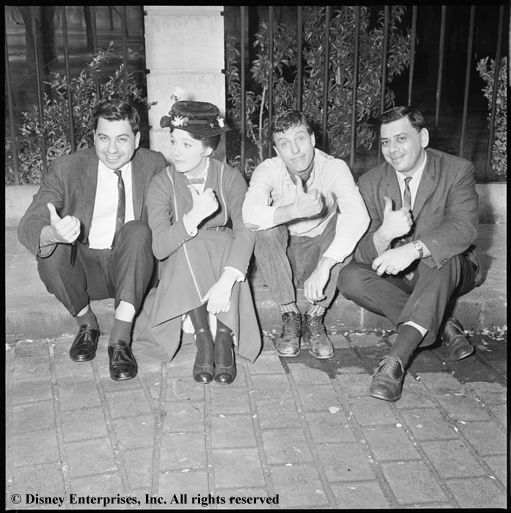 Image: (L to R) Richard M. Sherman, Julie Andrews, Dick Van Dyke and Robert B. Sherman on the set of Mary Poppins
Richard Sherman described working with Julie Andrews as a "total joy".  They were searching for just the right personality to play the lead, and considered many prominent actresses at the time such as: Angela Lansbury, Bette Davis, and Mary Martin.  However, Julie Andrews and Richard Burton appeared on the "Ed Sullivan Show" to sing "What Would the Simple Folk Do?" from Broadway's "Camelot".  Richard Sherman saw the performance, and knew right away Julie Andrews was exactly what they needed for the role of Mary Poppins.  She had an incredible voice, was beautiful, and had the crisp, clean British personality required for the part.  He wanted to run to Walt Disney instantly to announce his lead was found.  However, Walt Disney's secretary instructed Richard instead to purchase tickets to "Camelot" for Walt Disney and his wife, let them experience it, and allow Walt Disney to come to his own conclusion about Julie Andrews.
When asked about Dick Van Dyke, Richard Sherman instantly exclaimed, "a jewel of a human being!"  He regaled how Dick Van Dyke never had a dancing lesson in his life.  All the dancing in Mary Poppins was picked up through observation.  Richard Sherman repeatedly gushed over Dick Van Dyke, how he threw himself into the role, and how they remain good friends to this day.  This past January 2010, for one night, Dick Van Dyke reprised one of his Mary Poppins film roles, Mr. Dawes Senior, on stage in the Los Angeles Production of Mary Poppins to raise money for LA's Midnight Mission.  Regarding Van Dyke's recent performance, Richard declared, "Dick is a great, great, spirit, a wonderful guy.  He's 84, but still has the energy of a 25 year old."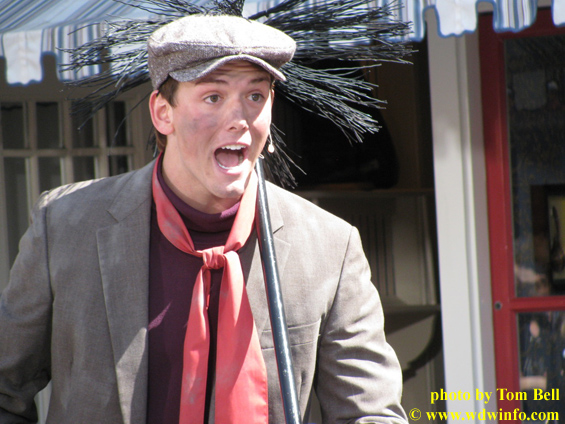 Theme Park Attraction Music
1964 – the year "Mary Poppins" came out was a big year for the Disney company for another event – the 1964 New York World's Fair.  Walt Disney was developing four shows and pavilions for the World's Fair, and the Sherman Brothers were heavily involved in two of those productions: "Progressland" for General Electric (GE) which would eventually become the "Carousel of Progress" and "it's a small world" for Pepsi-Cola/UNICEF.
Richard Sherman discussed writing "There's a Great Big Beautiful Tomorrow" the theme song for the "Carousel of Progress".  Prior to writing the song, the Sherman Brothers had the opportunity to see the circular, rotating auditorium dreamed up by the Imagineers that showed the development of electricity.  Each auditorium chronicled how electricity changed and improved our lives from one era to another, and the Imagineers needed a song to tie it together.  The song needed to sound like it could be "Ragtime" from the early 1900's, or "Jazz-time" from the 20's, or "Swing-time" from the 30's and 40's, or possibly a violin suite from the 1960's.  Walt Disney gave instructions that all these various eras needed to be encompassed in one song.  As Richard Sherman left the meeting with Walt Disney he said to his brother, "well, Walt has a dream and that's the start", and then his songwriter instincts kicked in.  He changed that line to "man has a dream and that's the start", and that became the opening line of the song:
Man has a dream and that's the start
He follows his dream with mind and heart.
"There's a Great Big Beautiful Tomorrow" was inspired purely by the boss, and that was appropriate because Walt Disney was a futurist who had incredible enthusiasm for whatever was coming tomorrow.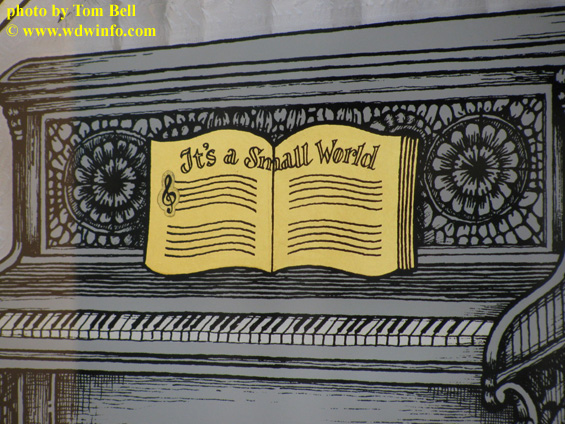 The other Sherman production for the 1964 World's Fair was, of course, "it's a small world", with the polarizing song Richard Sherman described as one to makes people want to either "kiss or kill them".  However, the attraction's theme song means much to Richard Sherman, and he described the song as a prayer for peace.  The Imagineer's original idea for the ride was to have the various groups of children sing the national anthem for their respective countries.  On paper that sounded great, but in practicality, the plan resulted in cacophony.  "A total mess", said Richard.  Therefore, similar to "Carousel of Progress", Walt Disney again assigned the brothers the task of creating one song to unite the entire attraction – Disney wanted the song to communicate how the small children of the world are our hope for the future, how we have to learn how to live together, but "don't get preachy".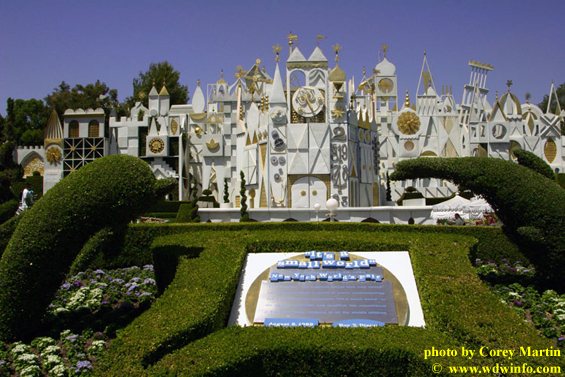 Richard and his brother created a simple little song with repetitions easily translatable for the different countries of the world.  The Shermans boiled down the message to its essence: "it's a small world – let's not kill each other".  Now they struggled to find words to convey that message.  "Let's learn to live with each other" – sounded preachy.  "Let's respect each other" – sounded preachy.  Until, ultimately, they decided upon "it's a small world after all" – after all meant "wake up, live together, understand each other" without saying anything more.  Richard Sherman then recited the first verse slowly and deliberately to emphasize the hymn-like qualities.
it's a world of laughter, a world of tears
it's a world of hopes, and a world of fear
there's so much that we share
that it's time we're aware
it's a small world after all.
Richard asserted, "that's the first verse, and that says it.  That says, let's learn to live together, but we do it brightly and happily."  He next described an appearance shortly after the events of 9/11.  He was scheduled to perform, and always finished with "small world".  However, with the world shaken by this horrible act of terrorism, and he decided he could not sing the song in it's usual bright and happy way.  Instead he sang it slowly and carefully, as it was written as a prayer, and moved the audience.  He ended by saying the song truly was a prayer for peace, and said we need the song as much now as we did when it was first written.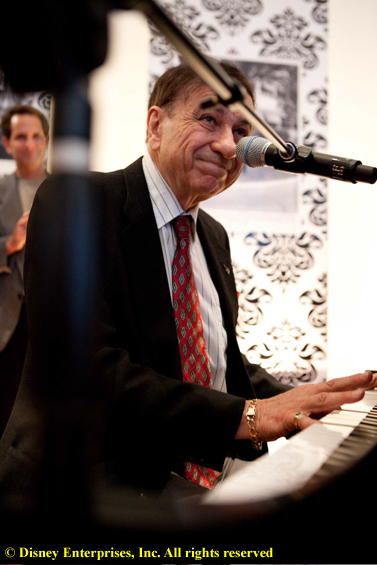 Image: Richard M. Sherman Photo Credit: Drew Altizer Photography
There were similarities between the songs "it's a small world" and "There's a Great Big Beautiful Tomorrow"; both songs were the linkages between all the different scenes for their respective attractions.  However, Richard Sherman maintained the songs were also extensions of Walt Disney's love of humanity and direct offshoots of his dreams.  When "Carousel of Progress" opened in Walt Disney World in 1975, it opened with a new song "The Best Time of Your Life".  Richard Sherman reasoned the song was changed because Walt Disney had passed away, and GE had a new president who said "I don't want to talk about what's going to happen tomorrow.  I want to say right now, right this minute we are at the top of our game, and this is the time to get everything."  Sherman conjectured, "if Walt Disney were still alive, the song probably would not have been changed."  In 1996, the attraction was "updated" and "The Best Time of Your Life" was replaced with the original song "There's a Great Big Beautiful Tomorrow".  I asked Richard which song was his favorite version – without hesitation he replied: "There's a Great Big Beautiful Tomorrow – because that was Walt's song, and was inspired directly from Walt."
Richard Sherman revealed he and his brother composed over 200 songs for the Walt Disney Company for use in films and theme parks.  Of all those songs, I asked if Walt Disney himself had a favorite song.  Again, without hesitation Richard Sherman replied, "Yes, I know he had a favorite song of ours.  He would have us come over to his office many times on a Friday afternoon and play 'Feed the Birds (Tuppence a Bag)' from Mary Poppins.  He loved that song, and knew it was the heartbeat of the whole movie."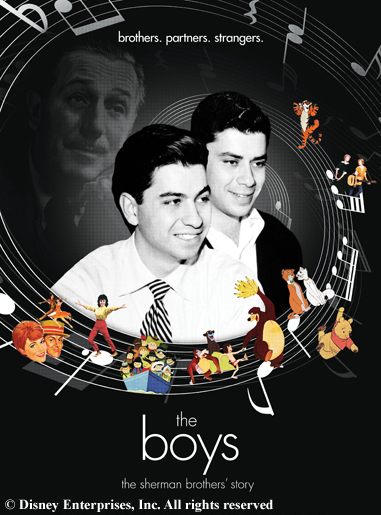 Since that time in the 1960's, Richard and Robert Sherman have continued to stay very busy.  In 2008, the Sherman Brothers received the National Medal of Arts, the highest honor for artists from the US government, bestowed upon them by President George W. Bush.  They currently have two stage musicals running: Chitty Chitty Bang Bang at the London Palladium and Mary Poppins on Broadway and on a North American tour.  Richard Sherman penned an original comic musical Pazzazz! showcased at the El Capitan Theater this past February 26 and 27, 2010.  A biography film: the boys: the Sherman brothers' story premiered spring of 2009 – produced and directed by Richard's son Greg Sherman and Bob's son Jeff Sherman.  In addition, a tribute CD "Poppin' Guitars: A Tuneful of Sherman" was released in the summer of 2009.  It would appear Richard Sherman is as busy now as he was back in 1964 when he was working side-by-side with Walt Disney and his brother on Mary Poppins, it's a small world, and Carousel of Progress.  However, Richard was very thankful for his legacy and good fortune, and commented he never thinks of songwriting as work but something he was born to do.  He loves writing songs, loves being part of the production, and writing whatever music might make people feel good.  He describes himself as an optimist, and that he inherited his optimistic quality from Walt Disney.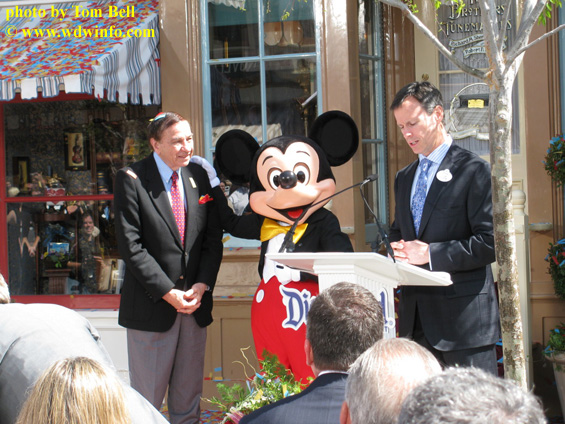 Image: (L to R) Richard M. Sherman, Mickey Mouse, and Walt Disney Parks and Resorts chairman Tom Staggs during the window dedication ceremony on Main St. U.S.A. in Disneyland, March 11, 2010.
As a postscript, after my conversation with Richard Sherman, Disney announced the Sherman Brothers will receive a window on Main Street U.S.A. in Disneyland, one of the highest honors a Cast Member can receive.  I followed up with Richard and asked him how this honor compared to the many accolades received over his career.  He replied with a quote from "A Man Has Dreams", a song he wrote for Mary Poppins.  In the song, sung by Mr. Banks and Bert, Mr. Banks was summing up his life, to which Richard said the following:
A man has dreams of walking with giants, to carve his niche in the edifice of time. Having this window on Main St. in Disneyland, I know Bob and I feel we're walking with giants.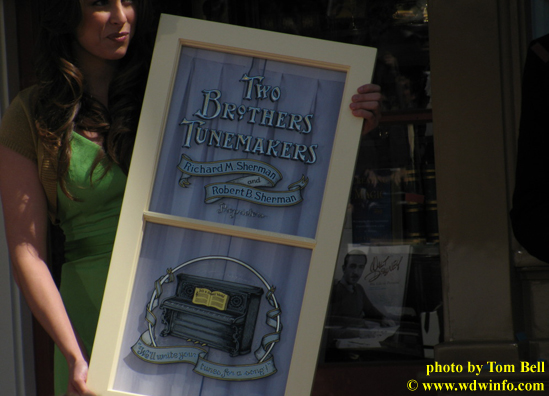 Image: Replica of Sherman Brothers window on Main St. U.S.A. in Disneyland, presented to Richard M. Sherman, March 11, 2010.
Thank you for all your music Richard and Robert Sherman.  You two truly are giants.
Category: Disney World, Disneyland