The following post is from my husband David, who attended ESPN the Weekend, a weekend-long festival for fans of ESPN and professional sports: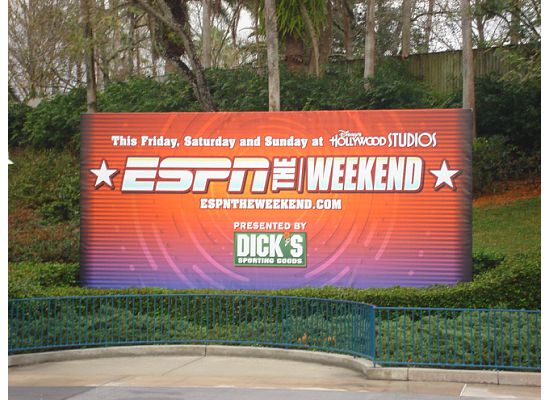 When I was asked to attend ESPN the Weekend on behalf of www.wdwinfo.com and www.disunplugged.com, I considered myself to be a fairly big sports fan.  Apart from bleeding blue as a die-hard Chicago Cubs fan (no apologies necessary), I also follow the other major professional sports as well as some collegiate sports (in order to hold a conversation with my students). However, my perception of being a "fairly big sports fan" was quickly shattered upon arriving at Disney's Hollywood Studios on Friday, February 26th for the first day of this fan weekend.  I had never been before, so my expectations were wide open.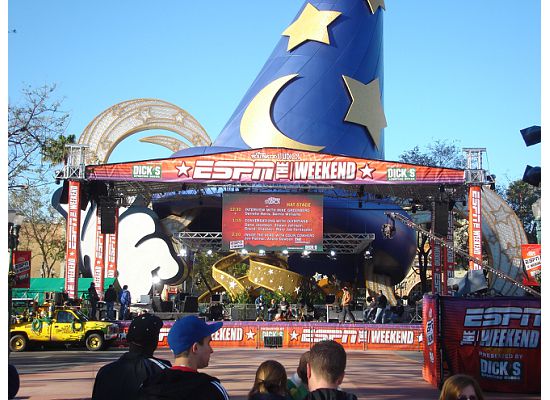 Before I discuss my experience, the process of arriving via Disney transportation is worth noting.  While a majority of the weekend's events were held at Disney's Hollywood Studios, a few live tapings of popular ESPN shows were held at the newly renamed ESPN Wide World of Sports.  I happened to be at the Studios on the evening before the event's official beginning and took the opportunity to ask a cast member about transportation to the Wide World of Sports.  The cast member replied that free transportation would be available from the All-Star Resorts, Pop Century, Caribbean Beach, and Disney's Hollywood Studios.  We were staying at the Polynesian, so I made plans to take a bus from our resort to the Studios and then grab the bus to the Wide World of Sports to attend the live taping of Mike and Mike in the Morning.
Unfortunately, it turns out I was given incorrect information by the cast member at the Studios.  To add insult to injury, I didn't discover this error until I arrived in the Polynesian lobby around 8:00 am on Friday morning.  I consulted a cast member to double check that my travel plans were correct and it was then that I was informed there was in fact no bus from the Studios to the Wide World of Sports.  I told the gentleman I had heard otherwise, so he kindly called another cast member over to confirm the information and, after calling someone else, they all agreed my only options were to travel to a theme park, get on a bus to either POP Century, Caribbean Beach or the All Star Resorts, and then wait for a bus to the Wide World of Sports.  Needless to say, this course of action was unlikely to get me to the Wide World of Sports with very much time to experience the live taping that ended at 10:00 am.  It was time to adjust my plans.
I got on the first bus to the Studios and was there well before park opening.  Upon turning the corner from the bus stops, I saw a large sign promoting the event accompanied by an oversized football and soccer ball.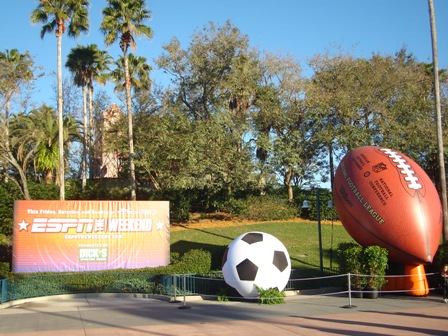 A few families were taking photos in front of the display as well as with two Saints and Colts "superfans" who I'm assuming were Disney "Streetmosphere" actors hired to excite guests upon arrival.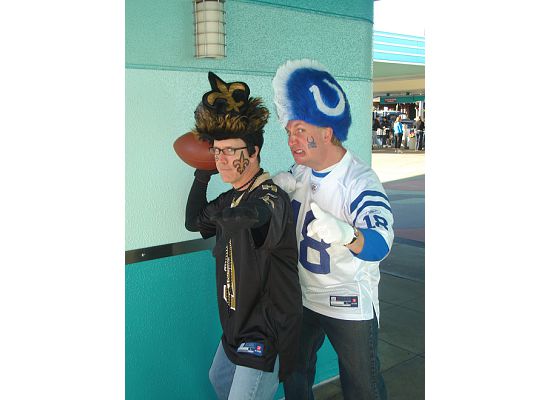 As I mentioned earlier, I fancied myself to be a fairly large sports fan.  After spending a mere five minutes in line at the turnstiles, my place on the totem pole was dropped many notches.  I was second in line and  noticed the young gentleman in front of me (who I estimated to be college-age) had a folder stuffed full of  8 x 10 photos of athletes.
I asked, "Are you here to get all of those signed?"
"Yes," he replied.
"For your personal collection or for eBay?"
"For my personal collection, definitely."
I cannot judge this statement's truth with 100% certainty, but when I saw this young man chase down an athlete later that weekend with at least five glossy action shots in hand, I'm guessing he wasn't being entirely forthcoming.  This type of occurrence would prove to be very common throughout the weekend.
As more guests started to line up, I primarily saw three groups of people: (1) fans who wanted to see a certain athlete/personality (2) fans who wanted to chase a certain athlete/personality for his/her autograph and (3) guests who arrived completely unaware they were attending during the ESPN weekend.  This is purely anecdotal, but it seemed as if group two far outnumbered the other groups.  I saw many people with duffel bags full of memorabilia to have signed, sometimes at the expense of a fan who simply wanted a shirt or jersey autographed (more on that later).
While Disney was extremely vague on the weekend's events in the weeks prior, the event schedule I received when entering the park was quite detailed.  The weekend's events were scattered around Disney's Hollywood Studios and were divided into four main categories:
Motorcades, conversations, and interviews
Live tapings of popular ESPN shows
Live versions of ESPN "game" shows: Stump the Schwab and Dream Job
ESPN Interactive Sports Zone
Motorcades, conversations, and interviews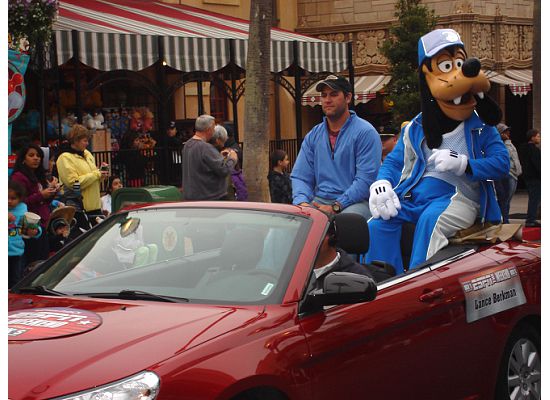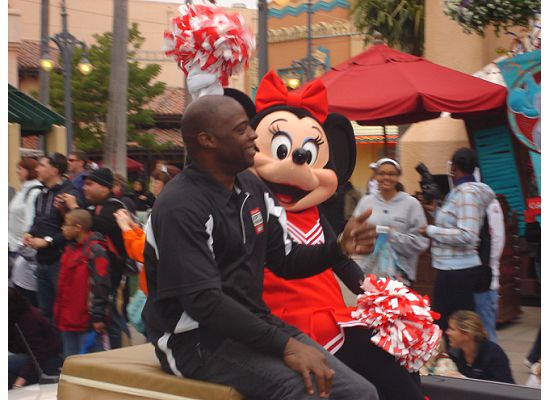 Throughout the weekend, there were athletes who were transported down Hollywood Boulevard in motorcades with Disney characters as a way to get them to the main stage in front of the Sorcerer's Hat.  They would then participate in panel discussions about their respective sports with ESPN hosts.  To say the turnout for these motorcades was disappointing would be an understatement.  As much as athletes like Roy Oswalt and Devin Hester might be big names amongst sports fans, they did not attract the casual visitor; something that seems necessary to line the streets.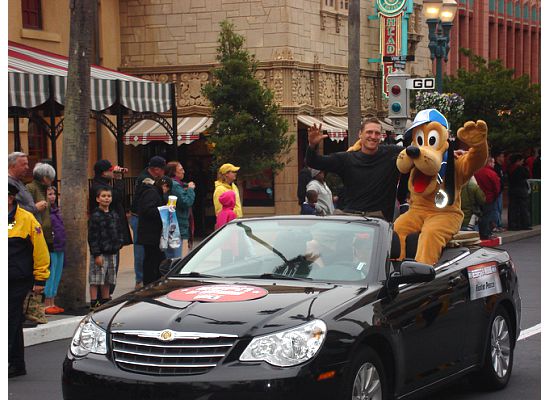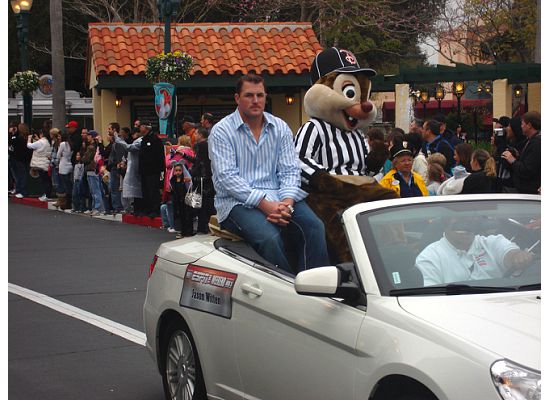 The panel discussions were somewhat interesting (if you were a fan of the particular sport of the session) but were very rushed as they only lasted around 30 minutes.  It was during these sessions that the mantra of the weekend was hammered home:  'ESPN the Weekend is about you, the fans.'  While not always successfully executed, many of the Q & A sessions did involve fan questions.  In addition, fans lined up near the stage exit in an attempt to get autographs (we also saw some of them waiting outside other backstage doors).  In comparison, Star Wars Weekends, another fan event held at the Studios, controls autograph sessions by utilizing fastpasses as an attempt to "level the playing field." As I mentioned earlier, it appeared as if the sports memorabilia eBay member was going to overpower the casual fan in the battle for coveted signatures.  However, I witnessed one of Disney's VIP tour guides making sure that didn't happen.
While viewing a panel discussion on the main stage a young female fan (I'm guessing around middle-school age) was desperately trying to get the attention of one of the athletes as she was making her way through the gauntlet of Sharpie-wielding fans.  Her requests were not heard by the athlete, most likely due to her disadvantage in size and lack of a willingness to push others out of the way.  Upon seeing this, a VIP guide approached the young girl and, from what I could hear, made sure she got the autograph she so deeply desired.  That cast member was truly exhibiting the "Disney Way."
Live tapings of popular ESPN shows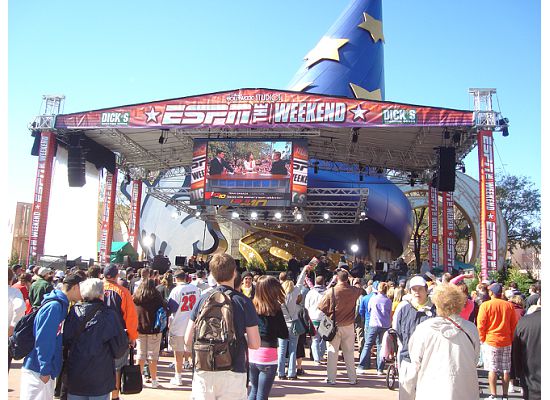 The live tapings of such shows as Baseball Tonight and ESPN First Take drew some of the biggest crowds of the weekend.  While it was interesting to witness a live television production in action (somewhat reminiscent of the early days of the Studios) the recordings became stale after a short amount of time because of very little (if any) fan interaction.  The shows filmed in the Premiere Theater felt a bit more intimate and personal, perhaps as a result of being off the beaten path.  Regardless of where they went in the park, every guest got a glimpse of the main stage in front of the Sorcerer's Hat.  I would guess only those who wanted to see a taping in the Premiere Theater would make their way down the Streets of America to find that location.
Live versions of ESPN "game" shows: Stump the Schwab and Dream Job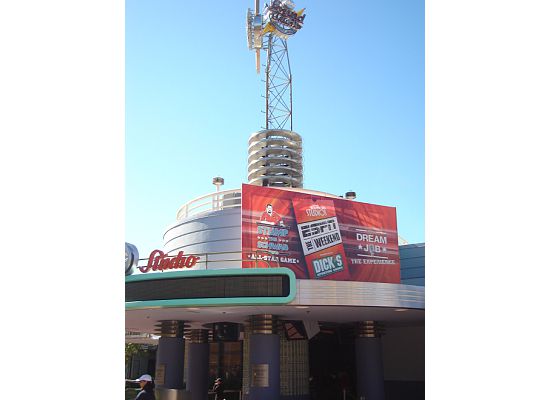 The best way to describe these two events would be as ESPN the Weekend versions of The American Idol Experience.  Held in the Sounds Dangerous Theater (yes, it's actually being used for something), these two shows each had four performances daily.  Dream Job is a reality program on the ESPN Network where contestants participate in different challenges in a competition to become a sportscaster.  Stump the Schwab is a very popular sports trivia show where contestants do battle with sports trivia genius Howie Schwab.  Both productions lasted approximately 30 minutes and involved regular guests (just like The American Idol Experience).  One selling point for these two shows was that they incorporated the celebrities that make the television versions successful.  Al Jaffe, a programming executive for ESPN participated in Dream Job and Howie Schwab himself was on stage to go head-to-head with contestants.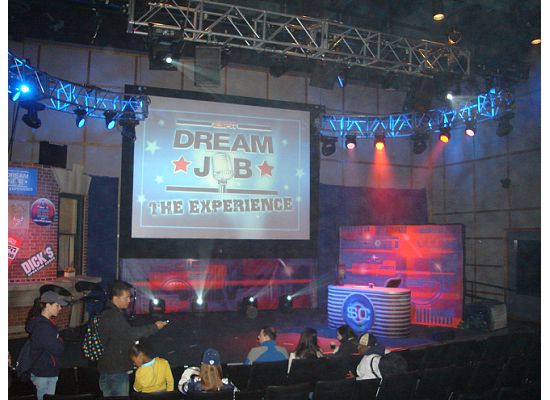 ESPN Interactive Sports Zone
This area was perhaps the most entertaining offering of the entire weekend.  Nestled in the back of the park behind Rock 'n' Roller Coaster was a large area of interactive games that gave guests of all ages the chance to test their skills in their favorite sports.  Spread out across this backstage lot were football, golf, baseball, basketball, tennis and even fishing activities.  There was also a corner of the lot that had bean bags and a Wii console set up for the less athletic types….children…I mean for the children.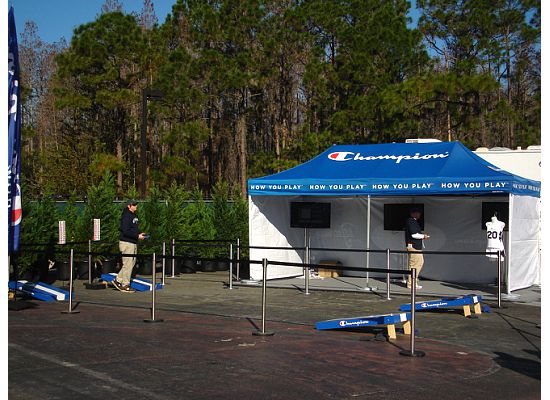 What made this area intriguing was the fact that the athletes in attendance for the weekend would stop by unannounced and participate with guests in their respective sports.  I even got the opportunity to toss around a football with Cincinnati Bengals wide receiver Chad Ochocinco (who was recently announced as a contestant on the new season of Dancing with the Stars).  However, he felt it necessary to taunt me and the junior high student next to me every time we prepared to throw the ball.  Let's just say his reputation in the media isn't unwarranted.
For those who may attend this event in the future, I recommend visiting the Interactive Sports Zone early in the day, because the activities did get very crowded as the day went on.  You will have to sign an injury waiver before you are allowed to participate (or even stand in line).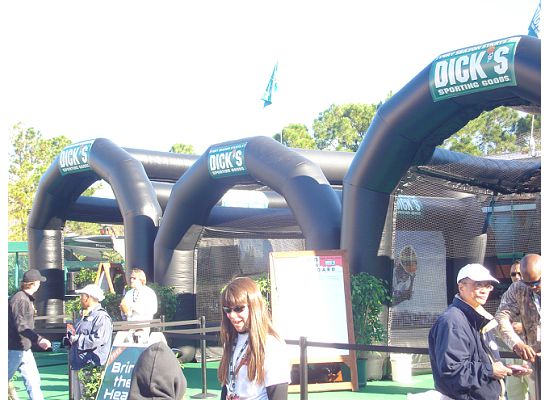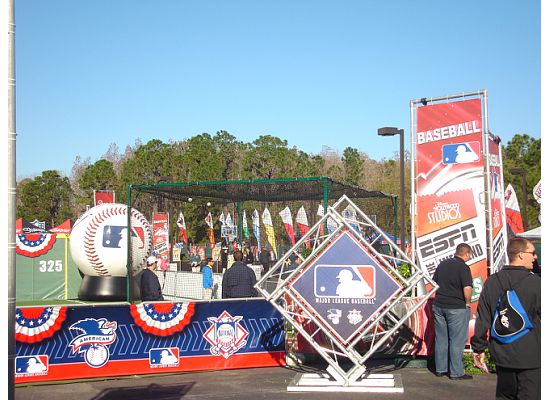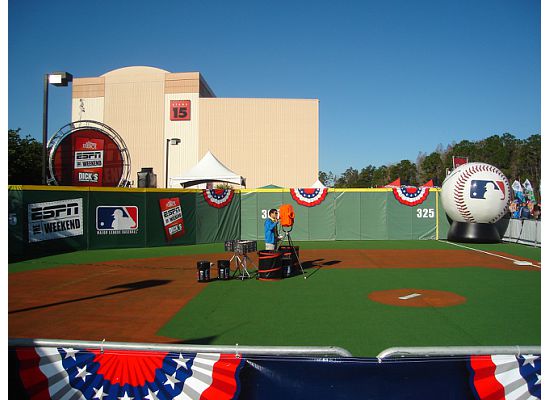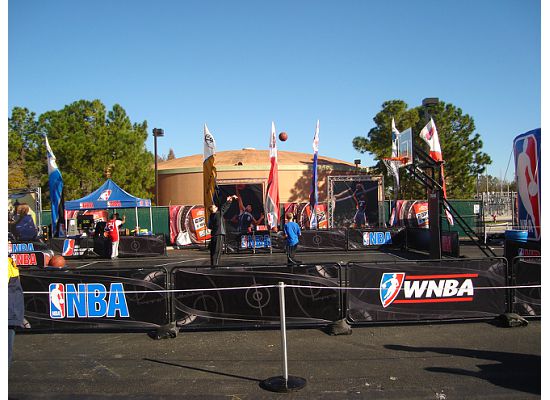 Overall, I have mixed feelings on the weekend.  While it was definitely a nice change of pace from the normal offerings of the Studios, I don't believe it necessitates the devotion of an entire weekend.  Had I been an autograph/memorabilia seeker, I may have seen things in a different light.  However, I think this event was more catered to fans of ESPN and its properties than fans of sports in general.  Bottom line:  If you're already in Orlando when the event is taking place next year and you're a fan of ESPN, you might enjoy the offerings for a day or so.  If you're not already going to be in town, I don't know if I'd make a special trip for it.
How appropriate is it that in an article about a sports festival, I'm wavering like Brett Favre.
Category: Disney World
Leah grew up in a little farming town in Illinois, right on the Mississippi River. Her Chicago-born husband, David, left the city for her, and they're now raising their three children (Jacob, Jonah and Lydia) just 12 miles from her hometown. As the Senior Editor of the DIS (wdwinfo.com), Leah spends a lot of time writing about, reading about, and discussing Disney. So, it should come as no surprise that one of her family's favorite ways to spend time is going to Walt Disney World and traveling on Disney Cruise Line. She also enjoys shopping, watching movies with her husband and doing crafts with and for her kids.