Disney is putting the finishing touches on their Wide World of Sports Complex; "re-branding" the facility the ESPN Wide World of Sports Complex (ESPN WWoS) in a push to make the venue one of the premier destinations for amateur and youth sports in the country.   On Thursday, February 25, 2010, a red-carpet opening ceremony with over 500 professional athletes, ESPN personalities, and invited guests will be held to kick off Disney's annual sports-themed fan-fest, ESPN: The Weekend.  Continue after the break to learn more about the changes in store for ESPN WWoS.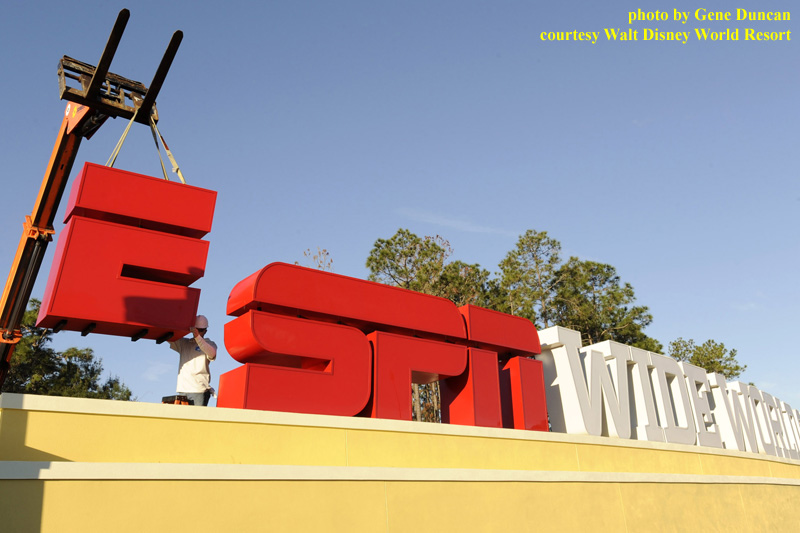 Disney's Wide World of Sports opened in 1997, annually staging over 200 events in 60 different sports from baseball, basketball, and football; to cheerleading, dance, and gymnastics; to canine agility, jump rope, and surfing.  Athletes from more than 70 different countries compete in the pinnacle of their sports including championships in youth football (Pop Warner Super Bowl), youth cheer and dance (Pop Warner National Championship), and Amateur Athletic Union (AAU) National Championships in youth baseball, basketball, cross country, track and field, volleyball, and wrestling to name but a few.  In addition to amateur and youth sports, a few professional events are also held at the complex such as spring training for Major League Baseball's Atlanta Braves (beginning in March 2010) and a tour stop of the Professional Golf Association with the Children's Miracle Network Classic (November 2010).
With all these events and athletes over the past 13 years, Disney certainly has no trouble attracting competitors to the facility – so why the change?  The obvious reason is brand synergy – the Walt Disney Company owns the media networks ESPN and ABC (including ABC Sports).  The ESPN brand is more synonymous with sports than Disney, and, thus, it makes sense to couple the strong ESPN sports brand with Disney's on-site sports complex.  Beyond that, Disney is hoping the facility will become THE place to go for the best in youth sports.  Consider that 7.3 million children and 54% of high school students in America compete in sports, and nearly one third of trips 100 miles or more are sports related.  If ESPN WWoS attracts a small portion of these sporting events to their facilities, that represents a huge number of families traveling to Disney property, staying in Disney resorts, eating at Disney restaurants, and attending Disney theme parks; a veritable "build it, and they will come" situation.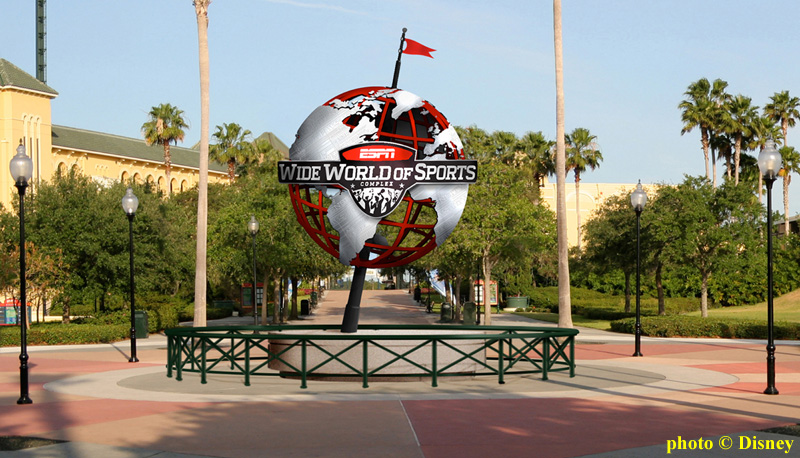 So what's new to the facility other than a name change and new signage?  Throughout the facility, ESPN's name, logo, and colors (red, black, and white) will appear prominently on signs, flags, and globe icon at the front entrance.  In addition, a new Welcome Center will be located just past the entrance where guests can get details on events currently held at the facility, purchase theme park tickets, as well as watch scores, highlights, and ESPN programming on a large "Jumbotron" screen.  Technology is a key feature throughout the facility as Disney is trying to replicate the technology present at any "big-time" sporting event with over 40 high-definition robotic video cameras, 10 handheld cameras, 40 high-definition video screens, and a second "Jumbotron" in Champion Stadium.  Disney's goal with this technology influx is to give the youth and amateur athletes a similar experience to a professional sports facility.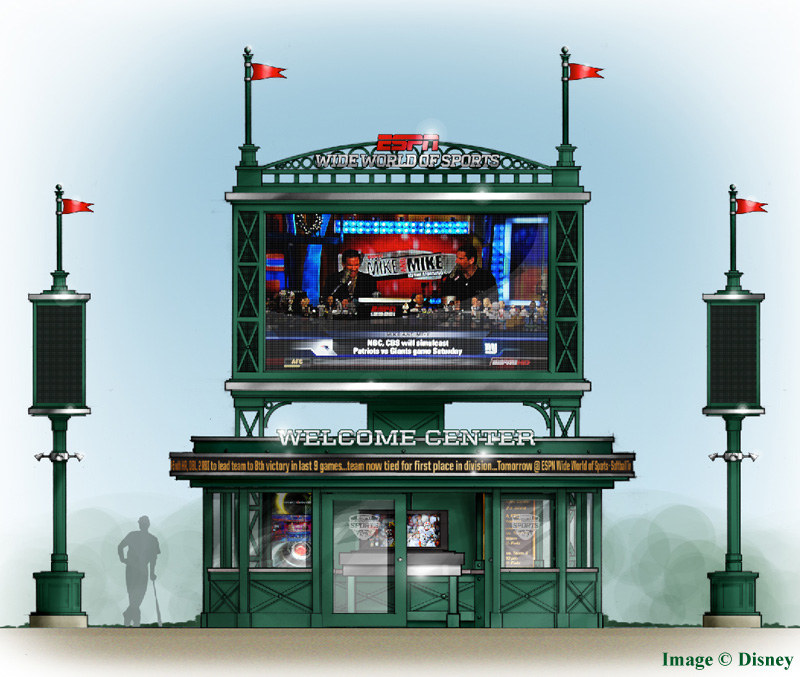 ESPN WWoS video screens will not only have the ability to play highlights from events currently going on at the facility, but a state-of-the-art digital editing center will have a direct uplink to ESPN's television studios headquarters in Bristol, CT.  Therefore, highlights from sporting events occurring at WWoS can be cropped, edited, and sent to ESPN Headquarters where ESPN on-air personalities can introduce and comment on the highlights.  Video screens in Orlando will have a scrolling ticker of scores for WWoS events, play highlights from games at the facility, as well as professional sporting events from around the world.  "Little Johnny" from California can watch highlights of himself kicking the winning goal at Disney's Soccer Showcase right after the highlights from that weekend's NFL games.  Finally, everything seen on the video monitors at ESPN WWoS will be broadcast on a television channel in the rooms of all the on-property Disney resorts, and families on-property for sporting events can catch-up on all the game and tournament results from the comfort of their resort room.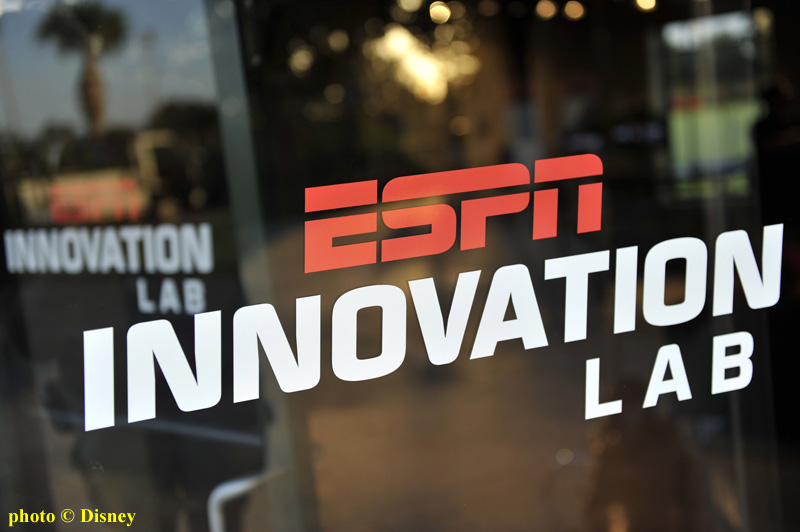 ESPN will also use the WWoS facility to develop and test new advancements in on-air coverage of sporting events.  In October 2009, the ESPN Innovation Lab officially opened at the WWoS Complex, a production house that has already produced new video technology.  For example, "Ball Track", a Doppler radar hit-tracking system that tracks home runs in baseball, was debuted during the 2009 MLB Home Run Derby Telecast.  Another effect developed in the Innovation Lab, "Snap Zoom", debuted on "Monday Night Football" in 2009 and was a freeze-frame technology that zoomed into an area of interest on the field.  On occasion, ESPN will open this working facility to the public for guests to get a sneak peek at upcoming sporting technological advancements.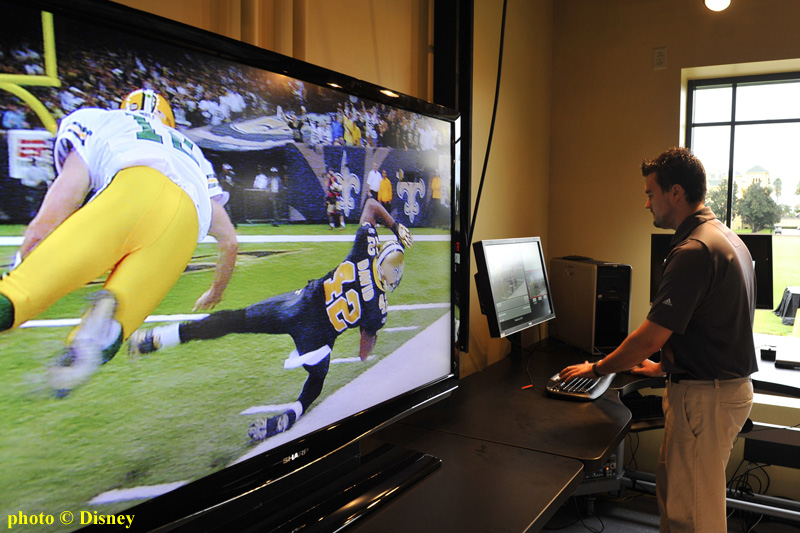 Speaking of guests visiting the Innovation Lab, Disney hopes the ESPN WWoS Complex will also draw guests not coming to compete.  According to a Disney spokesperson, they are actively planning new experiences, so the visitor will say "we have to go see that".  To improve access to the facility, bus transportation to and from WWoS will expand to include more Disney resorts.  The All Star Resorts, Pop Century, and Caribbean Beach Resort will have round the clock bus transportation to ESPN WWoS regardless of whether a sporting event is occurring.  To feed this influx of guests, the All Star Sports Café has been revamped to the ESPN Wide World of Sports Grill.  This renovated restaurant will have the first covered outdoor seating area at WWoS, and the restaurant will have its own ESPN SportsCenter desk with the ability to do live broadcasts and radio remotes.  These live remotes will begin during the "Grand Re-Branding" weekend when ESPN's popular "Mike & Mike in the Morning" and "The Herd with Colin Cowherd" radio shows are broadcast as part of ESPN: The Weekend.

Time will tell if the re-branding at WWoS will do more to draw guests to the sporting complex or Walt Disney World Resort in general.  However, if nothing else, this is good news in today's tough economy since new jobs will be created to staff the video production crews at the new facilities.  Myself, I'm curious to see what new experiences and events are in store, and if this will represent anything more than a name change.  What are your thoughts?  Are you intrigued by the changes to ESPN WWoS?  Log in with your DISboards username and password and leave a comment below.
Category: Disney World