On our constant quest to discover new food experiences at Disneyland, my family and I tried out the newly reimagined Troubadour Tavern. Previously known as the Enchanted Cottage, the new Troubadour Tavern is neither a troubadour nor a tavern…discuss.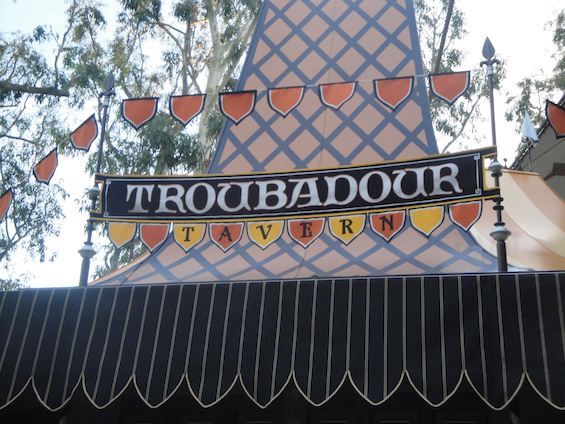 First things first. Where is this place? I would call this place a hidden gem because it is definitely hidden and definitely a gem. It is located in the Princess Fantasy Faire area, which is just to the left of It's a Small World. Those of us without daughters probably have never ventured up that way except for a bathroom stop or an ATM visit (both of which contribute to its "gemness"). When I say it is hidden, I mean hidden. If you are walking towards Toontown, even if you look to the left you may not notice that there is a counter service eatery located back and to the left…back and to the left…back and to the left.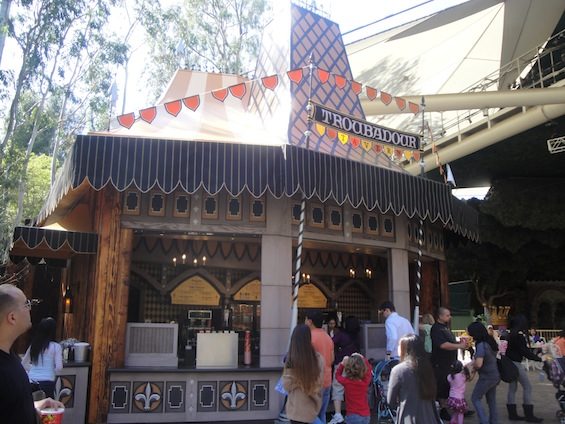 We visited the Troubadour Tavern on a busy weekend around lunchtime and had a very short wait despite the crowds at the park. The menu is limited but unique (another gemlike quality). They offer baked potatoes ($6.29) with your choice of BBQ chicken, broccoli and cheese, or the standard topping combo of butter, sour cream, bacon, cheese and chives. Those of you that are lactose intolerant may want to steer clear of that last one. In addition to the baked potatoes, the Tavern's menu also includes the usual beverages and kid's power pack ($5.99) featuring string cheese, nonfat yogurt, sliced apples, whole-grain "fishy" crackers and a drink.  Dessert items are limited to ice cream treats ranging in price from $3.49-$3.99.  They also have corn on the cob with either butter or chili lime at $4.39 and a Bratwurst sandwich with sauerkraut and choice of chips or apple slices ($6.99).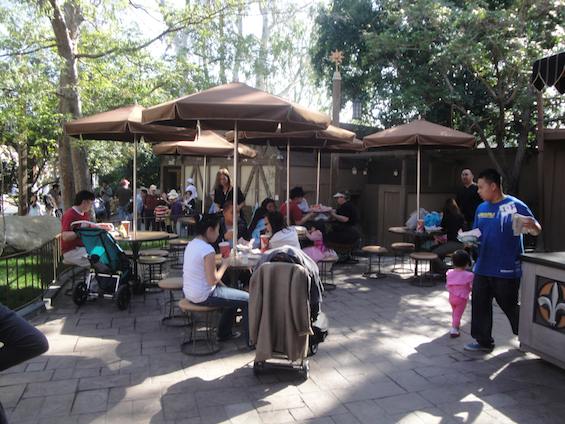 We truly enjoyed this eatery and have decided it will go in our rotation once these Culinary Quests are over.  Why?  It's unique.  One of the issues many guests have with Disneyland park food is that it lacks variety unless you are willing to pay for a table service meal.  This is the only place in the parks where you can walk up and get a baked potato or a Bratwurst sandwich.  Many families without passes often try to maximize their day at the park by eating at walk up or counter service locations.  The Troubadour gives those commandos an opportunity to eat something other than burgers and fries.
My family did their best to try as many different items as possible.  We shared the bratwurst sandwich, BBQ chicken baked potato (That was for the readers, we would have ordered the broccoli and cheese one if we weren't "working"), traditional baked potato, and corn on the cob.  The bratwurst was juicy, had good flavor and texture and came on a nice soft roll with sauerkraut.  The roll added to the tastiness of the sandwich rather than just being a container for the brat.  The sausage was larger than the ones you buy in grocery stores, and spicy brown mustard is available.  Our only suggestion is that the brat would have benefited from being grilled instead of just boiled.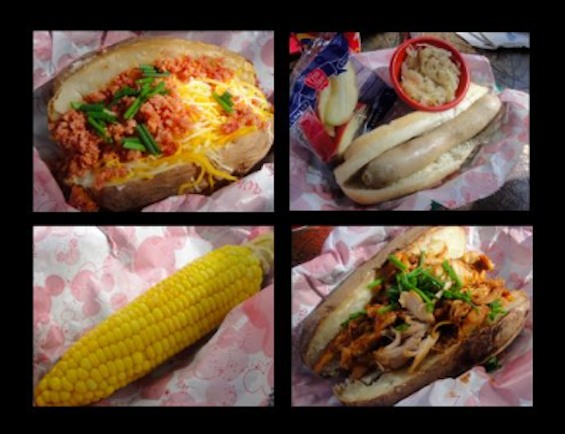 The baked potatoes were large and actually baked, not microwaved.  They were baked perfectly; the inside was hot and fluffy–the way you want to eat a baked potato.  The toppings were tasty, even the barbecue chicken, which is not a topping we would normally order.  The pulled barbecue chicken was sweet and moist.  We most enjoyed the traditional toppings of bacon bits, cheese, sour cream, butter, and chives.  We are happy to report that there was little evidence of skimping. The potatoes were generously topped, even the broccoli and cheese spud that we saw at another table.  In addition to the potatoes, the corn on the cob was tasty and sweet.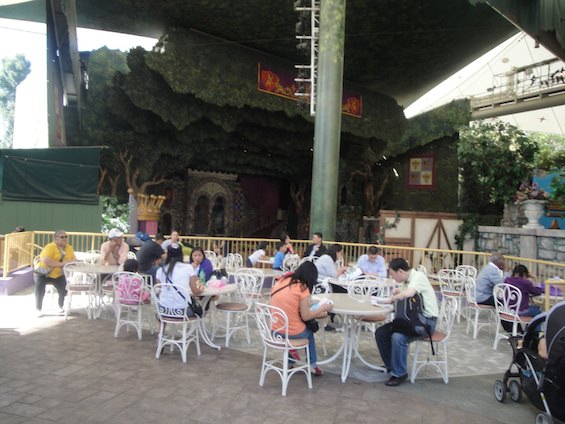 All in all, we are giving the Troubadour Tavern our official Culinary Quest seal of approval.  It is quick, unique, tasty and has ample shady seating.  I most like the fact that the menu is not the same old burger and chicken nuggets that many of us are used to.  If any Disneyland food imagineers happen to be reading this, I have one suggestion:  Chili!  Hopefully this place will be around awhile and provide those quick eaters a welcome alternative.
Category: Dining, Disneyland