With the coming of Disney's California Food and Wine Festival, it seemed only natural to help people decide what special courses or events they would like to attend.   That being said, one of the more expensive and, not surprisingly, the course that fills the most quickly, is the Napa Rose Cooking School.  Hosted by Executive Chef Andrew Sutton and his staff, students learn how to prepare a meal akin to the ones that have diners filling the seats in the 5-star Grand Californian Hotel restaurant of the same name.
Dawn and Bob Field are two of the fortunate folks that managed to claim slots in the 2009 class.  As Dawn was a strong presence on our Disneyland Board, and I knew she had signed up, I contacted her and she agreed to sit with me and share her experience.  To my great sadness, Dawn never got to hear this interview in its final form.  She was taken, much too quickly, in late 2009, while fighting a sudden illness.  She was truly a delight to know and to interview and I wish her wonderful husband, Bob, comfort as he listens to the accompanying audio.   I am blessed to share with you their adventure!
I met up with Dawn and Bob soon after they had participated in the 2009 Napa Rose Cooking School.   A vibrant couple, they had decided to invest in the event as a celebration for Bob's birthday.    Not truly knowing what to expect, they came to Disneyland to partake in the Food and Wine Festival events. Here is a brief summary of what they experienced…
The DIS Unplugged Web Radio Show Podcast

Listen as Dawn and Bob Field share their experience as Napa Rose Cooking School students – class of 2009!

Discuss | Blog | RSS Feed | Add to iTunes
They made their way to the Napa Rose Restaurant to begin their lesson and that was where they found out they would actually be using the restaurant's exhibition kitchen.  The participants were greeted with a small buffet of pastries and beverages for a bit of a pre-event "mixer", so the class could warm-up before getting down to business. Boxes arrived and the students were all given special chef's coats, as well as commemorative bound menus to take home.

Dawn and Bob said that they were assisted by many of Napa's staff – both chefs and servers, alike. As they entered the kitchen, they felt that they really learned a lot more about the "what" and "why" of the actions they were performing.
They began working as a restaurant chef would, starting out with the sauces and the reductions, as they take the longest time to prepare. They then moved on to learning about how to choose and use the salad ingredients, heirloom tomatoes were the featured choice. Dawn wasn't a big tomato fan, and was fascinated by the end of this lesson.
Entrees were next up, with helpful hints on cooking fish and meat properly. Being from Texas and from a cattle family, Bob and Dawn have a bit of knowledge about the bovine world. Bob commented that he was impressed by the scope of Chef Andrew's knowledge and how that was something that makes the difference between an average chef and an intellectual one.
One of the things discussed was how to tell when your steak is perfectly cooked by touching the meat. If you form a circle with your thumb and forefinger on one hand, use your other hand to feel the tension in the muscle in the webbing. The forefinger demonstrates the feeling of a medium-rare steak, the middle finger is medium, the ring finger is medium-well, and the pinky is well-done.  The photo below is medium.
Once they finished cooking different items, they sat down and enjoyed the meal that they prepared.  If you are a wine lover, the Fields say you are in luck – there are pairings with every course! One of the sommelier/servers at the Napa spoke to them about choosing wines. An obvious piece of advice that many folks don't think about (I know I didn't), is to choose a nationality of wine that matches the nationality of the food you are eating. That makes a lot of sense. We get so hung up on the classic "Red vs. White" debate that we forget that country of origin makes a big difference! While Bob didn't have a favorite, Dawn said hers was the Bonny Doon raspberry dessert wine. As you hear in the recording, she expressed great emotion at just the thought of it! I wish you could have seen her face!
Bob and Dawn let us know that if you are not a wine drinker, the folks at the Napa would give you whatever beverage you would like. (Of course, it's always best to let them know that when you register for the class and then again when you arrive. Same process works with food allergies, too!)
While the photo I have included is not the dish they made, it is one of the Napa Rose's most famous starter dishes – the Diver Scallops in Vanilla Lobster sauce. I really feel that in seeing this dish, it gives a full picture of what Dawn and Bob discussed in the creation of the dish – the preparation of the sauces and reductions, the handling of the fish, and the attention to honoring the ingredients, themselves. It really is a great example of Chef Andrew's philosophy.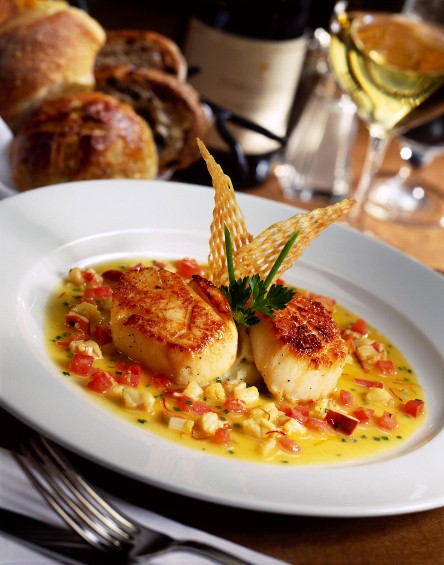 When it was all done, Dawn said her only recommendation on how to improve the course would be to give them a bag for their boxes – the chef's coat, as well as the leftovers!!!!
For those of you who want to take the course this year, registration opens to the general public on February 16, 2010 with the following course information:
Date: Saturdays, April 17, May 1, 8, 15 and 22
Time: 10:00 a.m. to 1:00 p.m.
Location: Napa Rose, Disney's Grand California Hotel®
Price: $475 per person, plus tax. Gratuity included.
For more information, go to our website: http://www.wdwinfo.com/Disneyland/events/foodandwine.htm
Since without him there would be no Napa Rose Cooking School, we would like to give our congratulations to Executive Chef Andrew Sutton,   He was recently awarded the prestigious Antonin Carême Medal by  The Chefs Association of the Pacific Coast, Inc.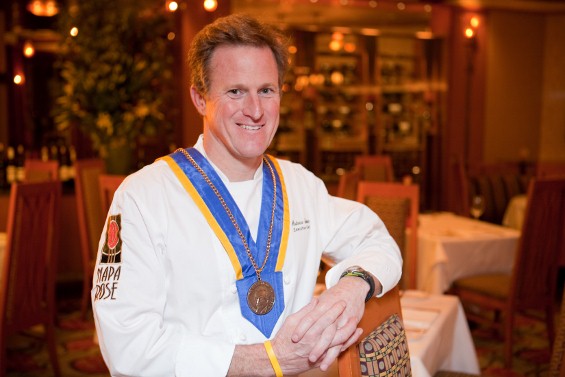 Category: Dining, Disneyland, News
Disneyland Podcaster for the DIS Unplugged