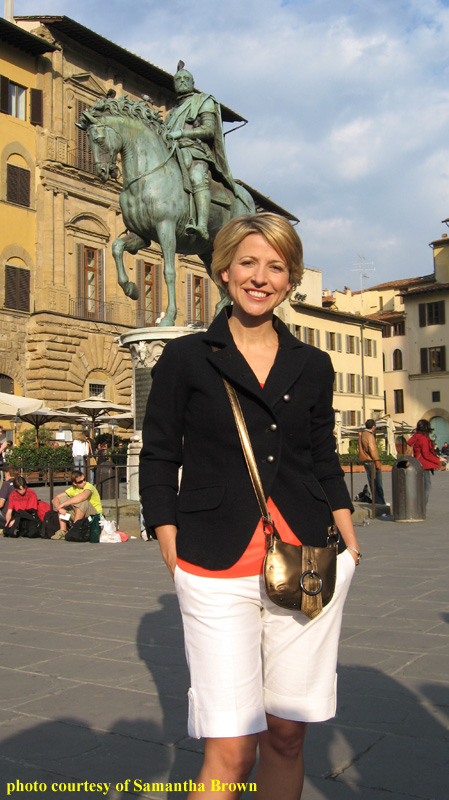 Samantha Brown, host of "Samantha Brown's Great Weekends" on the Travel Channel, is a favorite of DIS Unplugged listeners and readers.  This is in part because she is a self-proclaimed Disney fan, and has filmed numerous episodes at the Disney parks and resorts.  Samantha is celebrating her Tenth Anniversary on the Travel Channel with four all new one-hour specials premiering Monday, February 8th – Thursday, February 11th at 8pm on the Travel Channel.  On Wednesday, February 10th is the "Samantha Brown Fan-a-thon" where she celebrates ten years of travel at the Walt Disney World Resort in Orlando, Florida with some VIPs — her fans.  She took some time out of her production schedule to talk about her experiences at Walt Disney World.  You can listen to the complete interview with Samantha Brown after the break.
Click here to listen to the complete interview with Samantha Brown.
Samantha Brown explained she loves the Disney Parks so much because both Walt Disney World in Florida and Disneyland in California have the magic to evoke the same feelings she experienced as a child.  When on Disney property, Samantha's favorite resorts are the Grand Floridian and the Animal Kingdom Lodge.  She enjoys the beauty and Victorian charm of the Grand Floridian, in addition to its close proximity to the Magic Kingdom.  She commented that on a recent trip during the holidays, she marveled over the wonder of the Christmas displays, the life-size Gingerbread House, the string ensemble playing on the mezzanine, and loved how Disney could give you that holiday spirit even though it was 82 degrees, sunny, and not a hint of snow outside.
Samantha also extolled the virtues of the Animal Kingdom Lodge's total experience and how it has the ability to transport her to a place she has always desired to go: Africa.  While the ability to go to Africa is about as probable as going to the moon for the majority of us, Samantha Brown appreciates how Disney brings people an experience they may not otherwise have.  She noted how the majority of the Cast Members at the Animal Kingdom Lodge were from Africa, and how she enjoys stopping and talking to them, hearing about the African traditions, learning how to say hello in their language, and appreciating the educational experience you can get.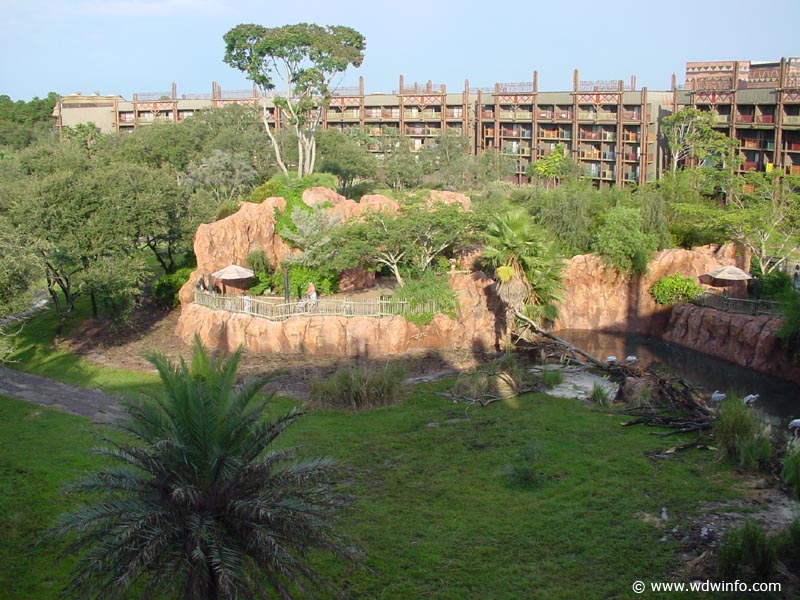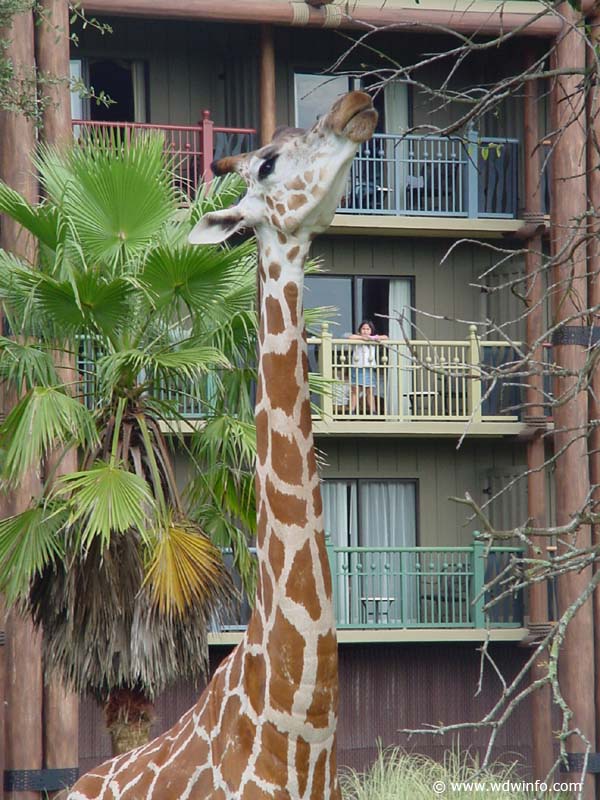 Unfortunately, Samantha does not get much of an opportunity to relax and enjoy the amenities of the resorts when filming one of her specials.  For the Tenth Anniversary episode filmed at Walt Disney World, there was an open casting call looking for fun, out-going, energetic Disney World families, and groups of women to be part of a sit-down lunch with Samantha.  The DISboards buzzed with excitement, and one person wrote, "I love Samantha Brown, she's the reason I drink Grand Marnier Orange Slushies in Epcot!"  Samantha laughed as she explained how much fun she had filming the episode with her fans.  However, she initially didn't realize everyone gathered was a true fan.  She arrived at Walt Disney World at 6:00am, having come directly from filming in Vietnam, and Samantha figured extras were brought in to pretend to like her.  Samantha was thrilled to find out everyone were fans who regularly watch and enjoy her shows, and it made filming the show that much easier.  Samantha declared what the viewers see on screen is genuine and everyone would continue laughing, joking, and gabbing long after the cameras stopped rolling.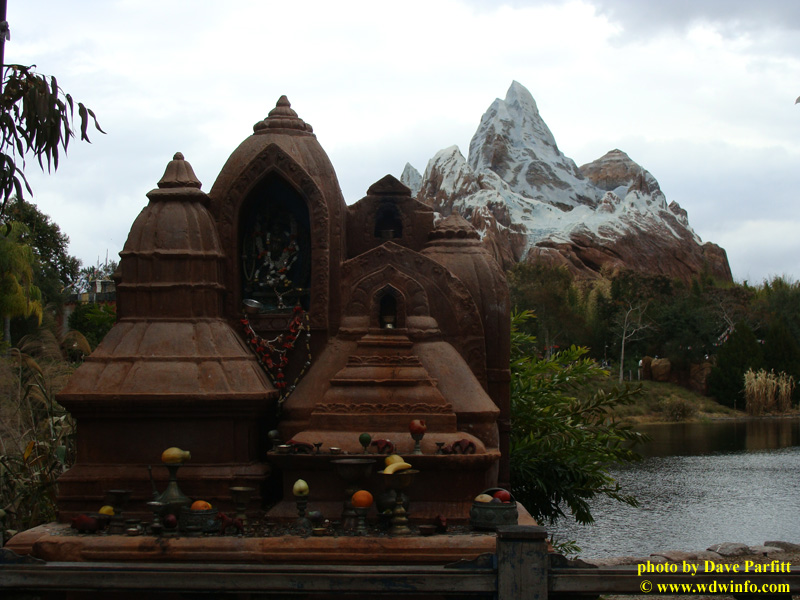 During one of Samantha Brown's previous Disney shows, she received a tour of Disney's Animal Kingdom theme park.  Not only was she able to ride the Expedition Everest roller coaster, but she was able to ride it with Walt Disney Imagineer Joe Rohde – the executive designer and vice president, creative of Walt Disney Imagineering and the principal creative force behind the attraction.  "Rockstar!" Samantha exclaimed as she described how she was "fish chum" walking the streets of Animal Kingdom next to Animal Kingdom designer Joe Rohde.  She went on to describe that she was intimidated to meet Joe Rohde, thought he might be aloof and artistic, and have trouble communicating with him.  However, Samantha discovered just the opposite – she described Joe Rohde as a "relaxed, kick-back kind of guy" who was a fascinating man, very easy to talk to and accessible, and one with whom she had a lot in common.  They both travel extensively, but she commented "Joe brings back larger souvenirs than mine – such as an entire Tibetan village."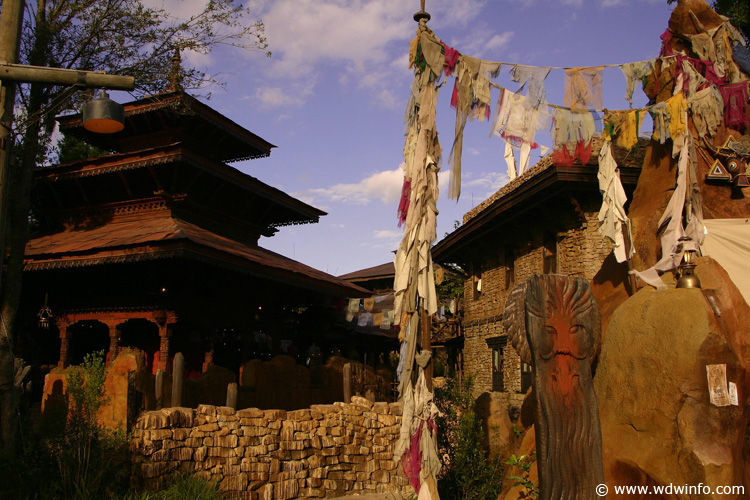 When listing favorite attractions, Samantha immediately thought of Epcot and mentioned Soarin', but also, Turtle Talk with Crush.  She revealed the first time she saw Turtle Talk she was mesmerized and more in awe than the 3 year old beside her – "oh, my gosh, the turtle's talking to us!"  Samantha then went on to say that's another reason she continues to go back to Disney year after year because there is always something more imaginative and more unbelievable up their sleeve.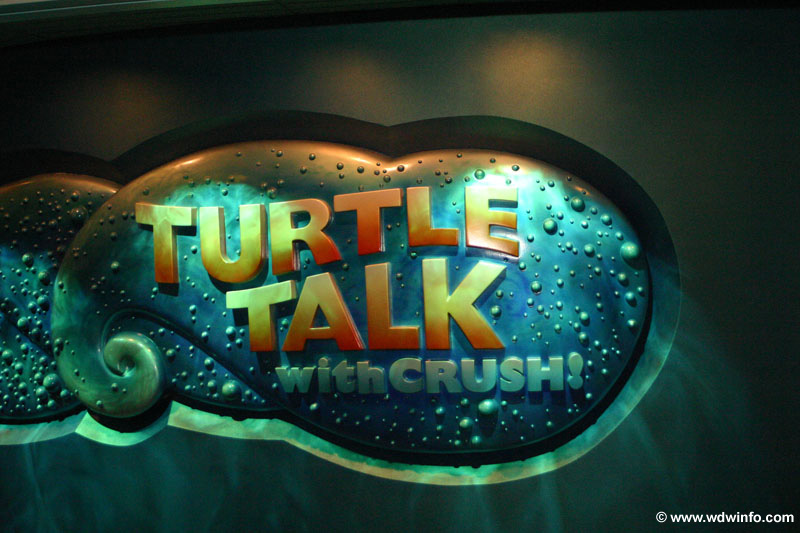 One thing you often hear from non-Disney fans is that Walt Disney World is not authentic, but, instead an artificial, manufactured escapist fantasy-land.  Samantha Brown does not agree with those criticisms, and goes on to say one thing Disney does so well is to make every experience as real as it possibly can be.  She points out again that many of us cannot go to places like Africa represented in Disney's Animal Kingdom or Animal Kingdom Lodge or Japan as one would see on the World Showcase in Epcot.  Samantha then relayed a story of recently filming in Cambodia and while touring the 12th Century Angkor Wat Temple the crew looks at each other and says, "this looks like Disney World."  She emphasized, Disney does such a good job reproducing the essence of a place one can be around the world and yet think the location has been Imagineered by Disney.  Therefore, for those that may never get to go to Japan or Norway, they can go to Epcot's World Showcase and get a great experience none the less.
The other thing Disney accomplishes with their attractions is give the guest that anticipation and emotional value.  One does not simply jump on a ride – instead you snake your way through a Tibetan village on your way to the Expedition Everest roller coaster, or pass through the eerily abandoned grounds and lobby of the Hollywood Tower Hotel before riding the Tower of Terror.  Samantha argues this is very similar to the "real-travel" experience where one also becomes emotionally invested in something different than what you are normally accustomed – that's the real-travel experience, and it's no different at Disney.
For those interested in Samantha Brown's job she mentions even though she travels to amazing places like China, Buenos Ares, Argentina, or Paris, what she loves most about her job is spending time in somebody else's life.  She learns from them and learns a little bit about herself in the process.  However, the difficult part of the job is being away from home.  Samantha travels away from home 230 days out of the year, and laments it can be tiring, she gets terribly homesick, but she uses those emotions to invest herself totally in the people she is going to meet and the culture she's about to get to know that day.  Otherwise, the job could be very lonely.  However, Samantha asserts that "when you meet people from around the world who open themselves up to you – then, yes, it is the best job in the world."  Samantha ends by commenting how she never forgets how privileged she is to get to know a little bit about another person around the world, and how that helps her understand the greater world.  If Samantha had one piece of advice to give to those going to Disney, it would be to take advantage of the Cast Members from all over the world.  Talk to them, have them tell your child how to say hello in their language; it's such an amazing advantage that one has when they go to Walt Disney World.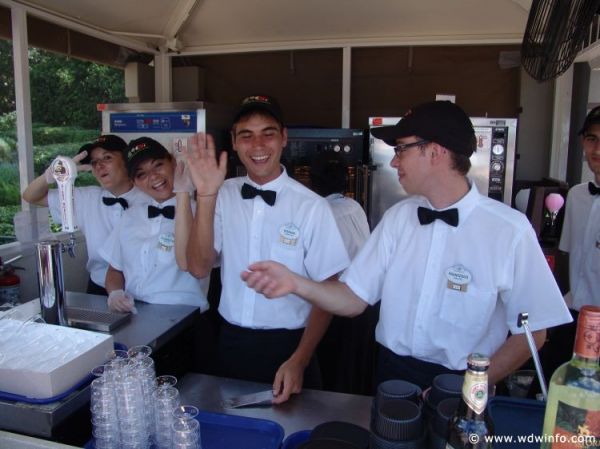 Besides the 10th Anniversary Special, Samantha Brown is currently filming an Asian series, and commented she just returned from Cambodia and Thailand.  Also, the third season of the weekend series begins airing at the end of March.  Finally, the "Sam Week" of 10th Anniversary Specials will air on the Travel Channel Monday, February 8th through Thursday, February 11th with the Disney show airing on Wednesday, February 10th at 8pm on the Travel Channel.  I know my DVR will be set to record the shows.
Category: Disney World