After beginning the culinary quest in Downtown Disney (where the really good food is), I went inside the parks to Disneyland.  I have had an annual pass for fifteen years, but I had never eaten at Carnation Cafe on Main Street until now. On the DISboards, Carnation Cafe has been noted as a popular breakfast place, but we went there for dinner.  Read on to hear what we thought of our first experience at the Carnation Cafe!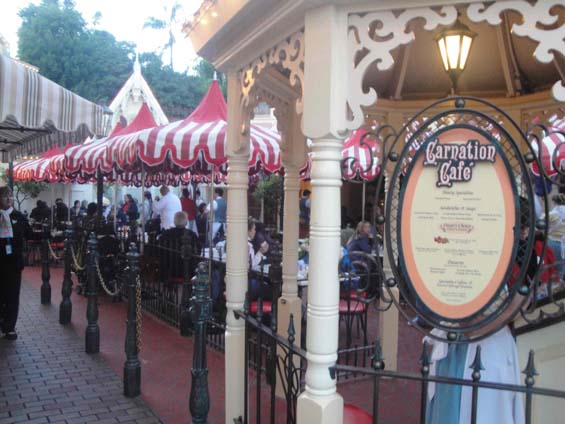 Even though my wife and I are not senior citizens, we eat dinner like we are long-time residents of Del Boca Vista. Since we eat dinner so early, we never have to wait for a seat, even at Disneyland. This time was no exception as we were able to be seated immediately on a Sunday for dinner at 5:00 pm. Because this was a "research" trip, I made sure to ask our hostess what the normal wait times were. Her answer was around thirty minutes at peak times, but up to an hour on those super busy days. She recommended making a Priority Seating reservation (we don't call them ADRs out here yet) to ensure getting a table.
Carnation Cafe is located on Main Street USA right next door to Blue Ribbon Bakery. It is one of four full table service restaurants in Disneyland. The others are Cafe Orleans, Blue Bayou, and the newer Big Thunder Ranch BBQ. OK, there are actually five table service restaurants if you include Club 33, but that would be like saying the Disney Dream Suite is one of the lodging "options" at the resort.
Being a family of three does not lend itself to reviewing everything on the menu because…that would just be disgusting. However, we always attempt to try a variety of items. We ordered the Main Street Meatloaf Stack ($11.29), Cafe Steak Melt ($10.99), and a Half Veggie Sandwich with a cup of Loaded Baked Potato Soup (a board favorite-$9.99). The meatloaf stack is served on a slice of toasted sourdough bread and topped with caramelized onion mushroom gravy. It comes with mashed potatoes and a vegetable medley. The Steak Melt is grilled beef slices, pepper jack cheese, and caramelized onions served on a sourdough roll with a choice of potato salad, mixed greens, or fresh fruit. The Veggie Sandwich consists of a pretzel roll, zucchini, cucumber, red onion, lettuce, tomato, cheeses, and pesto mayo. Finally, the Loaded Baked potato soup has all the stuff of a loaded baked potato including bacon, chives, sour cream, and cheddar and monterey jack cheeses.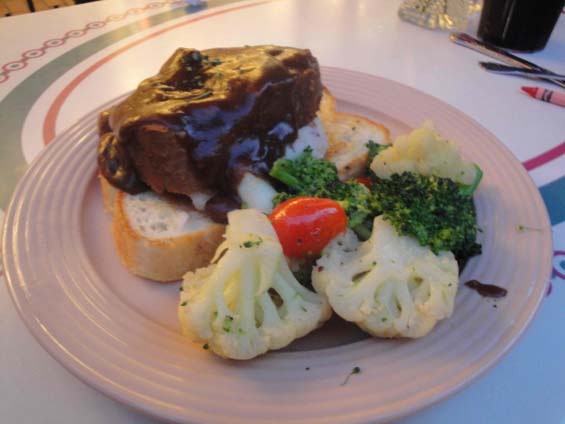 We all agreed the most expensive item on the menu, the meatloaf stack, was nothing special. We did enjoy the mashed potatoes that had a nice sweetness and texture to them. However, the meatloaf itself was grainy, and the onion mushroom gravy tasted like generic brown gravy. Both my wife and I wished we had ordered the turkey or beef stroganoff pot pies for a dollar less. Maybe next time. The veggie sandwich is not grilled even though it has gruyere cheese and vegetables that would have been much tastier if they were roasted (zucchini and red onion). The accompanying baked potato soup, however, was delicious. It was loaded, thick, creamy, and good enough to order on its own, which you can do for $5.49. We all loved the soup.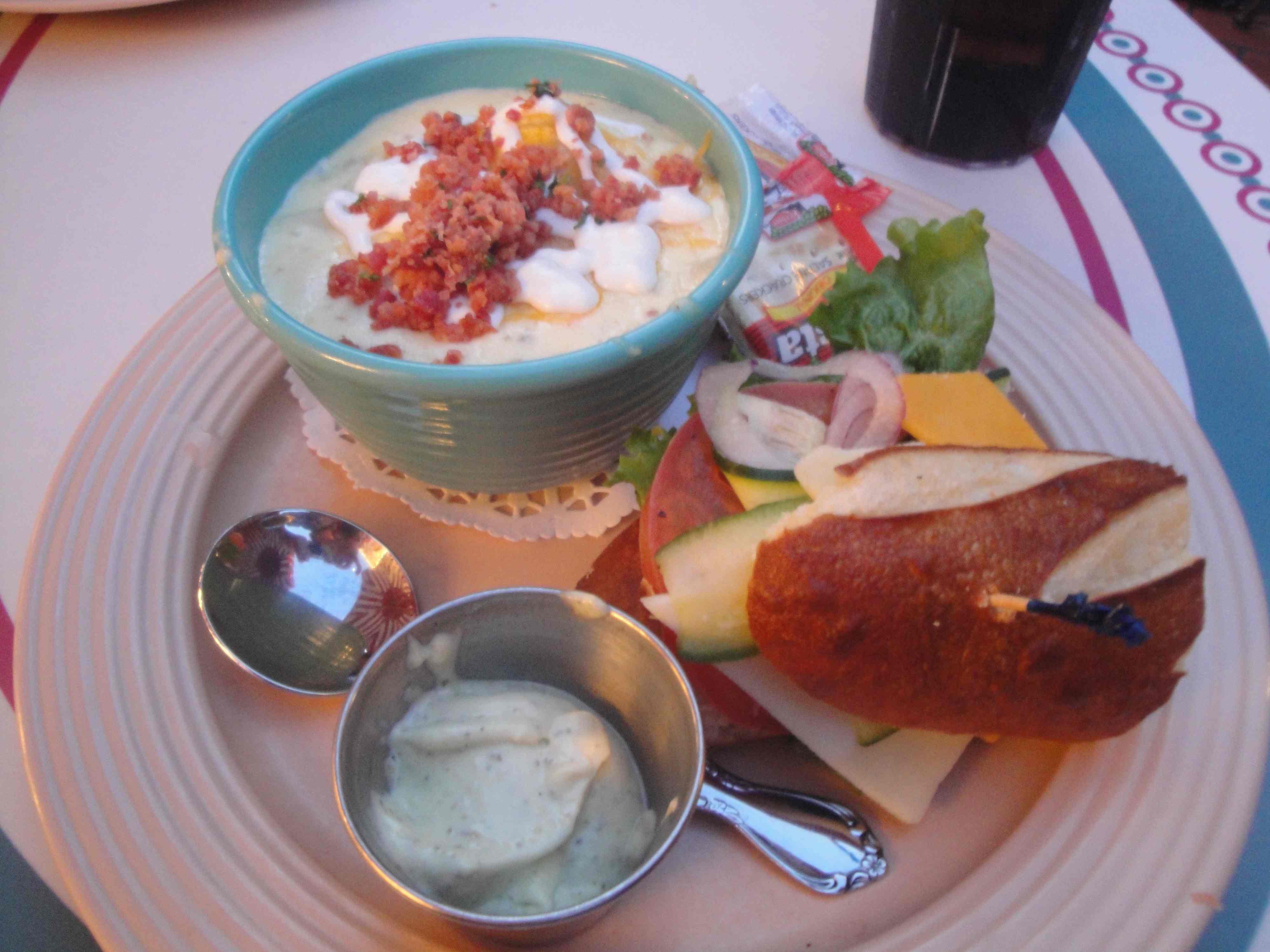 What about the steak sandwich? Whenever I have tried to order a sandwich instead of a burger at the Disneyland theme parks, I am usually dissatisfied. Why? Most of their sandwiches are 90% bread, and dry thick bread at that. Turkey is turkey. Ham is ham. But a good roll can make or break a sandwich (I have a thing for sandwiches. Can you tell?). Finally, I have found a good sandwich inside Disneyland. The Cafe Steak Melt was great. The bread was good by itself and complemented the juicy chopped steak strips and caramelized onions well. All three of us voted the sandwich as best in show, followed by the baked potato soup. Now to really make a good meal, (good does not necessarily mean healthy), get the Cafe Steak Melt and order a cup of baked potato soup.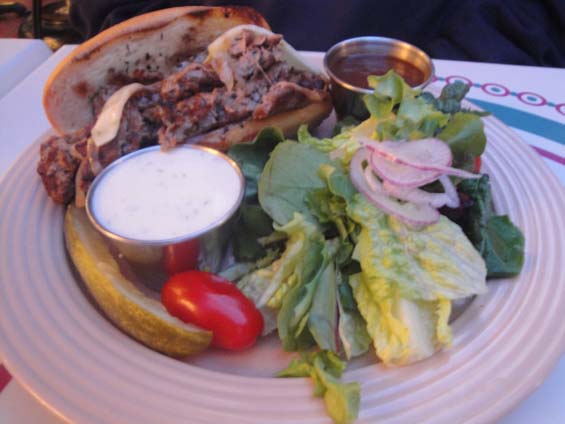 Although we skipped dessert, they have typical dessert offerings of apple pie, banana splits, and the Matterhorn Sundae. They also offer a sugar-free Celebration Cake and specialty coffee drinks. The kids menu offers mac and cheese with veggies and fruit, a make-your-own peanut butter sandwich plate with fruit, and a hot dog with carrots and fruit. All are priced at $6.99. Vegetarian options are very limited. All sandwiches can be lettuce wrapped or made with a tapioca bun for those that are gluten-free diners. The tapioca buns are kept frozen, so if you plan to order this, it is a good idea to let the hostess or server know before you are seated. For more menu items, check out wdwinfo.com.
For an in-park table service restaurant at Disneyland, the value is decent. Its prices are comparable to the buffeterias on property, but you get a full service experience. Not to mention, you are sitting in the middle of Main Street USA. Next time you are wanting a good soup and sandwich at Disneyland, head over to Carnation Cafe.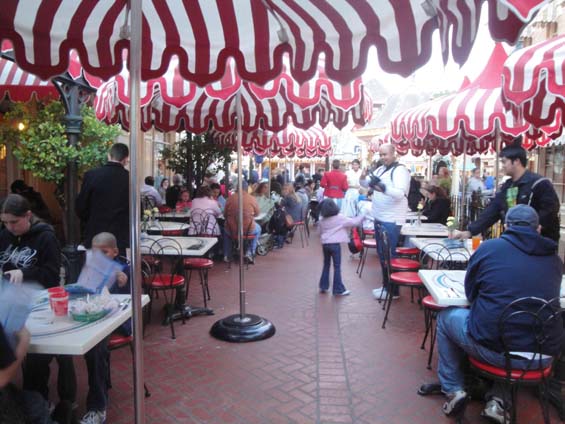 Category: Dining, Disneyland