I recently had the chance to cruise with my sister and family on the Disney Wonder. My sister is a cruise veteran but she always hesitated when I mentioned taking a Disney cruise. She always protested saying they wouldn't be able to enjoy it since there would be so many children aboard. I finally got her to agree on a Disney cruise.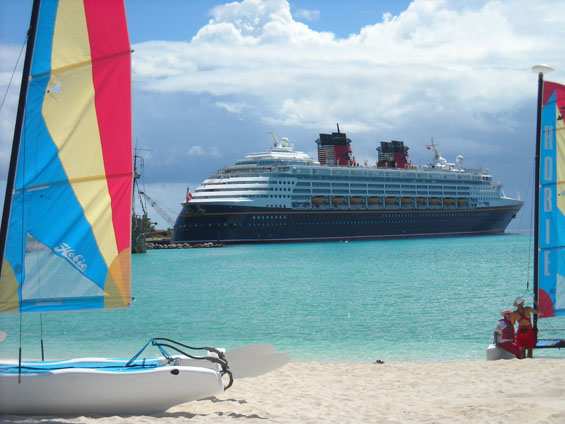 The day finally arrived when we would board the beautiful Disney Wonder. My sister and family arrived around 11:30 so they didn't have to spend a lot of time waiting to board the ship. I tried not to share with her all the things that were going to happen so she would be surprised. I know they were surprised when their names were announced as we boarded the ship.  You can't help but notice the beautiful atrium and the glass sculpture overhead.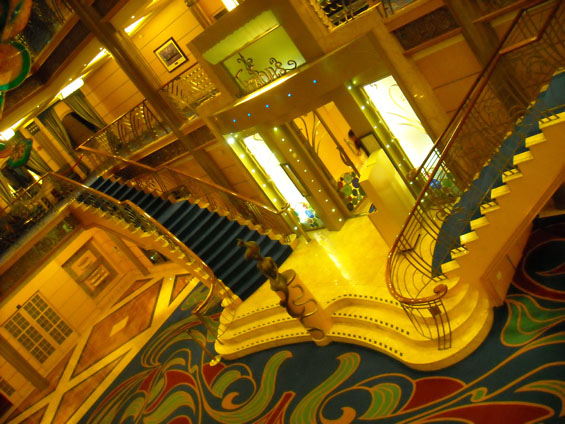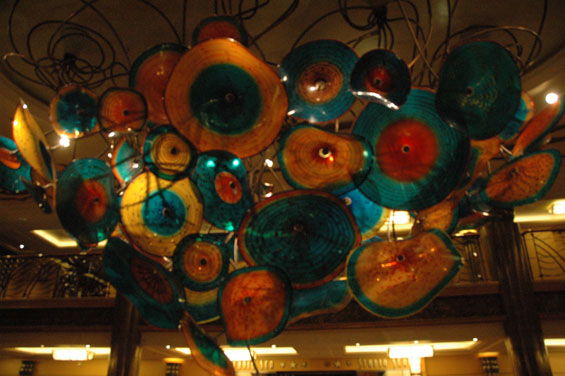 We headed off to lunch in Parrot Cay. The buffet is the perfect start to a cruise. After lunch we took off to explore the ship.  I gave them the tour of Deck 9 where they would spend a lot of time. When we went past the Cove Cafe and they saw the adult pool and bar they got a big smile on their faces.  All too soon it was time to head off to our rooms. We had gotten 3 rooms together on deck 6.
I think many of us that cruise quite often agonize over the perfect room with the perfect view. For this cruise we had Category 7 rooms on the starboard side. Personally I like the port side so when you get to Castaway Cay you could watch them unload the ship and stage the area to receive guests.
I insisted that they go to the sail away party.  It's a great way to celebrate your cruise and leave your worries and cares behind you. It's that time you can sing and dance and no one is watching you.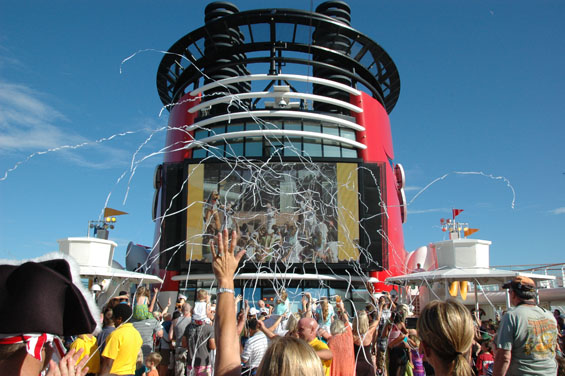 We left the party and quickly dressed for dinner since we had the first seating. One great idea that Disney Cruise line has is your serving team follows you from restaurant to restaurant on the cruise.  They quickly learn your likes and dislikes making you feel very pampered.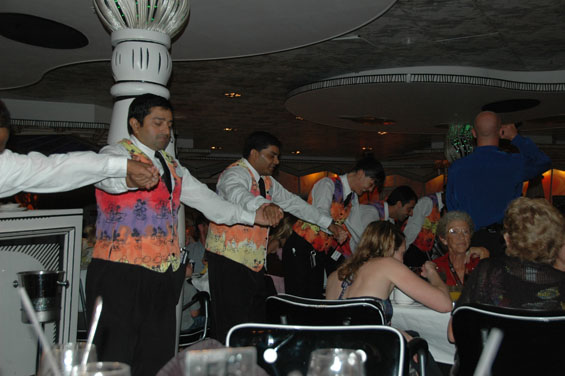 We decided to spend some time on deck after dinner but you can head off to a wonderful Disney show every evening.
The next day was Nassau.  We had all been there many times so we decided to spend time on the ship enjoying the pool. The time was passing too quickly but we had a great time telling our special family memories. My sister was warming to the Disney magic.
Castaway Cay day found us all on deck very early to watch the sunrise and to see who would be the first to spot the island.  This was the big test for my sister.  I had been telling her for months how beautiful and peaceful Serenity Bay was.  Serenity Bay is the adult only side of the island. She didn't believe that there wouldn't be children on the beach with us.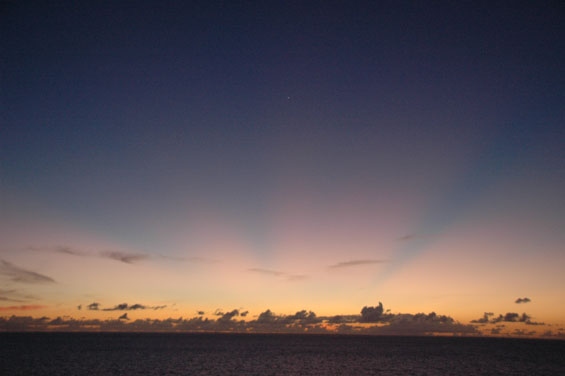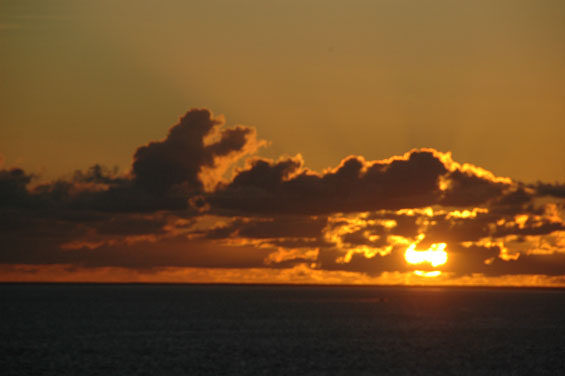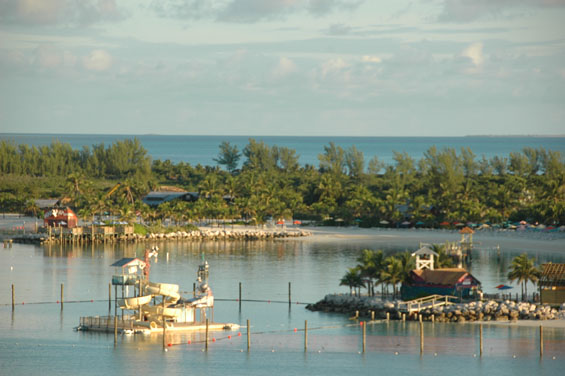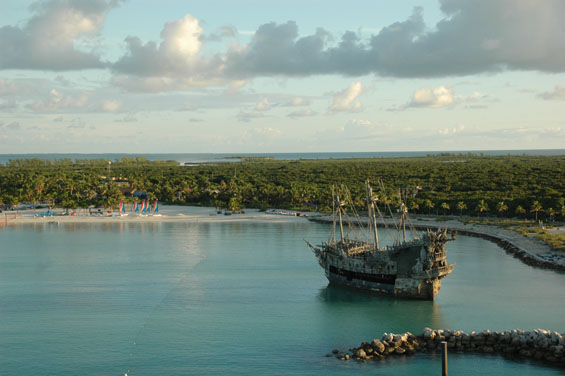 We all had a great time.  The water was so blue and you could see for miles. We felt like we were on our own private island. We hated to say goodbye to the island.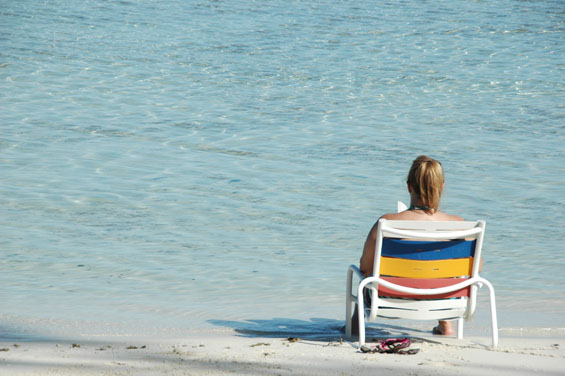 I was almost afraid to ask my sister and family what they though of Disney Cruise Line and the Wonder.  They got a big smile on their faces and said it was everything you said it would be. I was happy to hear that. I hope those of you on the fence about taking a Disney Cruise without children will decide to take a Disney cruise. I know I came home addicted after my first cruise. I can't wait to take another Disney cruise with my extended family. Be prepared for lots of fun onboard. We came home feeling so relaxed.
Disney has plans for two new cruise ships.  The Disney Dream will set sail in 2011. We can't wait to sail on the new ship.  See you onboard!
Become a friend on my Facebook page
Category: Disney Cruise Line, Disney World