I know, I know, it's cliche to write the year-end retrospective article around New Year's.  However, I can't help it.  It's my nature as a scientist to analyze, evaluate, and reflect, and it's amazing to think about all the different experiences I've squeezed into 2009.  There were trips to Disneyland, Walt Disney World, SeaWorld, Universal Studios, and Podcast Cruise 1.0.  There were interviews with celebrities, Disney personalities, and an ice-skater nicknamed "Deep Throat".  There were races, and the opportunity to meet and make more friends than I ever imagined.  However, throughout the entire year, two experiences stood out above all others.  So read on to see just how wonderful the past year for your Special Correspondent has been, and how truly thankful I am.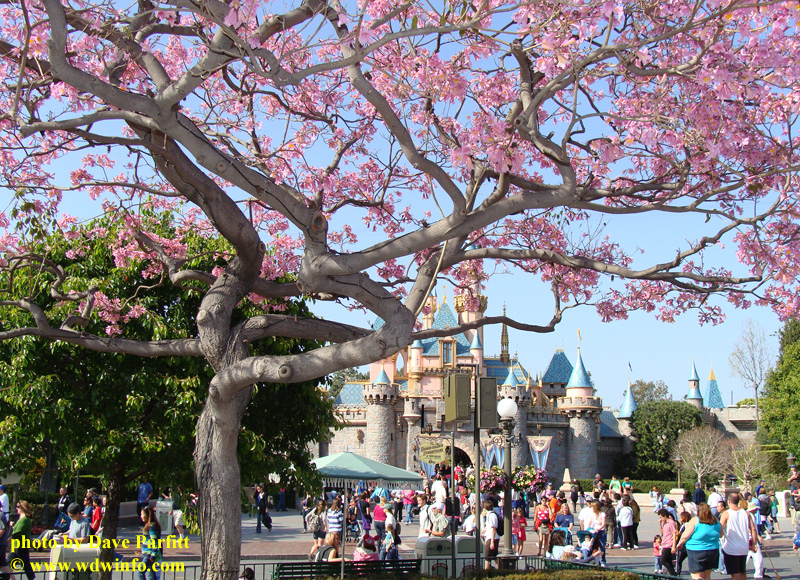 Image: Sleeping Beauty's Castle in Disneyland, CA April 2009
Trips and Races

December 2008 was when Pete invited me to be Special Correspondent for the DIS Unplugged, and it all started with MouseFest and the original Toy Story Mania Meet.  After MouseFest, the year was a whirl with five additional trips to Florida to visit Walt Disney World, Universal Studios, Islands of Adventure, and the Kennedy Space Center; one trip to California to visit Disneyland and SeaWorld San Diego; and one sailing on the Disney Cruise Line.  I managed to keep up with my running just enough to finish the Walt Disney World Half Marathon in January, and the Muddy Buddy in May with 5 new friends.  Lots of traveling, but it was all in the name of research – and to get first hand information for the show and the blog.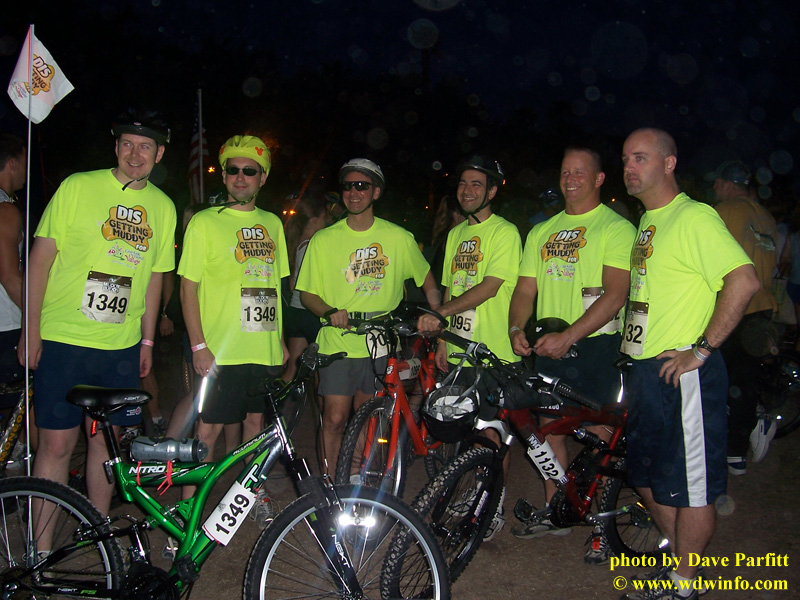 Image: Muddy Buddy Orlando, May 2009 from left: Chris Walthers, Todd Carrier, Dave Parfitt, Aaron DelPrince, Paul Lunny, and Don Puckett
Interviews
I conducted a number of interviews for the DIS Unplugged with Disney personalities, celebrities, and special guests appearing at Disney events including: Wilderness Lodge's Greeter Ranger Stan, Disney Dream CMO Justin Muchoney, Food Network Iron Chef Cat Cora, Epcot VP Dan Cockerell, Travel Channel personality Andrew Zimmern, the Disney Imagineers for Toy Story Mania, and Disney Imagineering Legend Marty Sklar to name a few.  However, of all the interviews conducted over the past year, the one that sticks out most in my mind is that with Peter Mayhew – the actor who portrayed Chewbacca in 4 of the 6 Star Wars films prior to his appearance at Disney's Hollywood Studios Star Wars Weekends.
OK, not only was this the first celebrity interview I was able to get for the show, but, I admit it, I'm a HUGE Star Wars fan.  I couldn't believe I was going to get the chance to talk with someone who was in the movies I loved so much as a child – alright, I still love the movies (just ask my girls).  I remember when I received the e-mail from Peter Mayhew saying he'd be happy to talk with me.  My heart raced a mile a minute when I called him (I actually have Chewbacca's phone number).  He was so gracious on the phone, and talked extensively on working with George Lucas, Sir Alec Guinness, Harrison Ford, Carrie Fisher, and Mark Hamill.  I was so impressed with his perspective on life, had so much fun talking to him, and it gave me the impetus to try for more interviews for the show.  As Special Correspondent, I've so enjoyed all the people I've been able to talk with for the show.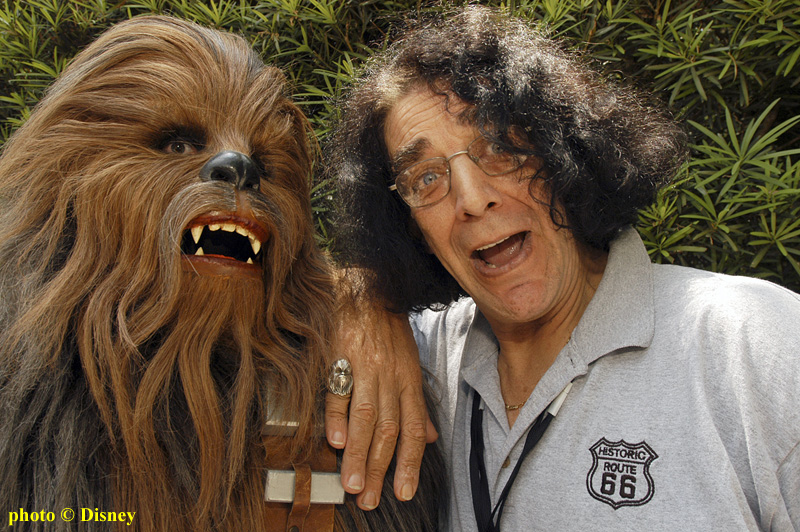 Image: Star Wars icon Chewbacca along with actor Peter Mayhew who portrayed Chewbacca in the Star Wars films
Events
As Special Correspondent, my family and I were able to attend the DIS Unplugged Podcast Cruise aboard the Disney Wonder – a four day cruise to the Bahamas over Mother's Day weekend with 300 fellow DISers and a number of other Disney Characters such as Captain Jack.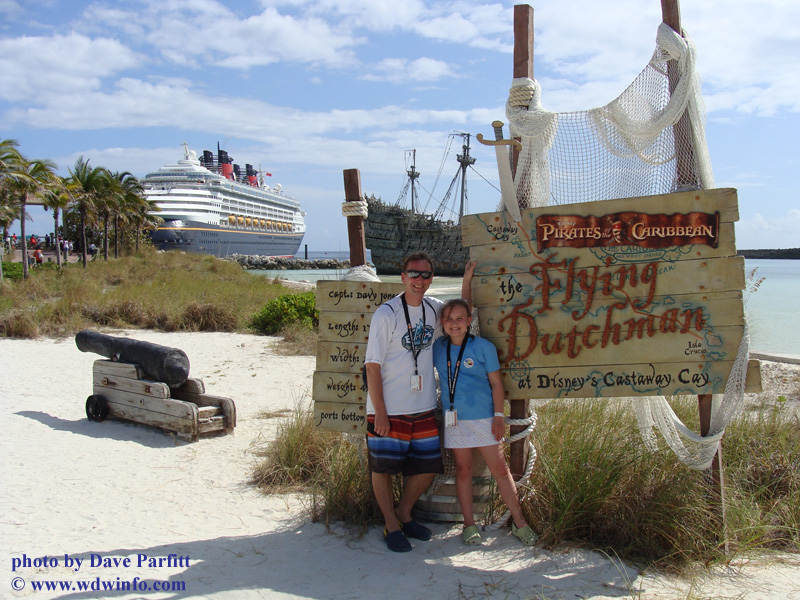 Image: Dave and Maggie Parfitt (age 11) on Castaway Cay during Podcast Cruise 1.0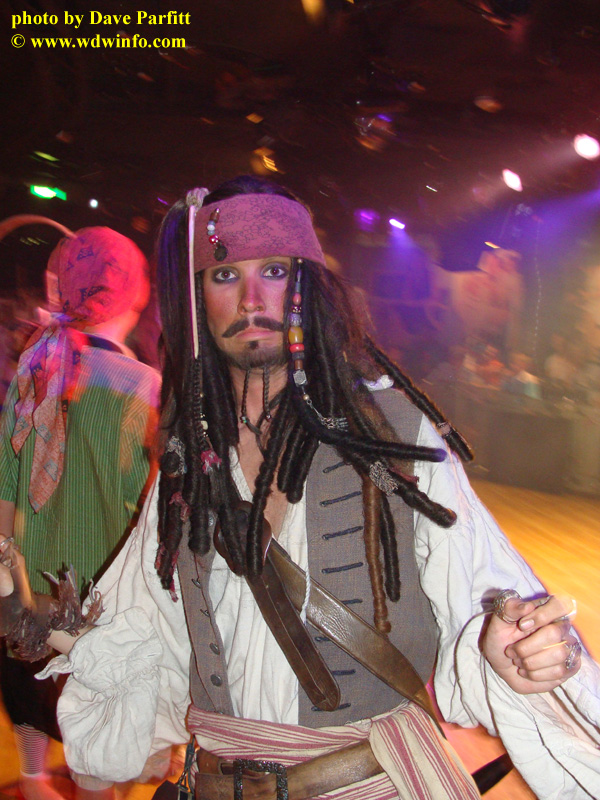 Image: Captain Jack Sparrow on Podcast Cruise 1.0
My family and I were also participated in the recent DISapalooza weekend at Walt Disney World that included the second private party at Toy Story Mania.  However, out of all those trips and experiences in 2009 two things stand out, and have left a larger impact on me.
1) Tour of Give Kids The World Village
During the original MouseFest trip in December 2008, I decided to take my girls to Give Kids The World Village.  The DIS Unplugged had just begun its t-shirt fundraising campaign for Give Kids The World (GKTW), and I thought a segment describing the Village would be helpful.  Public Relations Director, Susie Storey, agreed to record an audio tour of the Village, and little did I know the impact that tour would have on my family and I.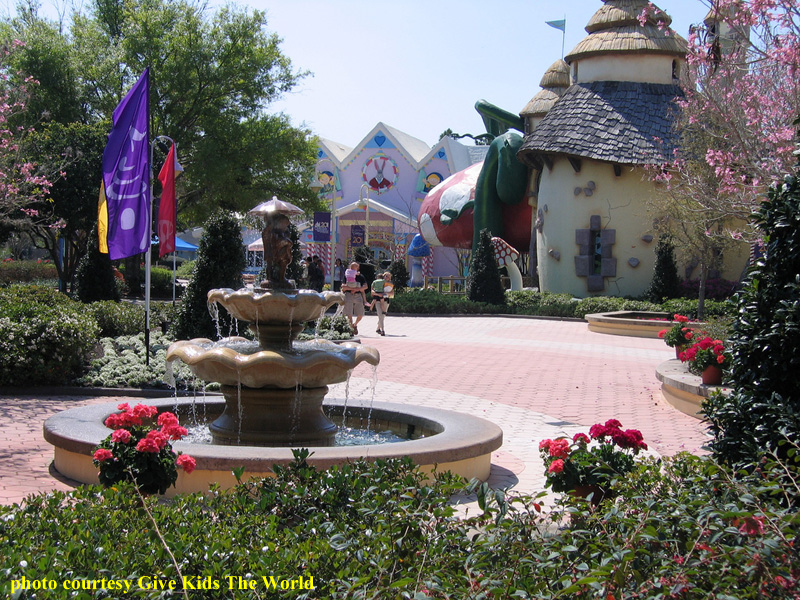 Image: Avenue of Angels at Give Kids The World Village
By the time the 90 minute tour was over, I discovered Susie Storey was a Communication graduate of SUNY/Geneseo, the college where I currently work.  During that tour, Susie and I laid the plans to bring a group of Geneseo students to GKTW on an alternative break to take place January 2010.  For the Muddy Buddy, my partner, Paul Lunny, suggested running it as a fundraiser for GKTW.  His suggestion resulted in four other DISers joining our team – all of whom have become close friends, and raising nearly $4,000 thanks to the generosity of the DIS Unplugged listeners and readers.  In October, I was able to hear the incredible story of Henri Landwirth's background and founding of GKTW during a face-to-face interview with GKTW President Pamela Landwirth.  Finally and most recently, in December, I was joined by nearly 20 other DISers to donate a small portion of our time during DIS-apalooza volunteering at the village.  I suspect this is not the end of my commitment to and involvement with GKTW.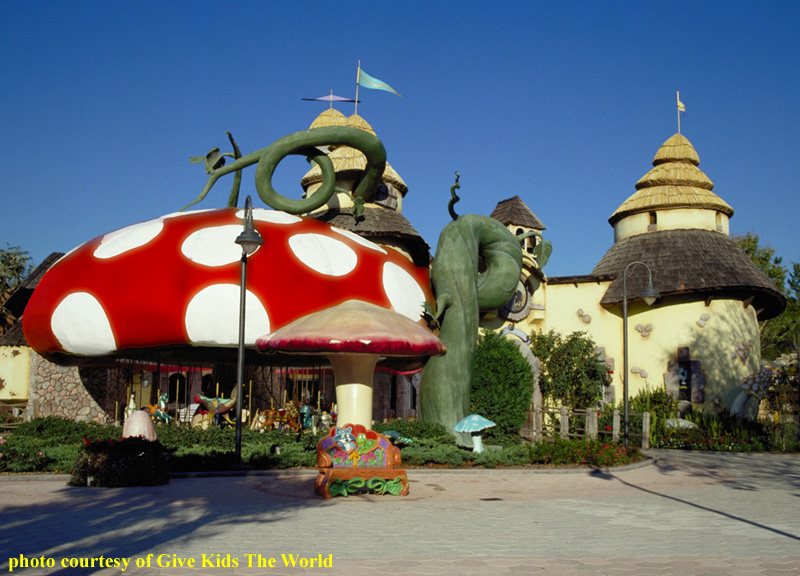 Image: Castle of Miracles at Give Kids The World Village
2.) Apollo 40th Anniversary Celebration at Kennedy Space Center
July 16, 2009 was the 40th Anniversary of Apollo 11, the mission that successfully landed Astronauts Neil Armstrong and Buzz Aldrin on the moon.  I received an e-mail from the Kennedy Space Center that described a special celebration including eight former Apollo Astronauts including Buzz Aldrin.  As soon as I received the announcement, I knew I had to attend this event, and I had to bring my father with me.  My father has a PhD in aeronautical engineering, and his first job out of graduate school was with Rocketdyne in California from 1966-1970.  Dad's job was to help design the engines for the Saturn V rocket that powered those Astronauts to the moon.  This was the high point of Dad's professional career, and he talked wistfully about it as I was growing up.  To be able to take my Dad to the Kennedy Space Center, and have Dad in the same room with the Astronauts who flew upon his rocket engines would be such a thrill for me.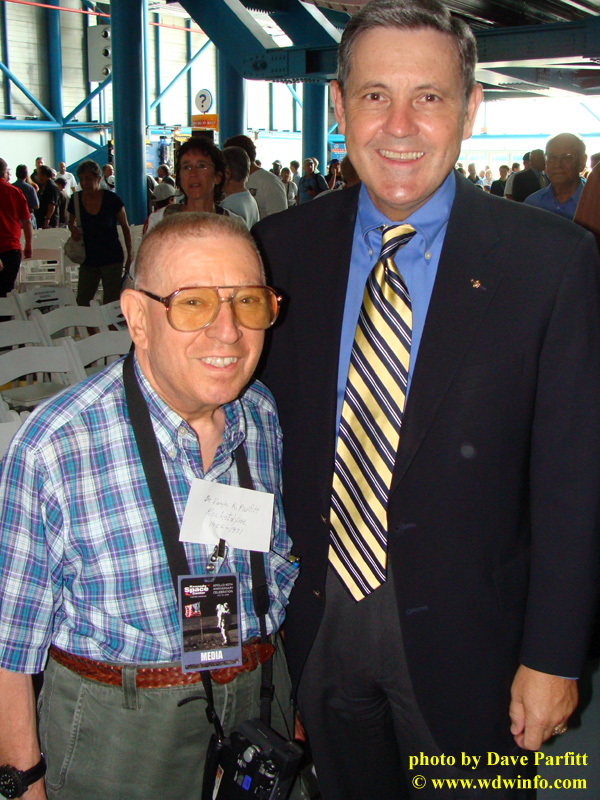 Image: Vaughn Parfitt with Kennedy Space Center Director (and 2x Space Shuttle Astronaut) Robert Cabana, July 2009
The day could not have gone any better.  Dad and I, along with Kathy and Katie Werling, were in a room less than six feet away from the Apollo Astronauts.  We were close enough to touch artifacts such as the original Apollo 14 space capsule.  The day with my father was a once-in-a-lifetime opportunity, and a memory I will treasure for the rest of my life.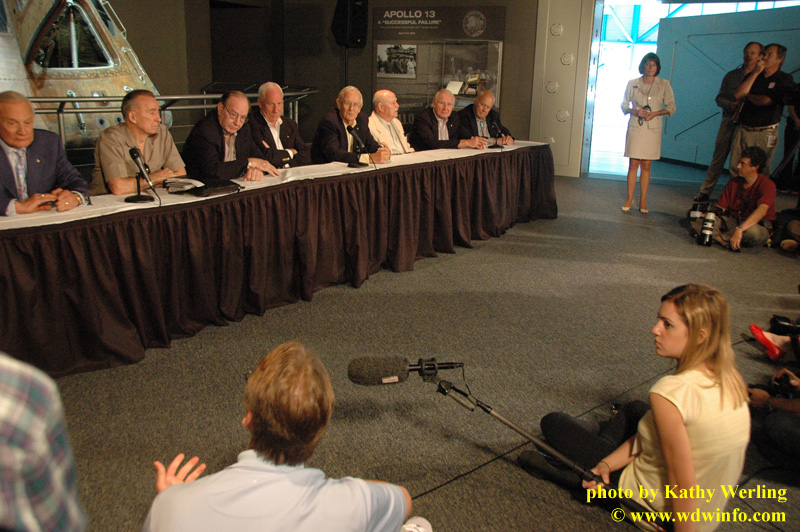 Image: Dave Parfitt asks Apollo 11 Astronaut Buzz Aldrin a question for the DIS Unplugged, July 2009
In closing, what has been the most wonderful part of my year as Special Correspondent?  It has most certainly been all of the friends I've made over the past year.  I have to thank Pete Werner who originally invited me to become part of the DIS Unplugged team, and has allowed me to experience so much over the past year.  In addition, John Magi trusted me with the task of securing the DIS-apalooza seminar speakers, Lee Cockerell and Marty Sklar, that allowed me to enjoy another highlight of my year –   personal one-on-one conversation with Disney Legend Marty Sklar.  I enjoyed working with Kathy Werling on a number of segments together including covering the Walt Disney World Marathon in January as well as the Kennedy Space Center Apollo Celebration this past July.
Image: Dave Parfitt and Kathy Werling on Podcast Cruise 1.0
I've become friends with the entire DIS Unplugged Podcast Team including: Corey Martin, Julie Martin, Kevin Klose and Senior Editor Leah Zanolla.  Teresa Echols shared my enthusiasm for meeting and interviewing Travel Channel's Andrew Zimmern, and the two of us along with Walter Echols enjoyed the many food offerings and laughs at Epcot's International Food and Wine Festival.
Image: Dave Parfitt, Teresa Echols, and Walter Echols, October 2009
In addition to the Florida DIS Unplugged Team, I've become good friends with my fellow correspondents in California including Nancy Johnson and Tony Spittell, and I look forward to meeting Wendy Bell in the future.  Nancy in particular has been incredibly supportive and helpful to me in preparing our correspondent pieces for the DIS Unplugged.
Image: Disneyland Correspondents Tony Spittell and Nancy Johnson with Dave Parfitt in California, April 2009
Finally, and I hesitate to even post pictures because there is no way I could possibly name all the friends I have made from you listeners and readers, I can not tell you how much I appreciate your support and encouragement.  The comments and feedback you leave on the blogs, in the DIS Unplugged forum, and on Facebook keeps me going.  It's so great to know people are out there reading, and are interested in the pieces and segments.  I close with a quote from "It's a Wonderful Life".  In the words of Clarence, "Remember, no man is a failure who has friends."  It is all of you, my friends, that have made this past year a success.  So with that, I will leave you with a sampling of images of just some of the friends I have made over the past year, and if you don't see yourself in a picture – don't fret, you hold a special place in my heart. Thank you.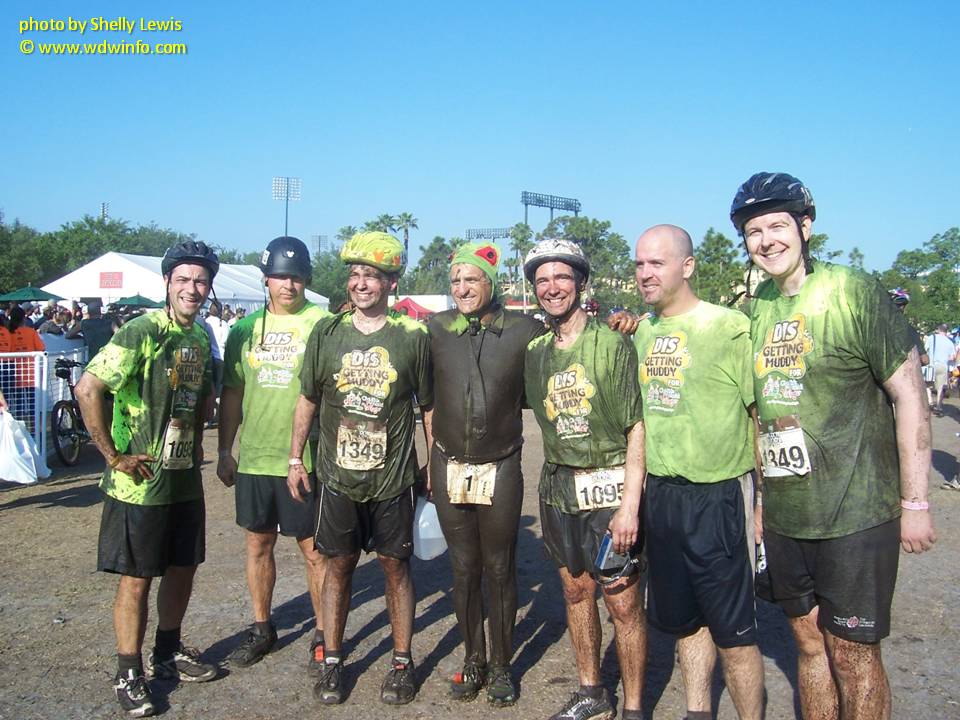 Image: DIS Unplugged Muddy Buddy Orlando team, May 2009
Image: DIS Unplugged GKTW Voluntourist Group, December 2009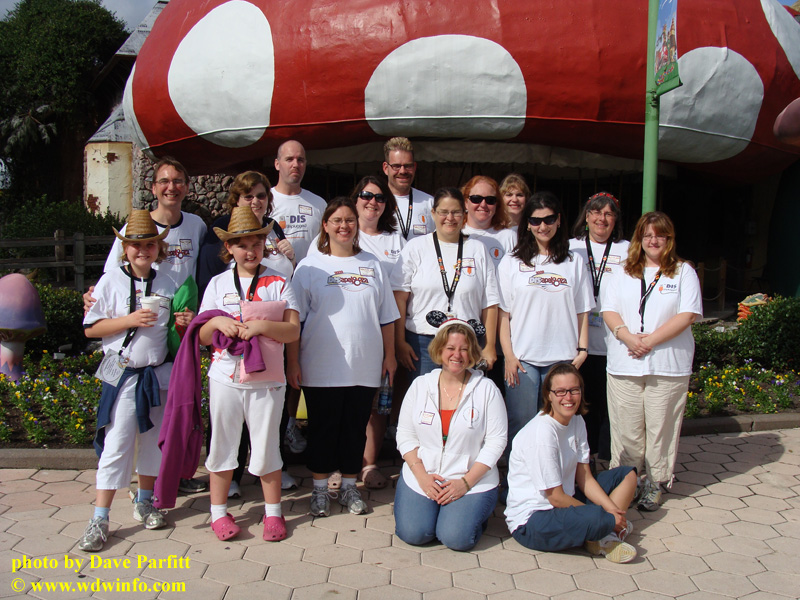 Image: DIS Unplugged GKTW Voluntourist Group, December 2009
It's on to 2010, and I'm excited for the new adventures ahead.  However, most of all, I'm excited for all the new friends I have yet to meet in my role as Special Correspondent.  So please, keep reading, and keep posting comments.  Just log in with your DISboards Username and password.
Category: Disney Cruise Line, Disney World, Disneyland, Editorials, Sea World, Universal / Sea World, Universal Orlando