Greetings Everyone: I wanted to recap DIS-apalooza weekend, December 10-14, from the perspective of your special correspondent.  It was a special weekend indeed.  Get it?  Special weekend?  Special correspondent?  Oh gimme a break, I've been dealing with a cold since I returned from the weekend, and it's the best I've got in my sinus pressure induced fog.  Anyhow, there were multiple first-time experiences for my family on this trip, and many opportunities to visit with friends old and new – so please read on.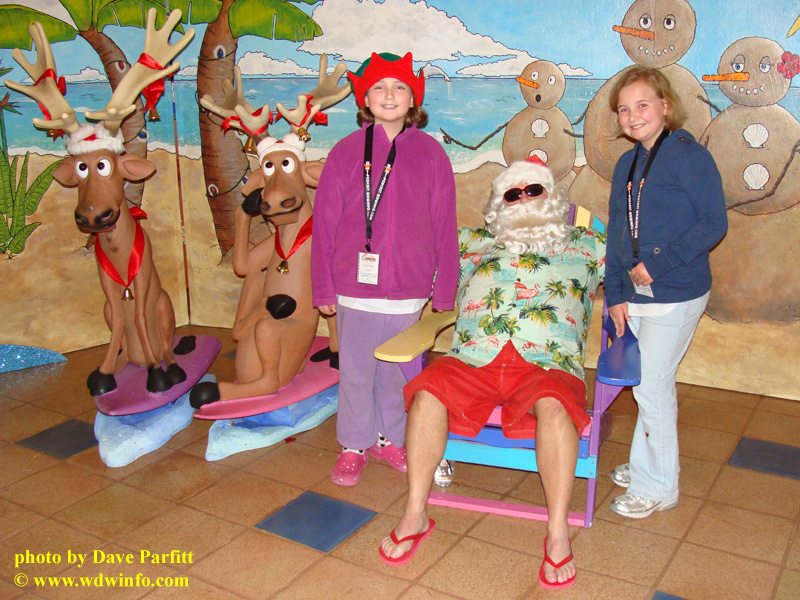 Thursday, December 10: Arrival Day, AKA SNOWMAGEDDON 2009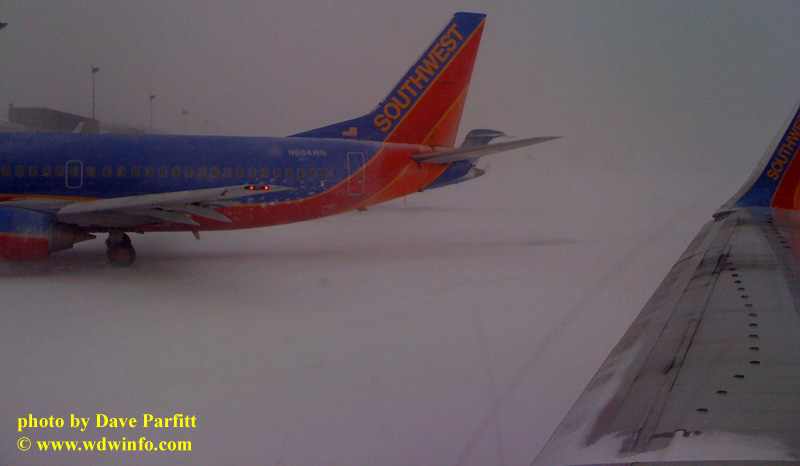 Usually we fly out of Rochester, NY, and get a direct flight to Orlando, FL on AirTran or JetBlue.  However, Southwest flies out of Buffalo, NY, one hour's drive west of Rochester, and they had a smokin' hot fare on a direct flight to Orlando.  Unfortunately, it turns out it was not the day to fly out of Buffalo, NY.  SNOWMAGEDDON 2009 swooped across Lake Ontario from the Great White North.  When we arrived at the Buffalo airport, skies were clear, but as boarding time drew closer, the skies grew dark and then pure white from wind-driven snow.  At 1:30 pm (boarding time), the skies miraculously cleared; pixie dust made its way from Orlando to allow us to depart on time!  We're boarded on the plane, but one boy had trouble finding a seat next to his family.  I thought, "Sit down kid!  Don't you know the pixie dust won't hold off the impending snowpocalypse forever!  For the love of all things holy, someone make this boy sit down!"  Too late, snow engulfed the plane.  At times you could not see the airplane parked next to us because it snowed so hard.  Luggage handlers made snow angels on the tarmac.  Ahhhh, that soothed my soul – who needed Disney when you had such mirthful luggage handlers?
We were supposed to arrive in Orlando at 4:30 pm, and we had dinner scheduled with the DIS Unplugged podcast team along with our DISapalooza seminar speakers Lee Cockerell and Marty Sklar at Shula's Steak House at the Walt Disney World Dolphin.  Sure, I was upset to miss a once in a lifetime dinner with two Disney icons, but, whatever… I wanted the Shula Cut steak, oh, mouthwatering steak goodness… where was that kid who couldn't find his seat?  We finally arrived at the Dolphin around 9:00 pm – just in time to witness Julie Martin boxing up the second of her two twin filets because she could only eat just one… whimper… must… remember… pushing pregnant woman to secure meat is frowned upon in our society.
After dinner, it was time to record our exclusive one-on-one interview with Disney Imagineering Legend Marty Sklar.  Mind you, it was close to 10:00 pM, and the only thing I'd eaten was a tiny bag of Southwest Airlines honey roasted peanuts.  Well, ok, so maybe I had "twin" bags of peanuts – that almost made up for missing Shula's.  Pete Werner told me he'd brought his portable recording equipment and microphones to ensure the best possible audio.  I looked over and thought, "Oh, you mean that big box I've never used before with all the switches and buttons and a display I can't read?  Suuuuuure, just lemme set up my little mini-recorder first."  [This will become important later in the weekend.]  Marty Sklar and I recorded the interview, and he could not have been a better guest.  We could have talked for hours.  11:00 pm came and I was finally back in my room, empty stomach, and ready for sleep.
Friday, December 11: Lee Cockerell and Marty Sklar Seminar and Epcot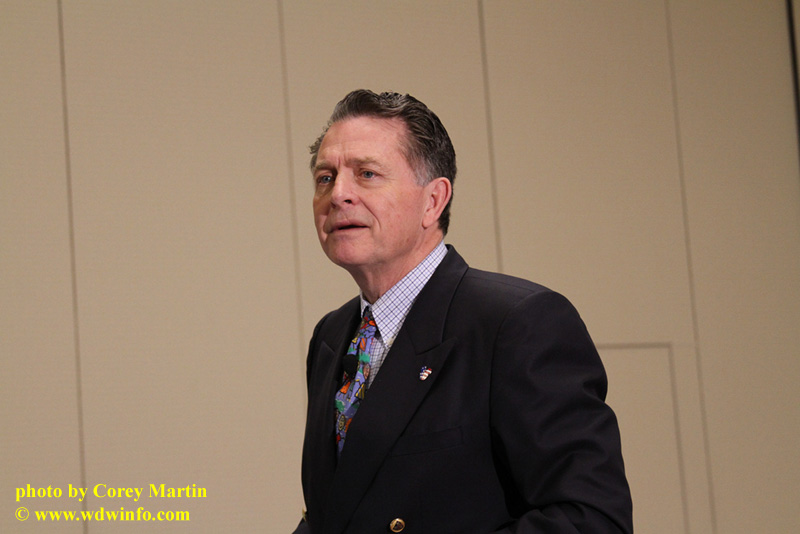 8:00 am, and I was in the Dolphin Convention Center for Lee Cockerell's and Marty Sklar's presentations.  I helped organize this event, and was really looking forward to both talks.  Lee Cockerell's presentation was first and titled "You Can Create Magic Too!  Examples of how Disney Cast Members create magic for guests and for each other."  The presentation of the retired Executive Vice President of Operations for the Walt Disney World Resort did not disappoint.  It was so impressive how much energy he brings to his lecture, with all the stories and personal examples, PLUS the fact he lectured without notes or visual aides from the top of his head for an hour – amazing!  The audience was absolutely riveted the entire time.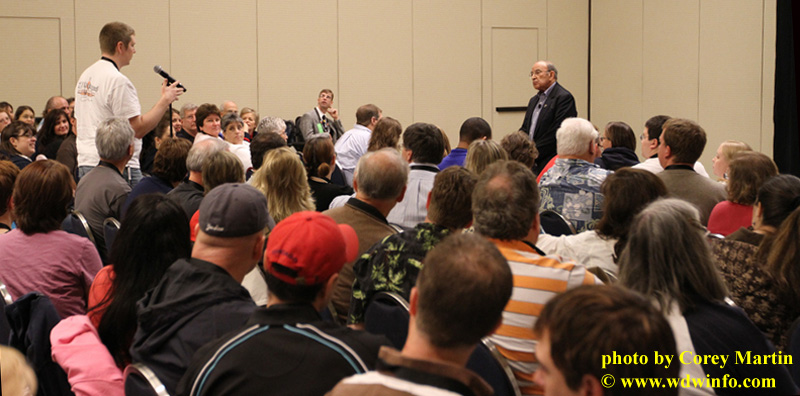 After a short break, next up was Marty Sklar, Executive Vice President and Walt Disney Imagineering Ambassador (retired) who gave a talk titled "Just Do Something People Will Like!"  This talk had everyone on the edge of their seats as he shared exclusive videos and stories of what it was like to work side-by-side with Walt Disney – THE Walt Disney.  Here was the only Disney Cast Member to attend the opening of every Disney Theme Park to date, and he was full of tales, both on stage and backstage, from Anaheim, Orlando, Tokyo, Paris and Hong Kong.  It was truly an honor to hear the talks from both of these men.
After the seminar, it was playtime.  My girls had been in our room all morning doing homework, since they were missing school.  However, we promised them we would do the Kim Possible World Showcase Adventure, and they were excited to get going.  We arrived at the Epcot International Gateway at 2 pm, and received our mission at the United Kingdom pavilion.  Our assignment was not until 3 pm at Norway, so we had a little time to kill as we moseyed down the promenade.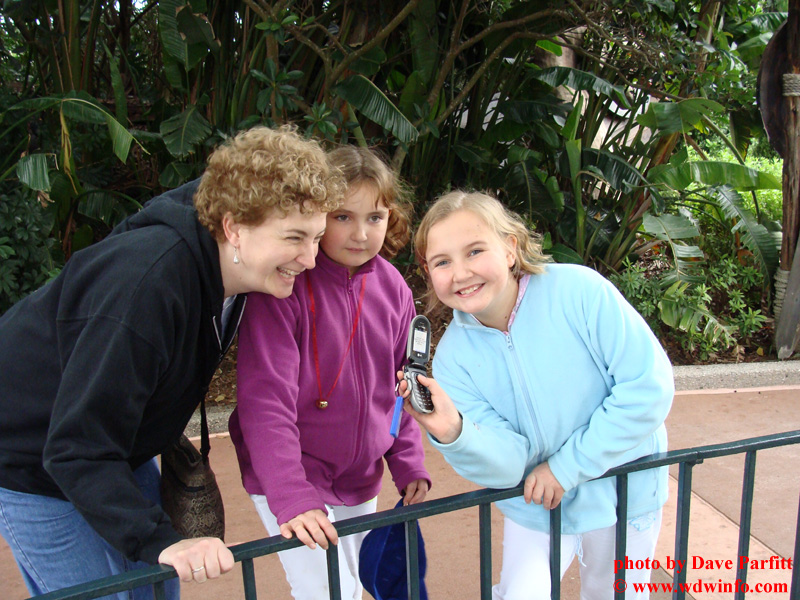 Precisely at 3 pm we picked up our "Kimmunicator" in Norway, and our mission quickly sent us on to China.  I can't say enough good things about this experience.  Epcot has promoted the Kim Possible adventure as a "next generation attraction that offers fun and excitement for the whole family."  They were exactly right.  We were all active and engaged in the game, and it allowed us to spend more time in the World Showcase Pavilions than we normally would.  I saw details in the countries I had never seen before – partly because my girls weren't pulling me away to run to that next attraction.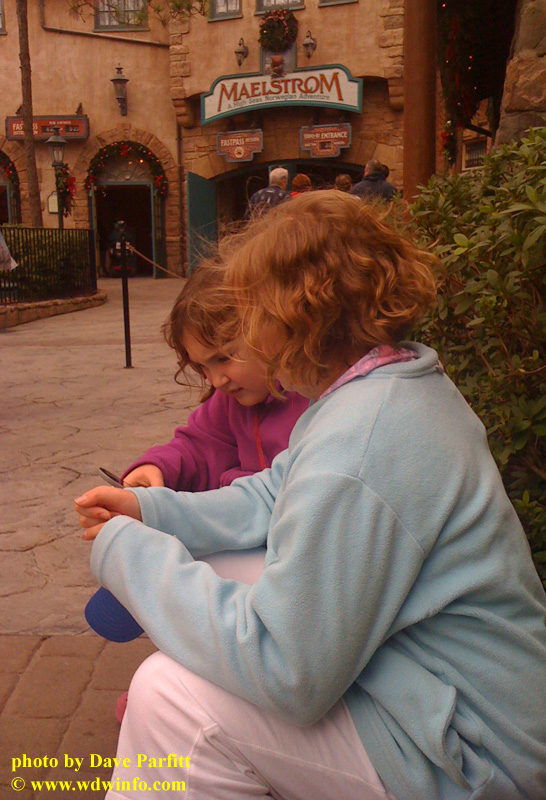 Kim Possible was a new experience for our family, and it was a huge hit.  After completing the mission in China, the girls wanted to do another mission – next up, Norway.  The details and special effects used for the game were very impressive.  Our girls begged to do a third Kim Possible adventure, but, alas, it was time for our 5pm Candlelight Processional Dinner Package at the Rose and Crown Pub back in the United Kingdom.
More firsts for our family on this trip – both Rose and Crown and the Candlelight Processional.  We enjoyed our dinner.  On the Candlelight Processional dinner package each person received an appetizer, entree, and dessert.  In fact, I had the meat and cheese plate for two appetizers – you know, to share with the table, yeah, that's it, share… For entrees, the girls and I all had the Cottage Pie – Rose and Crown's version of the Shepherd's Pie, and my wife, Dana, had the Sunday Roast – partly to sample the Yorkshire Pudding.  Dana enjoyed the Sunday Roast, but said the Yorkshire Pudding wasn't quite as good as her Mother's.  My daughters did not care for the Cottage Pie, and my youngest (Evie, 8 years old) sent her Cottage Pie back and exchanged it for a Pizza Pie (not very British).  I should note that our girls LOVE Shepherd's Pie.  We ate at Raglan Road in Downtown Disney previously, and they raved about the Shepherd's Pie.  I noticed Rose and Crown's Cottage Pie was flavored differently (and stronger) from the Shepherd's Pie at Raglan Road, but it was enjoyable for me.  Dessert was a hit; we ordered two chocolate scotch cakes and two sticky toffee puddings.  The chocolate cake was good, but the sticky toffee pudding was GREAT!  Warm, rich, and yummy…
After dinner, we had an hour to make our way over to the America Gardens Amphitheater for the Candlelight Processional.  It was then I noticed a voicemail on my phone from Pete Werner.  [Am I the only one who can't hear the phone ring in the theme parks?]  Hmmmm, odd, wonder what Pete wanted?  The "British Invasion" just started to play, and Dana's a huge Beatles fan.  I figured we would cross the street, Dana could take in the band, and I'll see what Pete wanted.  We walked across the street, and I now also had voicemails from both Teresa Echols and Kathy Werling.  What was going on?  Was I being punk'd?  Turns out there was a problem with the recording of Marty Sklar's interview, and Pete put out an APB to find me to see if I had the audio on my recorder.  As we approached the line for the Candelight Processional, we passed 100+ Disers partaking in "Drink Around The World", and I was regailed with cat-calls: "Dave, Pete wants you!  Dave, call Pete!  Dave, have you talked to Pete?"  Ah yes, good times… Q: "Daddy, why are all those drinking people yelling at you?"  A: "Why, I don't know girls, keep your head down and keep walking… don't make eye contact…"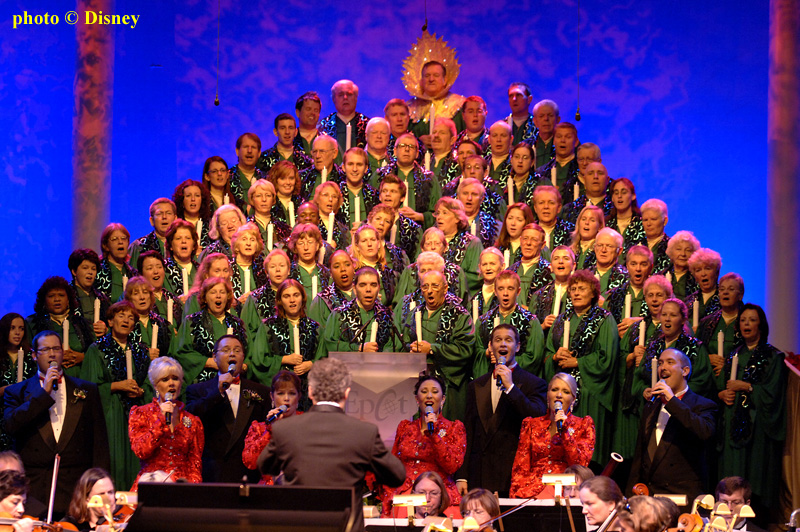 Candlelight Processional was a treat for me.  I love choir music, and used to sing in the choir myself in school.  Christmas was always my favorite time because there was so much good music.  The narrator for our show was Andy Garcia – star of such feel good, holiday, family entertainment as: "The Godfather: Part III", "Ocean's Eleven", "Ocean's Twelve", and, let's not forget, "Ocean's Thirteen".  In all honesty, Andy Garcia was very good as a narrator.  He appeared to enjoy the performance; swayed along with the music, and was transfixed by the sign-language interpreter.  All in all, I thought it was a great show.  The kids, on the other hand, thought it was too long and boring.  They said it seemed "too much like church."  Oh well, you can't please everyone.  After the show, we decided not to stay for Illuminations: Reflections of Earth, and made our way back to the Dolphin.  We had another early day tomorrow and needed some rest.
Saturday, December 12: Give Kids The World and Toy Story Mania Party
Saturday morning I was up at 5 am.  I was leading a group of DISers to volunteer at the Give Kids The World Village, and we had to meet there at 7 am.  This part of the trip was very important and special to me.  Our family has been been fortunate to travel to Walt Disney World many, many times.  It was important to me to take some time to give back a little, and for my daughters to share in that as well.  We agreed to donate just a small portion of our time to an organization that makes it possible for other families to travel to Walt Disney World and the other Central Florida attractions.  When we arrived at Give Kids The World (GKTW), my daughters and I were assigned to help serve breakfast at the Gingerbread House.  Below are my girls as they fulfilled their duties as door openers and greeters for families coming in for breakfast.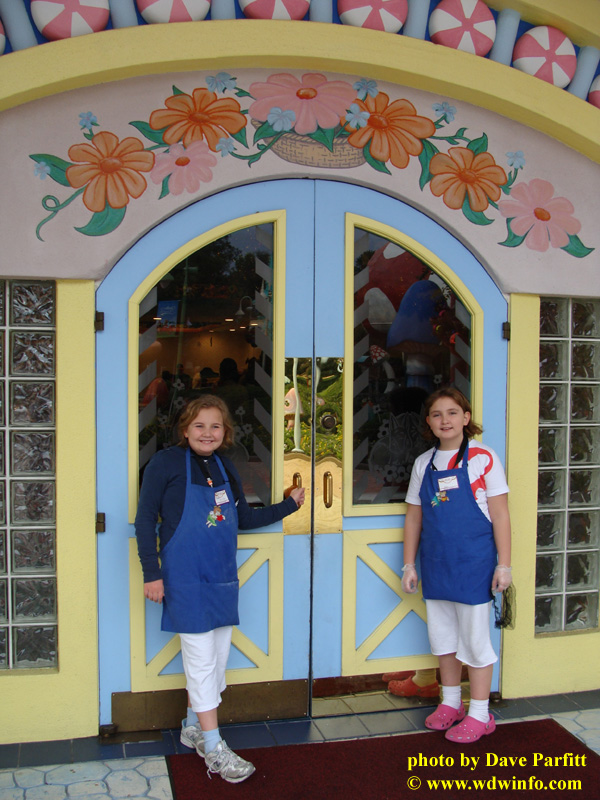 I was not only lucky I could share this volunteer experience at GKTW with my daughters, but also nearly 20 other DISers took time out of a very busy weekend to also volunteer at the Village.  DISers delivered meals on carts, served breakfast at the express counter, operated the carousel, staffed the spa, helped families find their star in the Castle, and assisted with the horse program.  We worked from 7 am-12 pm, and afterwards were treated to a tour of the Village.  This was a tiring but fulfilling morning for me (and the girls too I think), and I was so thankful to share it with so many good friends.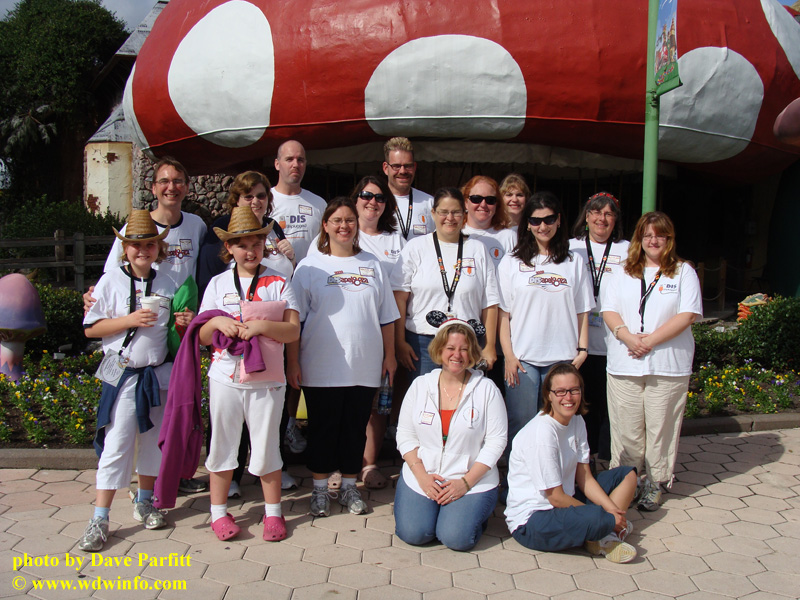 After volunteering at GKTW, we rested up before the big Toy Story Mania Party.  We had an early dinner at Boma in Animal Kingdom Lodge (to save room for party food later) – another first time for us (eating at Boma that is, not saving room during dinner).  We loved the soups at Boma.  In fact, I had two different kinds: a carrot/ginger soup and a curry/coconut soup.  Mmmm, Mmmm, good.  However, I have to say we were underwhelmed by the desserts.  We thought the zebra domes everyone raves about were just OK – a very sweet confection with very little substance.
Finally, the time for the big Toy Story Mania party arrived!  We gathered at Disney's Hollywood Studios entrance at 8:30 pm.  We waited as the crowd amassed until around 9:30 pm, and finally made our way into the park and down to Pixar Place.  The party was so much fun.  We ate, talked with friends, and rode Toy Story Mania.  It's amazing how quickly the time flew past.  By the time I looked at my watch, it was already 11:30 pm, there was only an hour left for the party, and we had only ridden Toy Story Mania twice.  The girls were hypnotized by the balloon artist, and patiently waited for their creations.  Dana and I took the chance to sit, catch up with friends, and make new friends.  However, unbeknownst to me, the sausage and brat table had quietly slipped off stage.  Once the girls had balloon animals in hand, we rode Toy Story Mania two or three more times, and then it was time to call it a night.  I had been up at 5 am, back in bed at 1 am, and it was a very full day (no wonder I got a cold).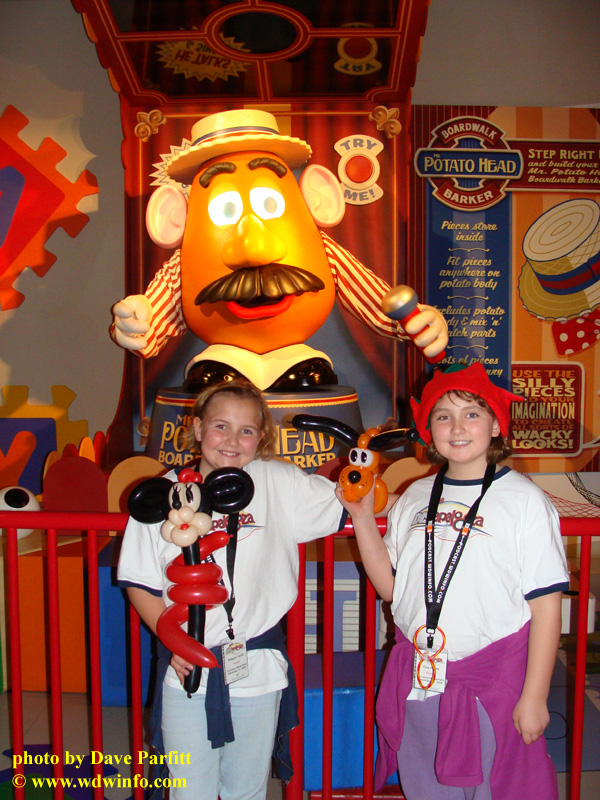 Sunday, December 13: DIS Unplugged Podcast Taping and Mickey's Christmas Party
In a weekend of firsts, we had another with breakfast at Chef Mickey's in the Contemporary Hotel Sunday morning.  We had wanted to go here for a while, but were never able to get reservations.  We slept in, and savored a late breakfast with our friends Mickey, Minnie, Donald, Goofy, and Pluto.  Very good food at this breakfast buffet, and we stuffed ourselves so we wouldn't have to worry about another sit down meal later.  After breakfast, we rode the monorail around to check out the decorations at the other resorts.  We fought the crowds at the Grand Floridian to get a whiff of their Gingerbread House, and then circled back to the Contemporary to see the Mary Blair inspired Gingerbread Tree.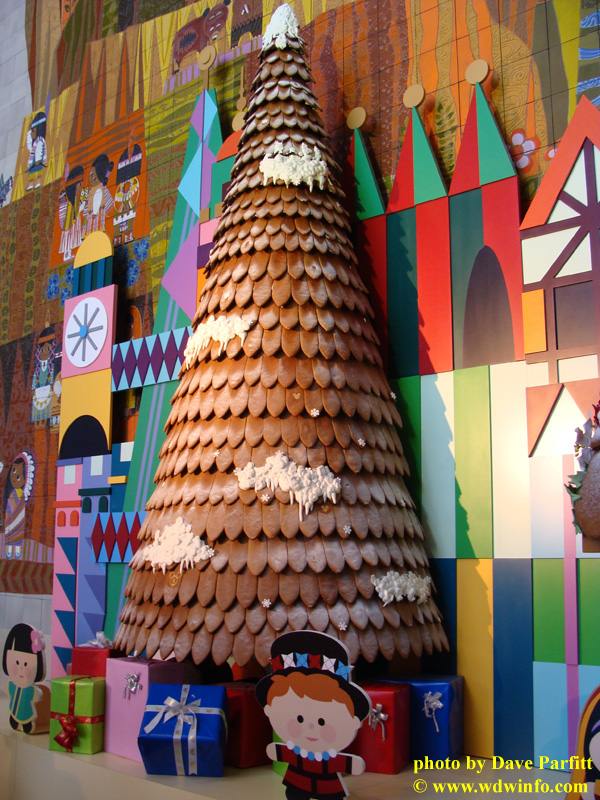 Dana and the girls rested in the room while I attended the live taping of the DIS Unplugged podcast.  Stories were told. Laughs were plentiful.  A Podcast Cruise was awarded – as well as a Kindle, and a bedazzled DIS Unplugged thong was thrown (you had to be there).  The end of the show had some heartfelt words and touching moments from Pete Werner as he transitions to his new role, and you can listen to it all
.
Around 5:00 pm, we made our way over to the Magic Kingdom for Mickey's Very Merry Christmas Party.  However, the highlight of the evening for me was something you do not need to attend the party to see: the Castle Dreamlights.  Around 6:00 pm we made our way to Cosmic Ray's to grab a seat on the terrace, and had a little snack.  We weren't able to see the little show in front of the Castle before they turn on the lights, but we had a wonderful, comfortable view of the castle for the lighting (we could hear bits of the lighting show, but didn't feel we missed much).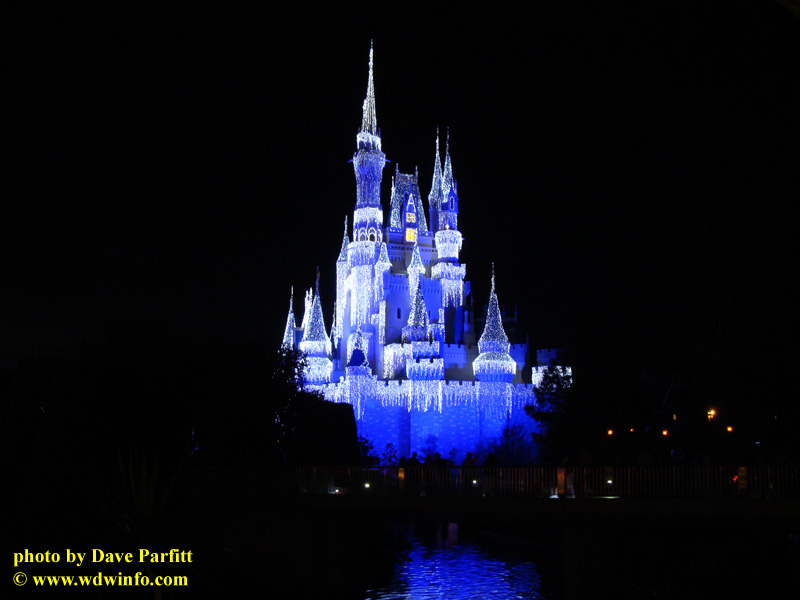 After the Castle lighting, the girls were itching to ride.  I know, you can ride anytime, but only see certain shows, etc. at the party.  However, the girls wanted to ride, and being the good parents that we are, ride we did.  The best part was that every ride was a walk-on, no waiting.  We rode: Tomorrowland Speedway (another first for us; we've never done this because of the long wait), Winnie the Pooh, Mickey's PhilharMagic, Peter Pan's Flight, it's a small world, Haunted Mansion, and Big Thunder Mountain (the girls rode 2x).  Along the way we stopped for hot chocolate and cookies, multiple times.  Our oldest daughter (Maggie, 11 years old) is a hot chocolate connoisseur, and gave the Christmas Party hot chocolate a very big thumbs up.  After a Mickey ice cream bar snack-break in Adventureland, it was time for the "Holiday Wishes" fireworks.  We lucked into seats right after crossing the bridge from Adventureland towards the Hub, and enjoyed the fireworks show.  Next up was Swiss Family Treehouse (our girls love this), Pirates of the Caribbean, and then time to find a spot in Frontierland to watch the "Mickey's Once Upon a Christmastime Parade".  Maggie discovered the hot chocolate station at the Diamond Horseshoe Revue right across from our parade spot, and the next time I looked she had three hot chocolates lined up in front of her.  "Once the parade starts I won't be able to go get one Dad!"
Five minutes before parade start a group of 12-15 DISers planted themselves right in front of us!  What the…?  It was all good though, we're all friends, and they took up the spots right behind us.  It was a great way to end the weekend, and say good-bye to our friends until next time.
Monday, December 14: Departure Day
There were so many activities over the weekend, so little sleep, and the time flew by much too quickly.  The girls and I crammed ourselves in the back of the airplane, and I treated Dana to a kid-free bump to business class where she could stretch out her legs and snooze.  [Hmmmm, I'm starting to see where my cold came from, I think.]  It was so wonderful to share a special weekend with old friends and to make new friends as well.  I sincerely thank the DIS Unplugged crew for putting it all together, and making so many wonderful memories for our family and many other families I'm sure.  Although, I still think Julie owes me a steak…  Julie, do you still have that remaining filet in your fridge?
What were some of your memories of DISapalooza weekend?  Log in with your DISboards username and password and leave a comment below.
Category: Disney World