They entice you. All shiny, with their glistening, swirling, red and white stripes. You can almost taste them with your eyes. This is one of the great, but not well known (until now) holiday traditions at Disneyland. The making of the Candy Canes at the Candy Palace, on Main Street in Disneyland, is truly one of the old-fashioned pleasures. If you are lucky enough to be there on certain weekdays in December, you will catch a glimpse of these beauties – and maybe even a celebrity to boot! Such was the case last December, when I got a chance to watch Guy Fieri pulling Candy Canes as part of his new holiday special "Guy's Disney Holiday", which airs on the Food Network this weekend, at 9pm EST/8pm CST on 12/5 and again at 12 am on 12/6. with a repeat again on the weekend of 12/11 and 12/12.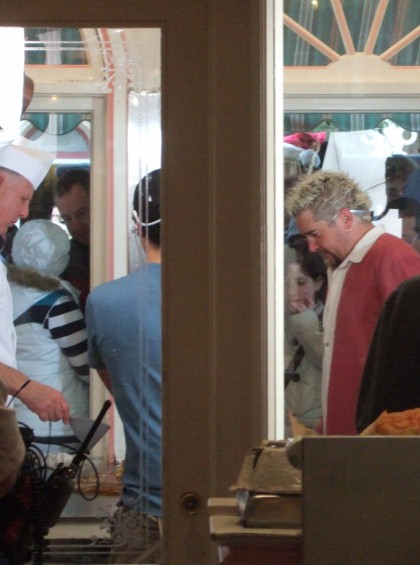 So how did this all start? Well, my family saw the sign for the Candy Canes in the window, beckoning us to come in from an extremely rainy Monday in the parks last December.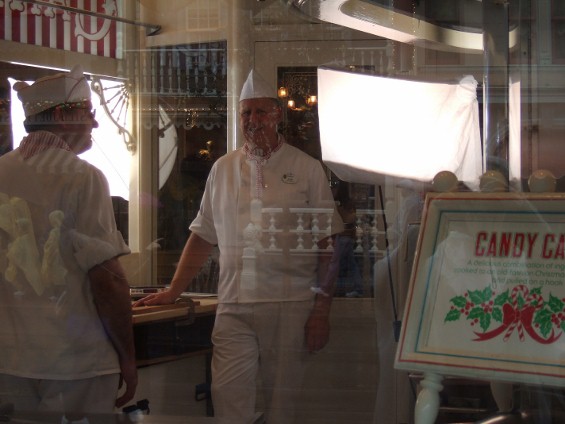 I had thought the pulling season was over – at least that is what I had heard from our boards. I had missed out on these jewels of pepperminty goodness once again! My husband, Ian, thought I was crazy – wanting to stand in line for a couple hours to get Candy Canes, but being the good heart he is, he went with it. I was determined to find out when I needed to be in the Candy Palace to see the action, and I knew the candymakers would be able to tell me. They have always been extremely friendly folks, willing to talk to guests about what they do!
As we entered into the warm and dry Candy Palace (did I mention the deluge that the morning was?), I met Rob, the confectioner assigned for pulling duty today. He let me know that they were only doing one pulling at noon, that day. They had actually ended production for the year, but were doing this one session, due to Guy Fierei's show taping. YES – two cool things in one!!!!!!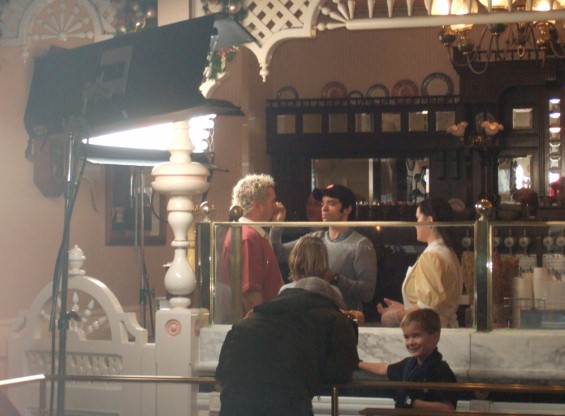 We had seen some television taping in the bakery, as we had walked by, but hadn't really considered it at the time (we see a lot of that stuff living here -we're jaded).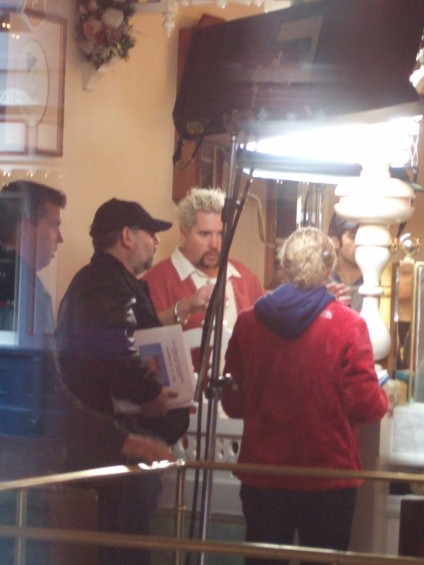 Despite the taping, I knew from our Disneyland board to come back to the Palace about an hour early to stand in line for the Candy Canes, so off we went to enjoy some time with the kids.
Suffice it to say, a day of filming never goes as planned – you learned that in my last blog on the parade taping. I arrived for the Candy Cane line at the directed time and saw that they were still in the heat of taping a segment on making waffle cones with his older son, Hunter, in the Gibson Girl Ice Cream Parlour. Undaunted, I planted myself in line with a delightful mother-daughter duo from Central California that we met when we first saw the sign – we all had the same goal at the same time! They had also heard the glories of the Candy Canes and wanted some for themselves, as well. Certainly being on the edge of an actual television shoot is an interesting experience, and doing it with fellow chatty souls is also, so we weren't bored in line. I think that is probably one of the things that I find most interesting about waiting in lines at Disney – it brings all sorts of people together and for a brief 40-60 minutes, you get to bond and share your likes and dislikes, give tips, gossip, and just really enjoy touching the lives of people that you will never see again.
About 2 hours later, the party moved over to the Candy Window. For those of you who have never been in a Candy Palace at either Disneyland or Walt Disney World, there is a viewing window or clear partition that separates the guests from the clean/sterile candy kitchen – kind of like watching a surgery or penguin exhibit at your local aquarium…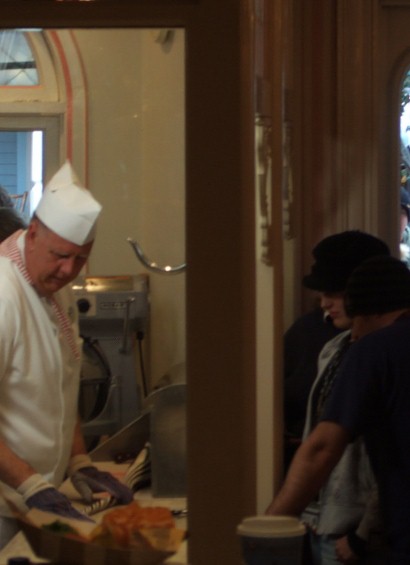 I really think it's just to keep guests from leaping the counter and drooling in the chocolate – a la Willy Wonka…. Yummmmm…………. Before I digress further, it would behoove me to describe the kitchen itself. It's a very small white room with counters and stainless steel and marble tables. In the center is a large copper pot and a machine for keeping large quantities of chocolate melted, to the perfect candy-making temperature. The two confectioners had begun to pour ingredients into the large copper kettle to begin the process. From my own experience, the copper pot is one of the most critical parts of the candy making process due to its ability to quickly transfer consistent heat at the high temperatures needed to turn sugar into confections. This process can take a little while, especially in the quantities they need to produce for selling to guests. As they started this, the film crews were setting up cameras outside the window, and discussing how they would use the handheld cameras in the room over Guy's shoulder.
Then Guy came into the area.
By this point, we had gathered quite the little line of about 12 people – and we were all bonding quite nicely. He began chatting with us from behind the cash register, as he ate his lunch. It was about 1pm, after all… I think he assumed we were all hanging out watching the taping and were fans – because you should have seen the expression on his face when I explained to them that we weren't really there for him – we were there for the Candy Canes! His puzzled look quickly turned to one of awe and wonder. You could see in his face that he was now understanding that the power of the Candy Canes was a force now to be explored and that soon he would be participating in more than just a cooking adventure. He and I then talked briefly about his patron-inspired sushi at Tex Wasabi's, his restaurant in Sacramento, California – the stuff you have to ask the waiter specially for, like the Dirty Magazine Roll. (Remember – I wasn't corresponding for y'all back then, so this was all normal one on one banter.) When we were done, they opened the door to the kitchen and off he went.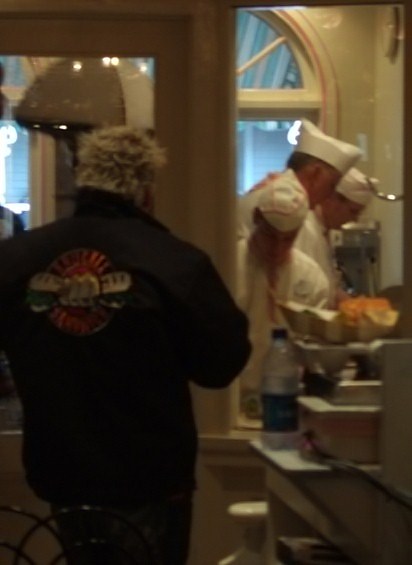 Now I have to interject something here… I always figured Guy might be a bit of cocky sort – from his initial image with his signature backwards sunglasses and all. I could not have been more wrong. He was very pleasant and just a regular guy. The ladies next to me discussed a place he might like to go to near their hometown and he was very eager to learn more about it. The one thing he did was apologize for how long we were waiting for our candy canes – because of him and offered to get all of our names and buy them for us. Disney wouldn't let him do it. Against policy and all, with it being first come first serve…. Still – I thought it was an extremely cool gesture on his part. The Guy has integrity.
So where was I – Oh yeah – Guy went in to get started making the Candy Canes….
Even though our little line was around the corner from the window, we still had a glimpse through the glass door into the world of the Candy Cane. At this point, they had filmed the copper pot (full of scaldingly hot, bubbling sugar) being emptied onto a metal cooling table.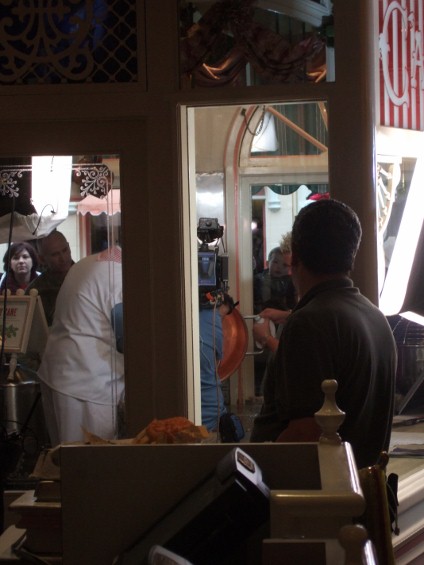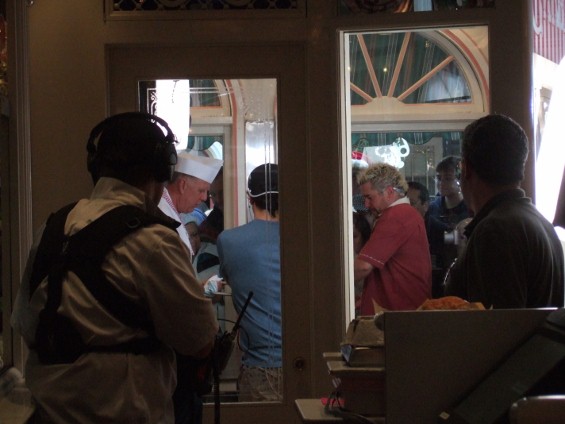 Here, Rob and the other confectioner scraped and piled the cooling sugar back into the center of the table.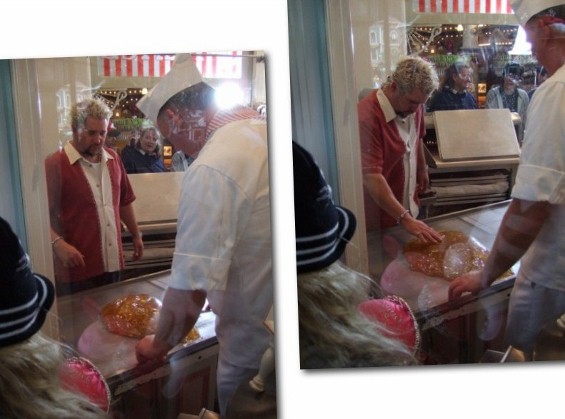 As it cooled, a caramel-colored mound began to form.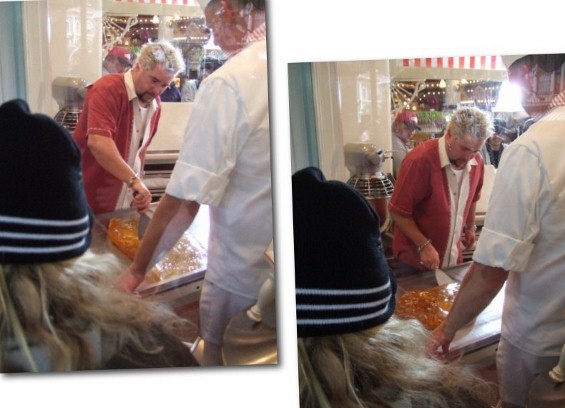 This mound was the beginning of pepperminty goodness. As we watched, we saw something else coming into play. Rob and Guy cut off two chunks of the mound, added drops of a liquid to them and began to knead them, causing them to darken. These sugar lumps were going to become the red and green stripes of the cane.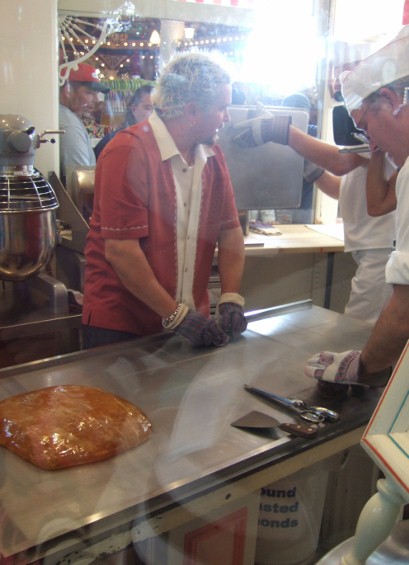 Now came the part we were all waiting for – the transformation. As you can see, the sugar was a light caramel color, not the brilliant white we expect when we think of peppermint canes. To turn it white takes a lot of strength, fortitude, and a good hook! That's what we found out when they began the process of pulling the sugar. They picked up the mound and took it over to the wall, where a large hook was mounted. They plunged the heart of the lump onto the hook and started pulling it with great energy. (At this point, you have to realize that I tried really hard to find a term for this that didn't sound like a trashy romance novel… this is the best I could do.)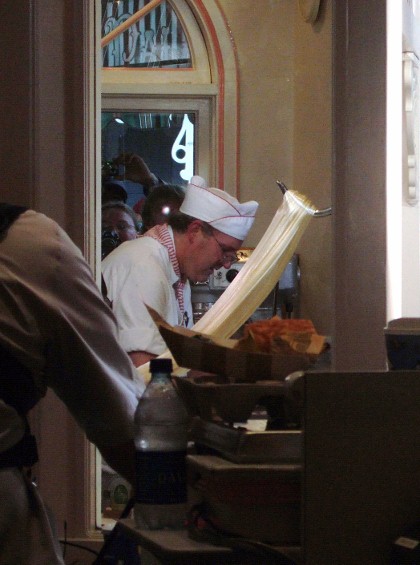 In all honesty, the ladies in the line were impressed, including me. Those confectioner's shirts hid some serious guns under the sleeves! Guy Fieri, too! We all watched in awe!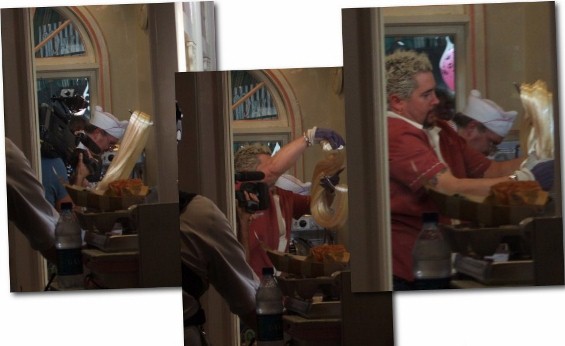 Now to talk about the science of this – remember, candy making is a dangerous profession…. The candy is molten when poured on the table and only super-hot when it is hooked. That is why the heat resistant gloves are worn to keep from burning your hands. As you stretch the lump out, it loses heat and gains air. The air reflects the light and makes it white. The more air, the brighter the white becomes. (If that only worked for teeth, the world would smile more!) That means the more you pull it to get it white, the colder and stiffer it becomes, and the harder it is to pull!
At this point, they gave Guy a small vial and he began to pour it over the sugar as he pulled. The peppermint!!!!!! Peppermint oil has a point where the heat from the sugar will cause it to simply burn away, leaving none of its glorious flavor behind. Therefore, the confectioner has to find the perfect time, when the sugar has cooled just enough, to add the peppermint. This was it. We could all taste it with our eyes. You know, that miraculous moment when it is just enough to see something and the flavor washes into your memory banks and floods your senses….that was the moment.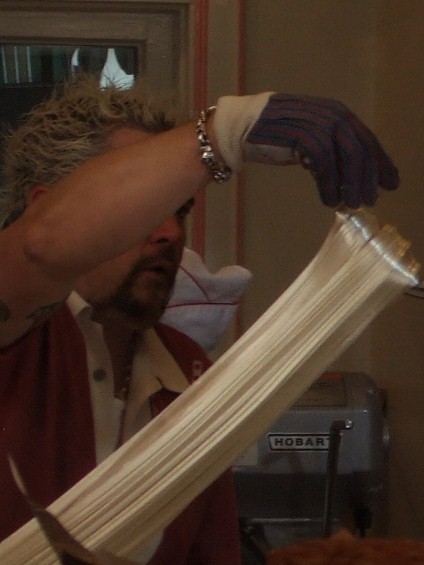 The next step was to take the newly whitened lump and add the colored stripes. What we couldn't see from our perspective (I literally almost asked a production assistant to move Mr. Fieri's sandwich leftovers, as you can see – they are in all of my photos…..), was that they molded the lump into a bit of a cylinder and then rolled/stretched those red and green lumps into strips (not stripes yet…) that they laid onto the sides of the white lump. Now comes more stretching…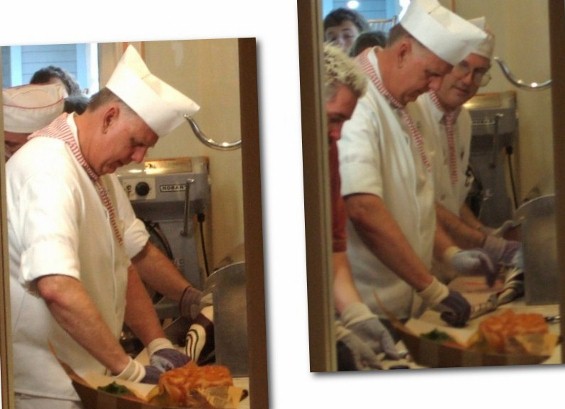 As the whole lump was stretched from one end, all of the colors were stretched, producing thinner lines of color.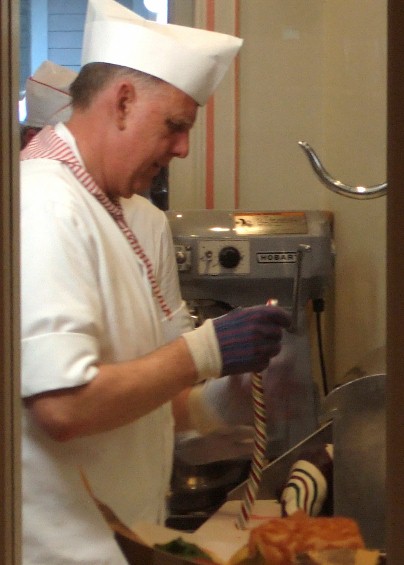 This was done quickly, as the whole mass is now starting to cool and solidify into something that could shatter when handled.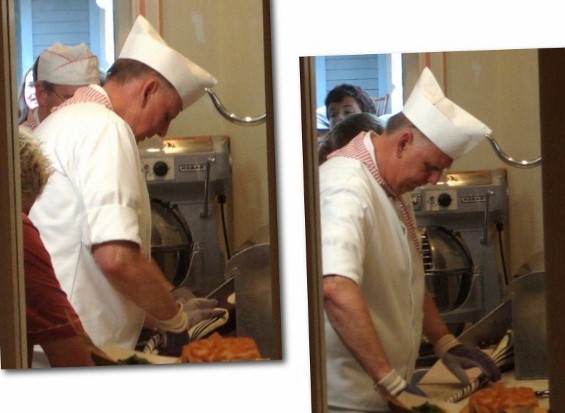 All three men – the two confectioners and Guy – took separate tasks. One stretched, one began to roll the stretched tube – to create the traditional Candy Cane Twist, and the third cut the sections and bent them into the classic "shepherd's hook". If the last step isn't done quickly enough – SNAP!!!!
After they are completed, they are left to the final cool down.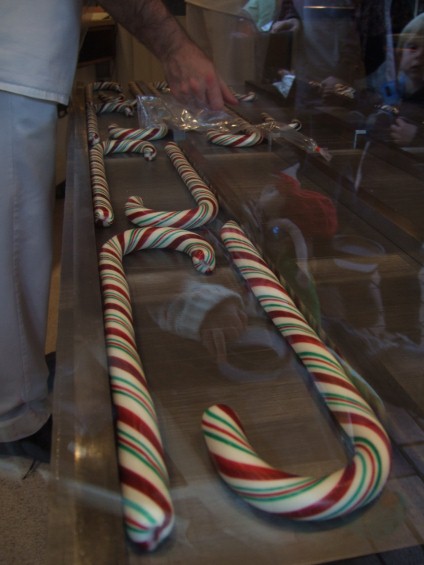 Then, they are packaged and ready for sale. They only sell one size – about a foot long – for $9.99 each. That means you can't use your annual pass or DVC discount unless you get two – which just happened to be the limit they set that day. You see, each batch only makes a handful of sellable Canes. Disney does have a high quality standard – even for handmade items. There really is a difference in the handmade cane that you can feel when they give you your package at the register. They were really hefty – probably twice the weight of store-bought ones. $9.99 may seem like a lot to some folks, but you really are getting what you pay for them. We bought our allotment and headed back to the Grand Californian to get out of our wet shoes and clothes.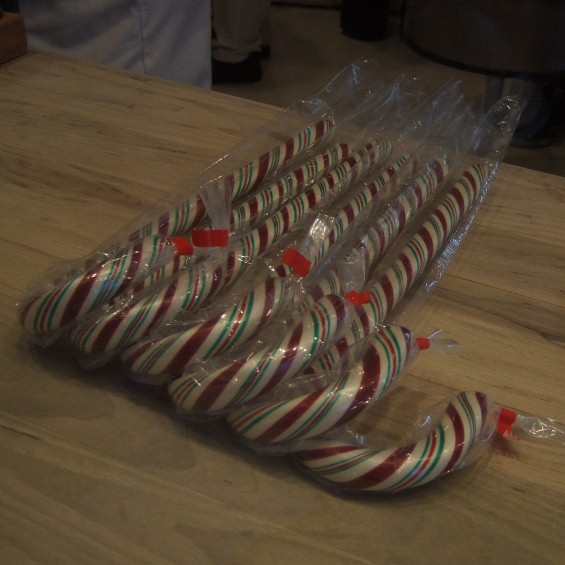 So what happened to our Candy Canes? We gave one away as a gift – only fitting. The other, we decided to save and open it on Christmas Day. It seemed only fitting that we should enjoy it on its rightful day of celebration. It was beautiful. It broke cleanly and we could taste the quality in the ingredients they used and the peppermint was strong and bright. You couldn't eat too much in one sitting, due to the richness of the flavor. That cane lasted a long time and the quality never waivered! We even saved a large chunk and shared some of it with fellow Disneyland board posters at a meet in January. They were so excited to see, much less taste, one of these rare beauties!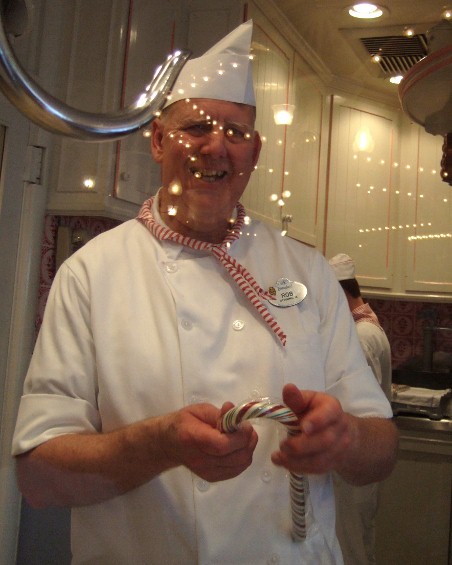 As a final note, I did speak to Rob after production was over and he said that this batch performed well – they had 20 canes that they deemed acceptable for sale. They had only minimal loss. Of course, as the photos showed, there were a few more of different sizes. My guess is that Guy took a few of the little ones home – guess we'll have to see the special to find out!!!
Category: Dining, Disneyland
Disneyland Podcaster for the DIS Unplugged