I recently had the opportunity to sit down and chat with Pamela Landwirth, President of Give Kids The World.  Pamela has an extensive background in the theme park and resort operations industry from her 16 years at the Walt Disney Company.  She discussed some of her experiences with Disney including the opening of EuroDisney (now Disneyland Paris), and how she transitioned from her work at Disney to Give Kids The World.  Read on to learn more about the inspiring work done at Give Kids The World, or listen to my entire interview with Pamela by clicking on the link below the break.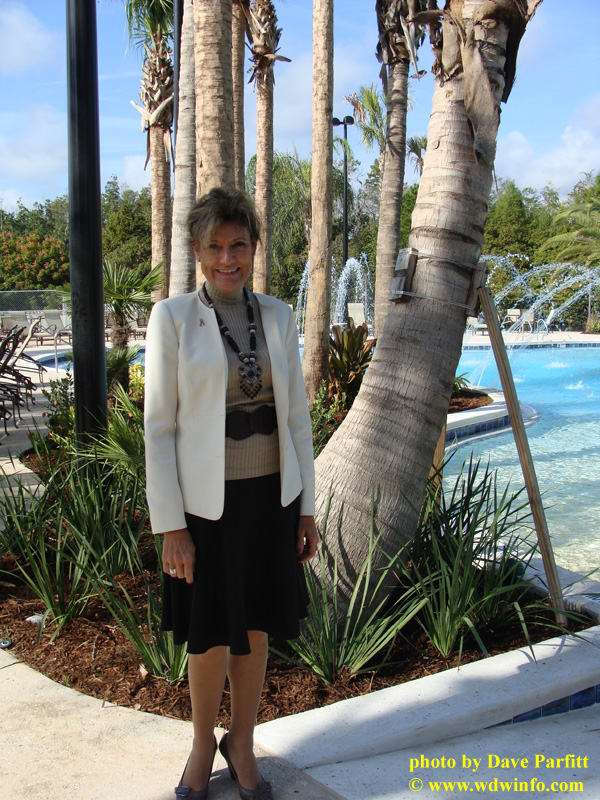 1. Click here

to listen to the complete interview with Pam Landwirth.
Pamela Landwirth started working with Disney immediately after graduating from the University of Georgia.  She checked in guests at the town houses and tree houses of Lake Buena Vista Village, spent time in casting, and eventually wound up as Manager of Human Resource Development for resorts and attraction sales where she was directly involved in training 18,000+ Disney Cast Members.  Pamela was part of the tremendous growth going on at the Walt Disney World Resort in the 1980's, and was part of the pre-opening teams for Disney's Typhoon Lagoon Water Park, Disney's Grand Floridian Resort and Spa, and Disney's Yacht and Beach Club Resorts to name a few.  However, one of her greatest challenges working at Disney was being called upon to serve on the pre-opening team for EuroDisney.  Pamela recalled the culture collide between the American Disney Cast Member's "24-7, no days off, do whatever it takes attitude" versus the French and European "39.5 hour/week, take lengthy lunches, not necessarily work weekends" mindset in getting EuroDisney to open on time.
She also remembered doing all the restaurant food testing before guests arrived.  At one place they ordered a hot fudge sundae, took a bite and thought, "This just doesn't taste right.  It's not the consistency of ice cream; it's certainly not cold."  When she called the chef out to find out what was wrong he replied, "Oh, we didn't get our ice cream shipment in."  The chef needed to have the presentation correct, so, instead of ice cream, they were all eating lard.  She chuckled as she remembered her time with Disney.
After returning from EuroDisney, Pamela married Henri Landwirth, founder of Give Kids The World, and moved there full time in 1993.  The village itself opened in 1989, but Give Kids The World had been operating out of a storeroom in hotel down the street, Holiday Inn Maingate East, where it was founded.  Next, Pamela gave the remarkable background of Henri Landwirth, and how he came to found Give Kids The World.  Many parts of Henri's story are chronicled in his biography "Gift of Life".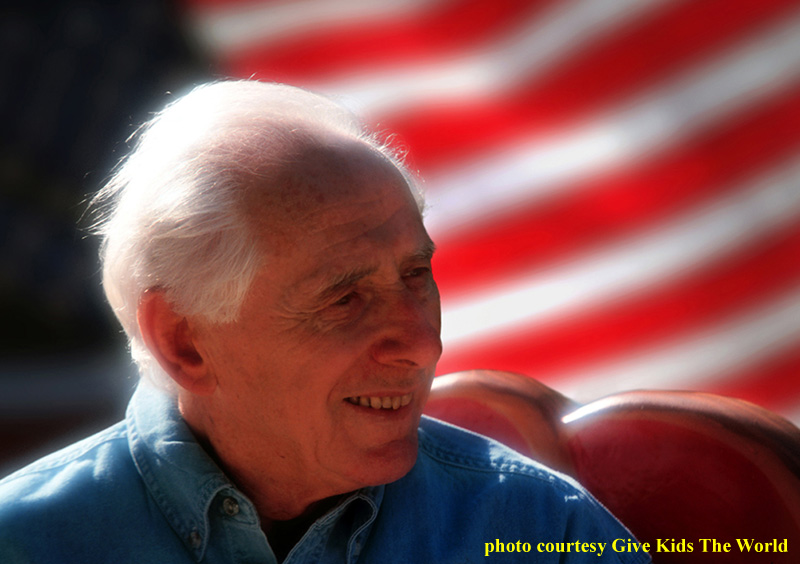 Henri was from a Jewish family and born in Belgium.  The family moved to Poland before the outbreak of World War II, and it was then that he lost his family.  Henri's father was shot near the beginning of the war, and his mother was killed at the end.  Between the ages of 13 and 18, Henri and his twin sister Margot were imprisoned in concentration camps.  Henri was transferred between Auschwitz, Mauthausen, Bergen-Belsen, and several other camps, and separated from his sister the entire time.  Miraculously they found each other after the war, and moved to the United States.  Pamela put forth, "When you think about that background, out of so many things that happened in your life, you can either become very bitter and 'why me?' or you can realize your life was spared for a bigger cause.  You're not really sure what the cause or purpose was, and for Henri it was not until much later in life that cause came to fruition."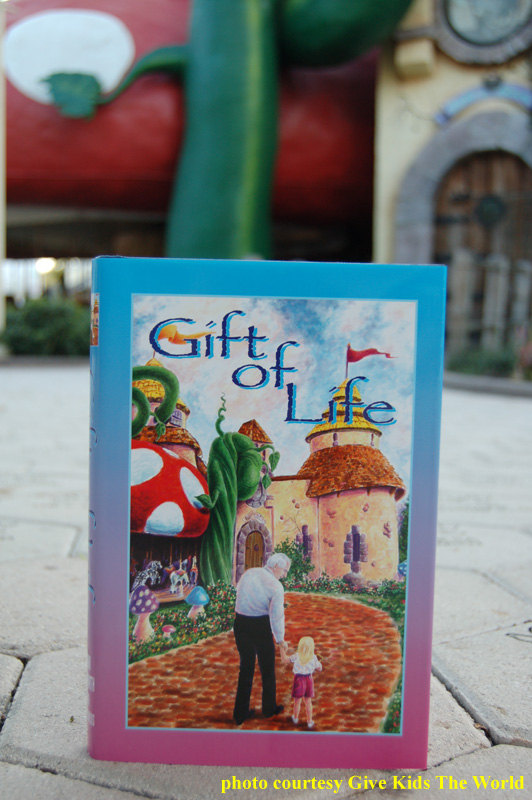 Henri and Margot arrived in New York City with the proverbial $20 in their pockets, and within a year he was drafted into the US Army to cut radio crystals.  After the Army, Henri used the GI Bill to attend a two year hotel school.  He got married, honeymooned in Miami, FL, and stayed in Miami to work in the hotel industry.  He became the general manager for the hotel in Cocoa Beach where the original Mercury Astronauts stayed during those early space days.  Henri befriended Walter Cronkite and all the original Mercury Astronauts, and they were all very active in the establishment of Give Kids The World.
Eventually, Henri made his way to Lakeland, FL where he met Kemmons Wilson, founder of Holiday Inn.  Henri made quite an impact on Kemmons Wilson due to the exposure of Henri's Cocoa Beach Hotel during those space days.  Pamela described a conversation where Kemmons said to Henri, "Gosh, if you ever want to open a hotel yourself just let me know."  Henri caught wind of Disney coming to Orlando, decided he wanted to open a hotel, and thus had the first Holiday Inn near Walt Disney World.  Because the Holiday Inn was so close to the Walt Disney World Resort, wish-granting organizations would often call and say, "Hey, we've got this child, we've made all the other arrangements, could you put them up?"  Henri would always say yes.
One day the general manager mentioned that a reservation for a little girl named Amy, from Virginia, was canceled.  When Henri asked why, he discovered Amy had passed away.  At that point, it took approximately two months or more for wish-granting organizations to make arrangements for the children.  Logistically, it was a difficult process to coordinate from so far away.  Henri replied, "We ought to streamline this process."  He hopped in the car and met with Dianna Morgan [Senior Vice President of Walt Disney World, retired] and Dick Nunis [Chairman Walt Disney Attractions, retired], and asked if Disney was on board with his project.   Of course they jumped on right away.  Next, he visited the folks at Sea World, and they said, "Absolutely."  Give Kids The World was started from Henri's face-to-face connections so no child would lose their battle with illness before they had the opportunity to have this wish.  Pamela added that Henri recognized what it was like to lose your childhood, because he lost all of his teenage years during World War II.  He never wanted to see children lose their childhood without having a chance at this dream.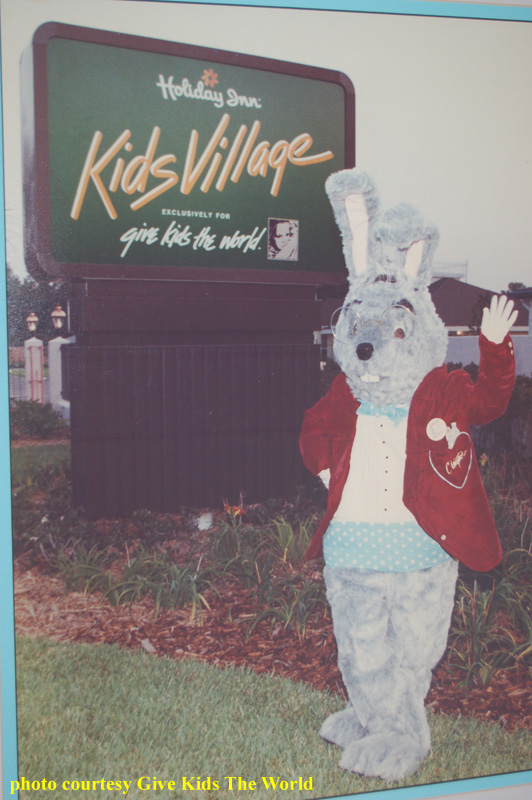 Give Kids The World can now bring children to Florida in less than 24 hours.  The system is so streamlined that all the wish-granting organizations need to do is identify the children, provide round trip air transportation, and call Give Kids The World.  They have hosted families from all 50 states and up to 70 countries around the world, and soon, they will host their 100,000th family – a staggering number until put into perspective.  Every year 27,000 children in the United States alone are diagnosed with a life-threatening illness.  If half of those children wish to come to Florida, and Give Kids The World can only host 7,000 of those families each year, they are only beginning to scratch the surface of the need.  However, Pamela emphasizes, "It's all about giving these children something to get them excited.  Something to renew their spirit so they'll go back and hopefully win that battle, be re-energized to fight against their illness, and give some wonderful memories for the families."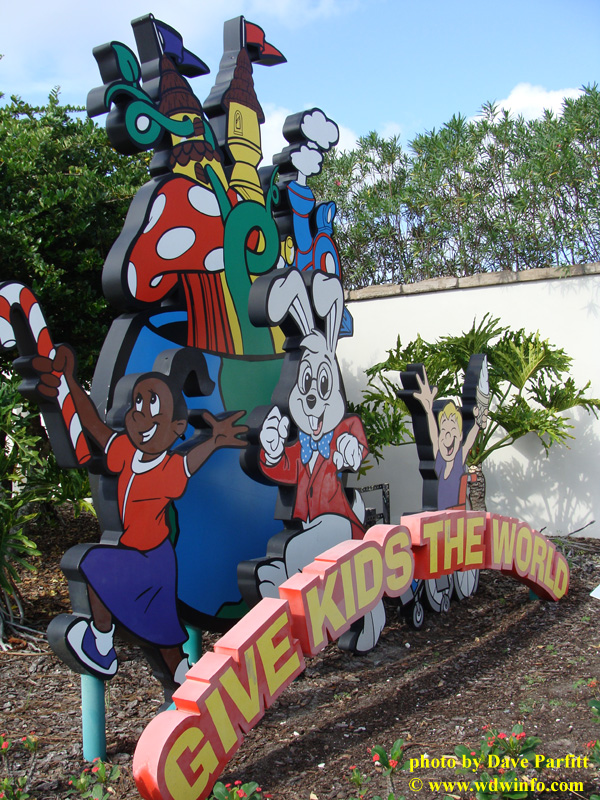 I say to Pamela it must be very fulfilling to come to work each day.  She agrees, but says many people refuse to visit thinking it has to be a very sad place.  However, you never see any sadness at Give Kids The World Village except the last day when kids have to leave.  Pamela continues, "that's really what it's all about, giving them that gift of hope, bringing them out of that world of doctor's visits and hospital visits, and immersing them in a week of unconditional love and joy and happiness and hope, and catering to their every whim."
Step foot in the Village and you can instantly see the difference they are making.  Near the end of our conversation Pamela encouraged everyone to visit and see first-hand a place where everyone's needs are met.  A place that inspired this description in a recent letter: "We struggled to find the words that describe Heaven.  We hope it's exactly like Give Kids The World – the 8th Wonder of the World."
Let me know what you think in the comments below.  Just log in with your DISboards username and password.
Category: Disney World, Editorials