Blah blah blah, Mickey's Not So Scary Halloween Party, the best Halloween Disney has to offer, yada yada yada….. Enough I say!
It's about time the Halloween festivities at Disneyland get some equal press in the Trick or Treating community! If you want some slightly spooky fun for the haunted holidays that the WHOLE family can enjoy – my girls and I say that Disneyland Halloween Time was the place to be this year.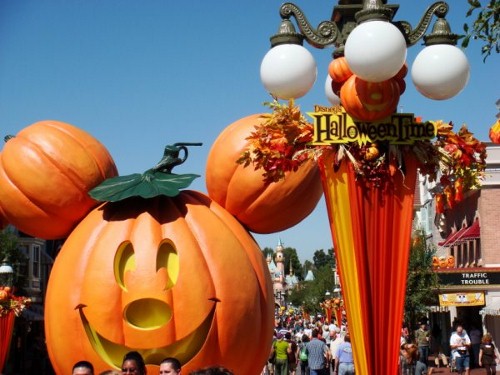 Disney tries to set up the Halloween vibe from the very start of your tram experience. There are two vignettes featuring Minnie as a witch and Goofy and a host of Halloween spirits to taunt and beckon you on to the Esplanade.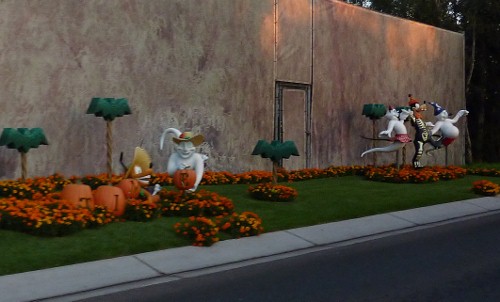 When you get there and head for the main gate of Disneyland, along the tops of the turnstiles sit a host of giant pumpkins that are shaped like the heads of Disney's most famous characters – Mickey and the rest of his gang! It's a welcome greeting into the park that my little ones really love.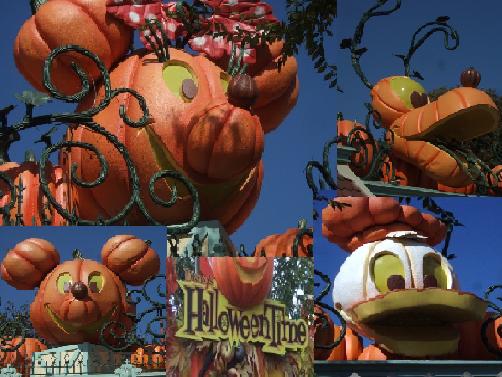 Unfortunately, Disney's California Adventure's gates are not quite as decked out this year – the giant Candy Corn letters have not made their appearance this year. For folks who have never been to DCA during October, it may not be missed, but since the days of the giant CALIFORNIA letters are numbered, it would have been nice to see. I always thought it was a perfectly balanced addition in the past. No matter – what counts is going through the gates, right?
First to California Adventure!
When you enter the gates, you are greeted with a transformed Sunshine Plaza.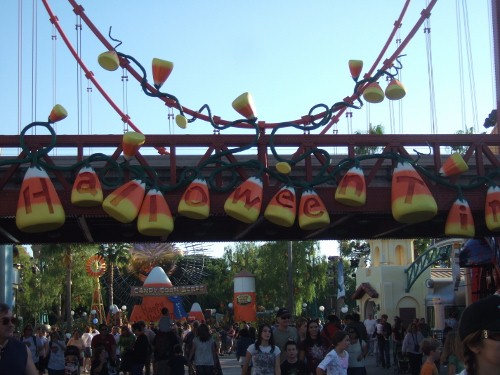 Candy Corn Acres has sprung up, celebrating California agriculture at its finest – white, yellow, and orange triangles of sugary goodness growing everywhere!!!!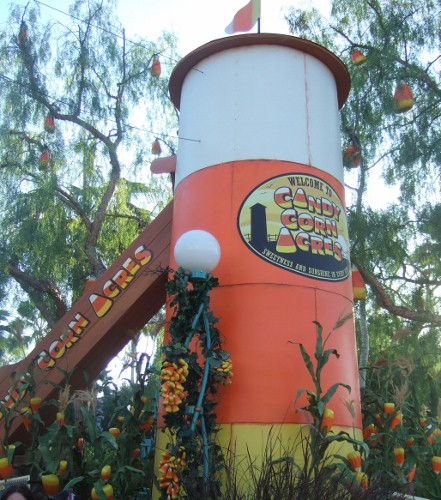 In the middle of the plaza lies the piece de resistance…. a giant 20 foot candy corn is inhabited by its biggest fan – Heimlich, the ever-chewing caterpillar from Disney/Pixar's A Bug's Life. If you time it right (or just wait for it) he'll pop out to discuss the finer qualities of candy corn with the visitors below! If you don't feel like waiting, Mr. PhotoPass Guy will definitely be there to capture your adoration of the stuff!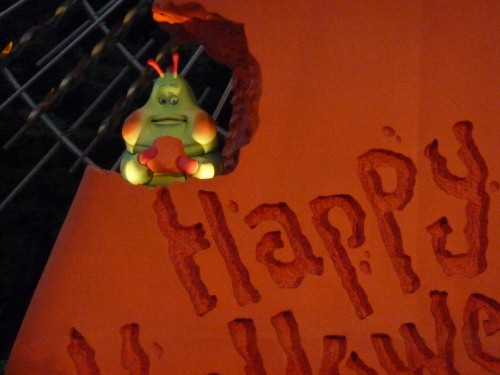 As you move through the park, I was really surprised that there isn't too much that is obviously there for Halloween, especially considering that this is the park that hosts the Mickey's Trick or Treat Party on several weeknights throughout the month of October.
The party, however, is another story. The park transforms in a short period into a place of happy haunts. Of course, there are scarier areas – like over by Tower of Terror, but even that doesn't rank a PG-13. This party is definitely for the younger set, the one that isn't into seeing chainsaws and blood. This party is about the fun, the candy, and – oh, yeah – the pirates and VILLAINS! The lighting and mood of the park changes, with the opening of the party. The Tower of Terror on the Hollywood Backlot comes to life, and all around the park, there are over 25 Trick or Treat stations, 3 dance parties (with character participation), and a host of character meets. There were several nights this year that were discounted for Annual Passholders and Disney Vacation Club members, as well as early purchasing discounts. The only real exceptions to this were the nights of October 30 and 31.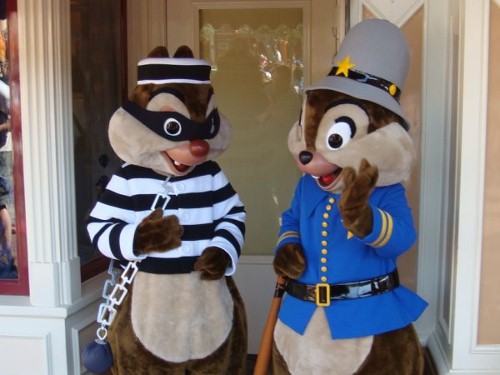 Everyone is invited to wear costumes (as long as they comply with the restrictions that Disney has set forth) and trick or treat bags are provided for those who didn't remember to bring their own. There are lots of healthy snacks given as alternatives to the candy offered, and unlimited play of the Boardwalk games is included in the party admission price. This year, the prices ranged from a discounted AP price of $26 to the "day of" price of $39.
It wasn't in the cards to attend the party this year, so Tom Bell gave me his account of his family experience, which can be found in the audio link below. He found a very good value in it. It is worth noting that although Ghirardelli Chocolates is a sponsor, there is only ONE Ghirardelli treat station. The travesty….
The DIS Unplugged Web Radio Show Podcast

Listen as Nancy Johnson interviews Tom Bell about his Trick or Treat Party experience.

Discuss | Blog | RSS Feed | Add to iTunes

[display_podcast]
While the party offerings aren't as extensive as its Florida counterpart in terms of parades and fireworks this year, Tom and others have told me they felt that the value for the ticket price is pretty comparable. It will be interesting to see how they incorporate the new World of Color Nighttime Spectacular into the Trick or Treat party offerings next year and see if there is a corresponding price increase to offset that.
Once California Adventure is experienced, the heart of the haunting lies elsewhere in the Disneyland Resort. To get the full effect, it's off to Disneyland!
When you enter the gates, there isn't much extra this year – the famous floral Mickey has retained its "CELEBRATE" color scheme – no orange in sight. However, as you pass under the train station, Main Street comes awash with banners and tons of pumpkins!!! Jack O' Lanterns are scattered in windows and on the marquees of every building.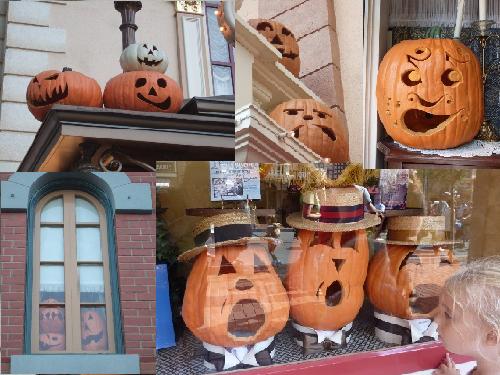 There's even a massive one in Town Square, complete with resident Mr. PhotoPass Guy – to meet your family's undying need for $13 5×7 pumpkin portraits!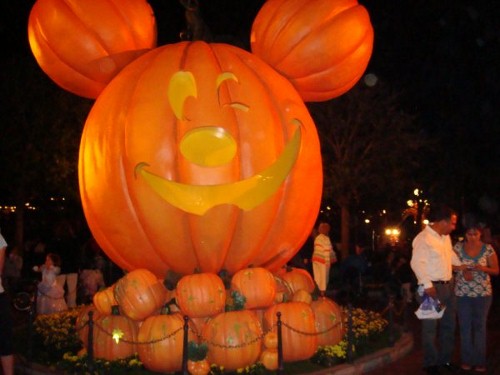 As you leave Main Street, Halloween can be found throughout Frontierland, in New Orleans Square, and oddly enough – in Tomorrowland (although you can't tell just by looking). I'll save the most obvious for last…..
Tomorrowland is the new kid on the block – with this year's newest haunted feature – Space Mountain Ghost Galaxy.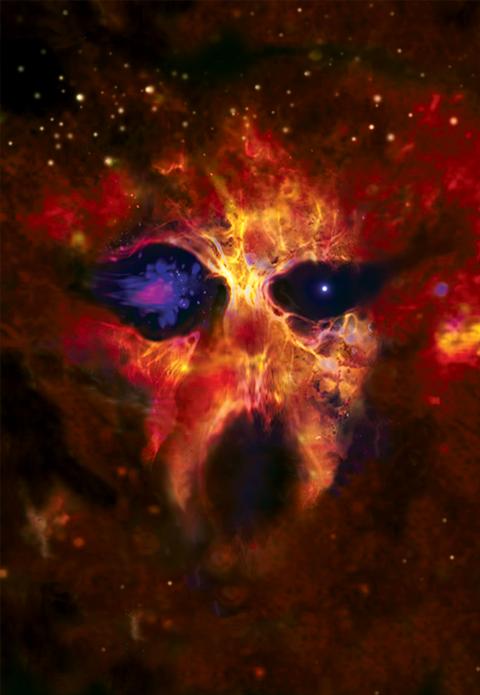 I met up with fellow correspondent, Wendy Bell, to ride it and we were lucky enough to have caught it when the park opened. By 9:30am, Fastpasses were already reading 12:00 noon. The lines for this attraction are extremely long, so it's definitely a first ride or first Fastass, if you are interested. You can hear our discussion in the below audio link, but suffice it to say that it was definitely a different sort of a way to ride Space Mountain. It won't be for everyone – it's definitely not for the "younger" crowd.
[display_podcast]
Being a bit of self-proclaimed "spooky-thing weenie", I was a bit hesitant and went on the principle that I would just shut my eyes, because nothing could touch me while I was going that fast. Keeping that in mind, off we went. While we were impressed with the improved star field, the "ghosts" left me a bit underwhelmed. However, I might be in the minority, based on the lines. With the exact same ride-building improvements that are going to be completed in the Florida version Space Mountain, and the current popularity of this special edition of the ride, I would be surprised if we didn't see this introduced in Walt Disney World next year!
Our next stop to review the Halloween festivities was Frontierland. Here Disneyland pays homage to the Spanish heritage of California, with vignettes to celebrate La Dia de las Muertas – the Day of the Dead. This holiday – celebrated on November 1st, is to honor all of the family and friends that have passed on before us. The lives of our ancestors are celebrated through displays of photos, gifts, and candy, especially sugar skulls. Skeletons abound in parades and marachi performances.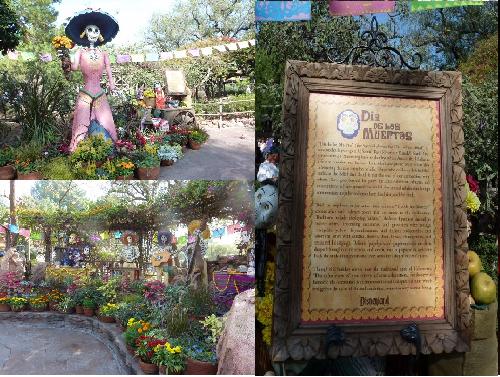 Surprisingly, we discovered that the exhibit – located in Zocalo Park – near the entrance to Big Thunder Mountain Railroad – had another thing to offer. Free Face Painting! My girls were thrilled to get skeletons or skulls painted on their faces (or even arms, if you desired that instead). It was a nice finish to the cultural lesson they experienced!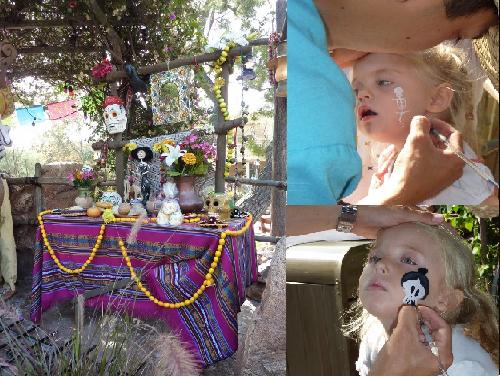 Across the way from Zocala Plaza is the Frontierland Halloween Pumpkin tree. It is filled with orange lights and small gourds that have been painted with Jack O' Lantern faces. I think the reason I love it is that it is decorating that inspires the average park guest to do with their own landscaping when they could get home. The gourds can be done with Sharpie markers by any child – a safe and fun craft project – and it looks fabulous at night!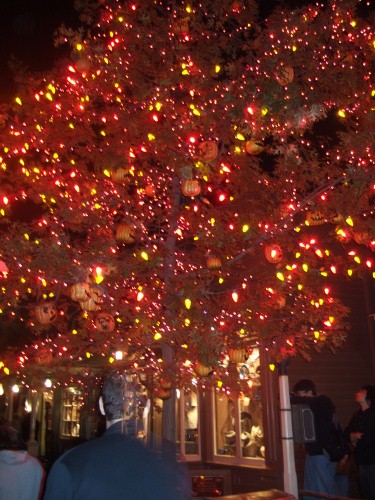 Many people forget that Frontierland loops around the back end of Big Thunder Mountain, taking you to Big Thunder Ranch. There resides one of my children's favorite parts of the Halloween experience – the pumpkin carver! Each year, an amazing pumpkin carver is brought in to create vegetable versions of your favorite Disney characters. This is especially interesting to me, as I consider myself to be a pumpkin designer wannabe! Each year, I am neverendingly surprised at the techniques and creativity the carvers show.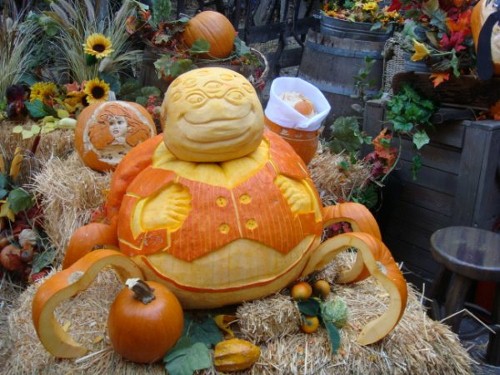 That creativity continues into the Ranch's log cabin. Outside the cabin stand two pumkin people, the freshly-carved squash versions of Jack and Sally from the Nightmare before Christmas. But inside, a scene from the wild west is played out in other pumpkin folk that guests are allowed to pose with. My favorite was definitely the Saloon Girl, but there was also a cowboy and "masked varmint". My littlest one just didn't know what to think about them!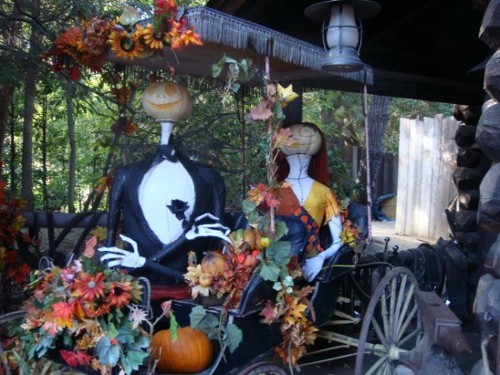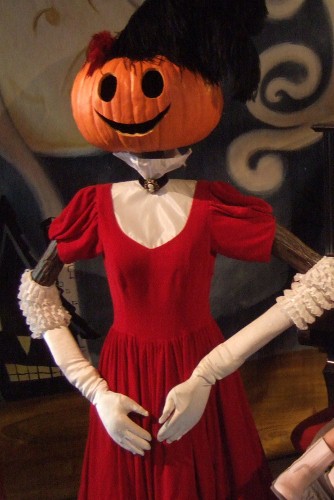 The Celebration Barbecue, at the Ranch, was also updated with some new Halloween themed entertainment in its show. We didn't have time to experience the barbecue this month, but are hoping to try it for ourselves, especially with the girls' new found love of Jesse and Woody.
Our Halloween tour of Disneyland moved on to the Haunted Mansion in New Orleans Square. You know things are special when you enter the area and see the change in the mansion – grinning Jack O' Lanterns are staked to the tops of the walls and all over the mansion. Jack Skellington even greets you from atop the mansion gate, in all his Christmas finery. His makeshift sleigh is parked on the roof.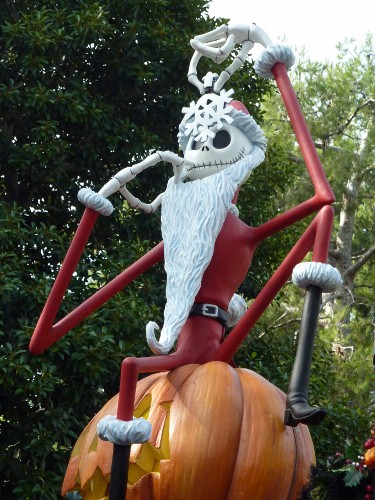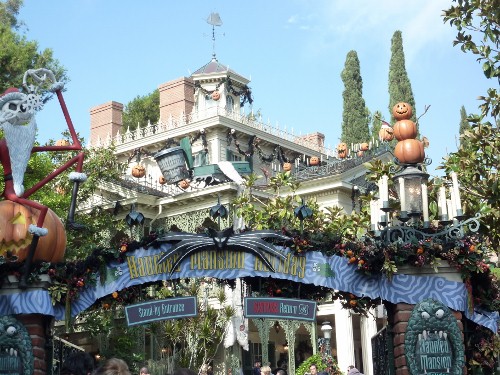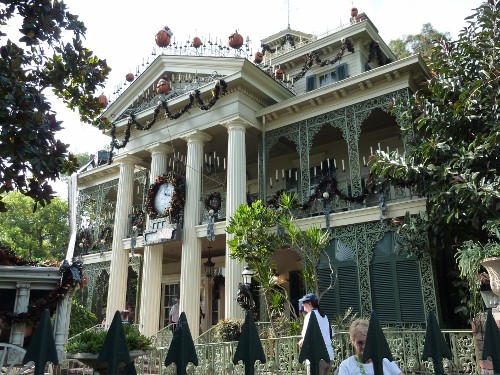 Now Haunted Mansion purists will probably never love this attraction, but we think the transformation is wonderful. This is something that Walt Disney World will never have, due to the month it takes to transform and restore the attraction to its traditional self. We are also fortunate to be able to keep the attraction in its holiday state until early January – although average December lines tend to run at least 2 hours…. Fastpasses go early, too.
This holiday attraction explodes with color and interest – and is never quite the same from year to year. New vignette pieces are in place every year, with the best being the table decoration in the mansion ballroom. The wonderful folks in the Disney Bakery have the task of designing a special gingerbread feature which resides on the banquet table, filling the room with its spicy scent. This year's piece was no disappointment to guests, who have seen such things as Oogie Boogie, a gingerbread coffin with rising lid and occupant, and a Gingerbread Funeral Band procession. A moving carousel, with Zero as one of the 4 horses, was a delight to both of my girls, who entered the mansion for the first time this holiday season. That is why I have no interior pictures – the death grip of a 2.5 year old. Sorry.
My best advice for parents thinking of seeing this attraction with young children is to have them see The Nightmare before Christmas multiple times. Familiarity with the characters really helped our girls get through the attraction. They have recently developed a fascination with this movie, so Zoe asked to go on the "Jack Ride" this last visit and so off she went with Ian, while I stayed behind with Lily – but not for long… We ended up in the line and it was truly interesting to see the attraction through the eyes of a small child. The other thing that helped them was to point out the familiar characters and show them the holiday decorations. While I don't think Lily will do it again until next year, Zoe has already asked to go back and see Jack and Zero!
Well….. I've been saving the best Disneyland Halloween experience for last – and it's also the newest – Halloween Screams – the first time Disneyland has performed a haunted fireworks show!
At first, we thought "Oh – we don't need to see this – it'll be just like HallowWishes." How could we ever have been so WRONG!!!! Due to the intimate size of Disneyland (and the prescence of the Matterhorn), the fireworks shows here will always have features that can never be seen in its Florida counterpart.
We staked out our spot about 2 hours prior to the show's start. This was made much easier by bringing a cushy blanket and getting take-out broasted chicken dinners from the Plaza Inn – YUM. (We locals really do have to disagree with Pete, as we have more experience with it and this is really tasty chicken…) Most of the counter service eateries will package your foods in to-go containers, a little known fact! There is also that wonderful bakery on Main Street, where you can indulge in Disneyland's famous Pumpkin Muffins and bat cookies! Those make a great fireworks-waiting treat!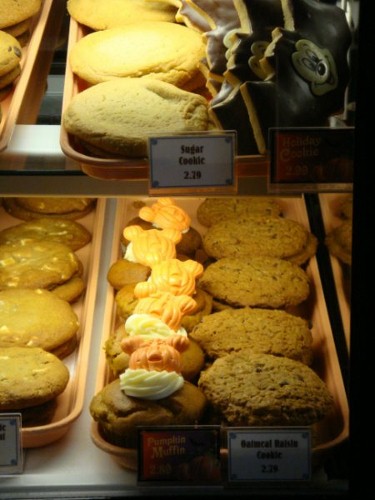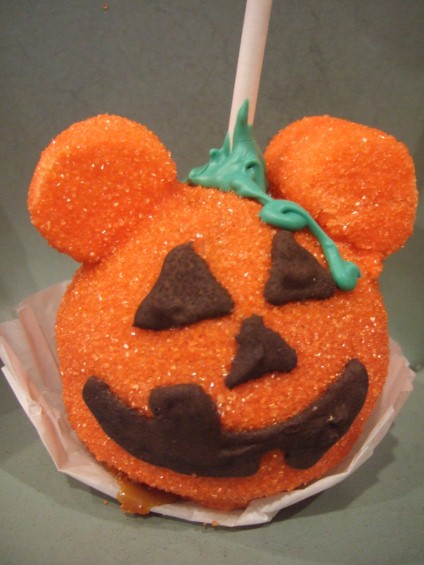 Anyway – what was I talking about before I mentioned food? Oh yeah – fireworks…..At the start of the show, the castle is flooded in an erie green glow.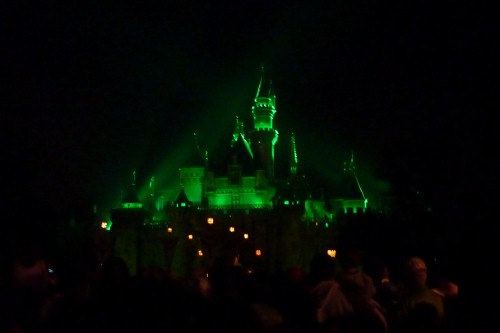 As the haunting Danny Elfman music starts, the narration introduces Jack's dog Zero – flying high around the castle. As he soars to "stage right", a large projection ball emerges atop the castle, and Jack himself begins to speak to the enraptured crowd. Jack is followed by villain after villain, until the finale culminated in a raucous Scream-A-Long. I will tell you that if you do get a great spot directly in front of the castle, it will be inconsistent in whether they ask you to stand for the show or let you stay seated. We were there for a standing night, so you will need to adapt your parental responsibilites and/or photography strategy to match. All I can say is that we had both girls on our shoulders and they never moved or uttered a peep until they burst out in squeals at the end. The true mark of success!!!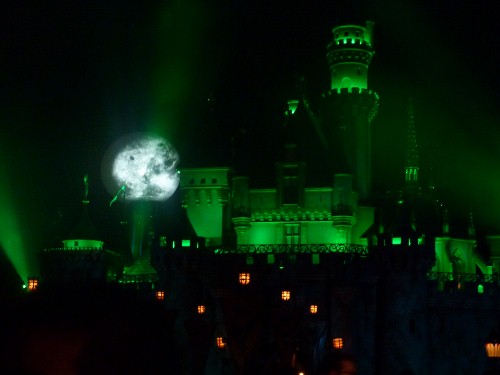 When the show was over, they continued to play themed music with projections on the ball until the crowd dispersed enough for them to "magically restore the castle to normal". This made for a nice finish to a great Halloween in the park!
Photos by N. Johnson and C. Brood
Category: Disneyland
Disneyland Podcaster for the DIS Unplugged