As fall kicks in (and the new fiscal year starts), it's time for Disney to announce the new promotional campaign for 2010.  In the past, Disney Parks have recognized the centennial of Walt Disney's birth, the 50th anniversary of the Disneyland Theme Park, the Year (or two) of a Million Dreams, and this past year's "What Will You Celebrate?" campaign (where anyone could receive free park admission on their birthday.)  On September 29th, Disney announced their newest program where guests can obtain a free one-day park ticket to Walt Disney World or Disneyland by performing volunteer service.  Read on below to find out how to receive your free ticket, and, more importantly, how to get involved in your community.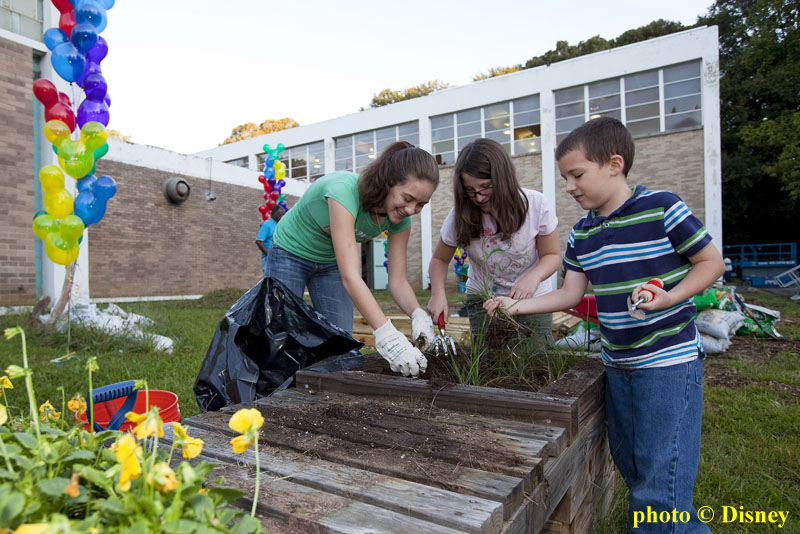 With this program, Disney is hoping to inspire individuals and families to volunteer in their community, and they are giving a free one-day admission ticket to one million people who perform volunteer service with a participating organization.  The volunteer opportunities are coordinated by HandsOn Network, and includes more than 70,000 nonprofit, school and community-based organizations.  Many of the activities provide opportunities for families to volunteer together.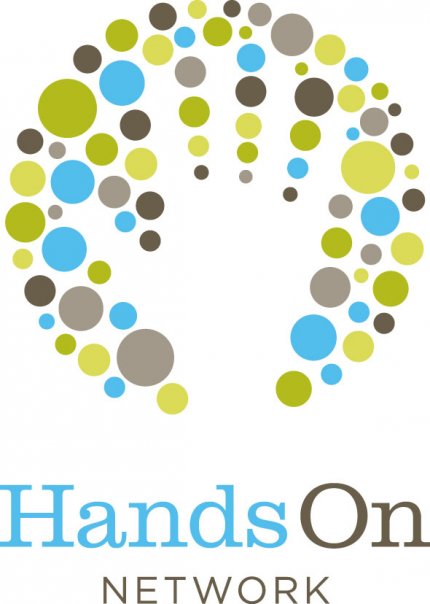 Disney launched their new campaign with synchronized volunteer events that stretched across the country and Canada.  Some of the highest ranking Disney executives, celebrities, and characters were working side-by-side with nearly 1,000 community volunteers on projects such as house building, landscaping and planting, painting, assembling flood relief kits, and enrichment for zoo animals.
In Los Angeles, California, Walt Disney Company President and CEO, Robert Iger (pictured below, L-R), actors Teri Hatcher and James Denton from the ABC television show Desperate Housewives and HandsOn Network President, Amy Smith, were joined by Kermit the Frog and Miss Piggy at a Habitat for Humanity building site to announce the new program.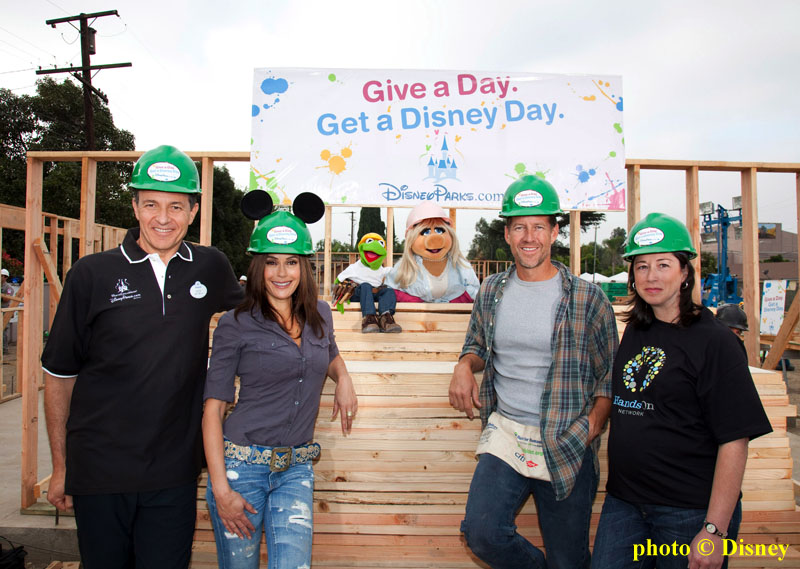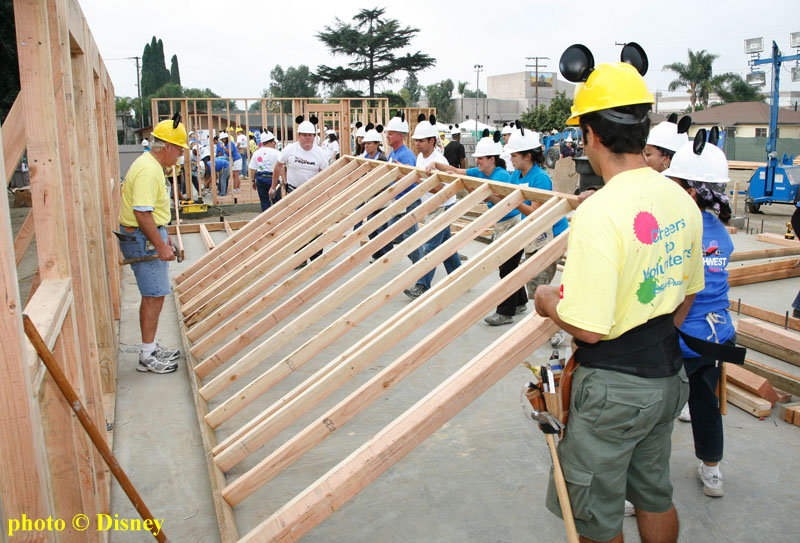 In Chicago, Illinois, Michelle Nunn (below left), CEO of Points of Light Institute and co-founder of HandsOn Network, and Jay Rasulo (below right), chairman of Walt Disney Parks and Resorts posed with Mickey and Minnie Mouse at the Bethune School of Excellence.  More than 200 community members volunteered at the elementary school to landscape and revitalize the campus.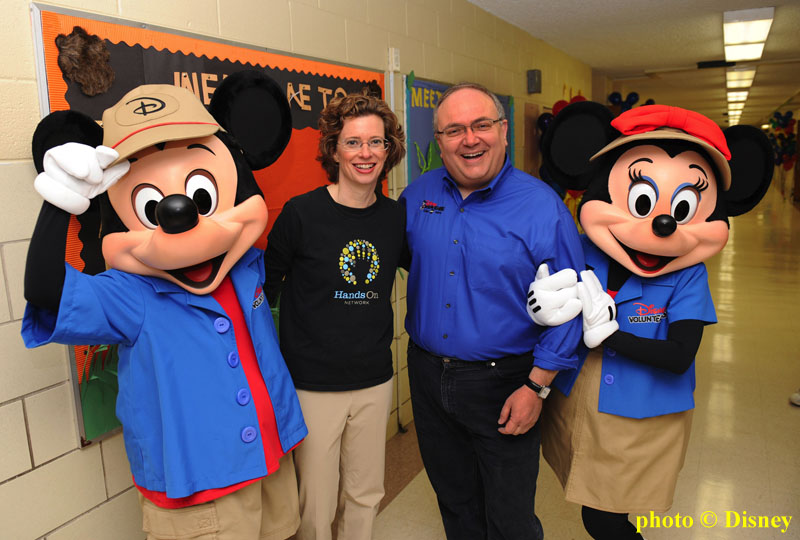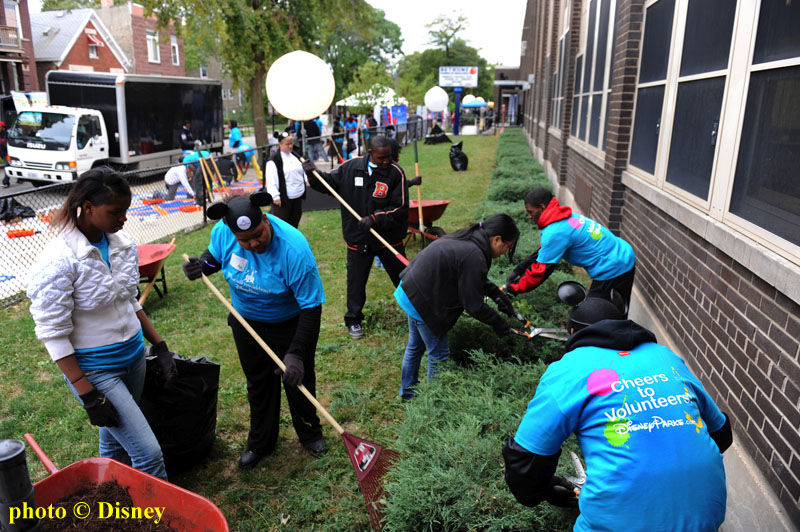 Walt Disney World Resort President Meg Crofton was in Miami, Florida to help clean up the Miami River area of Little Havana.  Pictured below are Miami residents Tania Socarras (far left), Tracy Hoover (second from left) chief of staff of HandsOn Network and Points of Light Foundation, Wendy Bermudez (standing, second from right), and Meg Crofton (right) who volunteered with more than 200 community residents and HandsOn Miami to help revitalize the area.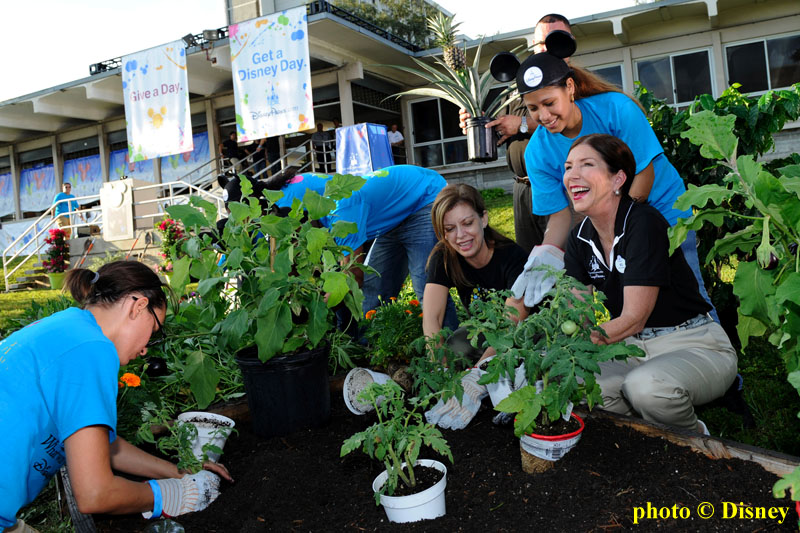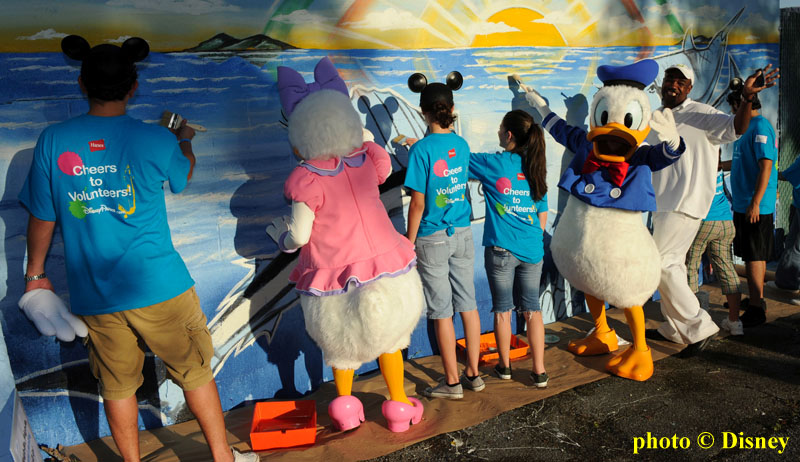 The Butler Street YMCA was the volunteer site in Atlanta, Georgia where (below, L-R): Clay Shoemaker, Walt Disney World ambassador; Megan McCamey, president of Civic Incubator and HandsOn Network; Al Weiss, president of worldwide operations for Walt Disney Parks & Resorts; Gina Simpson, president and CEO of HandsOn Atlanta; Kirk Tyler, branch manager of the Joseph B. Whitehead branch for the Butler Street YMCA; Eugene Campbell, vice president of community relations and minority business development for Walt Disney World Resort; Monique Shields, director of community and civic engagement for HandsOn Atlanta; and Stewart Williams, president and CEO of the YMCA worked on painting and assembling flood relief kits.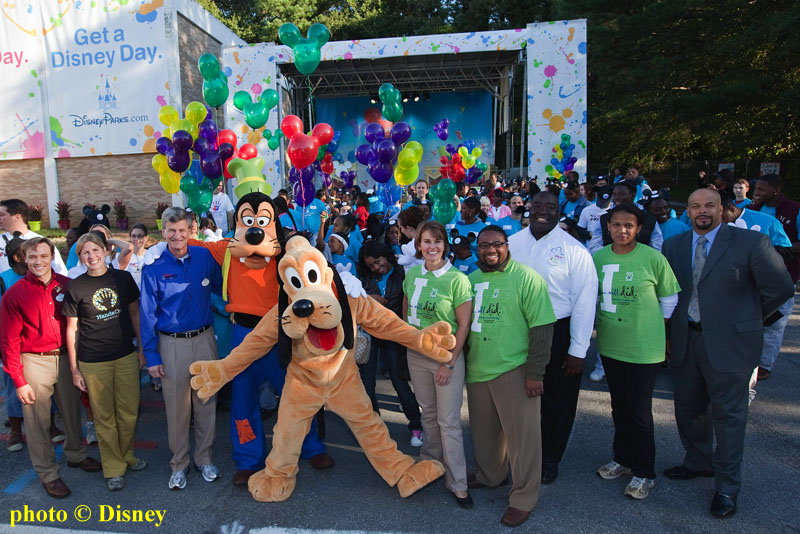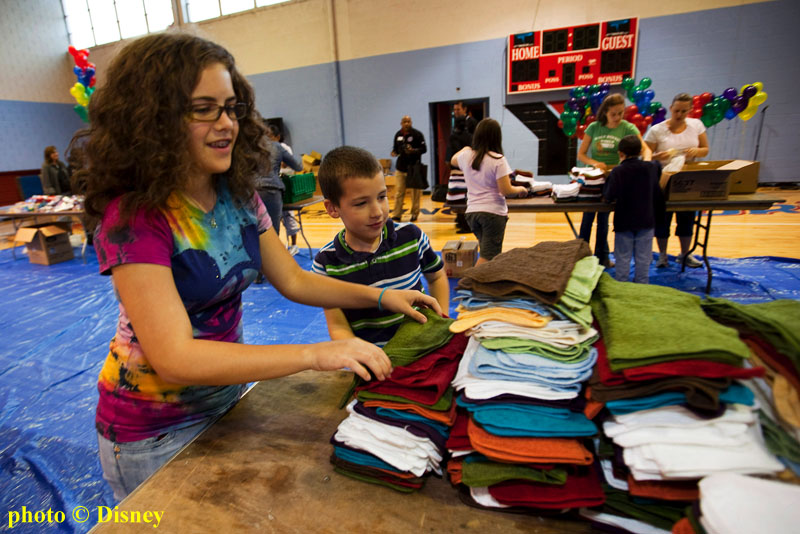 Disney mobilized volunteers north of the border in Canada as well, carving pumpkins at the Toronto Zoo so that the bears, hippos and elephants could have additional food enrichment items.  In the photo below, Chip and Dale are in Toronto, Ontario standing in the back side-by-side with Bruno Jauernig (left of podium), Vice President of Destination Marketing for Disney Parks and Ruth MacKenzie (right of podium), Vice President of Volunteer Canada.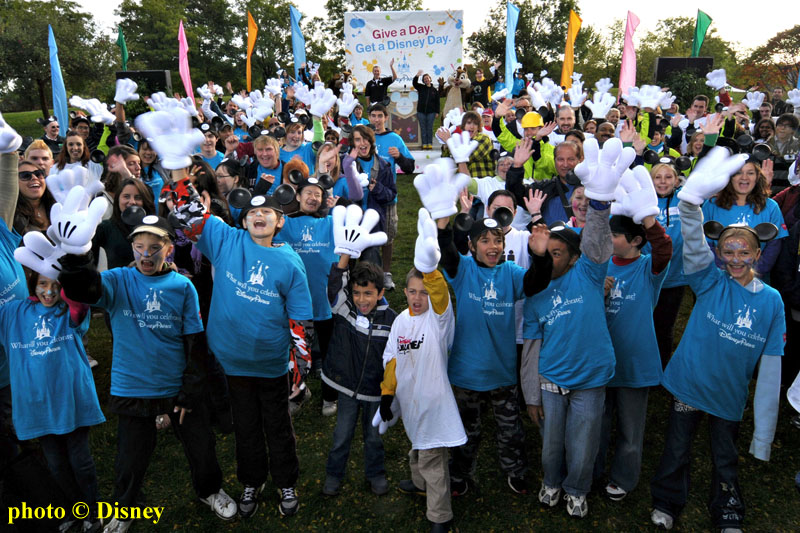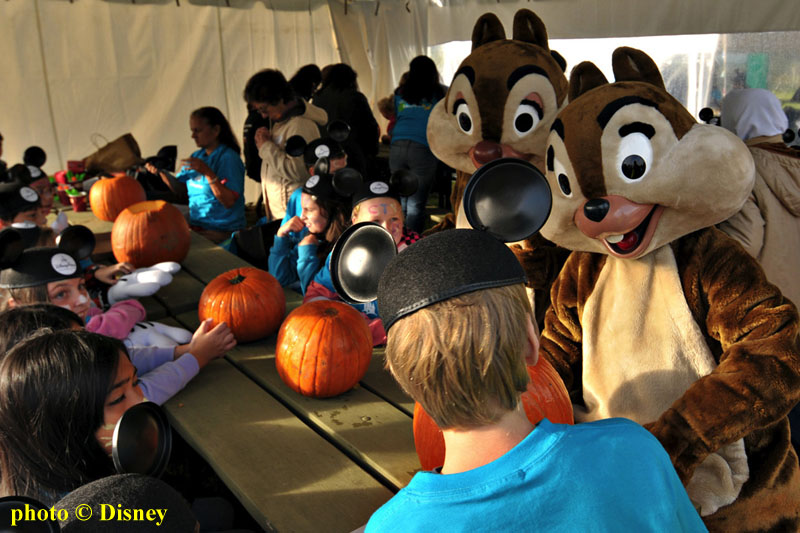 Disney also launched a clever website starring the Muppets to provide additional details about the program that officially begins January 1, 2010.  In order to take advantage of this offer you need to pre-register and sign up for an eligible volunteer opportunity at disneyparks.com.  Next, complete the volunteer activity selected, and have the day of service verified by HandsOn Network.  Once verified, you will receive an e-mail from Disney Parks with instructions for how to print a one-day one-park ticket voucher to redeem it at the Disneyland Resort in California or the Walt Disney World Resort in Florida.  If you can not use your ticket voucher by December 15, the ticket can be donated to a charity designated by Disney.

Let me end by saying – I love this promotion; I think it's a great idea.  When I was young, my Mother founded and ran a Meals-on-Wheels in my community, and her example taught me the value and importance of service and volunteering.  As a boy, my summers were spent in the Meals-on-Wheels kitchen, and going out on routes to deliver meals to shut-ins.  I understand this promotion is not without critics.  People have commented that a days' work is worth more than an $80 park ticket, the program excludes people not living in the US or Canada, or volunteering should be a selfless act, not something you do to get a Disney Park ticket.  I, for one, think this is a fantastic way to encourage volunteerism.  It may encourage people to volunteer who would not have, and it may reward people who already volunteer in a way they did not expect.  As Pete Werner commented on the DIS Unplugged podcast, "Disney is not required to give away free tickets" in these promotions.  I commend Disney on this one for using its corporate might and visibility to encourage people to get involved in their community.
Let me know what you think of the promotion.  I'd love to read your thoughts and comments.  Just log in with your DISboards username and password.
Category: Disney World, Disneyland, Editorials, News