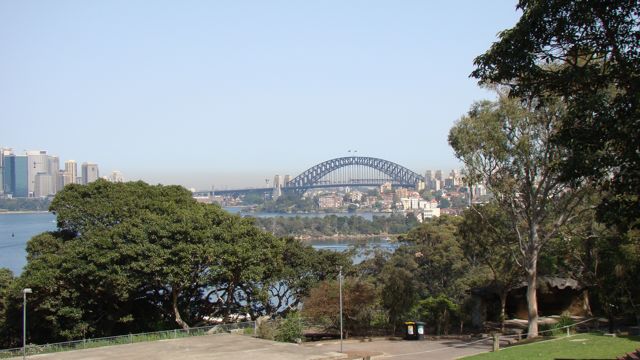 First, I apologize I've been slow in putting up the remaining blog entries on our vacation.  It's been crazy ever since we got back and frankly – it's depressing to be reminded that I'm home 🙂
This was the next to last day of our trip and the itinerary started early (like 6:30 am) so we could have breakfast at the Taronga Zoo.  This was a nice breakfast – not fabulous, but nice.  The coffee was strong enough to walk, but this was not unusual in Australia.  I've been really good about not drinking a lot of coffee lately, but all these early mornings required some sort of boost to get me moving.  They don't make coffee in Australia the way we make it here.  Granted, they stop short of putting vegetables on it, but standard coffee as we know it is made in an espresso machine.  Not with an espresso bean, mind you – with regular coffee.

There was a coffee shop around the corner from the hotel that made what they called "filtered coffee".   It was a bit of a challenge to get them to actually make it for us, but they did – and it was good.  It was here that I struck up a conversation with the barista.  It turns out that he's making about $55k a year working in that coffee shop.  He's not the owner, he's not the manager – he just works the counter and he makes $55k a year.  That's why no one tips in Australia – they pay everyone a real living wage.  It's also why a pizza can set you back $27 and it's why the ¾ of a cup of 'filtered' coffee he served me cost $5.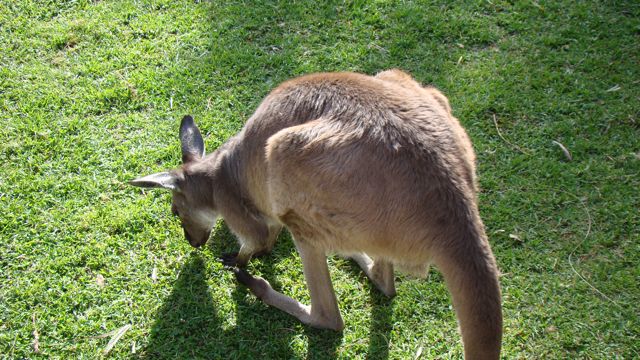 Our day at the Taronga Zoo was supposed to be conducted by a series of animal specialists.  However, there was some issue with it on this particular day – something about the animal handlers not being available.  As it turns out, our tour guide Amber works for the Taronga Zoo when she's not conducting ABD tours.  She was able to get us into a VIP area that very few people get to experience.  I need to point out that this was a special circumstance that's not done on other tours.  We got VERY lucky here.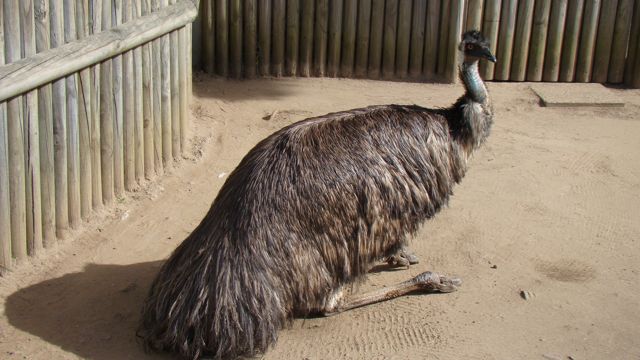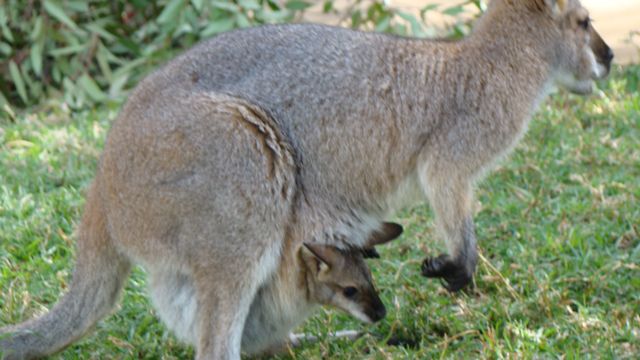 In this VIP area a host of animals were running loose.  An emu, several kangaroos (including the babies, which are also called a "joey") and assorted other wildlife that I was certain were going to attack me.  Amber introduced us to several animals one by one and gave us the opportunity to pet them and have pictures taken with them.   Below is a picture of one such animal, whose name escapes me, who really liked me – A LOT.  When I went to pet him, he started kissing my cheek, beard and (three) chins.  It was weird.  Nature was licking me.  I couldn't help but think at what point was this beast going to attack me.  It was when licking gave way to nibbling that I drew the line.  It either liked me a great deal or was trying to eat leftover breakfast out of my beard – not sure which.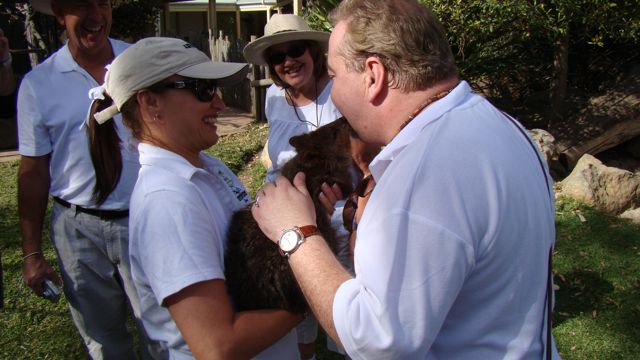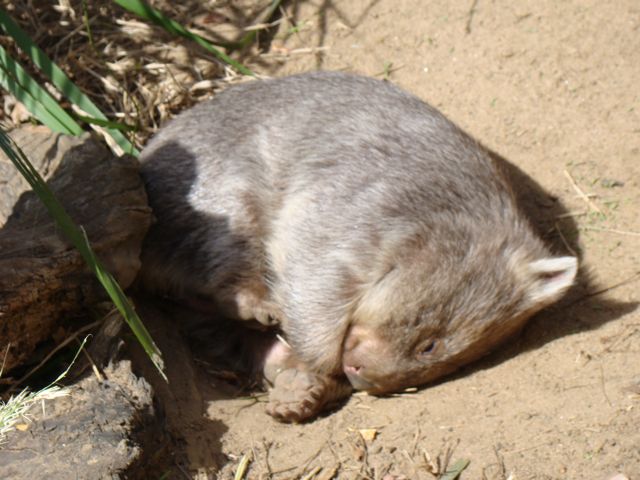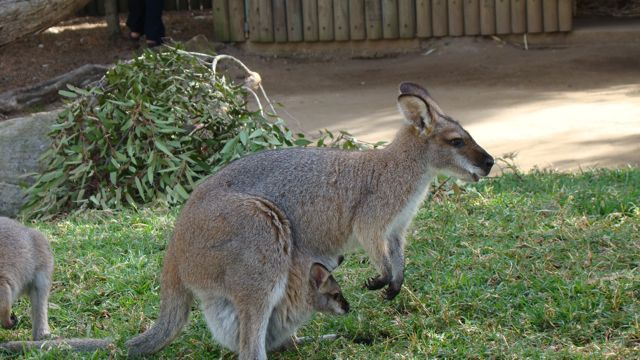 The experience of being able to pet and interact with the animals here was VERY VERY cool.  Almost everyone on the tour was over-the-moon with this experience.  These are not the type of animals we generally see in U.S. zoos – which makes the up close interaction that much more interesting.  It should also be mentioned that the Taronga Zoo sits on some of the most prime real estate in Sydney.  I think it wins hands down in the 'best view from a zoo' category.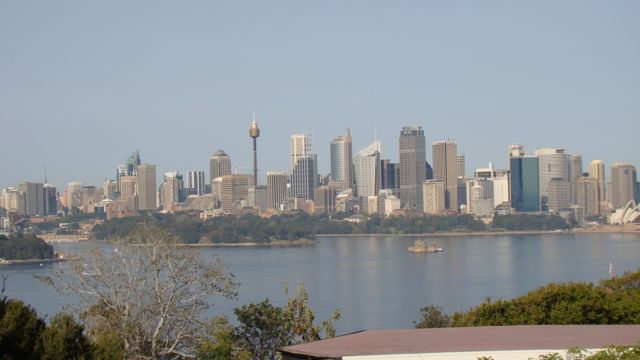 After our 'one on one' experience, one of the parks volunteers took us on a tour of various areas in the zoo. He had a wealth of knowledge and we got to see a lot of unique wildlife.  Especially birds.  And this is where Walter lost his mind and started snapping pictures of birds like a deranged paparazzi.  It was dangerously close to 'bird porn'.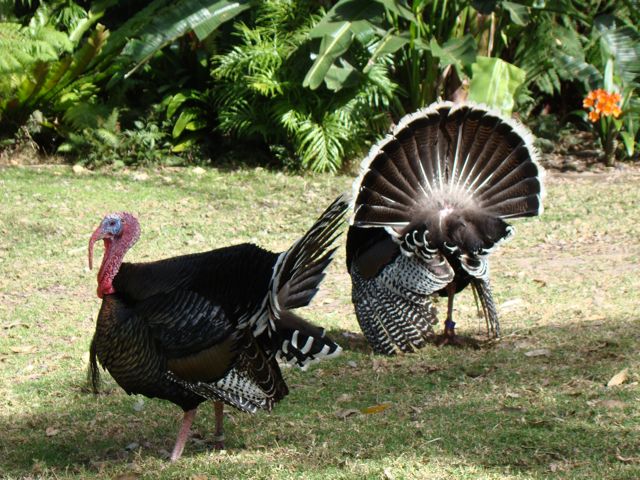 After our tour, we had about an hour to ourselves before having to meet at the marina just outside the zoo.  This is where I took the opportunity to try an Australian hot dog to see if they were going to put spinach or brussel sprouts on it.  In fact, it was a normal all beef hot dog and tasted just the way a hot dog should taste.  Finally – some 'fat American' food that hadn't been unduly molested by the Australians.
Upon leaving the zoo, we walked across the street to the marina where a speedboat was waiting to take us on a tour of Sydney Harbor.  I had some concerns about this – mainly that I wanted to video tape the tour, but I did not want to get the camera wet.  You learn the hard way that salt water and electronics don't mix very well, but I was assured that while we would be going fast, there wouldn't be any splashing.   The ride was exhilarating, not to mention the incredible views we saw around Sydney harbor.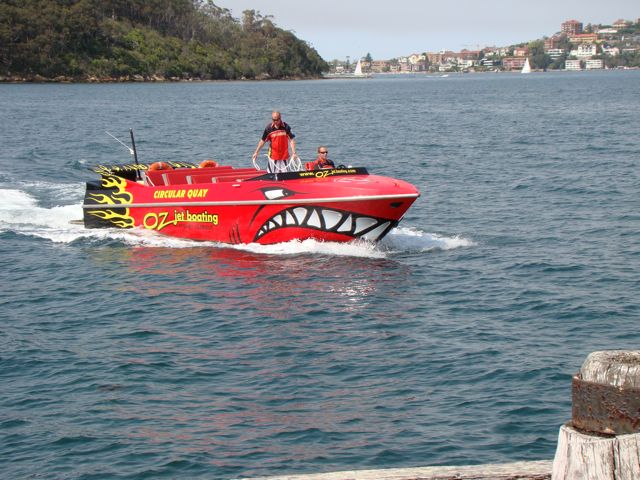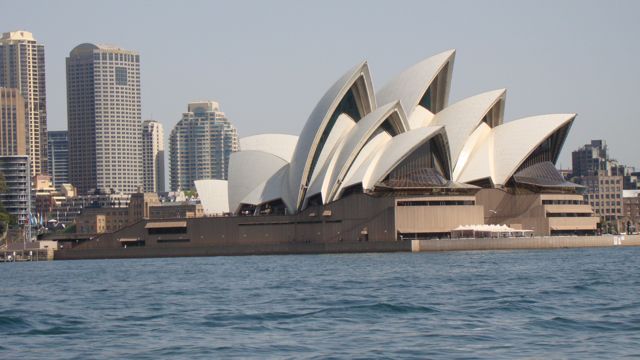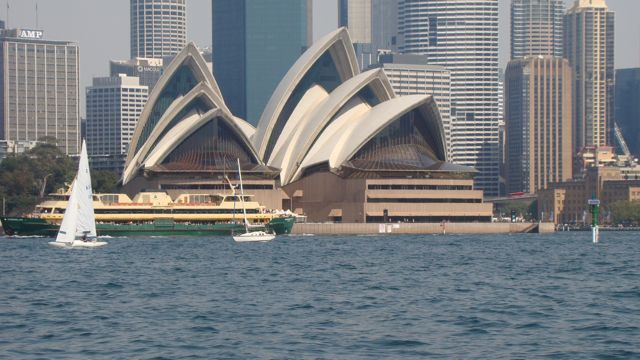 As we passed one particular beach, there were a group of men – about 6 if I remember correctly – that decided to moon our group.  This is when we learned that 'mooning' in Australia is referred to as – and I'm not kidding here – 'chucking a brown eye'.  I'll leave you to ponder that.  Unfortunately, I don't have a picture of this – or, thankfully, of the 80 year old man on the nude beach.  I named him Little Jim and the Prunes.
After our tour around the harbor, we stopped in at an Italian restaurant on Circle Quay called "East Bank".  We were to be served pizza and soft drinks.  While most in our group seemed to enjoy the pizza, I found it abysmal, and I'm sorry, at $27 a pie, this pizza should have given me a lap dance.  It turns out this restaurant is on the ground floor of the hotel we were going to be checking into once the ABD tour was over – the Quay Grand Sydney.  This is when I got really excited, because this hotel looked GORGEOUS.
After lunch, part of our group went to do a bike tour while the rest of us went to do a tour of the Sydney Opera House.   Walter, bless his heart, did the bike tour and I decided to do the tour of the Opera house.  His one complaint about the bike tour was that it 'stopped and started' too often.  However, this did give him an opportunity to take some wonderful pics around the city.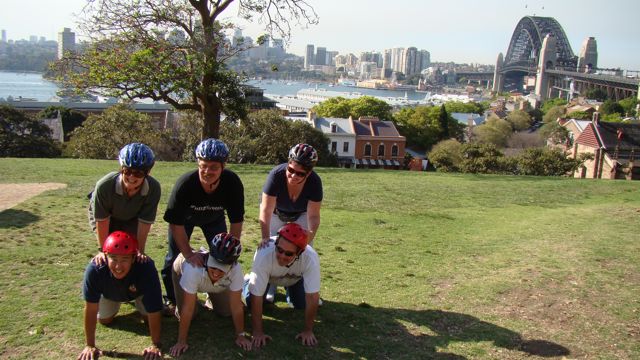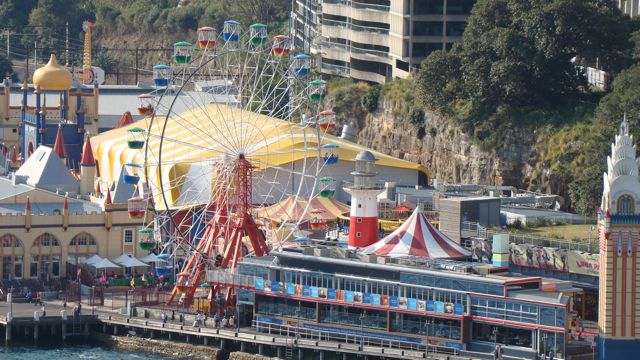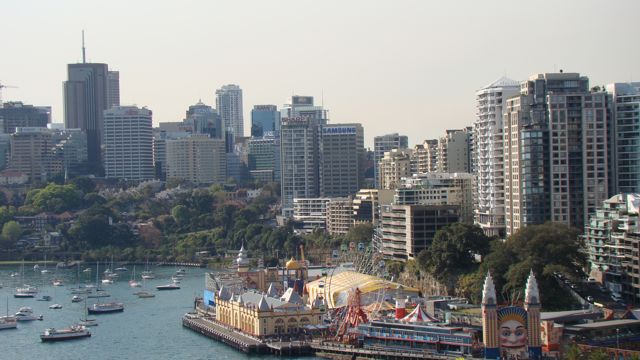 I should mention here that the opera house tour is not normally part of Disney's schedule on this trip.  Since there were a number of us not doing the bike tour, our guide Christy called to get the okay to let us do the Opera house tour.  I thought that was particularly cool, but not surprising giving the amount of care and attention both our guides had demonstrated during the trip.
As it turns out, my knee was really hurting from all the walking we'd been doing, and there was at least 150 steps you had to climb during this tour.  There was also another member of our group who found the steps daunting, so we hung out together and chatted while the rest of the group did the tour.  I have to be honest – I'm glad I didn't do the tour.  My tourmate Sue and I sat at a table overlooking the Harbor bridge and chatted.  The weather was stunning, there was a great breeze blowing, people all around shopping, eating, drinking and generally enjoying themselves.  As I would find out over the next week, this is very much the norm in Sydney.  This area in particular is very popular with the locals and there always seemed to be a lot of people milling about enjoying themselves.
It was also in talking with Sue that I realized we only had one more day of our ABD trip.  That realization came with a sudden wave of sadness, but I brushed that off as foolish – I hardly knew these people and Walter and I still had another 8 days left on our vacation – what's there to be sad about?  Next installment – our last day with the 'new people'.
Category: Disney World, Universal Orlando