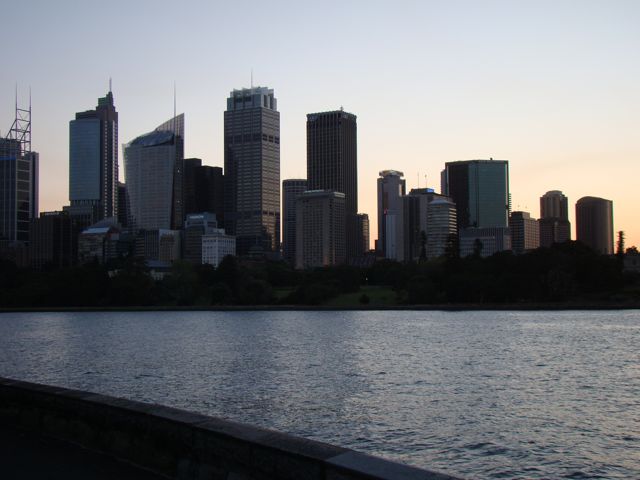 When someone in Australia finds out you're gay, they immediately tell you that Sydney has the largest gay population in Australia.  Almost like "you should go there and be with your own kind".  Always said with the best intentions, I was amused by how often this happened – I'm not lying, it was like a dozen times I had this conversation with people. And while the statistic regarding gays and Sydney are accurate, you need to keep in mind that this country has about 20 people in it, so the flamboyant ones will likely stand out a little more.
Our flight from Uluru to Sydney was comfortable and fairly quick (about 2 ½ hours – that's nothing when you've survived the 14 hours on the way down).  Although I must admit that at this point in the trip I was getting a little tired of airports and airplanes.  I'm not the best flyer in the world under ideal circumstances, but all these 'little' airports were scaring me.  And when I say little, I mean my house is bigger.  We have to walk out to our planes and climb the stairs like the President …. and don't think for a second that I didn't spin around and give a 'wave' (I'm pretty sure the Adventures by Disney people have a picture of that).  And when I say 'spin around', I mean turn around coughing and wheezing from having to climb up stairs.
A few in our group (myself included) noticed that we weren't being asked to see any identification before boarding the planes.  Foolishly, we thought that meant lax security at the airport. They didn't even make us take off our shoes!  I'm guessing that's because the small airport wouldn't absorb the smell of 16 shoeless Americans who just spent 3 days in the desert.  Turns out, it's one of those 'things' ABD takes care of.  They have all your passport info before you travel, and I imagine that's communicated to the airlines prior to our arrival.  I can not underscore how much of a difference these little 'service enhancements' made to the overall experience.  I really like arriving at the airport 45 minutes before a flight and pretty much just walking on board the plane.  No carrying luggage, no messing with seat assignments.  Just show up – it was seamlessly orchestrated by our guides.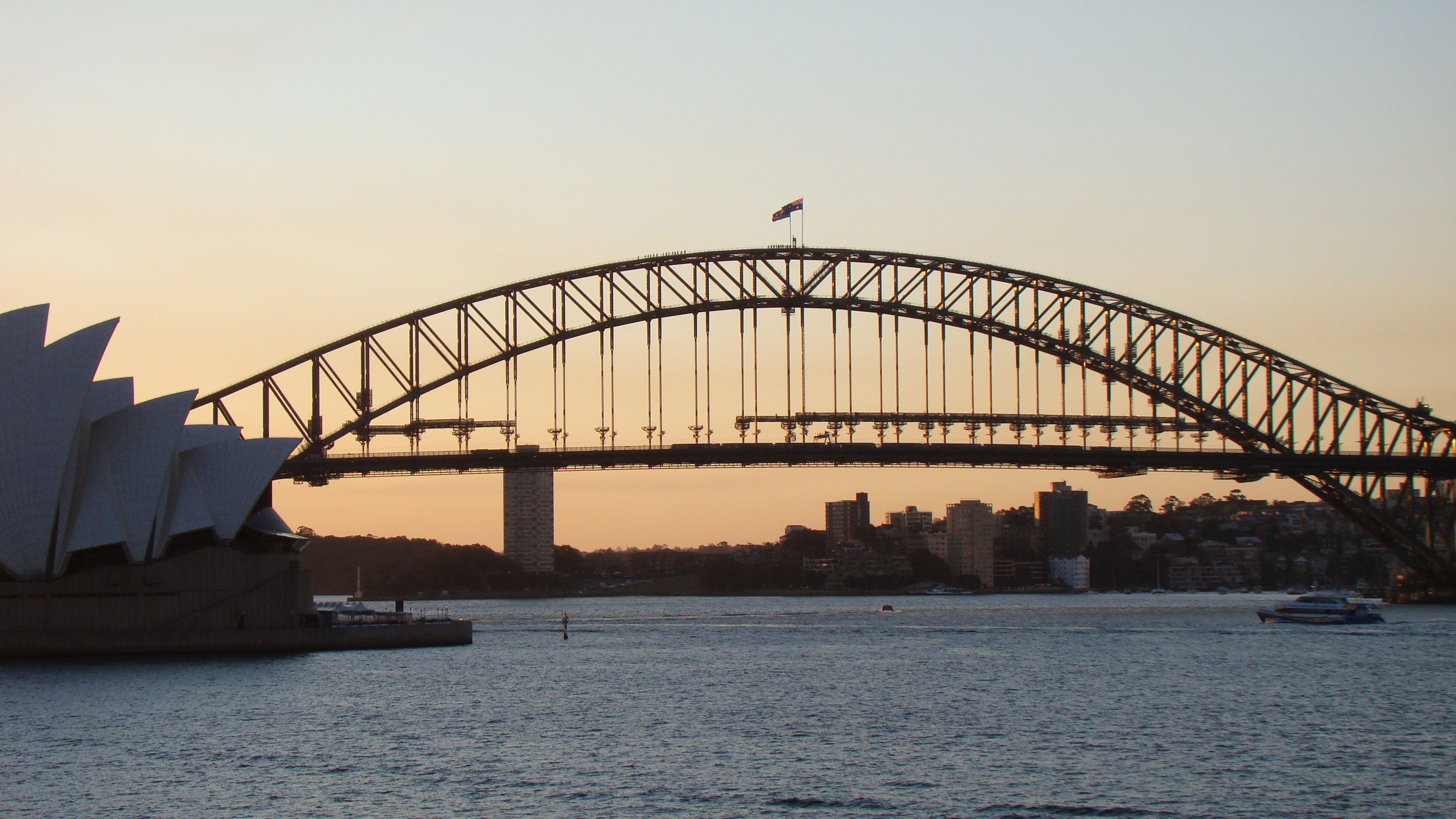 Upon arriving in Sydney we boarded our tour bus.  I should mention that these tour buses were not small little shuttles – they are big, full sized buses – all in great shape and very spacious and comfortable.  We drove through the city where our guide Amber (a Sydney native) gave us the history of some of the areas we were passing.  It was easy to see at first glance that this was a diverse and beautiful city.  I had no idea just how beautiful, but that was to come in short order.  We ended up at an overlook point on Sydney Harbor where we had the most amazing view of the Sydney Harbor Bridge and the Sydney Opera House.  The view was made all the more stunning as the sun set in the distance.  I'd seen this view a thousand times in movies and in pictures, but nothing short of seeing it yourself could do it justice.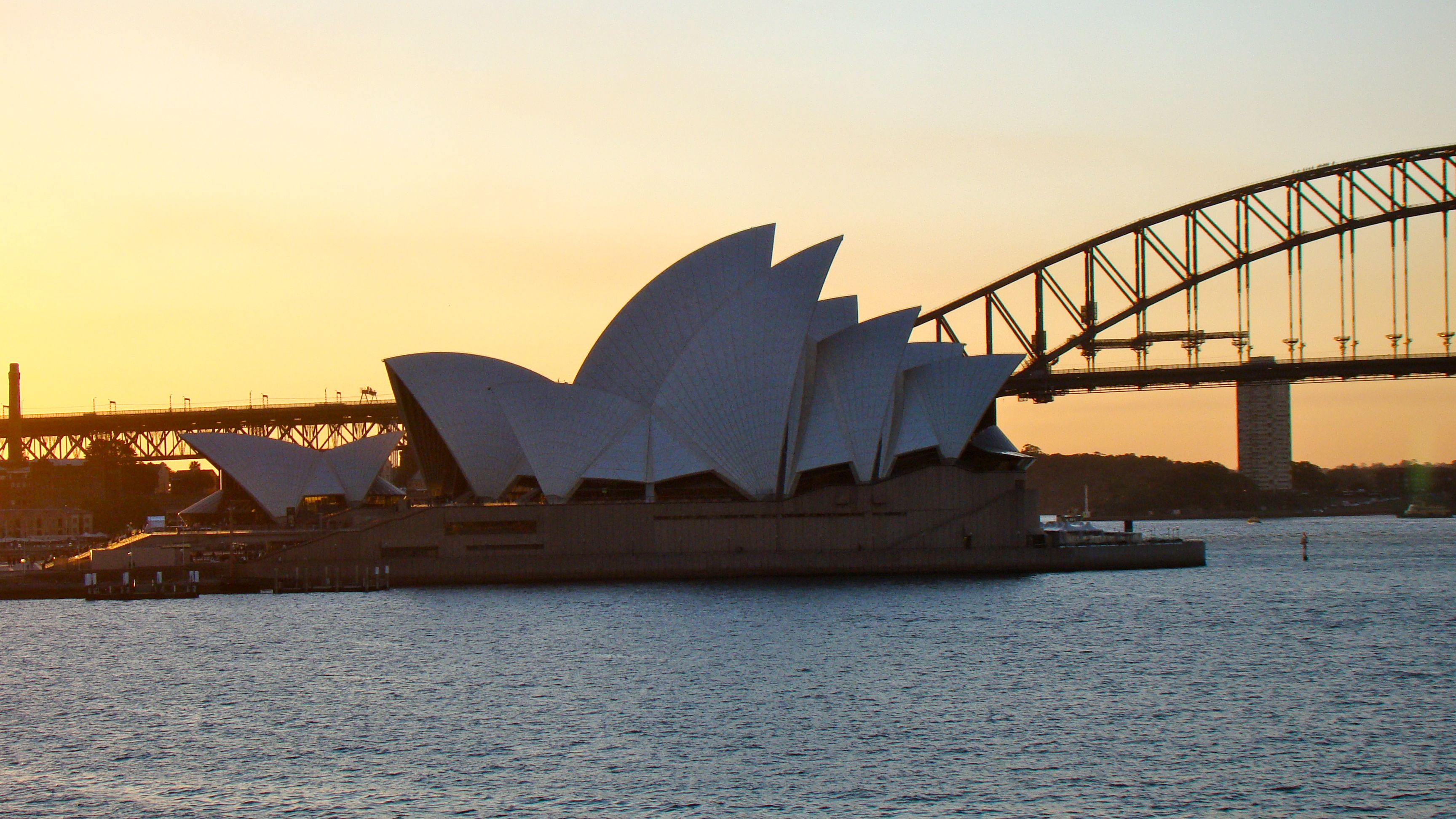 After spending some time along the harbor, we were taken to our hotel in the heart of Sydney, The Grace.  The Grace is apparently a very old and famous building.  It reminded me a great deal of New York.  The hotel was older, but in excellent condition and with comfortable accommodations.  While the hotel was conveniently located, I would definitely consider it a 'mid-range' property.  Walter didn't like it at all.  He had no complaints about the room, just the location and the 'city' feel didn't sit well with him.
After arriving at the hotel, we had about an hour to shower and change for our dinner at the Summit.  This restaurant is apparently pretty popular in Sydney and is one of those places that's about 50 stories tall and revolves to give you a complete view of Sydney.  Did I mention my fear of heights?  Do you know what it's like to eat dinner without ever looking right?  Of course Walter is leaning over the railing resting his head on the window and looking straight down.  Yes, much like a nine year old – it was classy.
Even though I spent much of dinner telling myself that the odds were slim that our restaurant would slide off the top of the building and go crashing down to earth, I really enjoyed this meal.  Yes – I have a SERIOUS fear of heights.   Neurosis aside, the food here was wonderful.  We were presented with a limited a la carte menu to order from.  The mushroom bisque really was incredible, and the steak was among the best I'd had in Sydney (yes, the food in Sydney was VASTLY better than Palm Cove – more about that on the next blog).  The service was a little abrasive in my opinion, but not to the point of rude.   The original itinerary called for us to eat at a seafood house called 'Nicks' that night.  I'm glad it was changed – this offered a beautiful view of the city and an excellent meal.
Next update – A jet boat tour of Sydney harbor and I get molested by a marsupial whose name I can't remember.
Category: Adventures by Disney, Editorials