Update: June 18, 2010, Wizarding World Now Open

The Wizarding World of Harry Potter at the Islands of Adventure theme park in Universal Orlando Resort officially opened to the public today.  Huge crowds lined up hours before opening for a chance to get into the highly anticipated new land.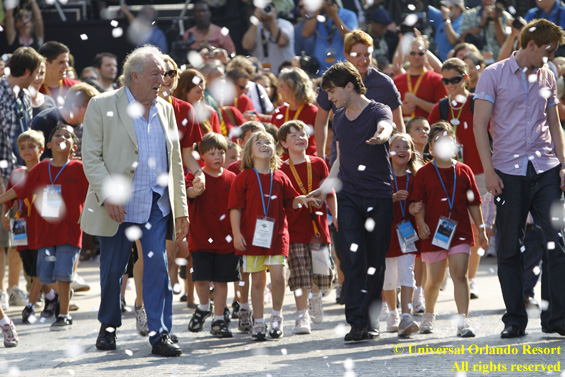 Image: Harry Potter film actors Tom Felton, Rupert Grint, Michael Gambon, Bonnie Wright, Daniel Radcliffe, James and Oliver Phelps lead guests into Hogsmeade during the first public opening.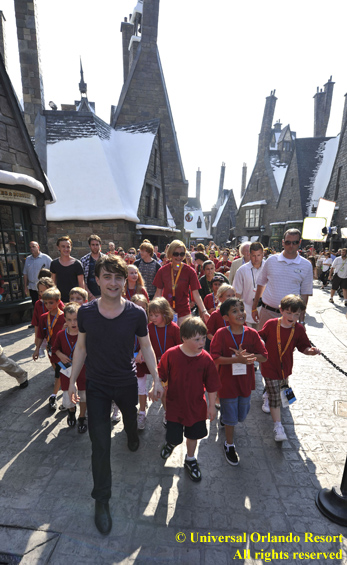 Image: Daniel Radcliffe leads school children into the newly opened Wizarding World of Harry Potter.
Update: June 17, 2010, Grand Opening is Here
Universal Orlando held an invitation only celebration to kick off the Grand Opening of the Wizarding World of Harry Potter.  Hundreds gathered in front of Hogwarts castle for a fireworks display accompanied by the Orlando Symphony Orchestra led by guest conducter and 5-time Oscar® winner John Williams.  The new land in Islands of Adventure officially opens Friday, June 18.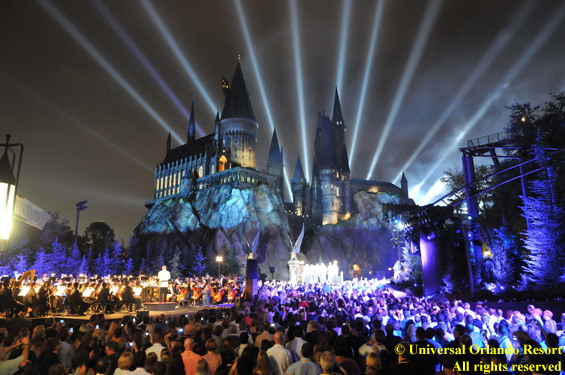 Image: Universal Orlando released a stunning shot of Hogwarts Castle from the VIP – invitation only Grand Opening Celebration held Wednesday evening, June 16.
Actors from the Harry Potter films were present for a red carpet Grand Opening including (from left to right): Tom Felton (Draco Malfoy), Sir Michael Gambon (Albus Dumbledore), Bonnie Wright (Ginny Weasley), James Phelps (Fred Weasley), Daniel Radcliffe (Harry Potter), Matthew Lewis (Neville Longbottom), Warwick Davis (front, Filius Flitwick), Rupert Grint (Ron Weasley), and Oliver Phelps (George Weasley).  Author J.K. Rowling also appeared on the red carpet, but did not appear on stage.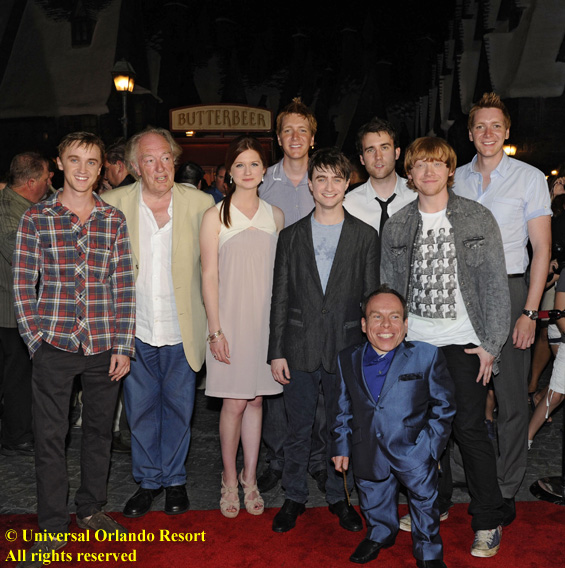 Image: Harry Potter flims stars on hand for the VIP, red carpet Grand Opening of the Wizarding World of Harry Potter
Update: May 21, 2010, Harry Potter film stars Robbie Coltrane, Matthew Lewis, Emma Watson, and Oliver and James Phelps got a sneak peek tour of The Wizarding World of Harry Potter by entering Hogsmeade. The group was invited to Universal Orlando Resort for a first-look at the immersive environment, and spent the day visiting many of the iconic locations made famous in the popular Harry Potter series. The Wizarding World of Harry Potter at Universal Orlando Resort grand opens on June 18.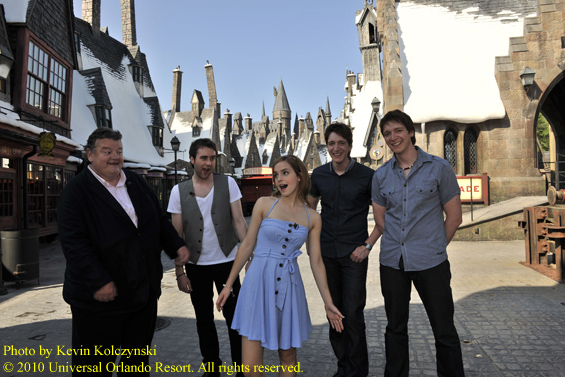 The Wizarding World of Harry Potter at Universal Orlando Resort grand opens on June 18.  HARRY POTTER, characters, names and related indicia are trademarks of and © Warner Bros. Entertainment Inc. Harry Potter Publishing Rights © JKR.
Update: May 14, 2010, Universal Orlando Resort released this photo of the hog's head mounted on the wall of the Hog's Head Pub in the Wizarding World of Harry Potter.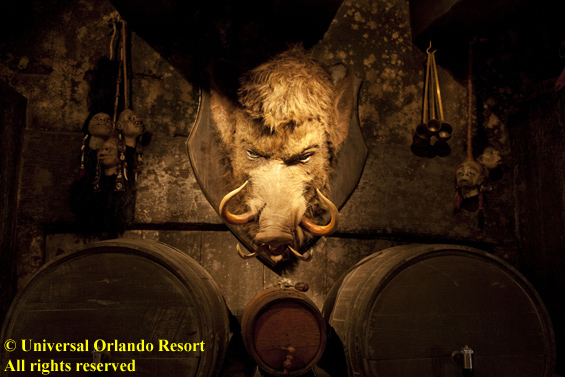 The hog will come to life, breath, and puff its jowls at visitors as they sit and enjoy their Butterbeer.  The pub is located in the Hogsmeade section adjacent to the Three Broomsticks.  In addition to cold Butterbeer, guests can also purchase frozen Butterbeer, pumpkin juice, apple cider, pear cider and other beverages.  Hog's Head Brew is an alcoholic beer available for adult guests at the pub.  The new land is located within Universal's Islands of Adventure theme park.
Update: April 27, 2010, Universal Orlando Resort released an official photo of the entrance archway to Hogsmeade Village in the Wizarding World of Harry Potter.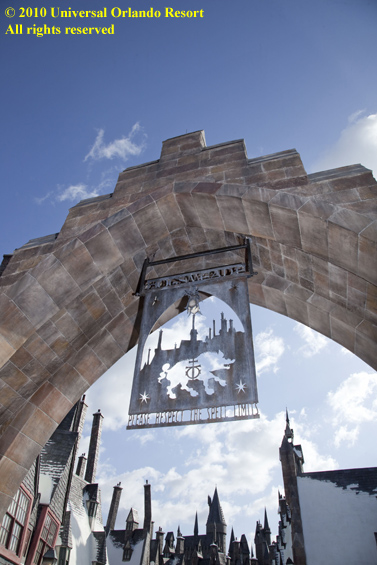 Update: April 2, 2010, Photo of Hagrid's hut in the Wizarding World of Harry Potter released by Universal Orlando Resort.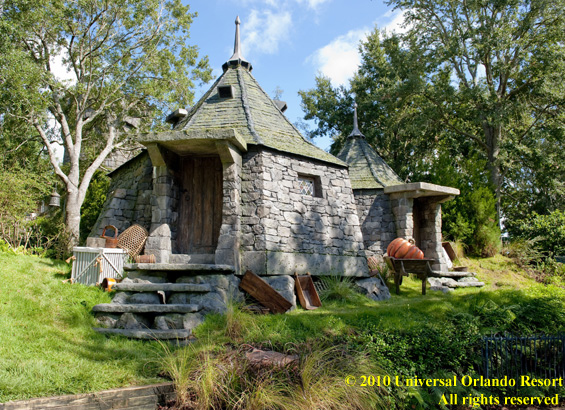 Visitors will pass Hagrid's hut while waiting for the Flight of the Hippogriff re-themed roller coaster.  Prior to boarding the attraction, Hagrid will instruct guests on how to approach and fly on a Hippogriff.
Update: March 6, 2010, Photo of Hogwarts Express arriving at Hogsmeade Station released by Universal Orlando Resort.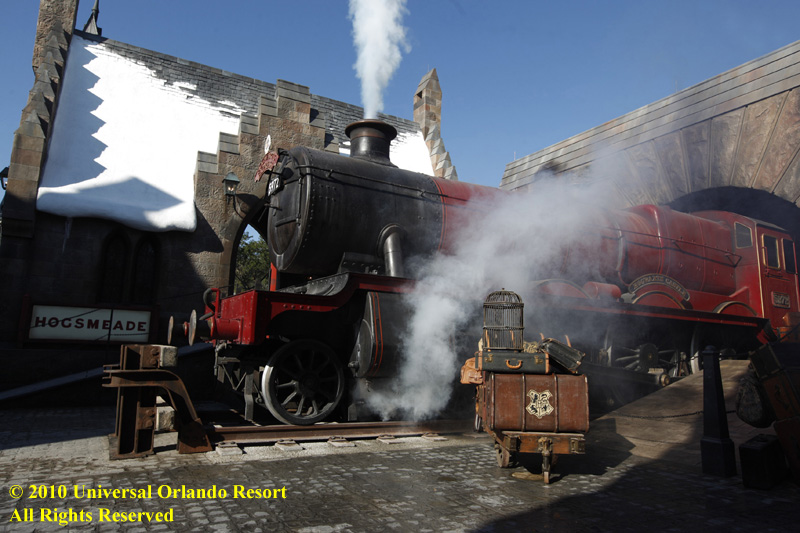 Entering Hogsmeade, guests will see the Hogwarts Express billowing steam.  The train, first described in the Harry Potter books by J.K. Rowling, transports students from London to the wizarding school of Hogwarts.
Update: January 26, 2010, Photo of Exterior of Hogwarts Castle released by Universal Orlando Resort.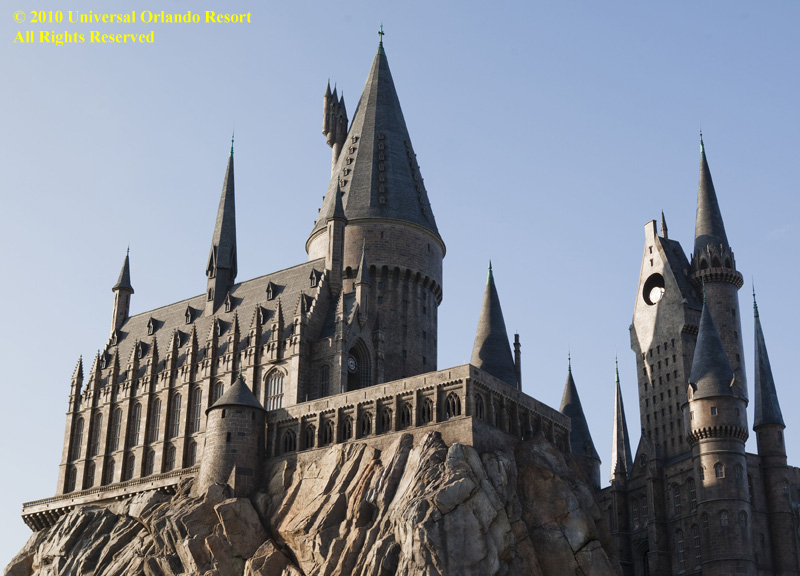 The exterior of Hogwarts Castle, the icon of the new Wizarding World of Harry Potter at Universal's Islands of Adventure, as seen in this publicity photo released by Universal Orlando Resort on January 25, 2010.
Original article from September 15, 2009 continues below.
For two years, fans anxiously awaited any word on the Wizarding World of Harry Potter, but few details of Universal's "theme park within a theme park" at Islands of Adventure were forthcoming – until now.  Tuesday, September 15, Universal Orlando Resort invited select members of the media and travel industry to attend a press event where first-ever details of the new attraction were finally announced.  Corey Martin of the DIS Unplugged was one of those invited, and you can read below to find out all the news.
Actor Tom Felton, who portrayed Draco Malfoy in the Harry Potter films, was part of the festivities.  He gave a first-hand account of the progress of the Wizarding World of Harry Potter, and how the new island compared to the environments created in the films.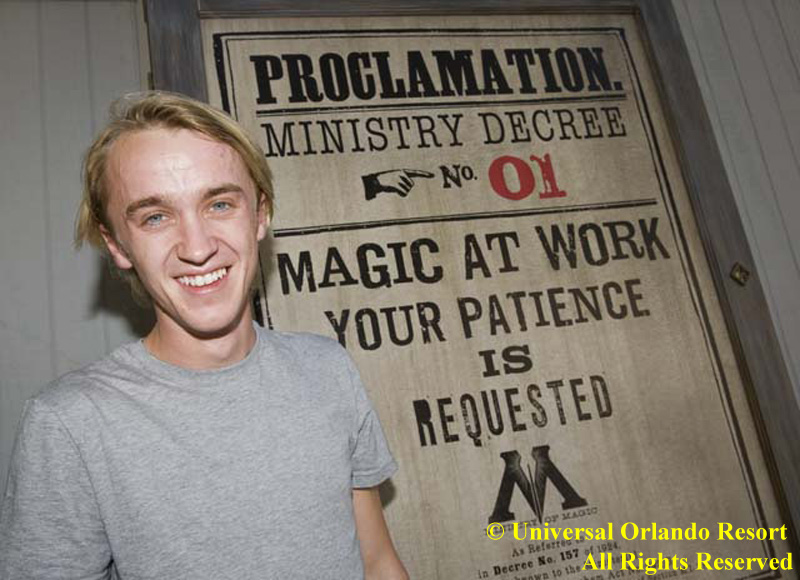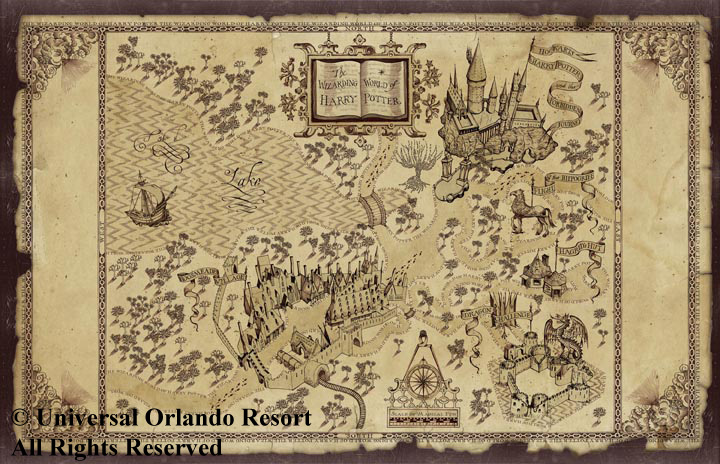 Regarding opening date, Universal plans to open the Wizarding World of Harry Potter late spring 2010.  Delays may push the opening date back to summer 2010 (remember the opening delays for Hollywood Rip Ride Rockit), but a hopeful opening estimate is late May/early June.  Interestingly, unlike other new theme park attractions in the area such as: Universal's the Simpsons Ride, Hollywood Rip Ride Rockit, Manta at SeaWorld, or Disney's Toy Story Midway Mania, no soft-openings are planned for the attractions in the Wizarding World of Harry Potter.  However, there will be an invitation only gala VIP Grand Opening sometime in late spring 2010.  Universal is likely to increase the 2-Park Unlimited Admission ticket price in 2010, so purchase tickets now to save money. Those tickets will be valid when you visit Universal next year.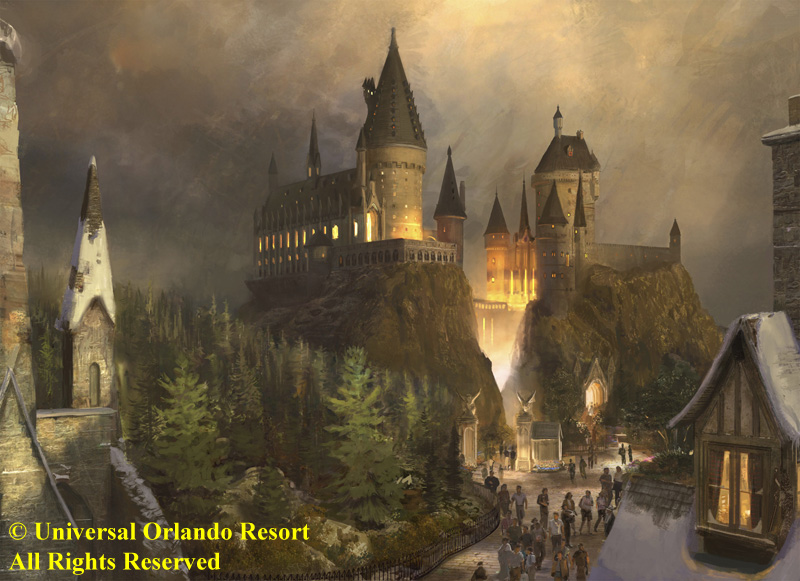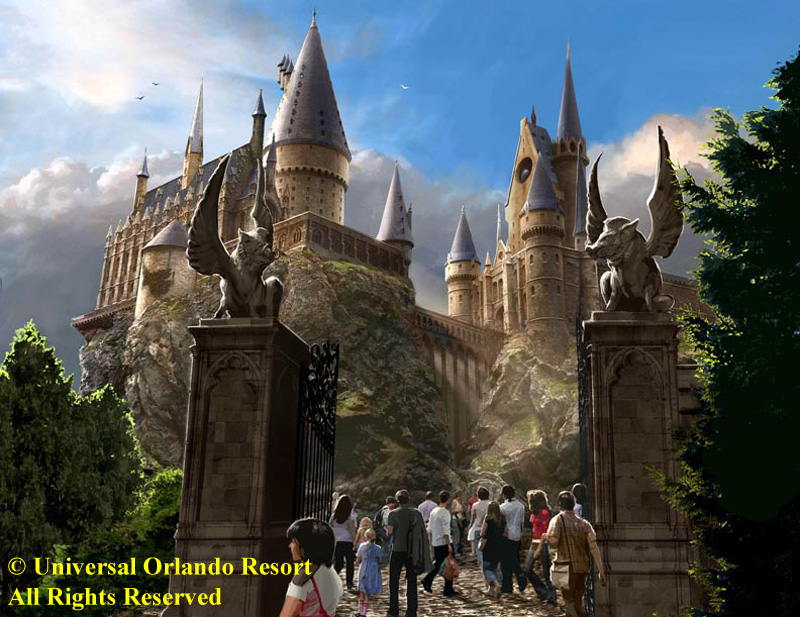 For attractions, Universal confirmed that Hogwarts Castle would house a dark ride "robocoaster" titled "Harry Potter and the Forbidden Journey".  Universal described this ride as a "state-of-the-art attraction that uses entirely new technology to bring the magic, characters, and stories of Harry Potter to life in ways never before imagined."  The Dueling Dragons roller coaster will be reworked and named "Dragon Challenge" – based on the dragon challenge from the Triwizard Tournament in the fourth Harry Potter book "Goblet of Fire".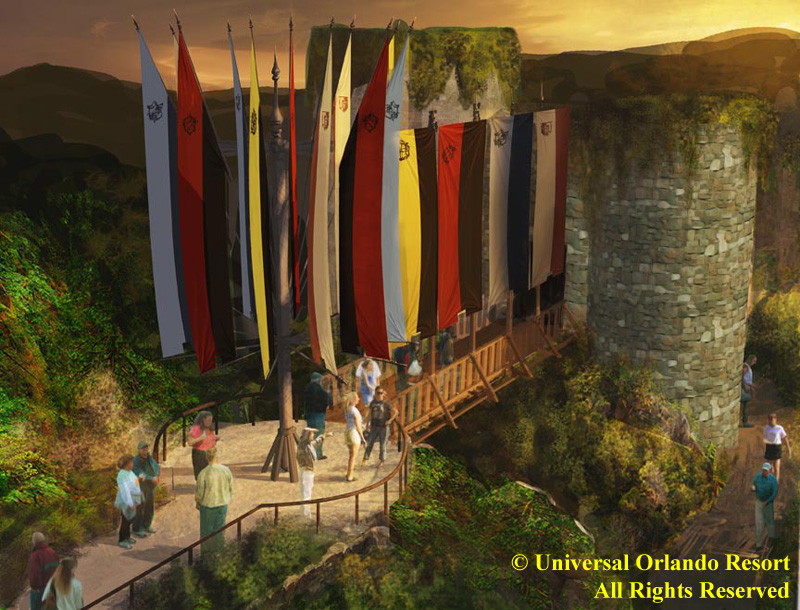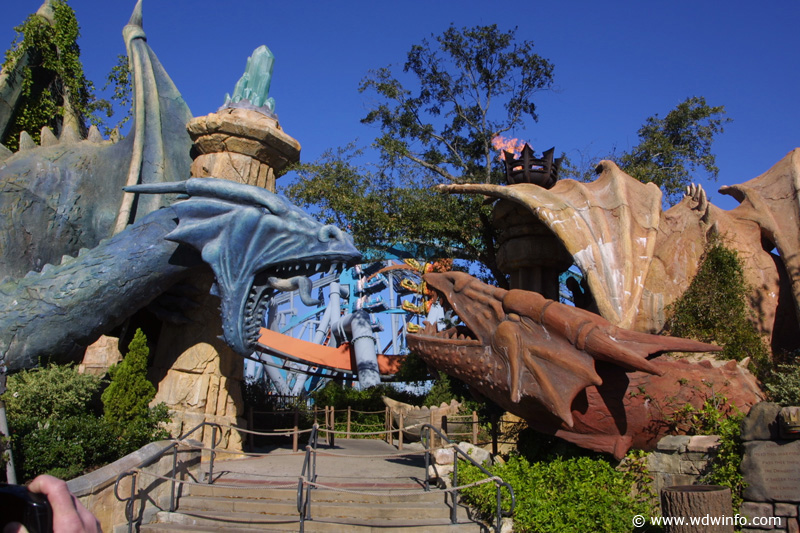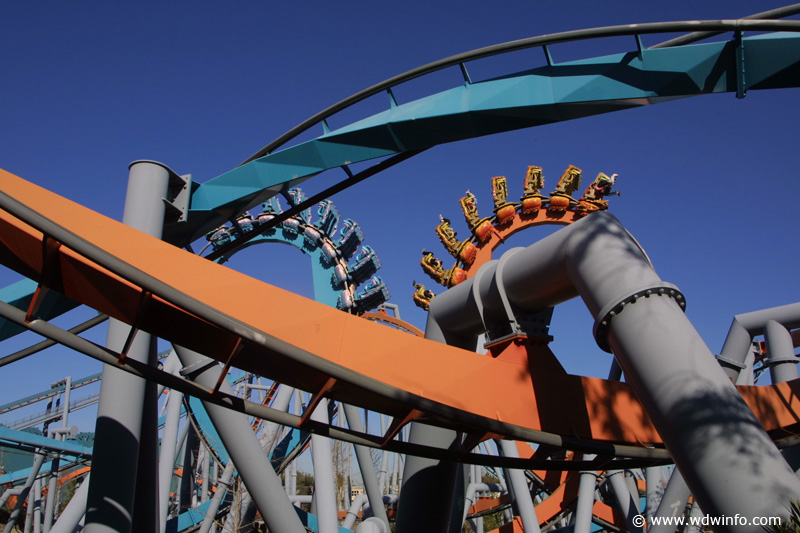 Universal Orlando also confirmed the Flying Unicorn rollercoaster would be renamed "Flight of the Hippogriff".  Part of this attraction will be Hagrid's Hut where guests will be able to take a lesson from Hagrid himself about the care of a hippogriff similar to Buckbeak (introduced in "Prisoner of Azkaban"). Staying true to the books and movies, because hippogriffs are so easily offended, guests will need to learn how to bow to the beast before riding.  If the hippogriff bows back, you will be granted access to ride. It was not explained what happens if you don't bow to the hippogriff – shredded by talons? banished to Seuss Landing? who knows?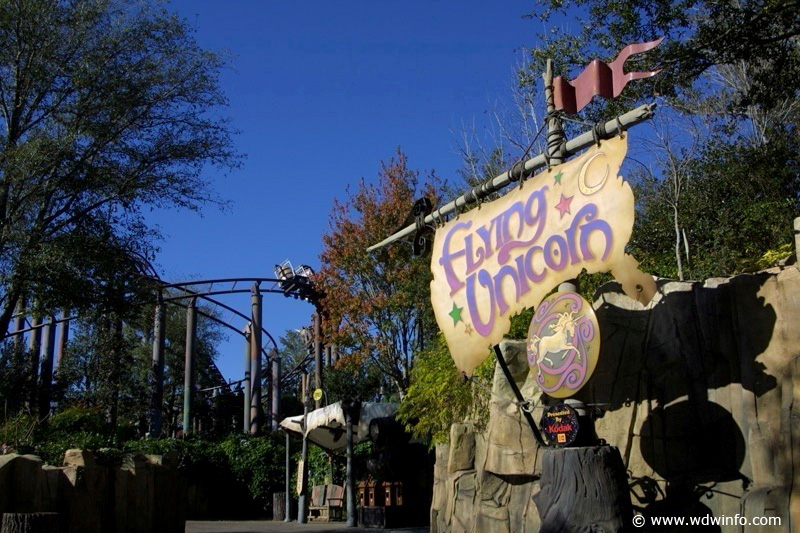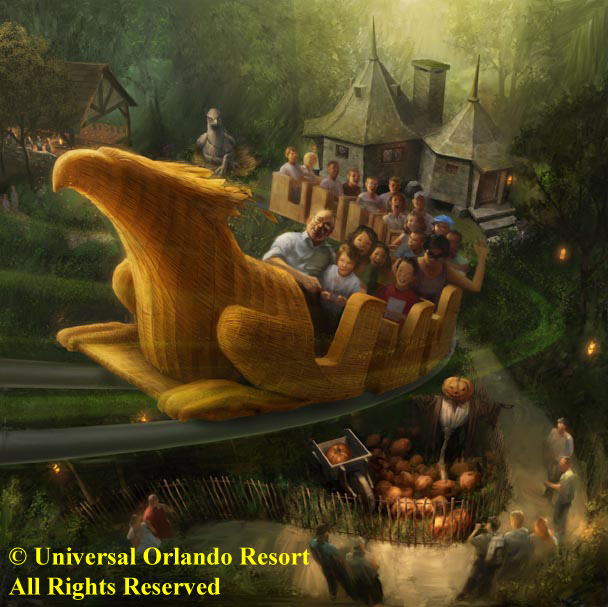 One thing missing from this latest announcement was any description of the "Forbidden Forest".  This was mentioned as part of the original 2007 press release, but does not appear on the current map.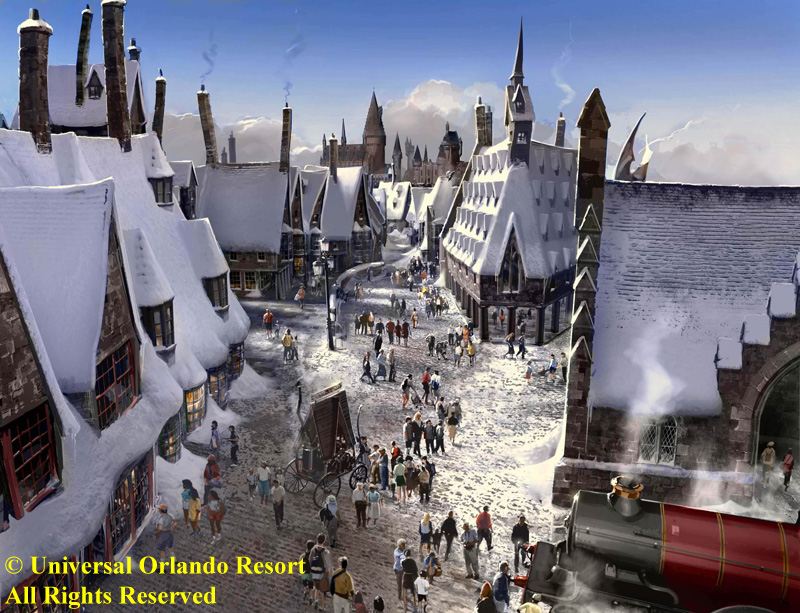 Next to Hogwarts Castle, is the village of Hogsmeade where Harry Potter and his fellow students shop, dine, and get away from a stressful school term (especially when pure evil is trying to kill you).  At the entrance to Hogsmeade, guests will encounter billowing steam and the train whistle from the Hogwarts Express as it pulls into Hogsmeade Station.  Conceptual drawings were released on Universal Orlando's website in 2008 of two locations: Dervish and Banges (a magical equipment and repair shop) and Three Broomsticks (a tavern in the Harry Potter series).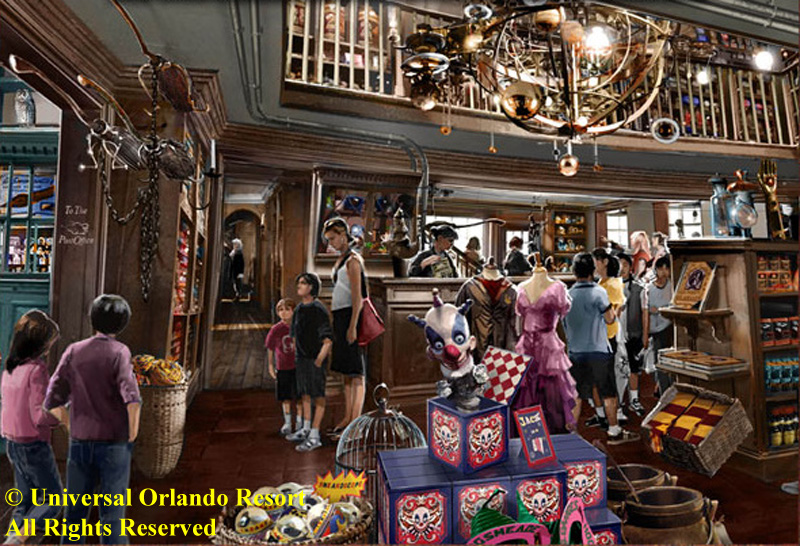 Dervish and Banges is the magical instruments and equipment shop described in J.K. Rowling's novels, and will contain Quidditch equipment, Triwizard Tournament apparel, Spectrespecs (large, colorful spectacles described in "The Half Blood Prince"), and Remembralls (a ball that glows red when the owner has forgotten something).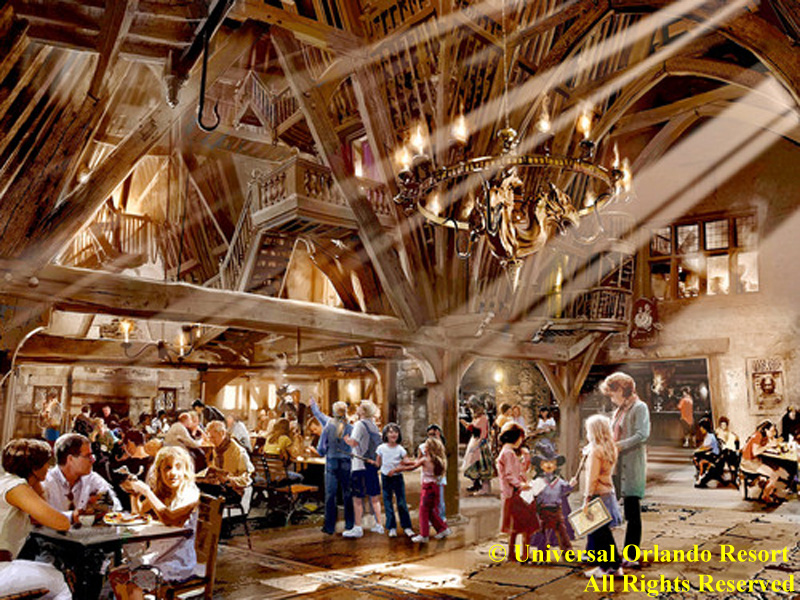 Three Broomsticks and the adjacent Hog's Head Pub will be a signature eating establishment.  Today Universal announced guests can dine on traditional British fare, pumpkin juice, and Butterbeer (including a frozen slushy version).  Butterbeer, a favorite drink of wizards, is slightly intoxicating, and supposedly tastes similar to butterscotch (but less sweet).   Universal Orlando has worked closely with J.K. Rowling and reports Rowling herself has tasted and approved this version of butterbeer.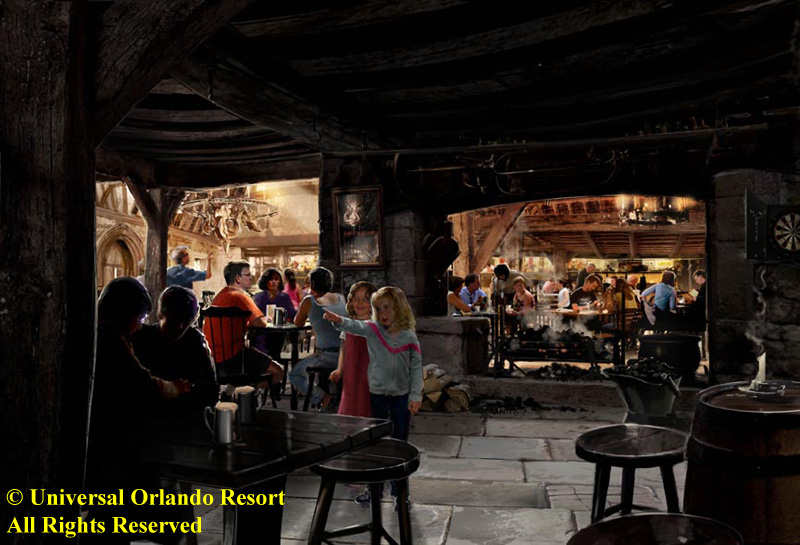 Across from the Three Broomsticks will be The Owlery, where owls roost and await their next delivery. Guests can send letters using Owl Post with a certified Hogsmeade postmark. The Owl Post will also sell official stamps from The Wizarding World of Harry Potter.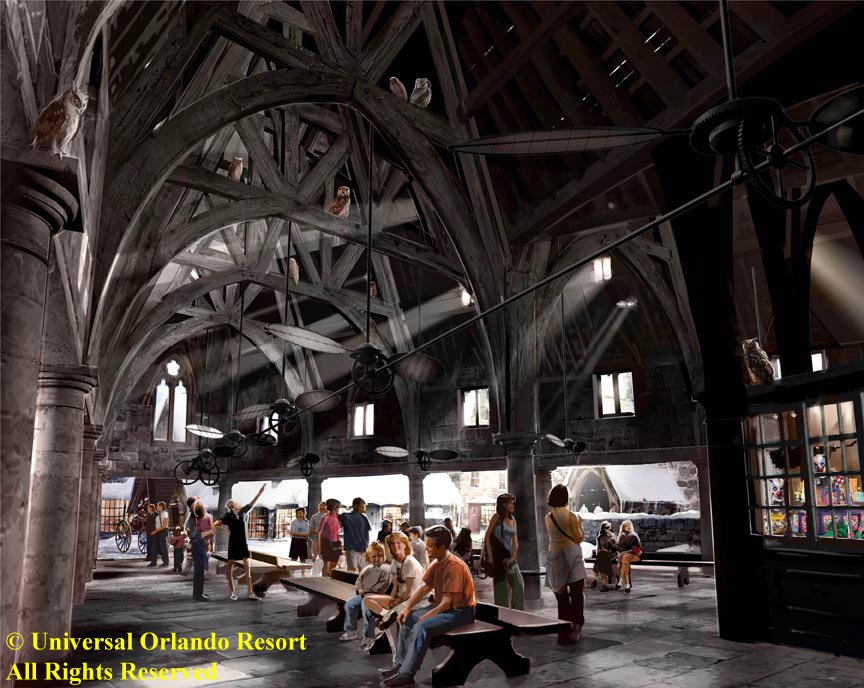 Across the way guests can explore Zonko's, a joke shop with a collection of tricks and jokes including: Extendable Ears (to help one hear at distant locations), Boxing Telescopes, and Sneakoscopes (a device that detects Dark Magic).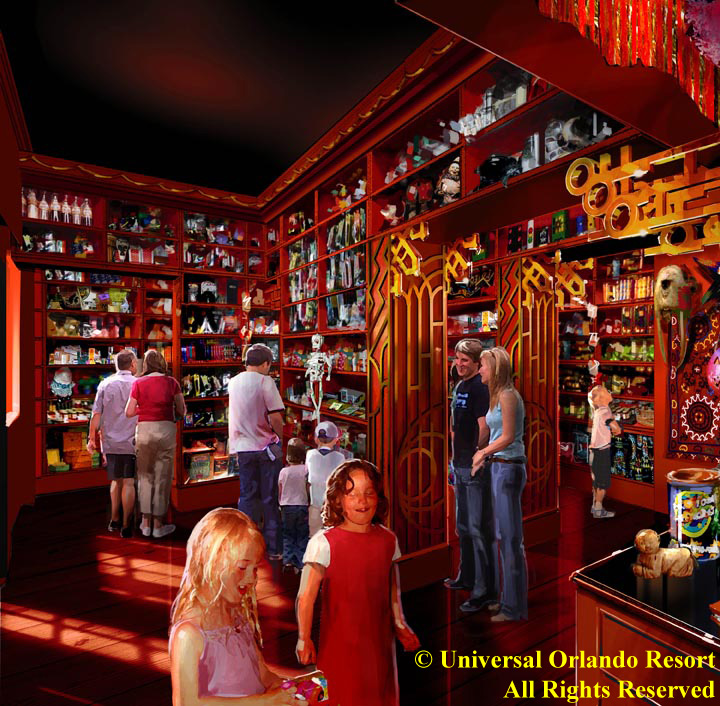 Honeydukes will be next door to Zonko's, and is a sweet shop famous for Chocolate Frogs and Bertie Bott's Every-Flavour Beans.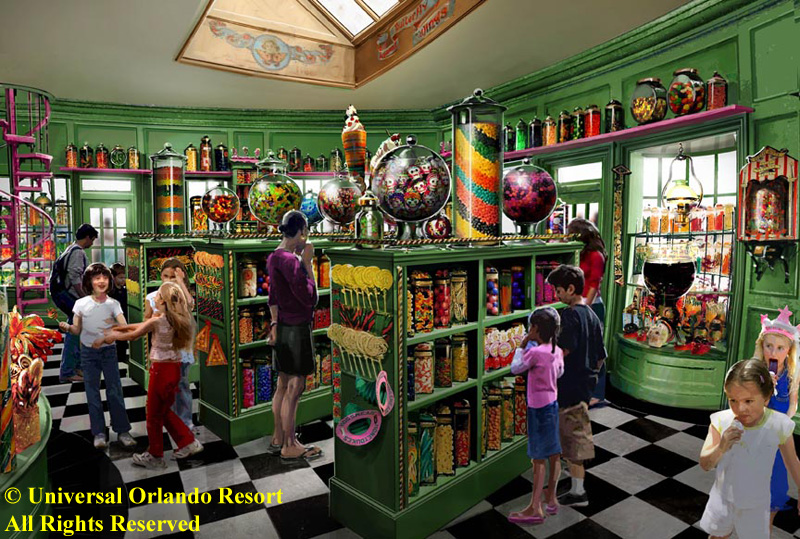 Also in the Hogsmeade area will be a version of Ollivander's wand shop.  In the books, Harry Potter discovers the "wand chooses the wizard" at Ollivander's, and guests can also be chosen by a wand in a highly interactive experience in the shop.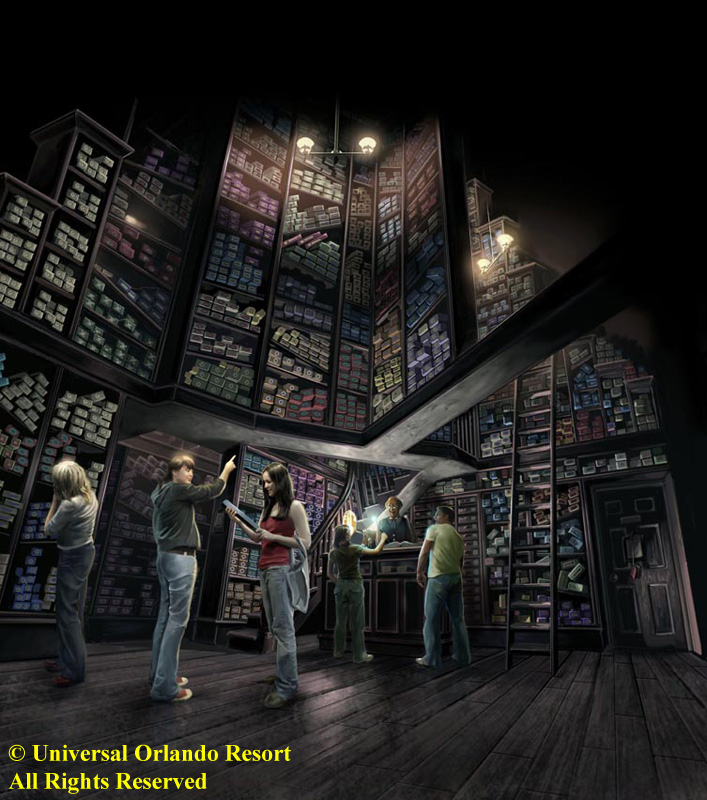 Rounding out Hogsmeade is one more shop, Filch's Emporium of Confiscated Goods. Filch is the caretaker of Hogwarts always in search of students breaking the rules and confiscating contraband. This shop is full of Ministry of Magic and magical creatures merchandise, Omnioculars (wizard binoculars), and remote controlled Golden Snitches (a ball used in the game Quidditch).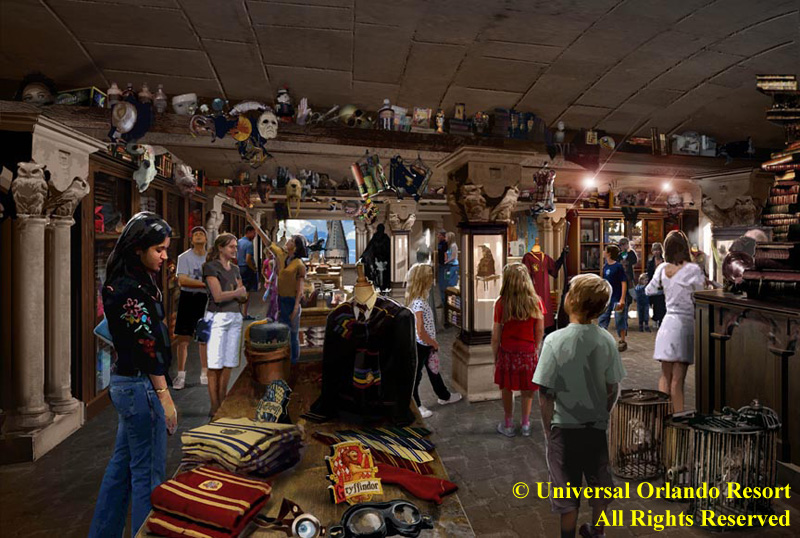 This is going to be a very popular attraction.  After the Wizarding World of Harry Potter opens, Universal Orlando is predicting Islands of Adventure will fill to capacity during at least 30 days of Peak Season.
Category: Universal / Sea World, Universal Orlando