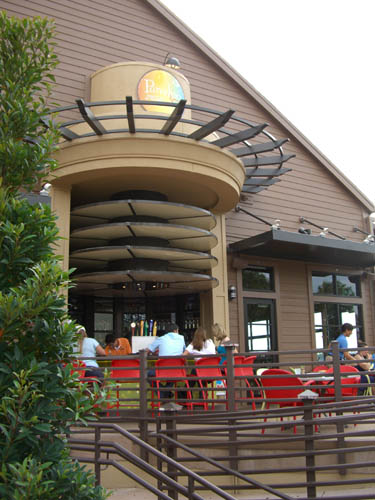 Paradiso 37 is the new restaurant at the Walt Disney World Resort in Florida located on Pleasure Island in Downtown Disney. Located next to the Adventurer's Club, it's a multi-level, indoor – outdoor sort of place and I think it's going to prove to be popular.
There is a varied menu, a comfortable and family friendly atmosphere and it's open until 1:00am.
Upon entering the restaurant, we were greeted by an energetic staff. As we were there on the 2nd day of operation and the fact that there were a great many "manager types" walking about, this could explain the high energy feeling.
The restaurant is divided into two levels. There is a small elevator inside the restaurant to access the upper level, but that level is also accessible from outside the restaurant. This is possible because Paradiso 37 is located on a slight grade. There is also a large "wrap around" outdoor seating area. Being Floridians and having enough of the hot Florida sun…we opted for air conditioned splendor. Many folks chose the outdoor area which overlooks Village Lake and the Saratoga Springs Resort.
The décor is colorful and modern. As there is very little to dampen the sound, this a loud, boisterous place; but in this situation, it's a good fit.
Paradiso 37 features "street food" from North, Central and South America. There is a wide variety of choices and something for pretty much everyone. The menu is so broad; I would think it difficult to not find something that appealed to every taste. You can view the menu HERE.
Something to keep in mind is that there is also a bar atmosphere to part of the restaurant. Paradiso 37 does not try to hide this fact as the first four pages of the extensive menu are dedicated to alcohol choices. The large bar area takes up a quarter of the lower level.
The restaurant boasts that it serves 37 varieties of tequila and the coldest beer found everywhere. The menu states that your beer will be served a chilly 29 degress farenheit.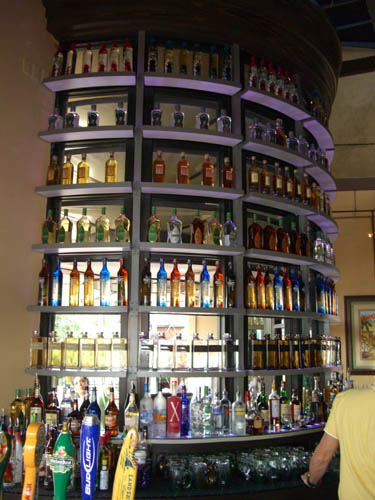 On to our choices…..
We started with several appetizers. We chose the Mac and Cheese Bites ($7.50),the North American Potato Pancakes ($5.99) and the North American Corn Dogs ($7.50). We were fairly "safe" in our choices as we had a finicky eater with us, but this proves my point of there being something for everyone.
The corn dogs and potato pancakes were pretty standard. The pancakes could have been a bit crispier, but had good flavor. The dogs came with a honey mustard dipping sauce and the pancakes came with sour cream.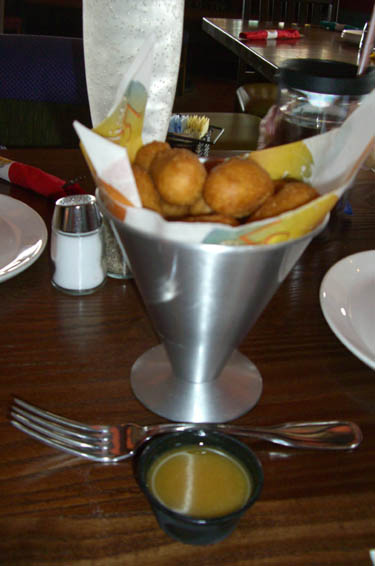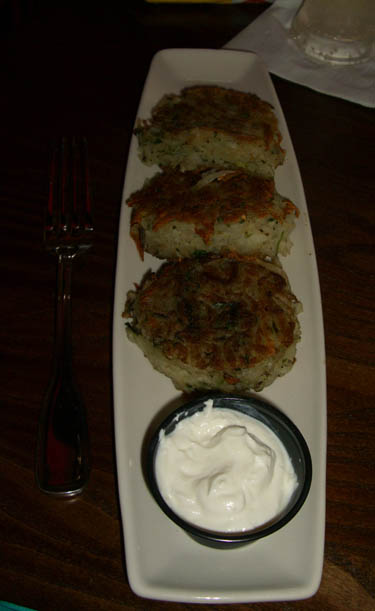 The Mac and Cheese bites were small balls of deep fried mac and cheese. While they were ok, they didn't have a whole lot of flavor. The good news in all of this is that they came with a delicious jalapeno and cilantro dipping sauce. We used that dipping sauce with the pancakes and the corn nuggets. It was quite flavorful with just a slight spicy kick. Ask for extra.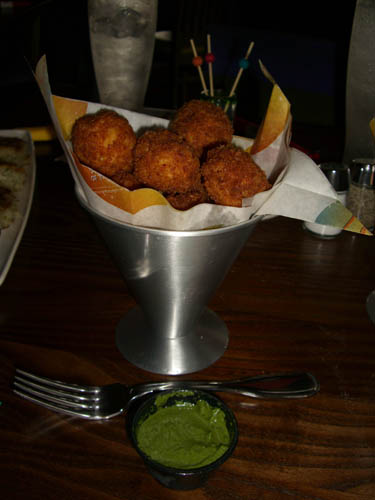 Just a word about some of the appetizers…..if you look around prior to ordering, these apps look like huge portions. They are served in these aluminum cones and it appears that they are piled high. Upon receiving ours, we realized that the bottom of the cone is filled with a waxed parchment paper with food resting on top. The portions are adequate, but the serving dish is deceiving. This could affect your ordering, but now you know.
As we had ordered several appetizers, we decided to split 2 entrees between three people.
We chose the Argentinean Skirt Steak ($19.99) and the Columbian Style Whole Crispy Hen ($17.99).
The steak was a thin cut wrapped around a wooden skewer and grilled. It was served with caramelized onions, chimichurri sauce and fries. The beef had a good flavor, but the whole thing was a bit greasy. It seems that the kitchen is aware of this as the entire entrée was served on an absorbent piece of paper. This was deemed "good and tasty, but not worth $20 bucks".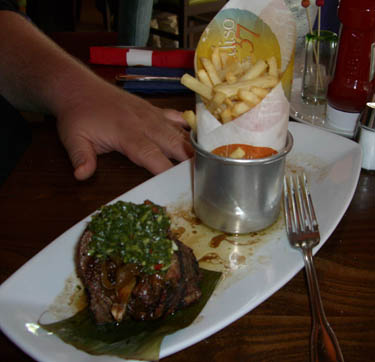 The Whole Crispy Hen drew laughter upon arriving at the table. We received what looked like the smallest chicken any of us had ever seen. It was smaller than a Cornish game hen. One of our party described it as "looking like a toy and being too cute to eat". The discussion of whether this might actually be a pigeon was also discussed.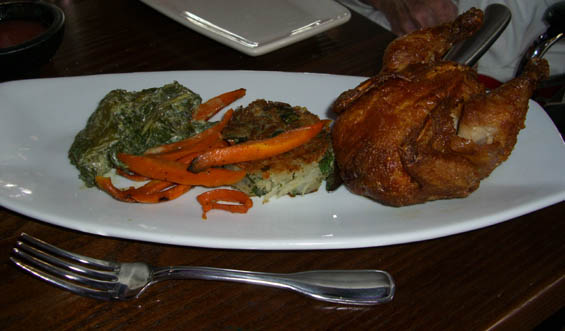 The "baseball sized" hen was accompanied by more of the potato pancakes and roasted carrots. We also received a serving of creamed spinach with out ordering it.
The hen was very well prepared. There is not a lot of meat on a bird this sized, but with the appetizers, it was enough for two of us to have a very small portion.
The potato pancakes were as described earlier and the carrots and spinach were both stone cold. We mentioned this to our server and were provided a hot version of both. The roasted carrots were quite good. Heat did nothing for the creamed spinach. Not being a connoisseur, I deferred my opinion to some one that loves creamed spinach. The verdict….this was not good creamed spinach regardless of the serving temperature.
We moved on to dessert…
The dessert selection at Paradiso 37 is eclectic. We chose the Churros ($5.99), the 4 Mini Ice Cream cones ($6.99) and the Popsicle of the Day (I'm not joking) ($2.99).
We decided to try the Churros to see if they were any different from the ones served inside the parks or at any street fair. They aren't. They are fried dough covered in cinnamon sugar and served with a caramel dipping sauce. What can I say? There were no surprises but they were delicious. Why reinvent the wheel. When you have a good thing, stick with it.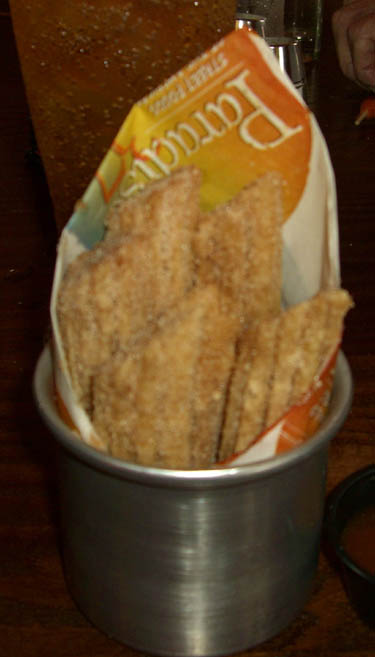 We ordered the Popsicle of the Day because it's such an unusual thing to see on a menu. That particular day there were 3 flavor choices. We chose strawberry. We received a small homemade popsicle in an aluminum cup. Again…no surprises, but tasty. I'm certain that it's not something I would make a point of ordering, but I'm sure it will appeal to some….especially kids.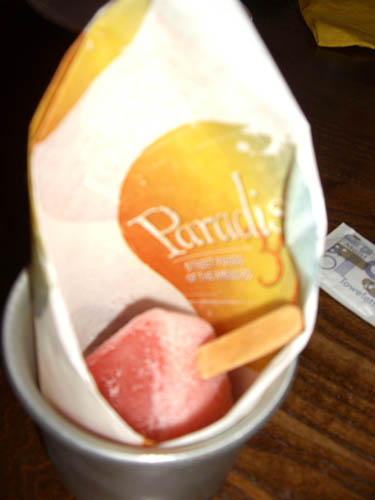 Our last choice was chosen due to it's being delivered to the table next to ours.
The four mini ice cream comes are freshly made waffle cones, filled with about a tablespoon of ice cream and dusted with sprinkles. As I've said previously, there were no surprises. They were small ice cream cones.
The intriguing thing about this dessert is the serving mechanism. These are served in four small Lucite cones with magnetic metal bottoms that attach to a metal square. There were 3 adults playing with this contraption. The kids at the next table were fascinated.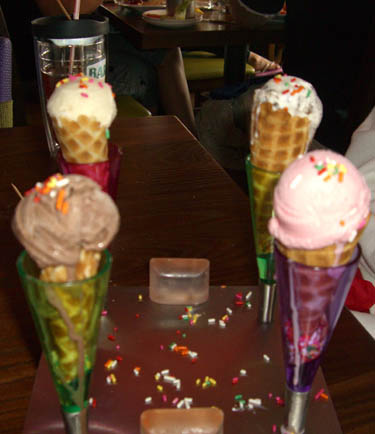 Lunch for the three of us with three appetizers, two entrees, 3 desserts and an iced tea added up to $87 bucks and change.
The restaurant does not accept the dining plan or the Tables in Wonderland card. ADRS are accepted.
I would go back to Paradiso 37. Next time, we'd skip the entrees and focus on making a meal out of the appetizers and "street food" selections.
I think this restaurant will prove to be popular. I think it fills a void not only in it's location but in the offerings and atmosphere. I think it will appeal to a lot of people.
I can also imagine that this place will become more "bar like" as the evening progresses.
As always….this is my opinion. You should go and form your own.
Enjoy!
Category: Dining, Disney World