10 years ago, the Muddy Buddy Series was founded by Bob Babbitt with two men and a horse (sounds like a sitcom).  Bob quickly realized he needed to lose the 2,000 pound animal with a mind of its own, and reformulate the event.  The horse was replaced with a mountain bike, and in 1999 the Muddy Buddy was born.  The race beneficiary is the Challenged Athlete's Foundation (CAF), a charity founded by Bob Babbitt and his friends to assist a below-knee-amputee endurance racer after he suffered a second accident that left him quadriplegic.  Because insurance companies consider sports a luxury item, they will not fund any equipment used to compete such as a running leg, cycling leg, or a racing handcycle.  The mission of CAF is to ensure that anyone with physical challenges has the same opportunities to participate in sports.  Read on to find out more details of the Muddy Buddy from our firsthand experience…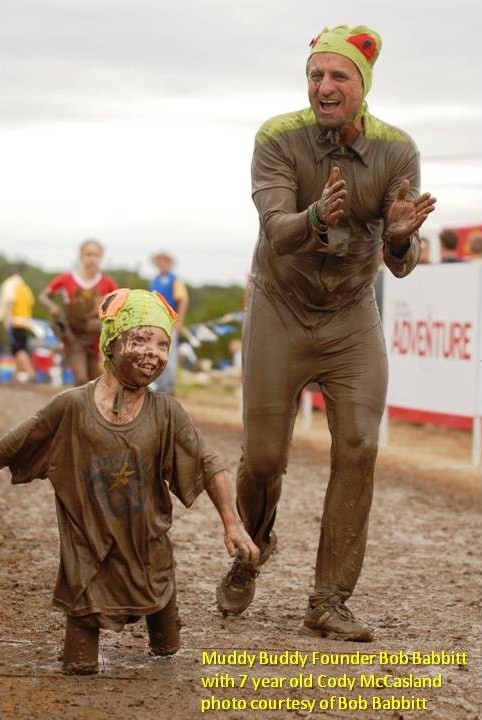 The race travels around the country like a rock band on tour.  On Saturday, May 9th, the race stopped in Orlando for their largest event of the series.  Bob described the race as follows, "There are a lot of serious events out there, and this isn't one of them."  The event works with teams of two partners or buddies.  One person starts on the bike, and the other person starts running.  Each person goes along the same course about a mile to an obstacle.  At that point, the biker drops the bike, completes the obstacle, and starts running.  Once the runner reaches the obstacle, it's their turn to complete the obstacle, grab the bike, and pass your running buddy along the course to the next obstacle.  You take turns with your partner running and riding "leapfrogging" each other along the course. [That's why Bob wears the frog costume during the race.]
The DIS Unplugged had three teams participating in the Muddy Buddy, and turned it into a fund raiser for Give Kids the World (GKTW).  The incredibly generous DIS community fully supported us, and contributed nearly $4,000 to our cause.  The community stepped up and did their part, now it was time for us to step up and do ours.
Saturday, May 9th, I picked up my teammate Aaron DelPrince (aka ADP) at 5:00am at Kidani Village.  We drove to the Wide World of Sports, and parked our car right across from Chris Walthers (aka CrazyDisneyMan) – who was waiting for his teammate Todd Carrier (aka jeanigor) to arrive.  We all picked up our registration packets, geared up with numbers on chest, bike, and helmet, and discussed strategy for the race.  Chris mentioned this was his first running race and described the butterflies in his stomach.  He and Aaron shared similar goals of finishing the race without getting totally drenched in mud (but yet both wanting to douse others in mud).  Todd showed up sporting matching lime green helmet and shirt, but was strangely quiet before the race.  At first I thought he was "getting his game face on", until he confided to us that it was simply too early in the morning.  Finally, Paul Lunny (Launchpad 11B) and Don Puckett (dpuck1998) arrived, and we were ready to get in the starting corrals.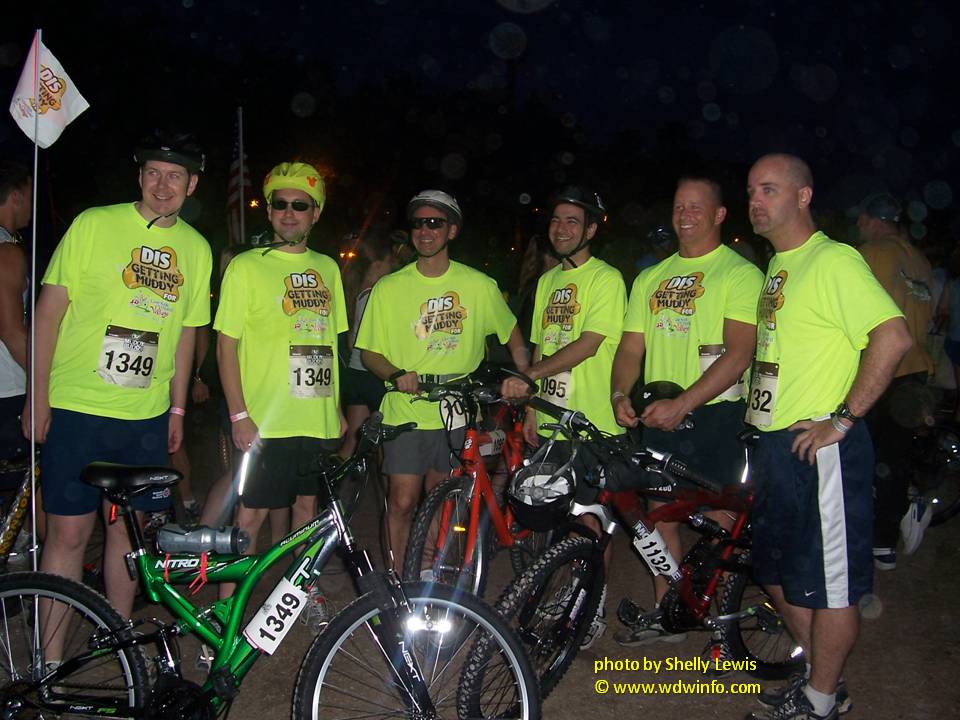 We were assigned specific starting places based on the combined age of our teams or in Paul and Don's case their combined weight (they were in the Team Beast category with a combined weight over 400 lbs).  Paul/Don lined up in Wave 1 (Paul running first, Don biking first); Chris/Todd lined up in Wave 2 (Todd running first, Chris biking first); Dave/Aaron lined up in Wave 4 (Dave running first, Aaron biking first).  The National Anthem was beautifully sung, and it was time to start.  We receive a countdown from 5 seconds, and Wave 1 started at 6:45am.  Bikers started first followed 60-90 seconds later by the runners.  Aaron and I waited another 20 minutes or so for Wave 4 to start.  Aaron took off on the bike, and one minute later I started with the runners.  This was it, we were finally on the course.
The course wound through the WWoS parking lot, and I quickly heard someone yell "Go Dave!"  I turned to see Alicia Lunny (Paul's wife) just pulling into the parking lot.  She was part of a large group of DISers that came out in the early morning to cheer us on.  Alicia brought a sign all the way from Albany, NY for us.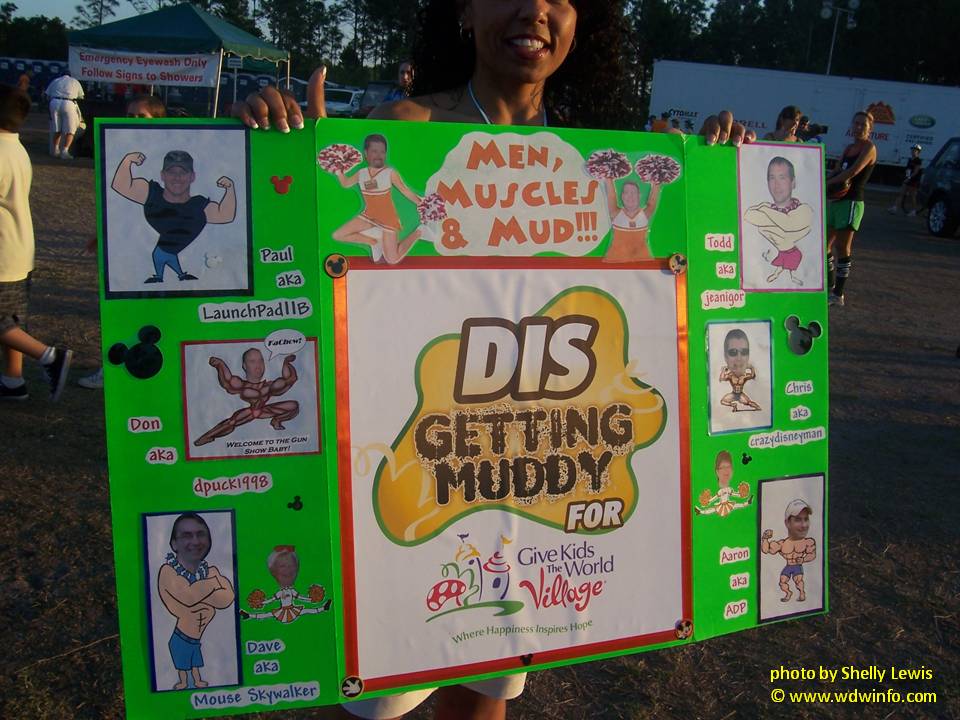 When you looked up, you saw a long train of runners streaming out ahead.  Even farther ahead in the distance you could see the bikers leading the way.  I saw a glimpse of fluorescent green on a bike, and I thought that's my teammate Aaron.  Approximately 1.5 miles ahead was the first obstacle, the climbing wall; I threw my body against the wall.  Oooofffff, scrambled up the wall, threw my legs over the other side, climbed down the cargo net, I was through.  Now to run to find the bike, BOOM, right down on the ground, feet tangled in the cargo net… graceful…
When it was time for me to bike, there was a huge jumble of bikes scattered about.  Aaron and I decided previously to park our bike on the left side.  This was key – if you really wanted to compete in this race for a good time you needed a strategy for exchanging the bike.  You saw a lot of people losing time searching for their bikes.  I spied the bright orange bike we used (the only orange bike out there), and ran right toward it.  I passed lots of people searching around for their bikes.
You rode along grass and dirt trails around the Wide World of Sports (WWoS) Complex.  At this point I realized how dusty the trail was.  I choked on dust and could taste the grit in my teeth.  I approached my teammate Aaron running, gave him a pat on the back, asked how he was doing, and continued on.
The next obstacle came up pretty quickly.  I biked over to the left, and parkd the bike against a chain link fence.  This was my favorite obstacle of the race.  We climbed 25 feet up a cargo net, and slid down the other side.  I gave out a big WHOO HOOO as I slid down the other side.  SPLASH!  The bottom of the slide was incredibly wet, my shoes were now wet and squishy…  I now ran with squishy shoes, squish, squash, squish, squash…  I kept looking for fluorescent green shirts, I saw one ahead of me and made it my goal to catch up.  When I catch up, I find out Todd and we ran together.  It was great to have a partner now.  We ran and walked, chatting the whole time getting to know each other better.  This made the mile fly by.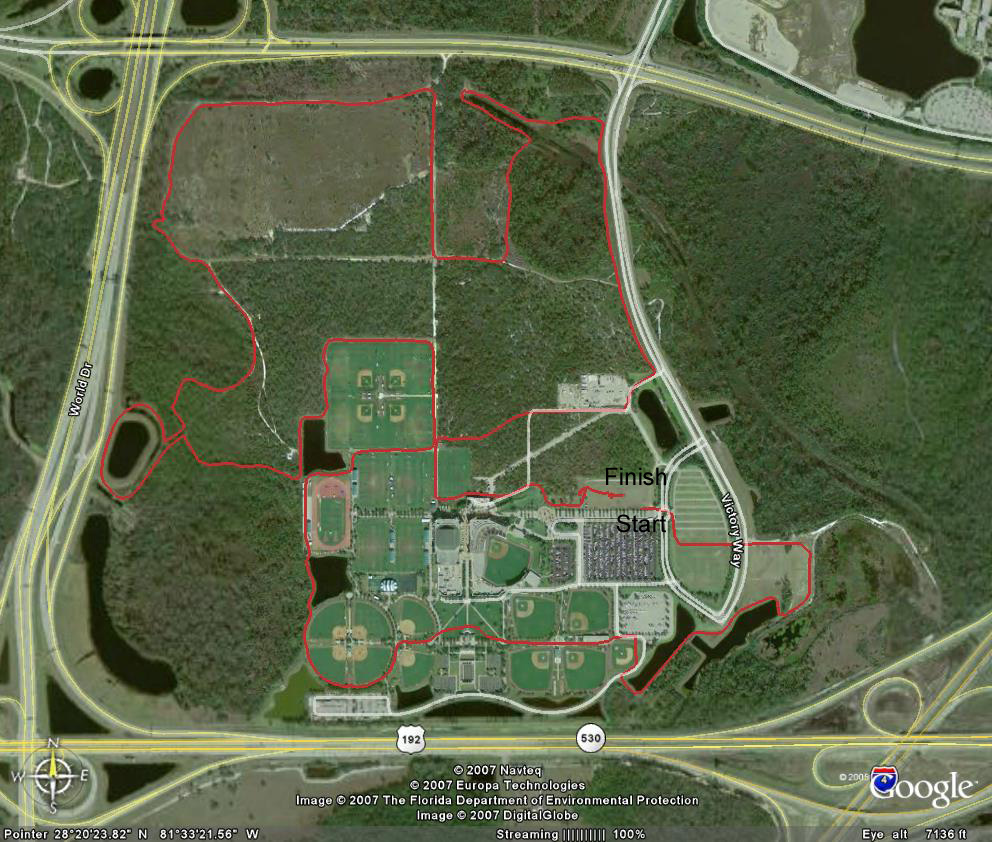 It was time for the 3rd obstacle, the balance beam.  This was the toughest obstacle for me, long, parallel beams.  I staggered a little, straddled both beams, got my balance, and made it over the beam.  Todd took off on his bike.  Aaron hasn't arrived yet with the bike so I waited.  Aaron showed up pretty soon, we handed off the bike, I started riding, Aaron took off over the balance beam.  I passed Todd on the bike, he was struggling with his seat adjustment.  We biked along, on sandy trails through pine trees.  This was the only difficult part of the biking.  The sand was so heavy and slow to bike through.  It made your quads burn.  I took it easy on the bike.  I wasn't out to compete for a fast time in this race; that was not the goal – I was participating, taking it all in, and raising money for GKTW.  Anyhow, I knew the biker needed to wait for the runner at the final obstacle, the mud pit, so I used my time on the bike to rest/relax.
I arrived at the 4th obstacle and parked my bike over to the left; Chris was waiting at the exchange for Todd to arrive.  This was a good opportunity to use the port-a-john bathroom.  Todd arrived on the bike.  He'd been having trouble with their bike seat, and was glad to get off.  Todd and I headed off together and crawled under the cargo net obstacle – good prep for the mud pit.  Todd was one fast crawler that's for sure.
Todd and I stuck together for the last running leg.  We were feeling good.  We wound our way past around the WWoS.  We started to see the crowds of people.  Cars were parked on the median of the road before you turned in to WWoS.  The parking lots were totally full and no more cars could enter the complex.  We neared the baseball fields of WWoS again, and you could smell the rich, earthy mud of the mud pit.  We passed runners coming in the opposite direction at the beginning of their race.  We started in Wave 4, but there were 17 starting Waves all together.
We made a left to go up the stairs of the WWoS complex.  Todd said to me, "I'm not doing a Rocky moment."  I agreed and we walked up the stairs.  Ran down the path, saw the bike drop off area and our partners.  Chris was waiting for Todd, and Aaron was there waiting for me.  We heard cheers from the crowd.  There was a big section of DISer's waiting for us to finish.  They were holding up their signs and cheering.  We ran over, slap some high fives, and it was time for the mud.
We climbed under a cargo net, and submerged into the ooozey mud.  Our friends were yelling, "on your bellies, on your bellies!"  I complied, and started crawling along in the mud.  I gave a splash to Todd and tried to push Chris down.  At that point we realized Aaron took off speeding through the mud.  We all tried to catch Aaron to make sure he got his full dose of mud, but it was too late.  We couldn't catch him.  We were out of the mud pit and across the finish line.  We had done it.
Again, for me, this race was not as much about competing to win as it was about friendship and comradery.  I made some great new friends in my five muddy teammates.  This was also about raising money for GKTW.  Of which the DIS community came out in full force.  We raised nearly $4,000 for GKTW, supported a good cause, made new friends, and had a great time.  I'll be back next year for sure.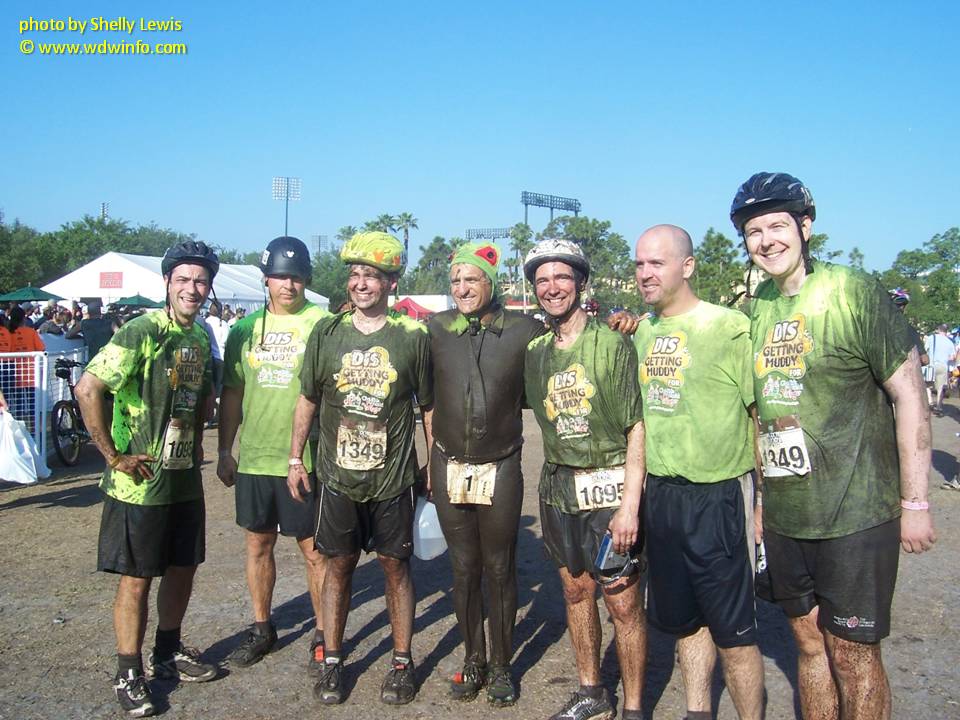 Category: Disney World