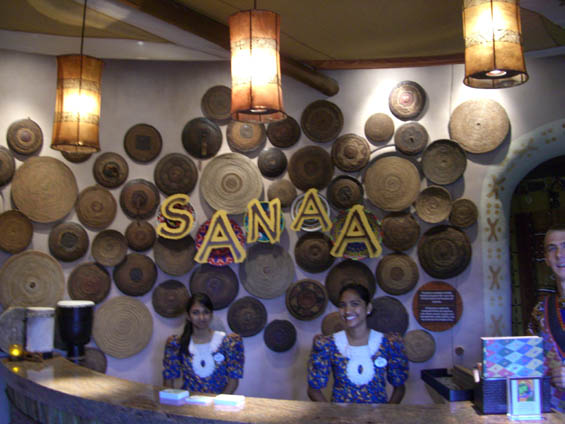 Disney's Animal Kingdom Lodge has recently expanded with the addition of Kidani Village. This is the new Disney Vacation Club property located just past the original part of Animal Kingdom Lodge.
On May 1st, Disney added their newest dining location with the opening of Sanaa. They describe this venue as "African cooking with Indian spices."
Sanaa is located on the lowest floor of Kidani Village's main building. It's a table service venue serving lunch from 11:30am – 3:00pm and dinner from 5:00pm to 9:00pm. The restaurant participates in the Disney dining plan (1 table service credit for lunch and dinner) and accepts the Tables in Wonderland dining card.
In my opinion, Sanaa draws comparisons to both Jiko and Boma. The physical space is reminiscent of Boma but with the elegance of Jiko.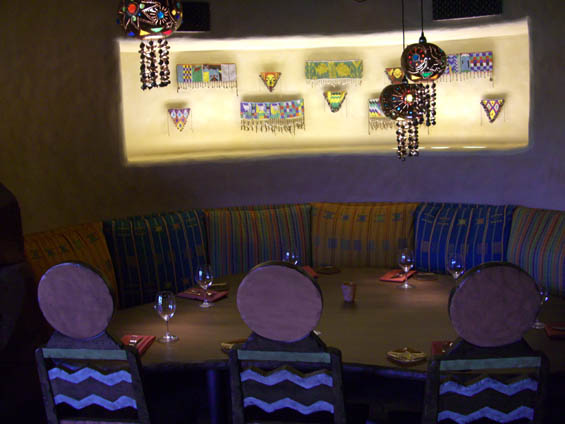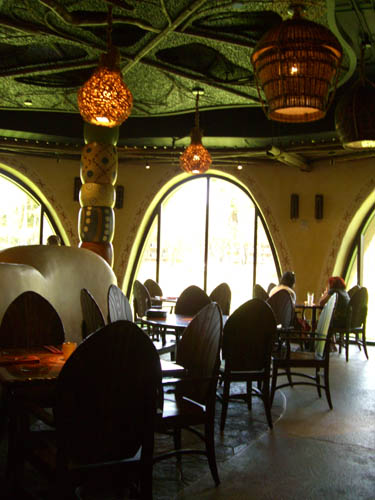 Before I discuss the food….
I have to tell you the main difference between Sanaa and any of the other Animal Kingdom eateries and that would be ANIMALS.
It seems that the Disney restaurant folks have finally realized that the folks coming to Animal Kingdom Lodge are looking to see the animals and Sanaa delivers
The restaurant overlooks a huge savannah and during our recent lunch, zebras, giraffes, wildebeests and ostriches all grazed outside the many floor to ceiling windows. It's a terrific sight and I have to applaud Disney for the beautiful setting.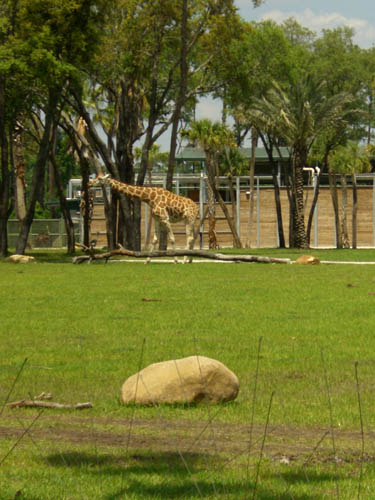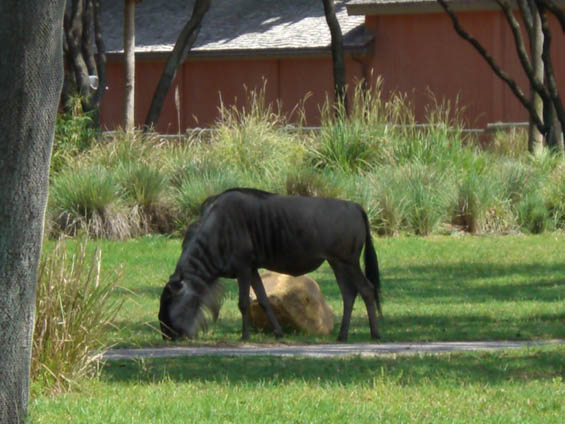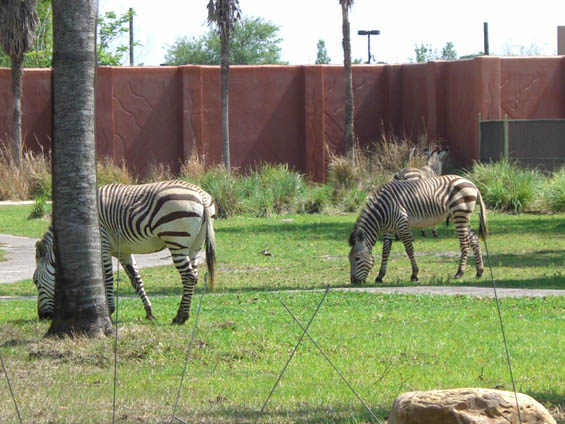 On to the food….
I will admit right up front that my experience with African inspired food pretty much starts and ends with Boma and Jiko.
I believe it will take more than one visit for me to really come to appreciate the menu at Sanaa.
The menu is divided into 8 sections which are; Indian-style Bread Service, Appetizers, Salad Sampler, Soups, From the Tandoor Ovens, "Slow Cooked in Gravy-Simple and Well Seasoned", African Cooking with Indian Flavors and Sides.
I have heard Sanaa described as being a "family style" restaurant and I feel that's a bit misleading. "Family style" conjures images of the Whispering Canyon Café or Ohana…where bowls, skillets or platters of food are served for communal sharing. While this can be done at Sanaa (or any restaurant for that matter) I don't believe that's the focus of the venue.
We started our dining adventure with the Indian-style Bread service. There are 4 choices of bread and 8 accompaniments. You get to choose 3 of each. The cost is $8.99 and it's listed as serving two.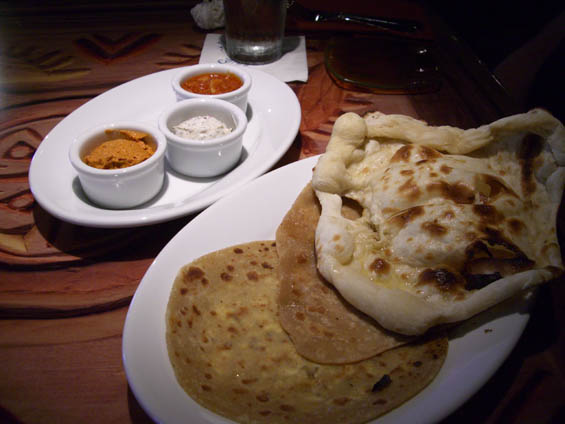 We chose Naan (a traditional bread cooked in the Tandoor oven), Paratha and Paneer Paratha. (Paneer is a cheese that shows up throughout the menu…more on that later) and for our accompaniments, we chose Mint and Onion Raita, Garlic-Ginger Pickle and Roasted Red Bell Pepper Hummus.
The breads were served very warm and were quite tasty. The Naan was our favorite of the three. It was explained that two of the accompaniments are quite spicy and that two are yogurt based. Our server suggested that if we chose one of the spicier ones, that we also chose one of the yogurt based offerings.
The Garlic-Ginger Pickle was by far the spiciest of the three, followed closely by the Mint and Onion Raita. Both of these "spreads" were too highly spiced for us. Neither left us wanting more. It might be an uneducated palate, but we didn't care for these. The Red Bell Pepper Hummus was very good and went nicely with all three bread choices.
The Appetizer section is made up of 4 selections which are Paneer Cheese at $6.99 (there it is again), Lamb Kefta at $8.99, Roasted Cauliflower at $5.49 and Potato and Pea Samosas at 7.99. There is also an Appetizer sampler for two at $14.99. It consists of two Potato and Pea Samosas, two Lamb Kefta Balls and a small serving of Roasted Cauliflower.
We tried the sampler for two. The Lamb Kefta is spiced lamb balls in a sweet tamarind and dried papaya sauce. Each ball was about the size of a ping pong ball. I'm glad I got to try it, but it's not a flavor I would go back to. The Potato and Pea Samosas were on a bed of mango chutney. These are small turnovers filled with potato and peas……again….not something I'd rush back for. The Roasted Cauliflower on tomato sauce was quite good and the easy favorite of the three.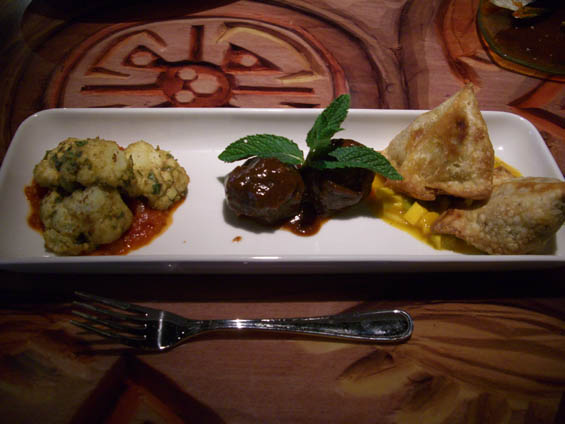 We tried one of the two offered soups. We opted for the Tomato and Paneer Cheese soup ($5.49). The other soup changes seasonally but the tomato soup is a permanent fixture on the menu. The soup itself was a deep dark red color with a hearty tomato flavor. I'm not sure at this point if the soup was under spiced or our taste buds were overwhelmed by the other flavors and by comparison this just seemed bland.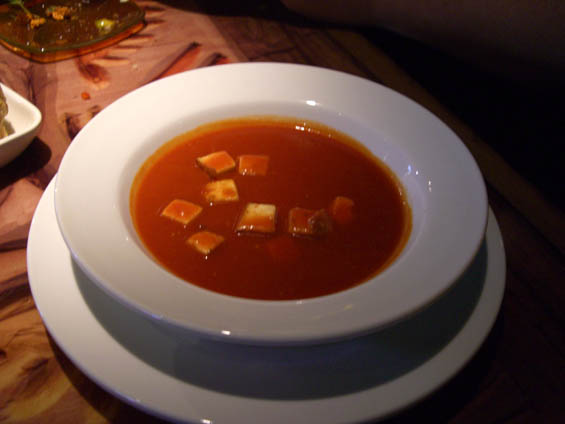 Let's stop here for a moment and talk about Paneer Cheese. It seems to be a staple and is found in almost all sections of the menu. Our server described it as "cheese that just won't melt. You can fry it and it keeps its shape." Listening to another server describe it to another table…"it has the taste and texture of tofu….but it's weird. It just doesn't melt."
Paneer seems to be a very mild cheese with a texture very similar to tofu. It doesn't seem to add a great deal of flavor and the description is apt. It doesn't melt.
After the soup, we tried the Salad Sampler ($6.99). The five salad choices are Roasted Beets, Okra Radish and Tomato, Chick Peas with Cucumbers and Tomato, Carrot Orange and Mint and Roasted Potato with Corn and Spinach. You get to choose 3 of the 5 and they are served in three small square dishes on a larger, rectangular dish.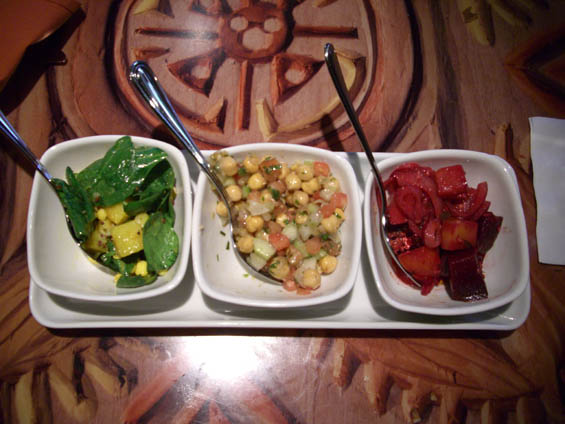 Of the things we had been served thus far, this was by far the favorite. We chose the Roasted Beets, Chick Peas and Roasted Potato. All three choices were cool and refreshing. I would equate this to ordering a dinner salad and as I looked about the room, it seemed to be a very popular choice.
After this, we were finally on to our entrees. Both of us made choices from the "Slow Cooked in Gravy, Simple and Well Seasoned" section of the menu ($18.99). Again, there are 4 choices and you are to pick two. (Do you see a pattern here?)
The four choices are Chicken with Red Curry Sauce, Shrimp with Green Curry Sauce, Paneer Cheese with Spinach and Short Ribs. I picked the chicken and shrimp and John picked the short ribs and cheese/spinach dish.
Again, these entrees are served in three small square bowls on a larger rectangular plate. The middle bowl is filled with your choice of Basmati Rice or 5 Grain Pilaf.
As we ordered, I asked if the curry was very spicy and was told no…but that it could be should I want it that way. I ordered it as it was.
When our food was delivered, our server said to John…. "These foods are slow roasted for three hours. If you don't like the cheese and spinach…let me know."
Even though this was opening day for this restaurant, they had served invited guests and Cast members prior to opening. I imagine that there may have been some negative comments about this component on the entrée.
We tried all four dishes and quickly decided that the spinach and cheese dish was really not to our liking. We set it off to the side of the table and as our server walked by….without missing a beat asked "what would you rather have" and whisked the cheese thing away. John chose to add the shrimp.
The Chicken in red curry was shredded white meat chicken in a mild red sauce. The curry flavor was extremely mild. The Shrimp were in a coconut based, mild curry sauce and the short ribs were braised in a brown gravy with a subtly sweet flavor. All three went well with the rice.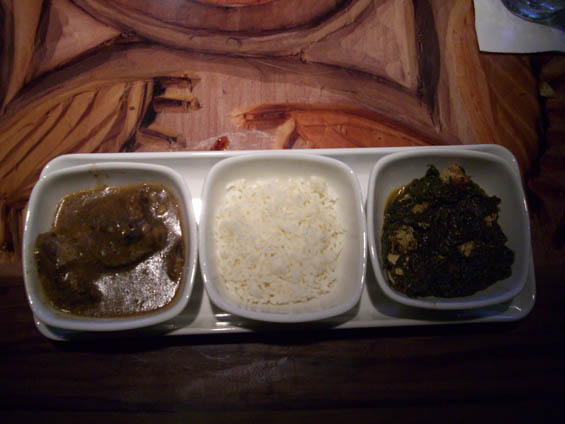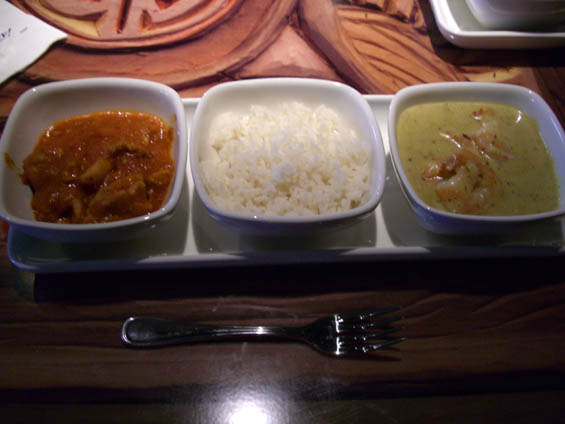 After our lunch, we were presented with a dessert menu. Nothing at all looked or sounded appealing. Our server suggested that the most popular item so far was the Chai Cream ($5.49). It was described as being "like crème brulee without the brulee". It tasted like milky tea pudding and whipped cream. The vast majority was left sitting in the glass coffee mug it was served in.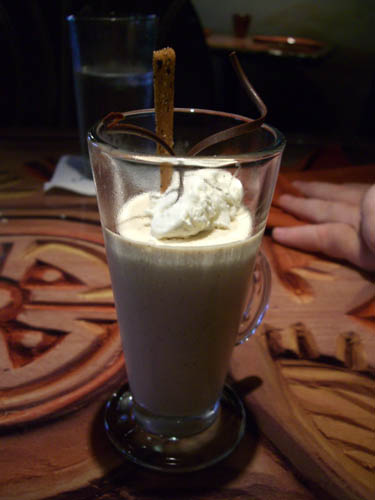 Lunch for two with one iced tea was $87.00. As we wanted to sample as many things as possible, we over ordered. It would be very easy to bring lunch down to the $60 dollar range for two. That being said…..with everything we ordered, we left comfortably full but not stuffed. These are not huge portions.
In my opinion, Sanaa offers very little for the less adventurous diner. During lunch there is a grilled Pork Chop ($17.99), Today's Sustainable Fish ($18.99), Dum Biryani (a vegetarian dish for $13.99), a grilled Angus Chuck Burger ($10.99) and a club sandwich ($10.99). There are also two Tandori sandwiches….a chicken sandwich ($14.99) and a Sustainable Fish sandwich ($18.99).
I think families with picky eaters or the "meat and potato" folks might have a hard time making selections from this menu. This is some of Disney's most "exotic" fare and it might not appeal to everyone.
I also think Disney might have a hard time keeping this table service restaurant busy at lunch. I don't know this for a fact….it's just an observation.
I believe it would take more than one visit for me to come to appreciate the menu at Sanaa….I'm willing to go back for a chance to sit in that wonderful atmosphere and watch the animals graze.
Category: Dining, Disney World