"Yamabuki, huh?"
That was a question most people had when you told them about their fine dining options at Disneyland.  I always knew it existed – even wanted to try it, but just never had the chance to go. It was something on my Disneyland To-Do List. After all, it wasn't right in front of you, like the other dining locations – it was off in the Paradise Pier Hotel.  And then, I found out that they were closing their doors for good……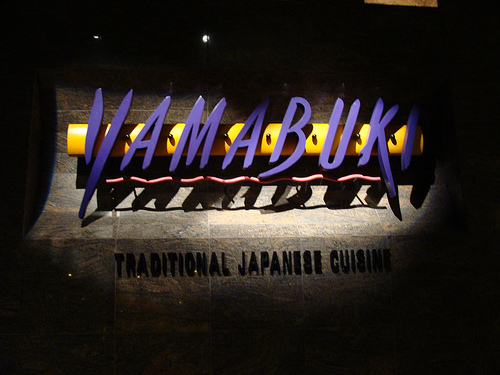 Dave Parfitt emailed and said he was going to be in town on a Wednesday night to hang out at Disneyland and have dinner – after all, what self-respecting Special Correspondent wouldn't grab that opportunity?  The timing was right and I decided it was now or never – we were going to Yamabuki!  I immediately got on the phone and made arrangements with the rest of the team here.  After a rousing trip through California Adventure, I showed Dave how to get to the Paradise Pier Hotel by using the shortcut through the Grand Californian's lobby and out the front door path.  As we got to the hotel, we were met by Tony and off we went to try to find the restaurant.  You would have laughed to see us – we all looked at the hotel map and couldn't find it!!!!  We finally asked directions and the entrance to it was outside and to the left of the main hotel entrance – hidden in the midst of an ivy-covered wall!  Goodness – I've been in that hotel a bunch of times and even to the door and I couldn't find it!  All we could say well "Well, that's maybe one reason it's closing…."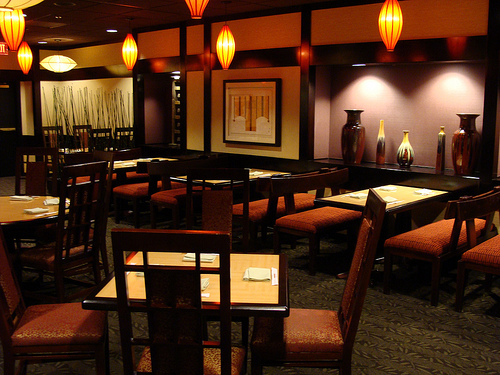 We went in and were greeted warmly by the hostess and taken to a rear dining room that had about 5 tables filled.  It was late – around 8pm on a weeknight, so it seems understandable that only a couple families were there.  This was actually the first time we had gotten to meet Dave in person, so dinner was all about food and friendship. We had a hard time deciding what to order, and settled on an appetizer of scallops on the half shell broiled with a meyer lemon mayonnaise, an order of vegetable tempura, 2 sushi rolls (striped – with tuna on top, and one with tempura shrimp), the filet with Japanese Ratatouille and orange and soy essence and the citrus marinated black cod with pickled red onion and Japanese cucumber and daikon salad.
We started dinner and conversation.  Each item of both was better than the last.  The scallops were a nice start.  They were firm and the lemon complimented the traditional broiled sushi mayo sauce.  The Tempure was crisp and very light and the squash was one of the highlights. The sushi rolls were good, and the boys had to comment on the value of their size.  The entrees, however, were amazing. The conversation pretty much halted at this point, as we focused on the task at hand… The filet was served sliced thin, with a light flavorful sauce.  It practically melted in our mouths, as we ate. The marinade must have had a touch of miso – even Tony – who is NOT A FISH LOVER – tried it and liked it.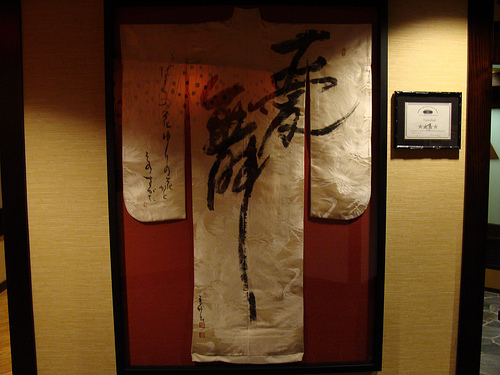 We decided to start recording as we turned to order our dessert. The descriptions of the food and the conversation about the restaurant starts flowing….  and, it occurred to us what we had done!  We violated every code in the food reviewers book – we never photographed a single morsel!!!! Oh yeah – we also told the staff we were reviewing them for a show, too.  We justified these crimes by saying that by the time our segment aired, no one would be able to eat it anyway, so off we continued.  The Tropical orange chocolate decadence (cake) with coconut sorbet and passion fruit sauce, the green tea mochis, it all fulfilled us.  Dave and Tony, who had never eaten a mochi, had a bit of fun, in a childish-wonderment sort of way, too.
They staff knew we were honoring them and came and spoke freely with us about their fears and hopes about remaining with Disney.  They knew it wouldn't be possible for many of them, but their service and charm was not diminished by their situation in any way.  We were all touched and impressed by their poise, demeanor, and commitment to quality service, despite their days being numbered.  As we finished our meal and recording, we reflected on this and our sorrow and how our inaction might have contributed to the demise of this fine establishment.  We pondered on the reasons why this happened and thought about the future of this space. We thought about how much of a shame it was that this dining concept would have been the toast of a Walt Disney World resort, yet it was so lost here in Disneyland.  We also hoped that Disney will learn from the mistakes it made here and take great care when it designs a new venue for this space.
Yamabuki and your staff,
At the end of our meal, we three correspondents raised our glasses to you and toasted your dedication and service to your culinary arts and your guests.  May you always be remembered in our hearts and stomachs.  We wish you all the best in your new ventures.
Sincerely,
Nancy, Tony, and Dave
October 9, 1997 – April 11, 2009
Category: Dining, Disneyland
Disneyland Podcaster for the DIS Unplugged