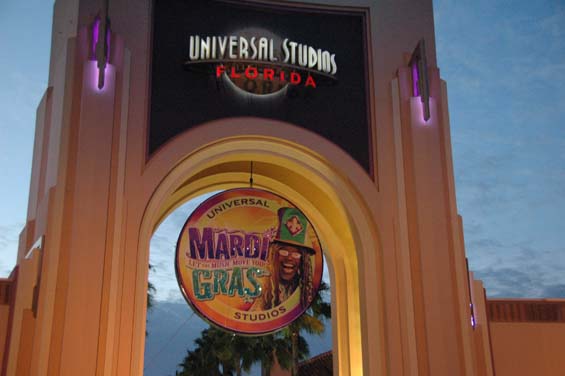 Pelting tourists in the head with plastic while dressed like the Maître d' at a VERY gay Chinese restaurant – that was my Saturday night at Universal this weekend – and it was AWESOME!
Mardi Gras at Universal Orlando is a tradition now – having been a fixture at the park for many years, a lot of locals (not to mention tourists) consider Mardi Gras a 'must do' event (this includes me!). I've often said that no one throws a party like Universal and Mardi Gras is a perfect example. From the street entertainers to the parade to the concerts – it's a good time. For our team, this year was special though – we got the chance to ride on one of the floats in the Mardi Gras parade!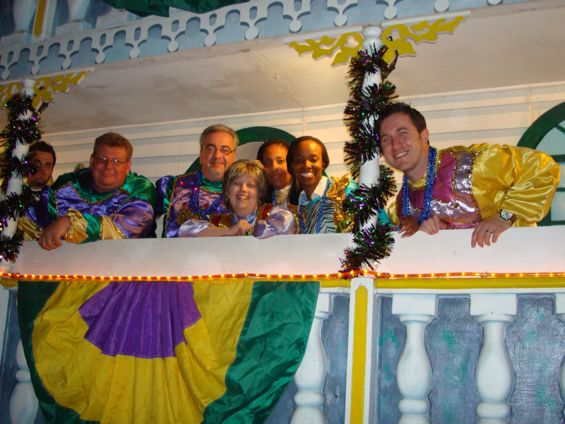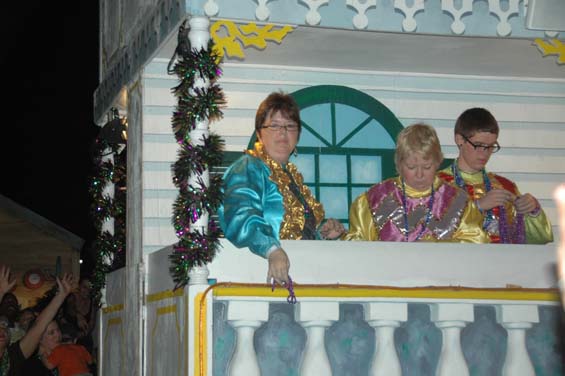 If you ever wanted to get a taste of what it was like to be a rock star – even if only for about 30 minutes – then this is about as close as you'll get. The DIS Unplugged team (myself, John Magi, Corey Martin, Walter Echols, Kathy Werling, Teresa Echols) along with Teresa's son Max, and my niece Melanie were chosen to ride this year, and to say we were excited about this would be an understatement. Teresa was positively giddy and John and I, while excited, were pretty sure we were going to tumble off the side of the float like two massive, multi-colored bowling balls.
After appetizers and drinks at Jimmy Buffett's Margaritaville, we headed over to the staging area inside Universal Studios to get ready. The staging area for float riders is out in front of Fear Factor Live where you sign waivers (saying you won't sue if you fall off the float) and are assigned your outfits for the evening. Racks and racks of satin and sequined frocks reminded me of being backstage at a drag show.
Before I go on, let me mention the floats – and how elaborate and incredibly well designed they are. Blaine Kern – the same company that designs floats for the Mardi Gras parade in New Orleans is responsible for the floats on display at Universal. This year's theme was "The Wonderful World of Literature" with floats representing Westerns, Mythology, Fantasy among others. The floats were simply dazzling.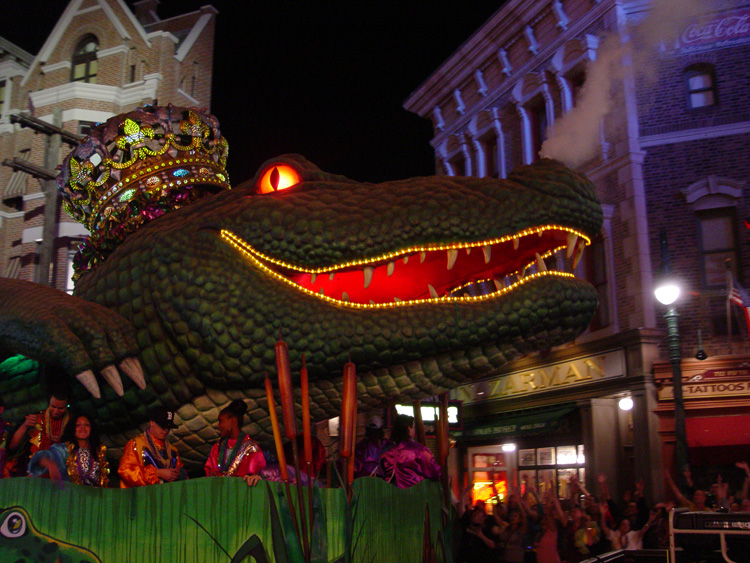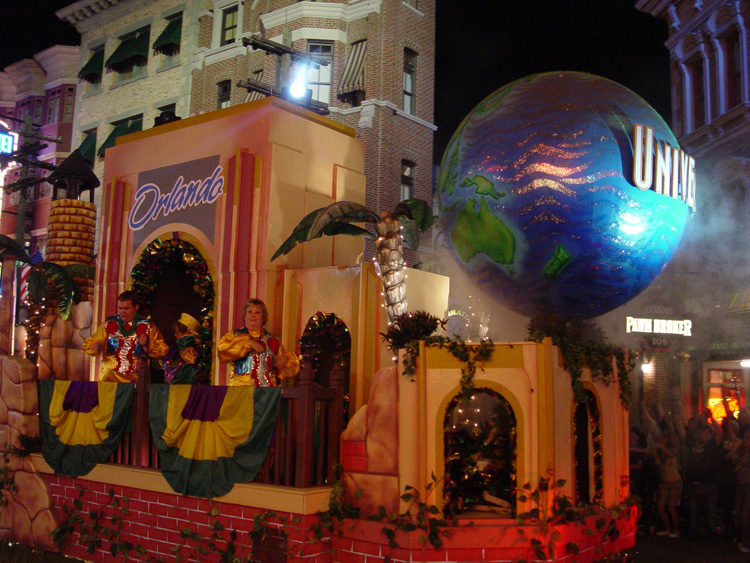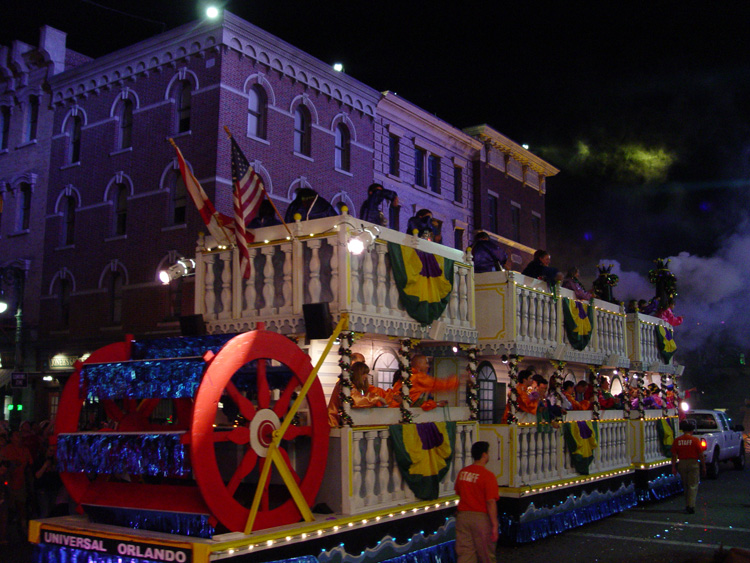 Okay, so once we get our costumes (mine actually lit up, all but assuring that I could be seen from space), it's backstage to get on our floats. We were instructed to throw the beads 'underhand', to try not drop them alongside the float (as kids will often run out and try to pick them up, risking getting run over), and most importantly – DON'T COME BACK WITH ANY EXTRA BEADS – throw them all out there. Once on the float, there were thousands upon thousands of strands of beads hanging on pegs in front of you. I took several bunches and put them over my left arm for easy access – then it was show time!
When I say the park was PACKED, I mean this place was jumpin! At virtually every point along the parade route, it was a veritable sea of people – yelling, jumping, screaming – even holding up their children in hopes of catching beads. It's hard to imagine people going so crazy over a strand of beads, but I swear they will throw their kids in front of a float if it means an extra strand.
About midway thru I started to realize that I hadn't considered what my shoulder might feel like after a half an hour of throwing beads as fast as you can. You'd figure with the way I shovel food into my mouth that my upper arms would be primed and ready for a night of bead throwing, but alas no. After a while, throwing underhand gave way to hurling the beads out as quickly as I could.  I just kept hearing our 'bead captain' (yes, that's what he's called) saying "DON'T BRING BACK ANY BEADS" (okay scary guy – got it – no beads).
I will admit that I did play favorites with who I threw beads to – I was partial to little kids and anyone in a wheelchair.  Also, anyone who made direct eye contact usually got beads (they looked so sad and desperate).  The ones I avoided were the obnoxious people jumping up and down and grabbing beads out of other peoples hands (are you listening WALTER).
Before we knew it, we were backstage again and just as quickly as it started, it was over. I have to admit, the experience was much more fun than I thought it was going to be – and something I would LOVE to be able to do again.  If you ever get a chance to do this, RUN don't walk!  It's a unique experience and a unique perspective on the parade.  Universal deserves high praise for how seamlessly and professionally they put this together.  They have this down to a science – especially when you consider that they recruit 250 'civilians' to do this for each parade – a process that must be akin to herding cats.
Mardi Gras takes place every Saturday night thru April 18th at Universal Orlando.  The concert follows the parade and upcoming acts include Barenaked Ladies and Kelley Clarkson (not exactly D-List entertainment). And (believe it or not) it's included with your park admission (no separate entry fee). If you get a chance, I highly recommend getting over to Universal to experience it – it's a great time!
(Video from last years parade)
httpvh://www.youtube.com/watch?v=HHEvsSL5YGY
Category: Universal Orlando