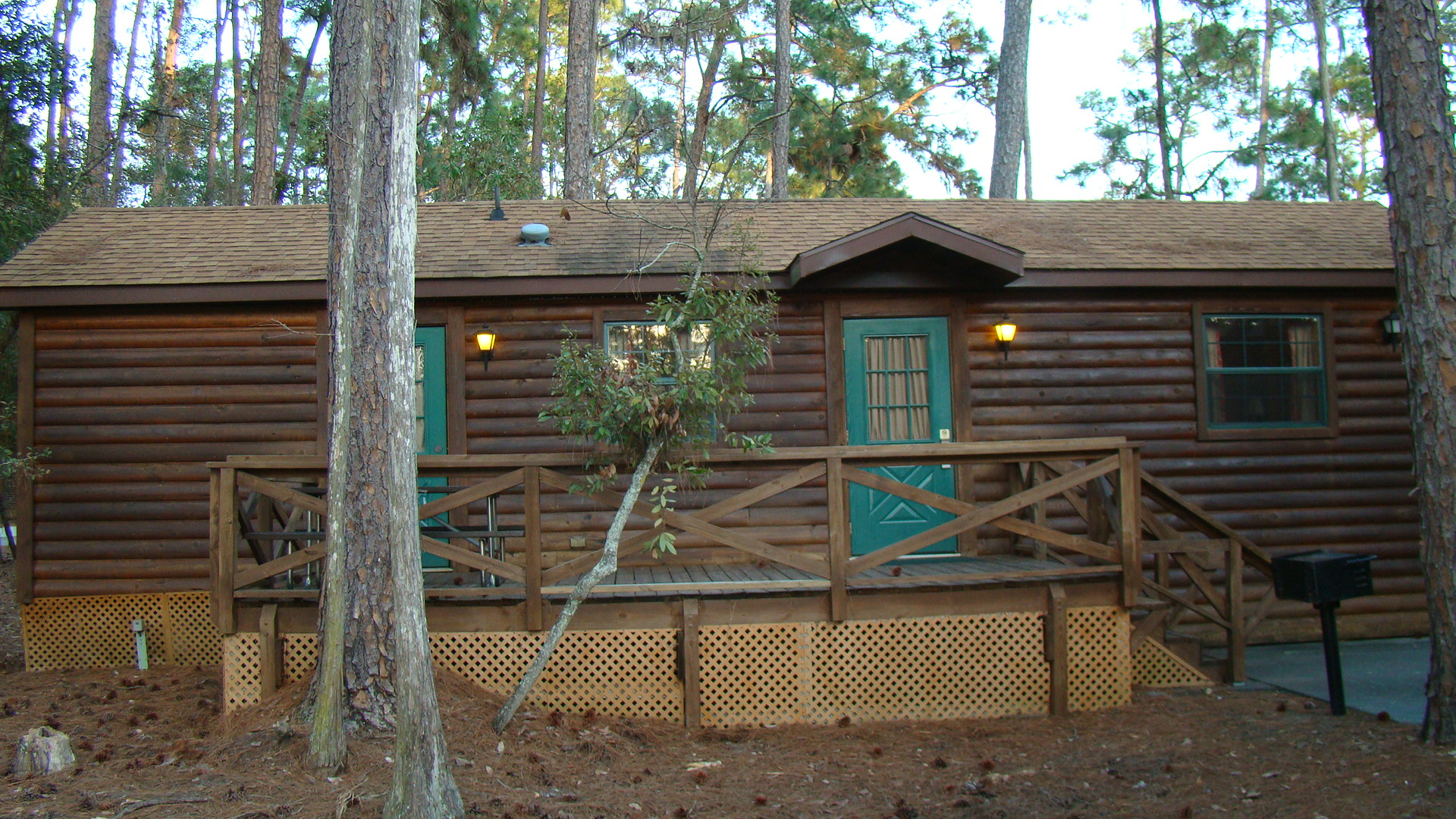 Well, roughing it as much as you can in a $300 a night cabin with heat, cable and comfortable beds.  Will, on the other hand, is the real 'frontiersman' of the group – braving the elements in a rented RV.
We're here at Fort Wilderness, and only I would have decided to do this on a week that is seeing some of the coldest temperatures in Orlando in the last decade.
This is my first time really staying at Ft. Wilderness.  I've been here before, but have never actually STAYED and had the experience.   For clarification, I'm not exactly the 'outdoorsy' type.   My definition of 'roughing it' usually means there's no turndown service and no valet.   But, here I find myself in Disney's version of the 'wilderness'.  Surrounded by trees, birds, log cabins and campers – LOTS AND LOTS of campers – and I'm not talking about the pop up kind either.  I'm talking big, honkin mansions on wheels.
If you want to know where all the millionaires are staying on Disney property – it's here.  I swear, some of these campers are more expensive then my house.  And – these people take this seriously.  Their campsites are decorated with everything from lights and Disney characters to shrubbery.  Yes, some people have brought SHRUBBERY with them on vacation.  Apparently, they must be expecting a run in with the Knights who say "Ni"
My first impression of Ft. Wilderness was "this place is huge", which was followed by the realization that "this place is FREAKIN huge".   More than 700 acres of land make up this resort.  By any measure, that's big.
As I mentioned, Walter and I are staying in a wilderness cabin, utilizing the current 7 for 4 package (7 nights for the price of 4).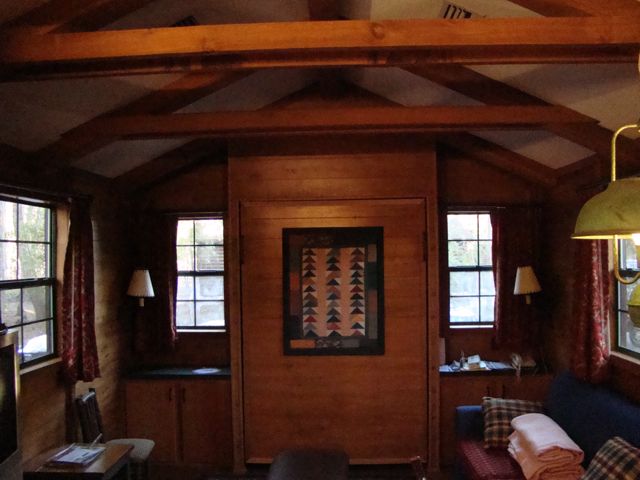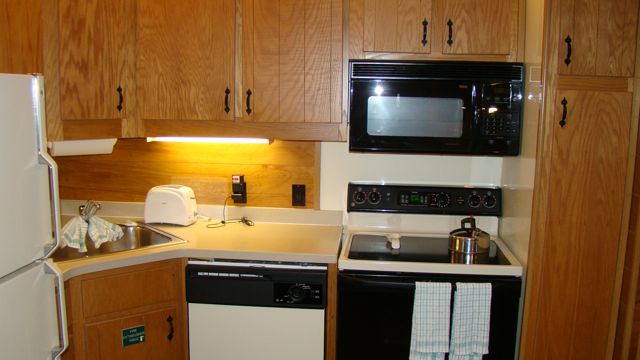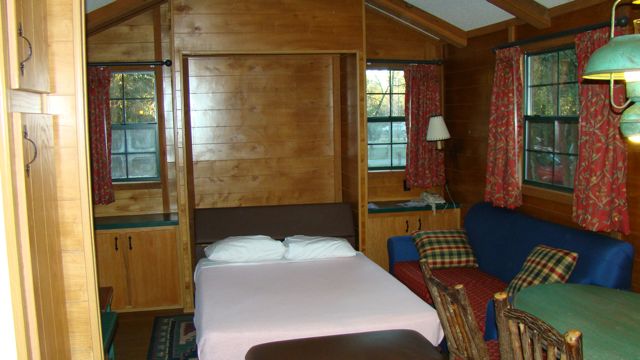 The cabin is about 500 sq. ft. and includes a kitchen, living room and separate bedroom.  The bedroom has a double bed and a bunk bed, and another double Murphy bed in the living room.  The cabin is comfortable, but I'm a little put off by the 'double bed' set up, given the cost of this cabin.  At an average rate of just under $300 per night – one would expect a decent size bed.  That being said, the beds are very comfortable, and the cabin does make a superb 'home away from home' – especially in this setting.
As I mentioned, the resort is pretty expansive and getting around it requires an electric cart.  You can't drive to places like Trails End (restaurant) or the Trading Post (groceries, supplies) with a car, so you have the option of walking (no), taking the internal bus system (which really isn't bad) or forking over $50 a day extra for use of an electric cart.  Of course, the aforementioned millionaires in mobile mansions have their own carts – no common cart rental for them ☺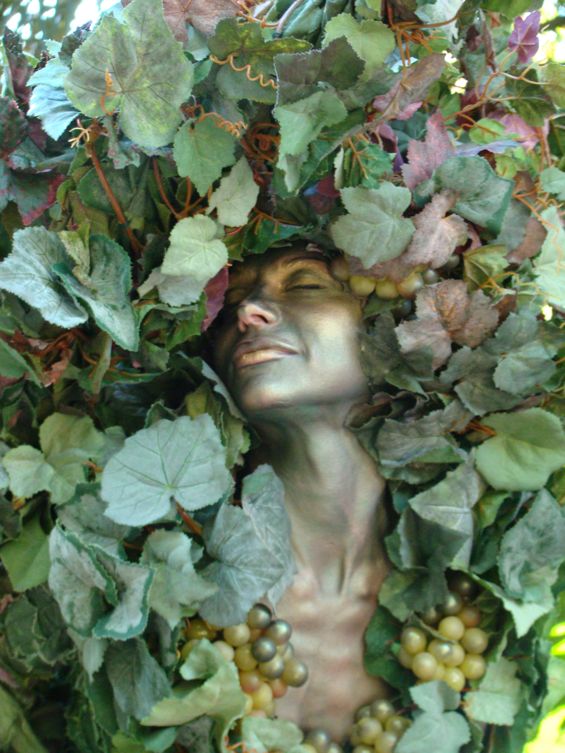 We were at Animal Kingdom yesterday and happened upon DiVine over in Africa.  This was Will's first encounter with DiVine.  You know the boy is lonely when he starts trying to hit on a tree.  We also had breakfast at Tusker House (fantastic) and lunch at Yak and Yeti (atrocious)  – but we'll have a full report on that in next weeks show!
Until then…
Category: Disney World