It's a gorgeous day here at the Ft. Wilderness campground (1/24/09), the first one of the trip that hasn't been uncomfortable due to weather.  I got up early this morning to see the sun rise through the trees again.  This place is just so beautiful is so many ways…..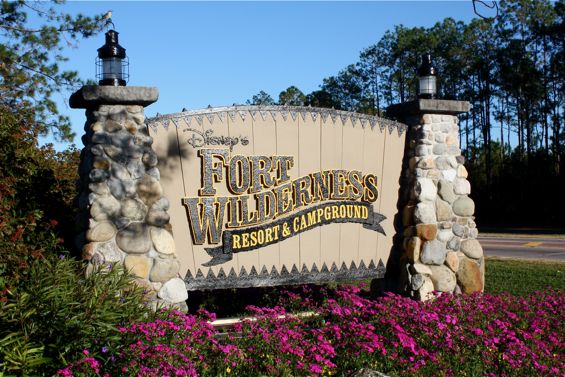 I've been here for 4 full days now and feel like I could stay for, well ever.  I am absolutely in love with this place.  The campground has a real community feeling to it.  People are so nice and with all the golf carts running around you're bound to make some new friends.  We just had breakfast at the Trading Post, which was a nice way to start off the day.  Actually ran into a listener of the show, so this was a nice surprise.  Hoping to get in some fishing in later on, and do some more exploring of the campground.  Seems a bit more crowded today than the beginning of the week.  I took a late night cruise on the golf cart last night (Friday) and there were all kinds of people out, even in the colder weather.  One thing I'm not particularly happy about is the fact that everything closes up at 10:00pm (Pools, Trading Post, Bar).  I made it down to the trading post at 10:05 and couldn't get anything to eat or drink.  I'm just thinking of all the campers that pull in here on a late night haul and have no where get food or supplies.  Now they have to get back out of the campsite to get anything.  I think they just figure people have all the things they would need, but I'd still like to see something stay open a bit later. You'd think there would be a little 24hr store, or at least stay open until 12am or something.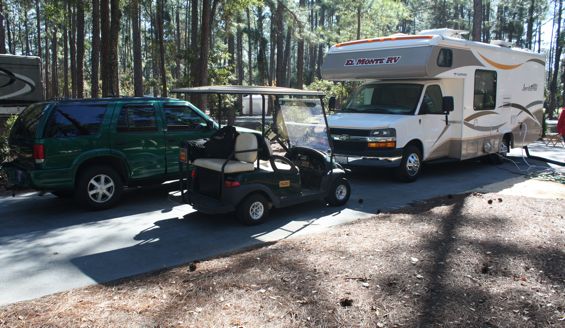 The campsite is great, plenty of room to set up chairs around the grill there is a picnic table, full hook-ups for the premium campsite include cable, power, and water.  You can pull your car in there and have room for a golf cart to!  Trash can and recycling bins are close to all the sites.
So far the experience here has been a really good one. I'm looking forward to some relaxing time by the lake today with my fishing pole in the water.  We are sitting one the beach of Bay Lake with our feet in the sand and the laptops fired up!  Should be another great day.  I'll keep ya'll updated.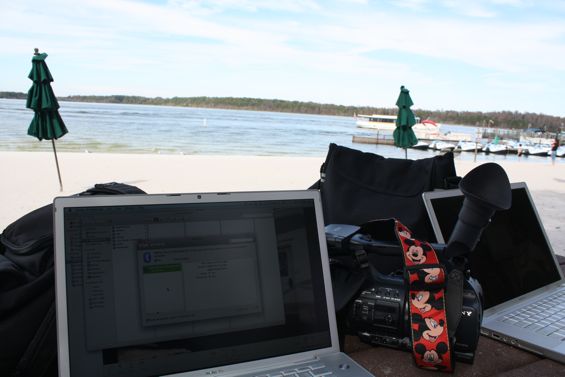 Category: Disney World