I was lucky enough to get a backstage preview of the American Idol attraction yesterday at Hollywood Studios at Walt Disney World.  A great DIS'er allowed me to tag along with him as he went through the experience.
David auditioned in the morning and made it through to the 4 PM performance. He sang "Walking in Memphis" to the cast member making the selections. He met with a producer of the show and was told to return around 2:50 PM to get ready for the show.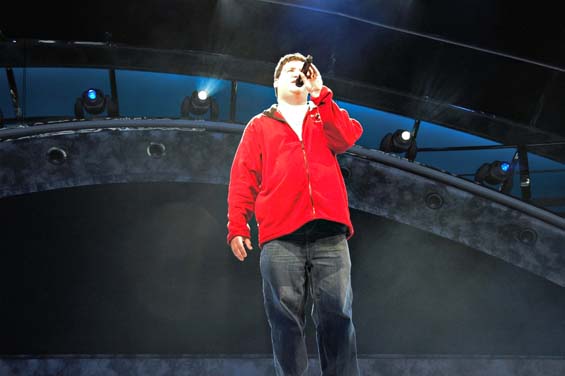 I met him outside of the American Idol attraction and we were walked into the "green room."  This is the room where the performers wait to visit hair and makeup, and the vocal coach before hitting the stage.  There was a table that had several iPods (which had over 100 songs) and headphones for the American Idol performers to practice their songs.  David mentioned there was only one possible key for each song which would limit your choices.  You could choose between listening with the lyrics or without them. It got loud for awhile when one of the performers was practicing.
Pretty soon it was David's turn in the makeup chair.  The American Idol cast members stressed they were going to put on a lot of makeup since they use high definition cameras onstage.  The performers are told they will have 10 minutes in each room and they really keep to that! All too quickly his time in the makeup chair was over.  I thought his makeup looked great and it wasn't heavy at all.  David headed next to the vocal coach and that's where I let him have alone time.  The American Idol coach offered some suggestions on how he could improve when he was onstage. The other two performers were waiting when we came out.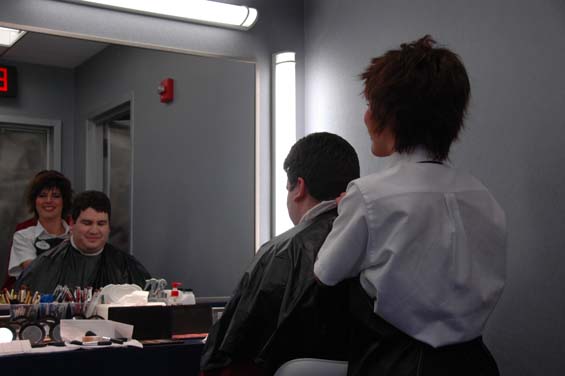 The Cast member escorted us out onto the stage and you really start to feel like you are in Hollywood waiting for your performer's debut.  The American Idol stage manager instructed the 3 of them where they would be standing and what would happen once the show started.  They were fitted with an auto pilot device that would allow the lights to follow them on stage. They all got the chance to practice singing on stage.  As they look into the audience there is a monitor with the words to their song in case they can't remember the lyrics.
I was lucky enough to sit down front and watch the performances.  Before we knew it they were letting the audience in.  They did have a big crowd, which they said was over 500 people.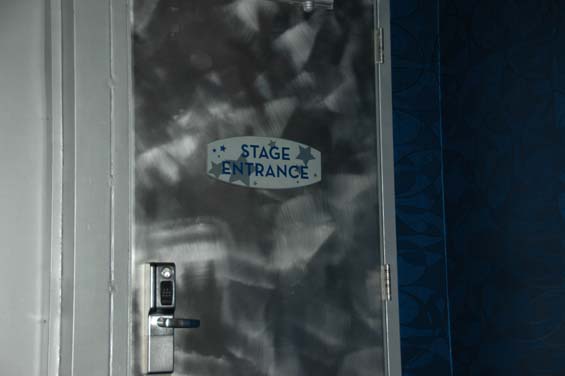 They have a cast member come out and warm up the audience.  He was also talking with them in the pre show area but I didn't see that since I was backstage.  He was pretty funny and had the audience on their feet doing different things.
Finally they started the show.  They introduced the host and they had Ryan Seacrest talk about American Idol. Then they pointed out where the families of the performers were sitting and talked with them a little bit.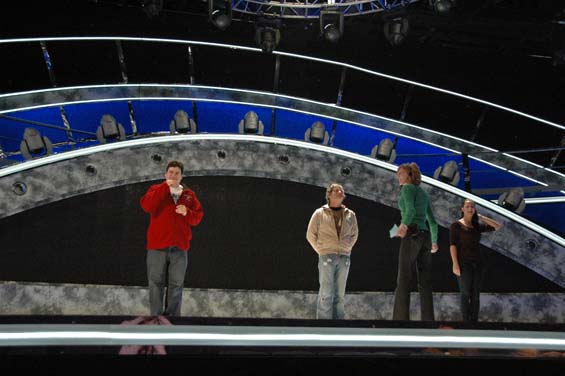 It was now time for David to perform.  I thought he was great and he didn't seem nervous at all.  I don't have pictures from the performance since you aren't allowed to take video or pictures. All too quickly he was done.  It was time for the judge's opinions.  During the rehearsal they encouraged you to be lively, to ham it up on stage. When David did that they commented he was moving around too much, and I wonder if they do that so they have something to comment on. They had two women and a man that seemed very knowledgeable and had their own personalities.  The gentleman was like Simon and he seemed to be very gruff.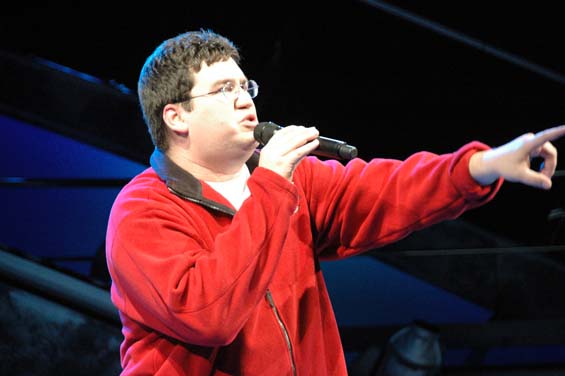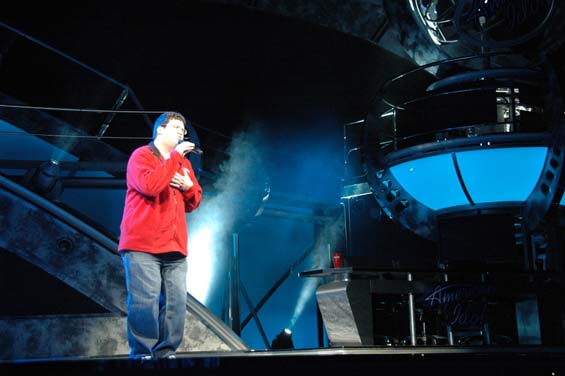 The next two performers had short little videos about themselves shown before they performed. Before David sang they asked him who his favorite American Idol was from last year and then they showed a little video from David Cook.
The other two performers were a couple so they joked about how they would handle it if one of them should win.  Personally, I thought David was the best but the audience didn't agree with me.  The lady performing from England won.  She had a video that played before she sang where the audience was chanting her name outside.  I wonder if that played a part in her winning?  Since this was in soft preview she didn't get the Dream ticket to go to the head of the line at an American Idol audition. All the ticket gets you is a guaranteed audition. It doesn't mean you will be in Hollywood meeting Randy, Paula, Simon for an audition.
My feelings have changed about the show since I saw it during the annual passholder previews.  Maybe this show can draw a crowd.  It is like I expected that this would take a very large chunk out of your day if you are here on vacation.  You audition in the morning and then you are told what show to be back for later in the day.  If you win that show then you are expected back for the 7 PM show where the final winner is determined.  I still wonder if they are going to get enough performers?  You can sign up on the web for limited audition times.
I am signed up for an annual passolder preview in February before the American Idol attraction at Walt Disney World officially opens.  I think I will have to visit several more times before I decide if this is a keeper for Hollywood Studios.  There was a lot I liked about it and noticed room for improvement in a few areas, but I guess only time will tell. Thanks again David for inviting me to share your day in the spotlight. Stay tuned!
David shared his thoughts with me this morning, "Leah and I decided the American Idol attraction is going to have a tough time finding its identity….is it (1) a real competition for serious singers or (2) a fun place to "ham" it up for a live audience.  I think it would be tough to be both."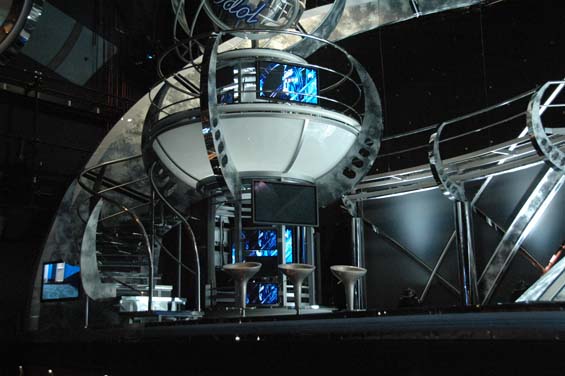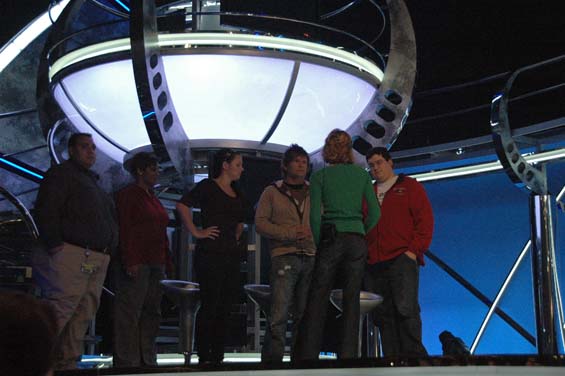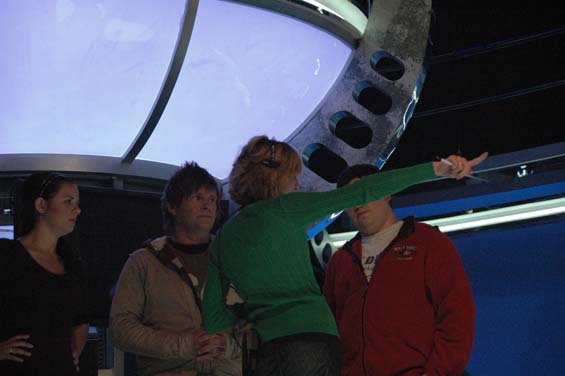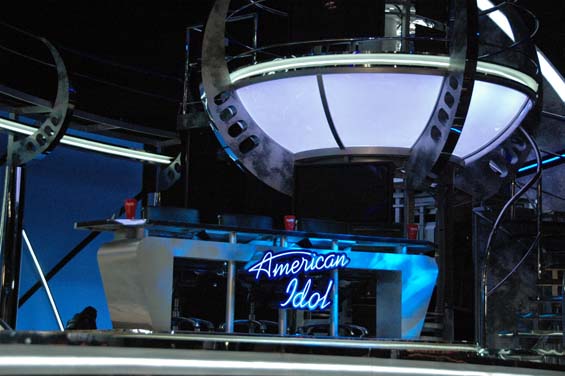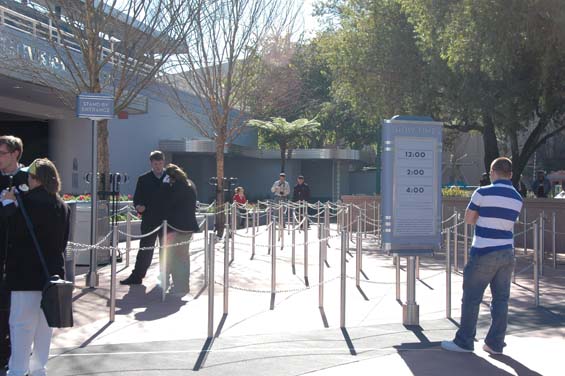 Category: Disney World