Today was the annual passholder preview for the new American Idol Experience (AIE) at Hollywood Studios in Walt Disney World.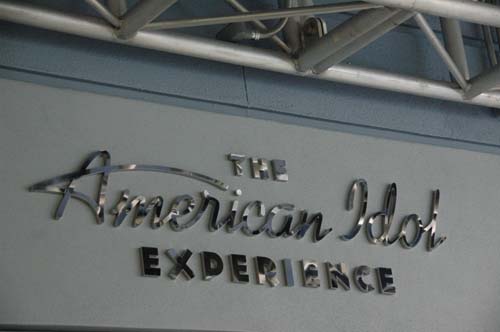 They expect to open the attraction Feb. 14, 2009 so mark your calendars now.
They took us through in groups of ten.  We started at the audition rooms. Those people interested in auditioning will be taken into a small room with a desk and a chair.  The Disney CM has a laptop that is connected to the producers of the American Idol Experience so they can all see the talent that may be available. The guests sing a capela for the first interview.
Once you audition and you are selected you are moved to the producers lounge.  There are some comfy chairs and you are provided with an IPod. There is a play list of 113 songs.  The IPod also has the lyrics so you can select and start to learn the song for the next interview. They also have high definition cameras in all the rooms and will be used onstage as well.
Again the room is furnished with the interviewers desk, chair and computer.  The talent has a chair if needed.  Above the interviewers head is a TV monitor.  They sing karioke style and the lyrics appear on the screen.  They encourage you to learn 3 songs so the producers have some flexibility when planning the shows. Both audition rooms were pretty intimidating and I wasn't even singing.
AIE puts on 7 shows a day. There are 3 people singing during each show.  If you are selected for a show you are issued a badge.  They didn't have one to show us but it mentions you are a contestant for the show.  They encourage you to tell park guests that you will be singing and have them view the live show.   The winners from each show then appear in a final show that evening.  If they win they are given a dream ticket that puts them at the head of the line for the "real" American Idol auditions around the country.
Finally it is showtime.  They have 3 judges just like American Idol.  The Simon Cowell is a kinder, gentler version at Disney.
The theatre seats 1000. The audience will vote for the winner of each show.  2 seats share the panel where you actually vote. The theatre looks very close to the actual show.  The stage size is the same, but the scale of the steps is smaller.
Each performer will wear a transmitter that will control the overhead lights spotlighting them.  It will not be a fast pass attraction.
They mentioned that they will be doing annual passholder previews of the actual show in January 2009.  For more details and the rules for auditioning please visit http://disneyworld.disney.go.com/wdw/parks/attractionDetail?id=AmericanIdolExperienceAttractionPage
They didn't allow pictures since this was a preview.  I will be back when it is open.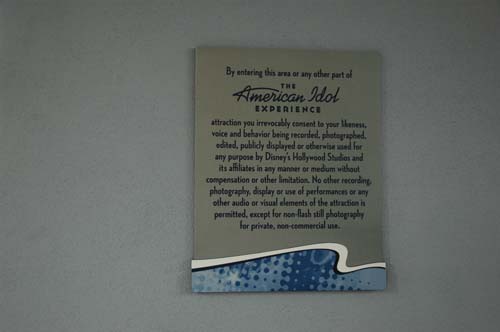 Category: Disney World