This restaurant opened at Downtown Disney (DTD) at Walt Disney World in Florida on October 14th. This restaurant has a prime location in DTD. It is the first thing you see when you pull into the parking lot. It is located near McDonald's and Fulton's.
They are owned by Landry that also owns Rainforest Café. For the next several months they will not be accepting reservations. I arrived about 4:20 PM and was amazed to see so many people standing outside.
There is a stroller parking area outside the restaurant. There is a fenced area where the kids can play in the sand and find some bones. With the crowd outside it was hard to find the area but it is to the right of where the safari car is located.
You check in at a podium outside and then when your "expedition" party is announced you are directed inside. Of course with everything at Disney there is a gift shop inside the restaurant. It is dinosaur themed and the table legs are dinosaur bones. Lots of t shirts, key chains, etc.  to take home with you. There is also a Build a Dino shop in the back where you can create your own dino.
For all the people outside the restaurant was pretty empty. They have a number of rooms for dining. The Coral Reef bar area seemed very popular.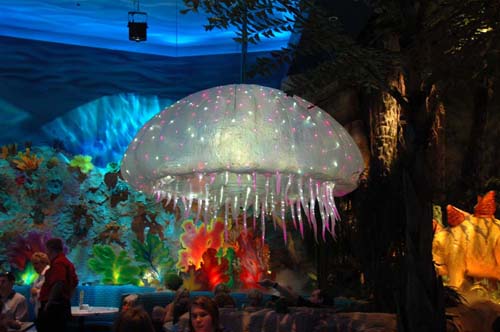 Even the tables are themed. It's like finding your own artifacts right on the table. The kids should love it with all the dinosaurs. They do move and roar. They have signs by them to indicate what type of dinosaur they are so you could use it as a learning exercise.
My personal favorite for the rooms was the ice room. I don't know if you can ask for different rooms but I would enjoy this one. All the rooms have lots to look at so it should keep everyone busy while they are dining. Be sure to bring your camera.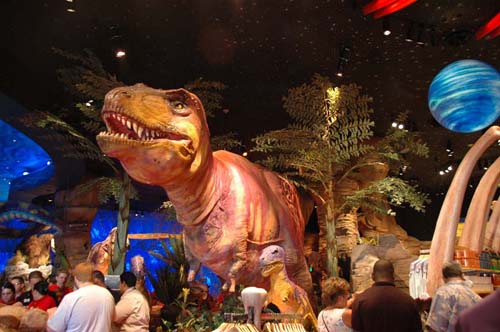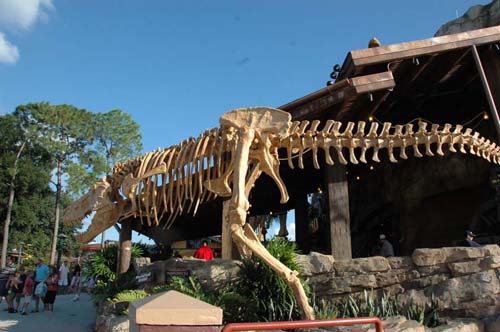 I plan on trying it out soon. I think this will be a very popular restaurant at Downtown Disney.
Category: Disney World