At long last I am finally getting to blogging the rest of my 20 nights on the Magic.  We arrived in port early in the morning, but didn't have to worry about rushing to breakfast and getting off the ship so it was much more relaxed.  We packed up our last few things and asked our cabin steward if we could have my "birthday cake" moved to the suite.  No problem!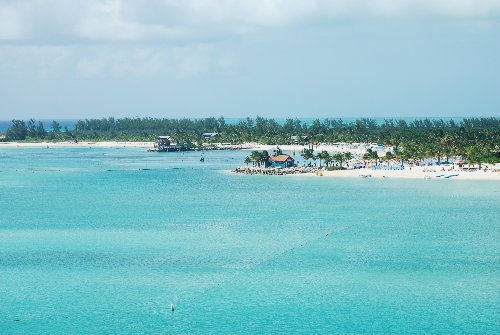 Castaway Cay
We went to breakfast and said goodbye to all that we saw that were getting off the ship.  As I predicted, the lines getting off the ship were crazy!  By the time we were getting ready to go to breakfast, the line was all the way into Parrot Cay!  The lines also split and went up and down the stairs by the aft elevators.  I'm not sure what it was like going forward, but there sure were a lot of people waiting to get off.  The reason this happened is because of all the luggage everyone had.  When the ship gets in to port, they need to have customs check all the luggage before they let us off the ship.  Because we were gone for two weeks, it took longer to get this done because many people had more luggage than normal.
After breakfast we went out on Deck 4 to go see the terminal.  They still hadn't opened the gangway, but they allowed our friends to enter the terminal.  We were able to wave to Peter and Jenn from the ship while they were waiting for the terminal to "open".  As we started seeing people leave on the gangway, we decided to go get in line to go to the terminal.  Even though we were doing back to back cruises, we were still required to get off the ship and go through customs.  Once through customs, we were allowed to go back upstairs and wait for the reservation agents to check us in.
We were able to check in first and then met up with a lot of cruisers for the five night sailing.  There was about 40 people doing back to back cruises.  They all checked in and then were allowed to go back on the ship.  We decided not to go back on because my family was coming and we wanted to have a boarding picture and have them experience coming onboard for the first time.  We met many DISers – some old friends, some new friends, some old friends that didn't remember us (right Jill?).
After the Dream family was announced and let onboard, concierge guests were allowed to get onboard.  My sister and family were allowed to board with us so we entered the giant Mickey ears to get onboard.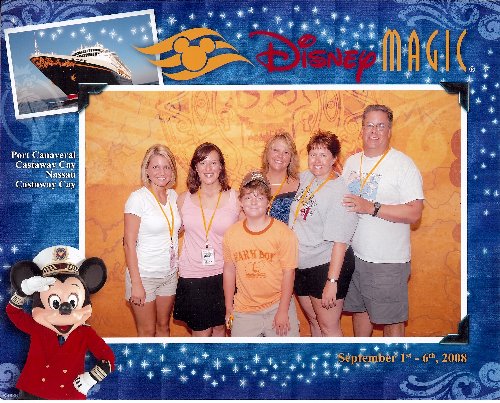 After getting onboard, we went to the Concierge reception and got to meet the concierge staff.  They had beverages and some treats for us and went over our excursions, Palo dining and spa reservations.  They checked to see if there was anything else that we needed to make our cruise magical.
After the reception we went to the Welcome Aboard buffet in Parrot Cay.  This was great, but I noticed that they still didn't have any lemons.  I think we ran out of lemons on the Panama Canal but it didn't seem that they were restocked yet.  I've never had shrimp with fresh lime!  It was now time to head to our rooms.  My sister couldn't get down to her room yet, but we were able to get to ours.  All of our luggage was there when we arrived, including my "birthday cake"!  All I could say was "wow!".  We had been in this room before, but always with a lot of other people.  I couldn't believe how large it was.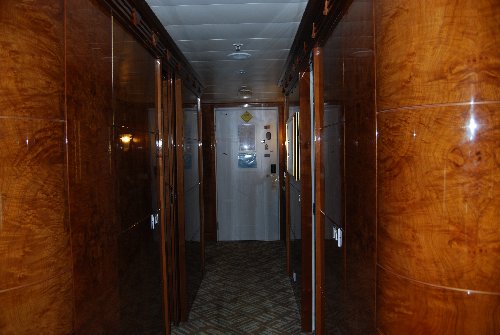 Entry Way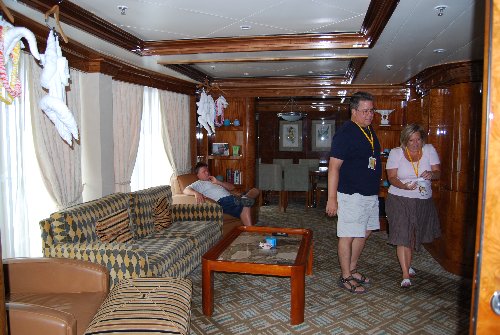 Living Room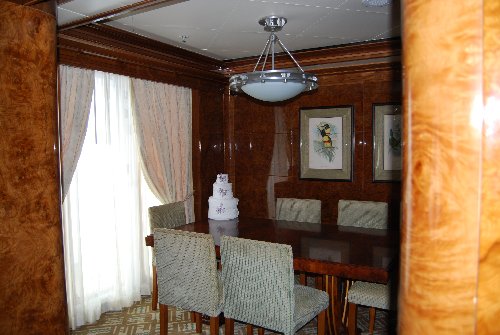 Dining Room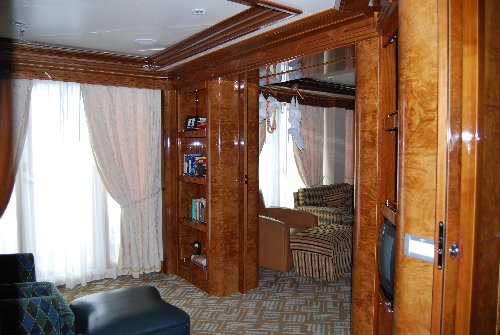 Media Library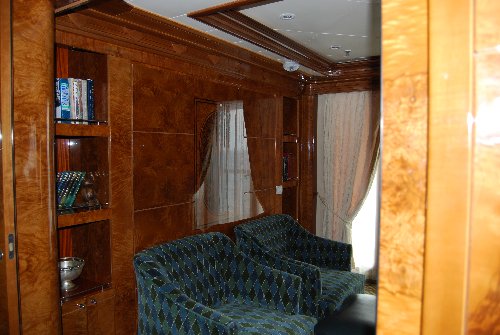 Media Library (with Murphy Bed in the wall)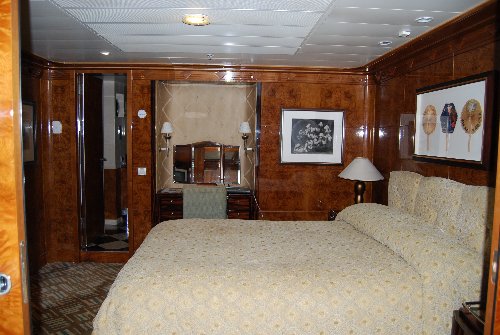 Master Bedroom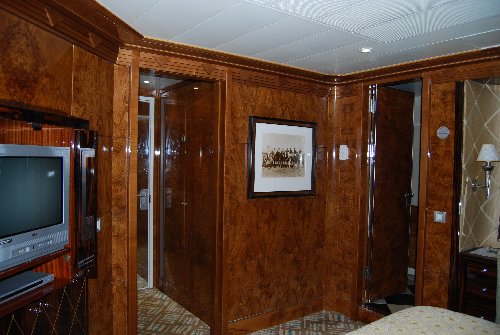 More of the Master Bedroom (mirror is door to hall)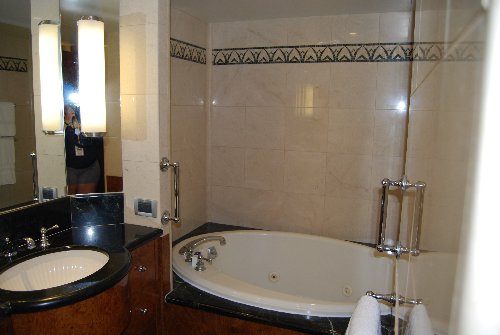 Half of Master Bath (with Jacuzzi Tub!)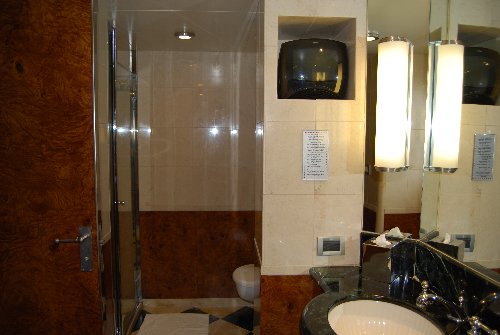 Rest of the bathroom (shower, note the TV, Phone is on the other side)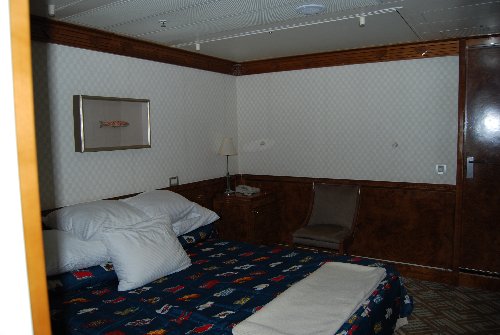 Second bedroom (will sleep 4 and has own bathroom and walk in closet)
At sailaway we were able to meet more of the DISers.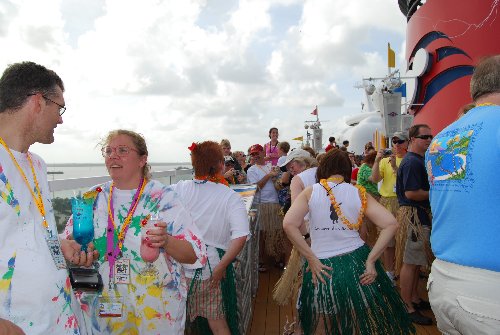 Staying in the suite was nice, really nice, but it was something that was hard to do for such a short cruise.  I am so used to where I put things in the staterooms, I couldn't find things, I didn't know where to put things.  All in all, I was confused!
There were too many of everything in that room!  Five televisions, eight phones, one doorbell and umpteen million light switches.  The first night I woke up to a phone call at 12:15 and couldn't get back to sleep.  There were three lights on in the suite and I couldn't find the switches!  It took me forever!  Apparently, there is a light above the Murphy bed in the media library.  When the bed is closed, it's a thin stream of light.
When you stay in a category 1 suite, you get unlimited water and soda stocked in your cooler.  This was really nice because we never needed to go to the drink station.  However, this proved to be a problem for me.  You see, when I'm in the staterooms, I would go to the drink station and get something all the time.  In the suite, I didn't need to so I just didn't drink as much as normal.  As a result then being on Castaway Cay in the heat, I ended up having a bit of heat stroke and had to go to First Aid by wheelchair.  Don't be afraid to ask for help!  I ended up cooling off there for a while and then getting a ride to the ship for the afternoon.  That was ok because I got to enjoy the suite and the free DVDs!
The shows were great on the sailing.  We skipped all of them on the 15 night because we knew that my family would want to go.  Wyatt, my nephew, even got to be on the screen and was "interviewed" before the Golden Mickeys.  Here's a shot from Twice Charmed.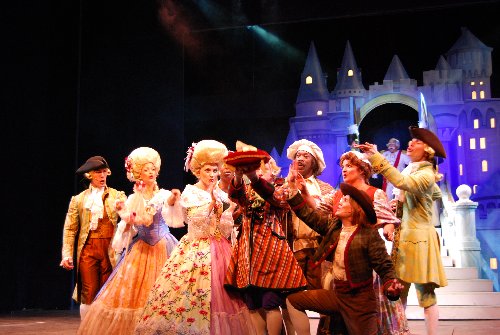 We did have a wine and cheese meet in our suite.  This was a lot of fun, but a lot of people!  We had ordered 100 wine glasses and went through all of them.  Not everyone was drinking either!  Amazingly though we didn't have much wine left over after the party.
We did have some changes to our itinerary because of Tropical Storm Hanna.  In the end, we did end up missing our second stop at Castaway Cay.  This was ok though, the extra day at sea was great!  When we woke up, we were starting to rock quite a bit.  We had seas up to 30 feet!  In the middle of the night the captain realized that the storm was tracking different than originally thought so we turned and sailed away.  We had higher seas until around lunch time and then it was a nice day.  Here's how it started out though!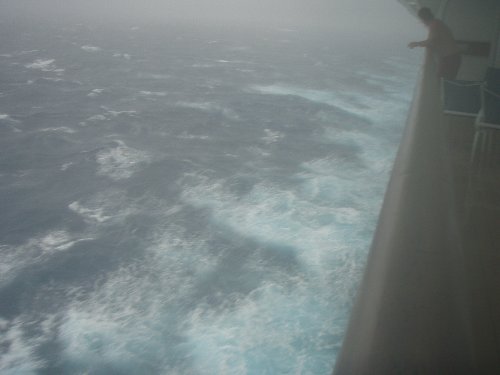 All in all, we had a great time over the 20 days on the ship.  I was definitely ready to come home at the end, but not because I was tired of cruising, I just missed my home.
Category: Disney Cruise Line