Disney has quietly added a new attraction at the Magic Kingdom in the Walt Disney World Resort in Florida.  Approximately 5 months ago a glass blowing studio was added in the back of the Arribas Brothers shop on Main Street. 
Yesterday I had the opportunity to catch this demonstration.  Arribas Brothers artisan Mark Haller showed us how a wine glass is created.  He joked that he can walk, talk, chew gum and blow glass all at the same time.  Mark is self taught in the art of glass blowing.
It all starts with a blob of glass on the end of a heated rod.  Note to self next time don't look directly into the furnace when he opens the door.  I had spots in front of me like when a flash goes off.  The temperature of the glass is very important and determines how it reacts when he starts molding it.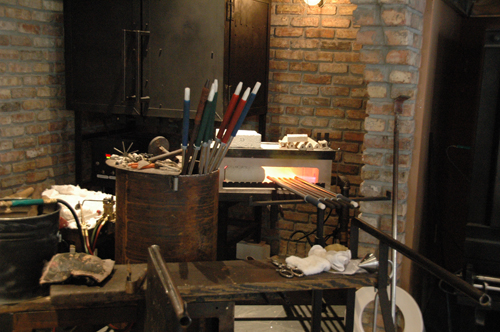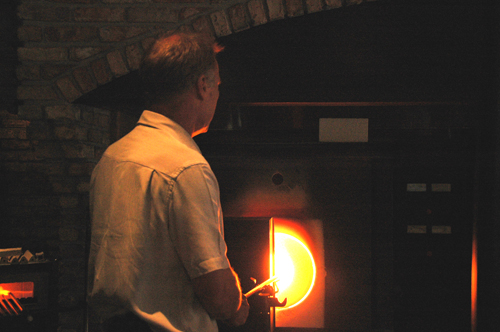 We watched as he blew in some air and how the glass blob expanded.  He kept heating the glass so he could work it.  There was a table with bits of glass and colored powders he could roll the glass in to give different textures and colors.  Every time he added something it was back to the furnace to heat the glass again.
As it started to take shape he took a seat and rolled the rod and glass. He shaped it with a cloth, then shaped it with thebucket of tools that he had there.
The entire time he was stressing the importance of the heat of the glass.  He finally had it shaped like a wine glass and scored the glass.  He stuck it in the furnace and the glass broke. It just goes to show how much work can go into a piece and it doesn't work.  It gave me a new appreciation for blown glass pieces that I always though were expensive. 
The area does have fans so you don't notice the heat on a hot day in July.  The entire demonstration took about 15 minutes. Stop by and check it out for yourself.
Category: Disney World