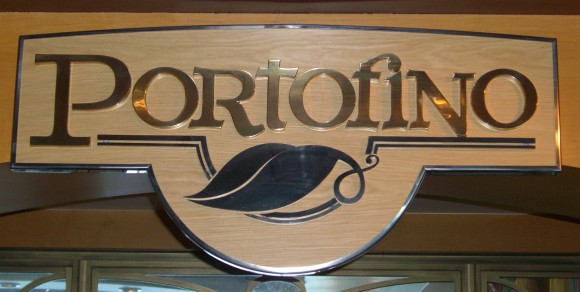 While the food on board the Liberty of the Seas is decent and acceptable, it is being prepared for thousands of guests at the same time. When serving that many people at the same time, shortcuts must be taken and quality takes a hit. Whether you are in the dining room or the buffet, there are masses of hungry people all looking for their dinner. It can be crowded, hectic and a bit overwhelming at times. 
Aboard each of the larger Royal Caribbean ships, there are two specialty restaurants (think Palo). There is Chops, which is a high end steak house and Portofino….a fine Italian restaurant. These restaurants are not included in the cost of your cruise. There is a $20 up charge per person.  
When we cruise with Royal Caribbean, we make a reservation for each of these restaurants. It's a chance to dine in a much more relaxed atmosphere and the food is prepared for you at the time the order is placed. Your server will make a big deal of the fact that everything is prepared "a la minute". If you have cruised previously and dined in Palo or one of the RCCL restaurants, you will know that this will make a huge difference in the quality of the food being served.
 Last evening, we dined in Portofino. We had a 6:00pm reservation. As one of the selling points of these restaurants is the spectacular view afforded, we like to have dinner before sunset in order to take advantage. Should you dine after sunset, you will see your reflection in the window and the reflecting the light of the restaurant.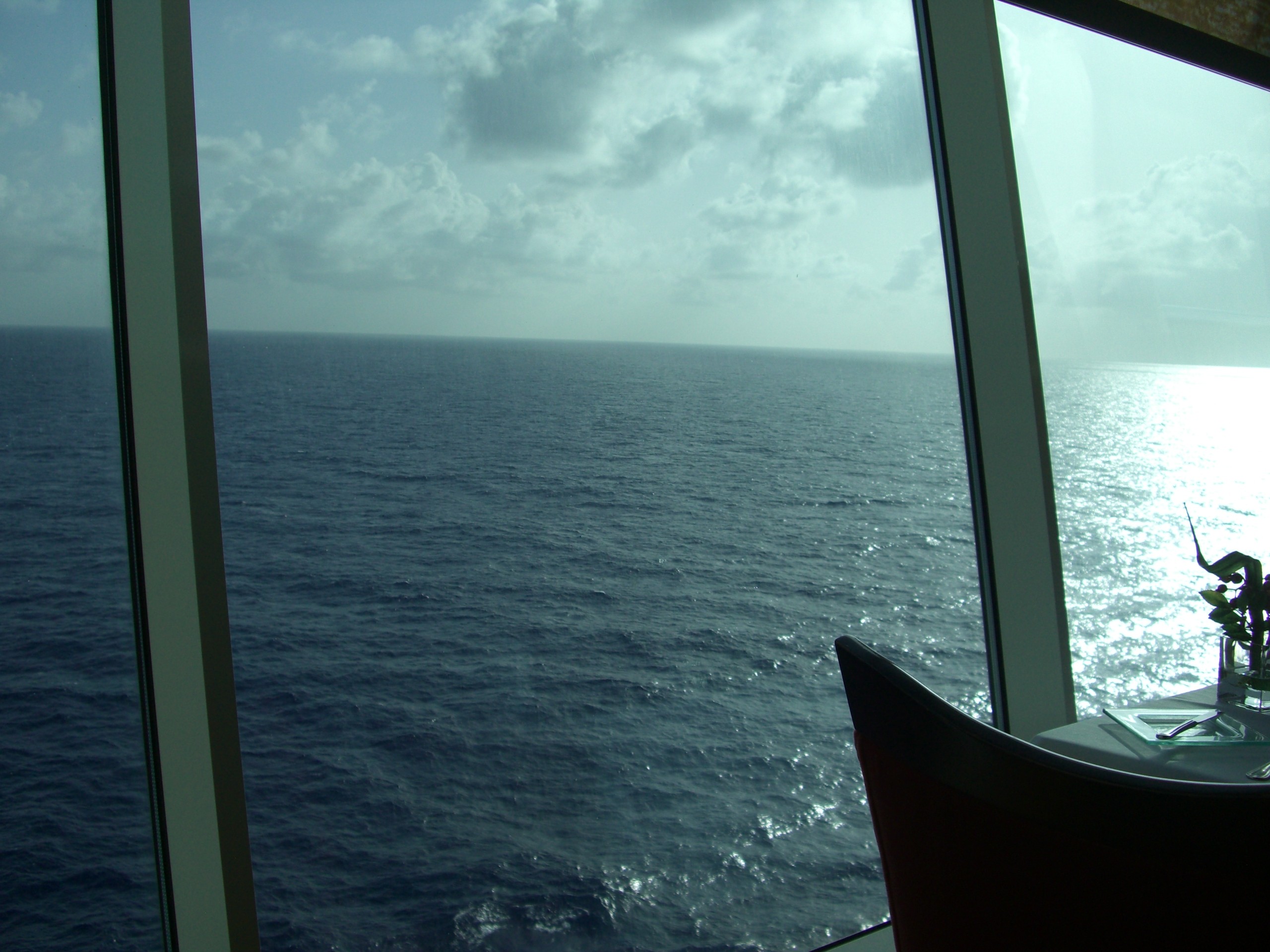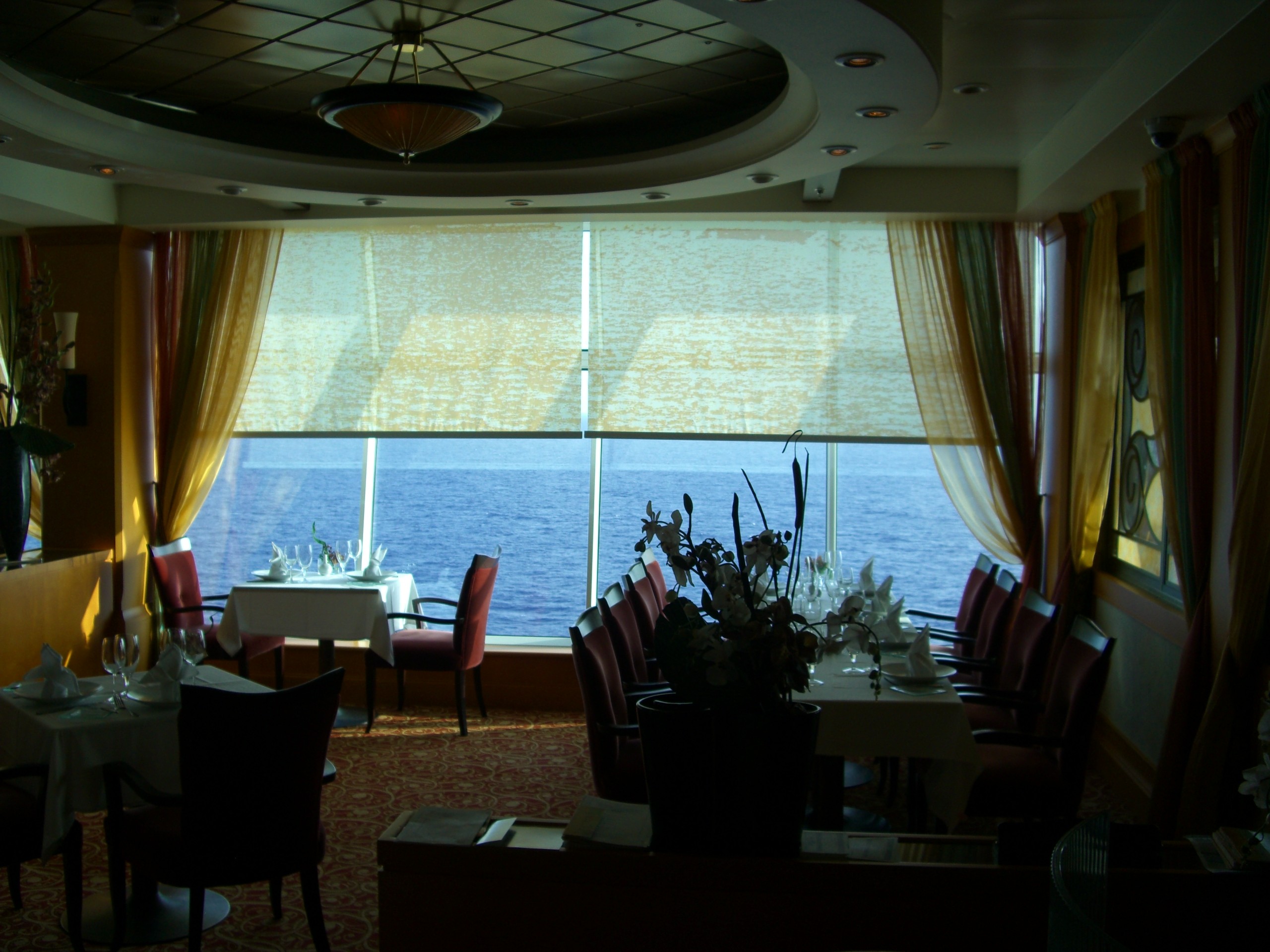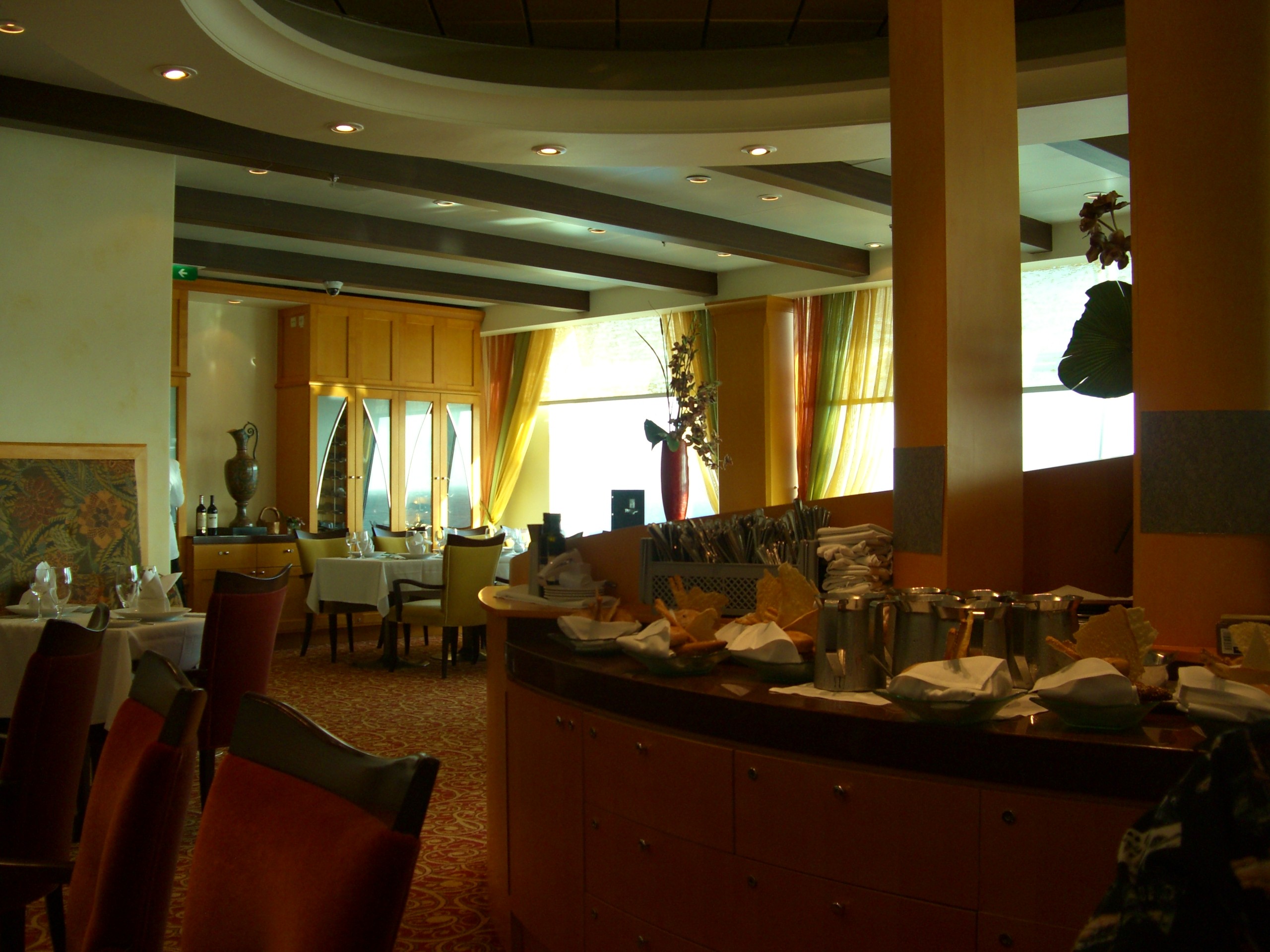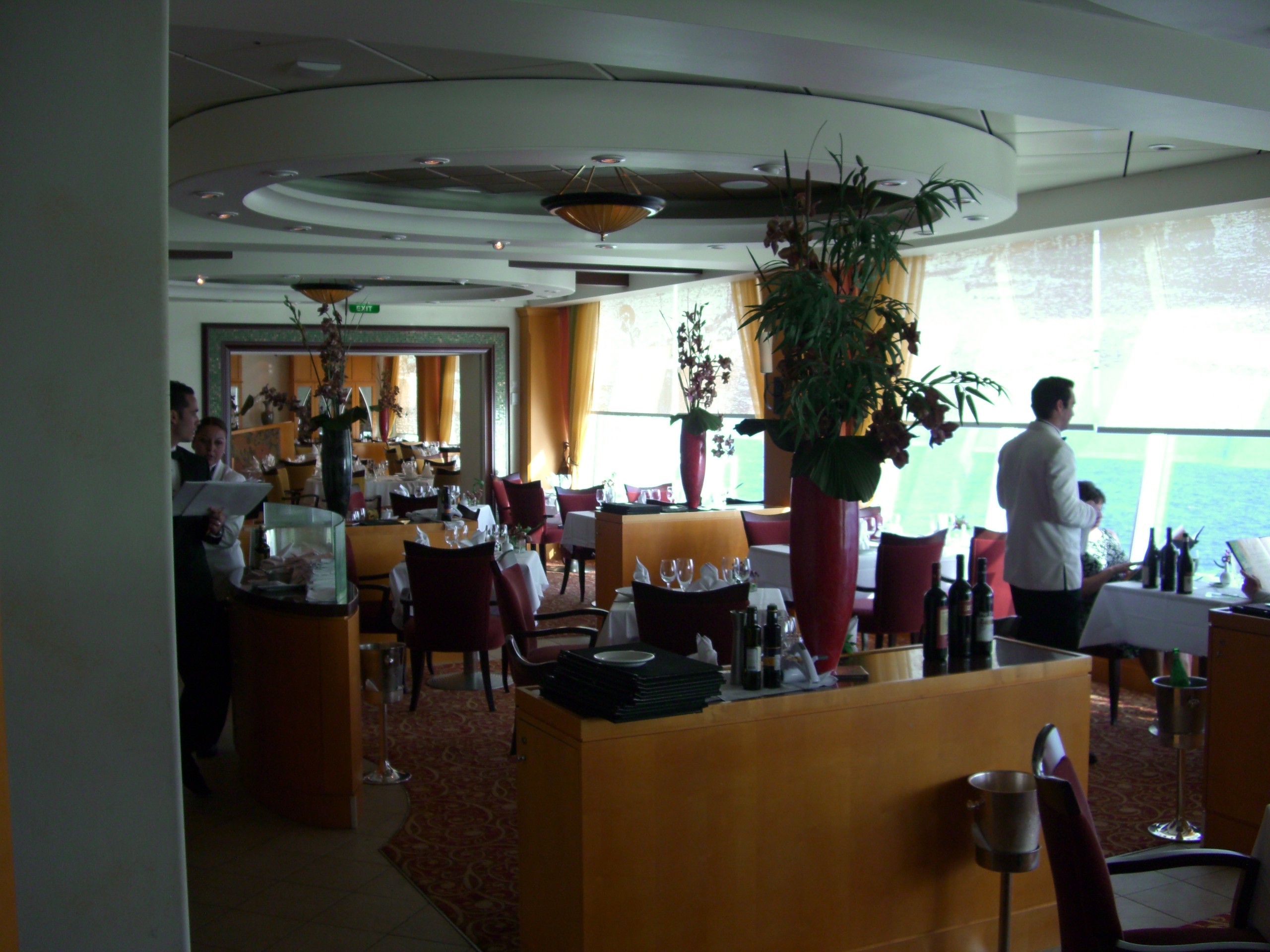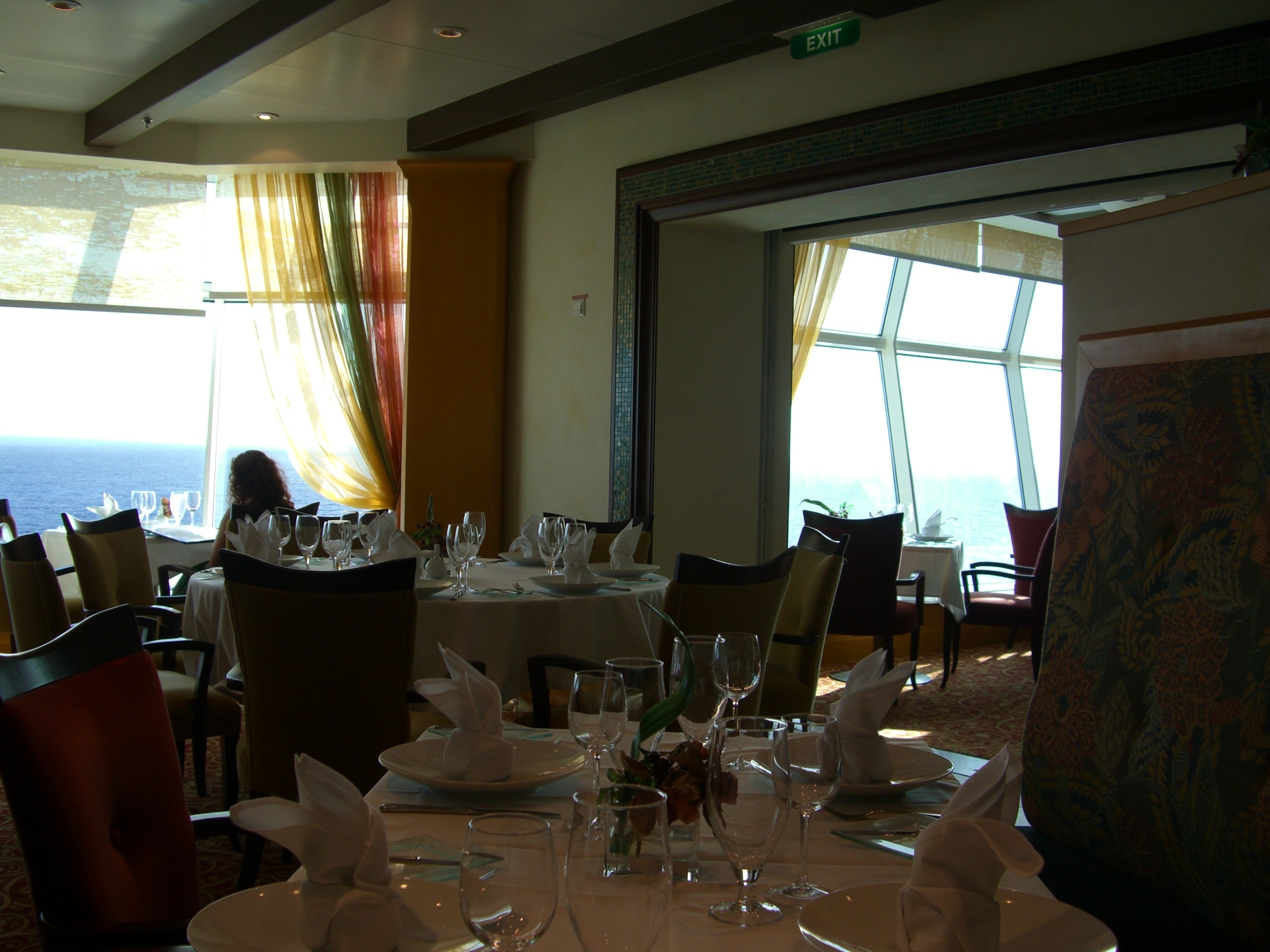 Upon entering an empty restaurant, we were shown to a table in a corner. In order to take advantage of the view, they had placed the chairs on the two connecting sides of the table as opposed to across from each other. This would have worked had this been a table for designed for four, but it was a table designed for two. With both of us being 6'5" (don't tell John, but he's really 6'3"….he only thinks he's 6'5"…we'll just let him keep thinking that.) our knees would not even fit under the table. Our host then decided that we should turn set the table correctly with a chair on each end, but then the table wouldn't fit and John's view was of the lifeboat drill apparatus. The host insisted that we could squeeze into this little spot until I asked why we making this much effort in an empty restaurant. I asked for a larger table and he looked as if the thought had not occurred to him. Apparently, this table was undesirable to others as well; as we watched three other groups refuse it. 
On to much better things…… 
Our server introduced herself as Catania and asked our names, which she wrote on her pad. After asking permission, she used our names throughout the rest of our meal. I thought it was a very nice touch and made for a much more personal experience. 
Just after being seated and ordering our drinks Catania brought over a wonderful bread basket filled with breads of all styles and shapes.  Along with that she put out a small bowl with oil, vinegar and rosted garlic for dipping.  And if that wasn't enough a wonderful trio of 'spreads' for the bread was placed on the table which included an egglplant roulade, chopped tomatoes in herb oil and an olive tampenade which was by far the best of all three.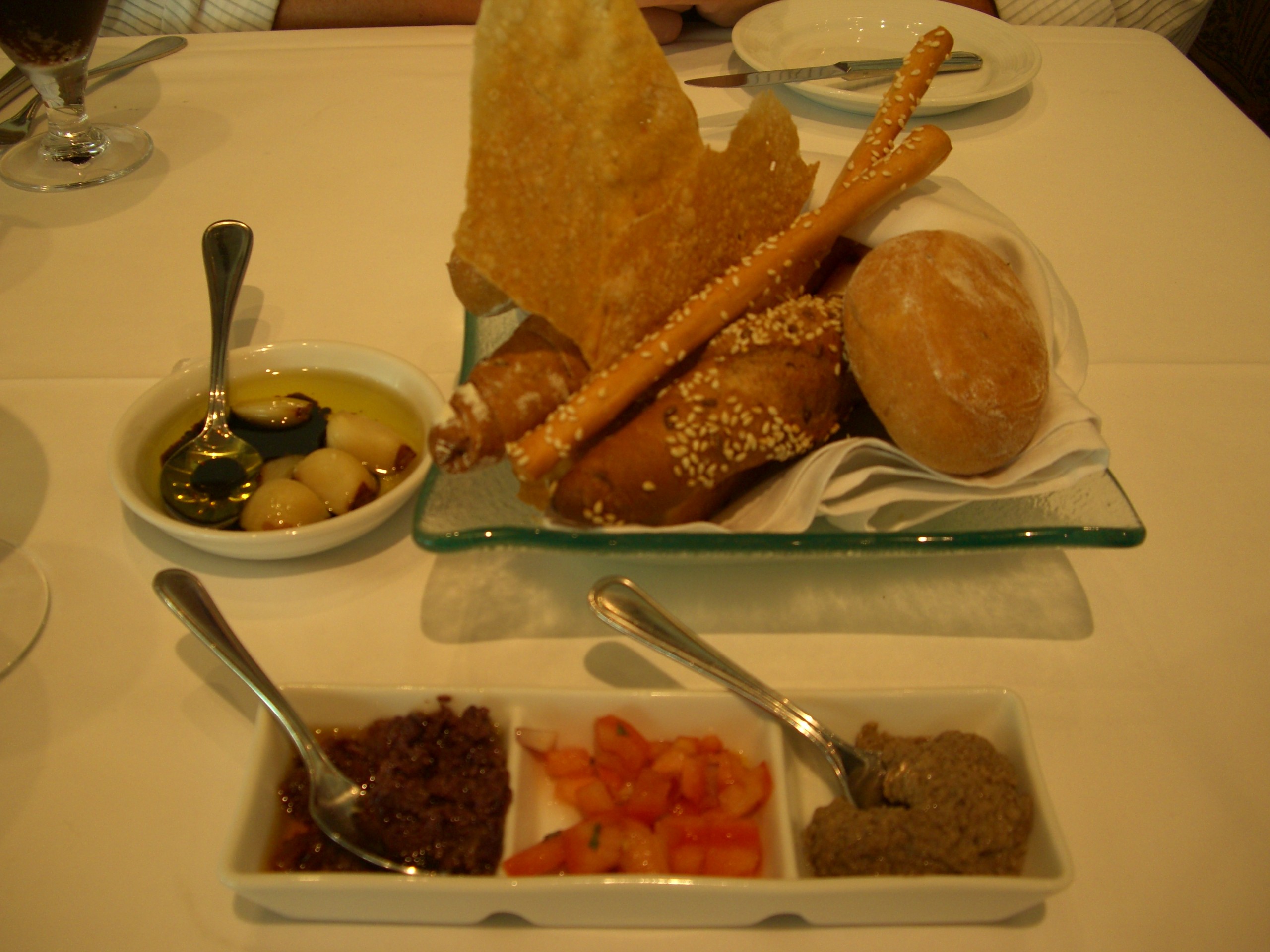 We started with appetizers. John had the Caprese salad of mozzarella and cherry tomatoes in olive oil and balsamic vinegar. It was a nice sized serving. I had the tiger shrimp with asparagus over spinach. This was all served with a lemon, butter, garlic sauce. While John's was good….this was the clear winner. Just a terrific dish. 
We split a small order of the ribbon pasta with mushrooms in a mascarpone, garlic cream. Again…just superb. It was served piping hot with fresh shaved parmesan cheese.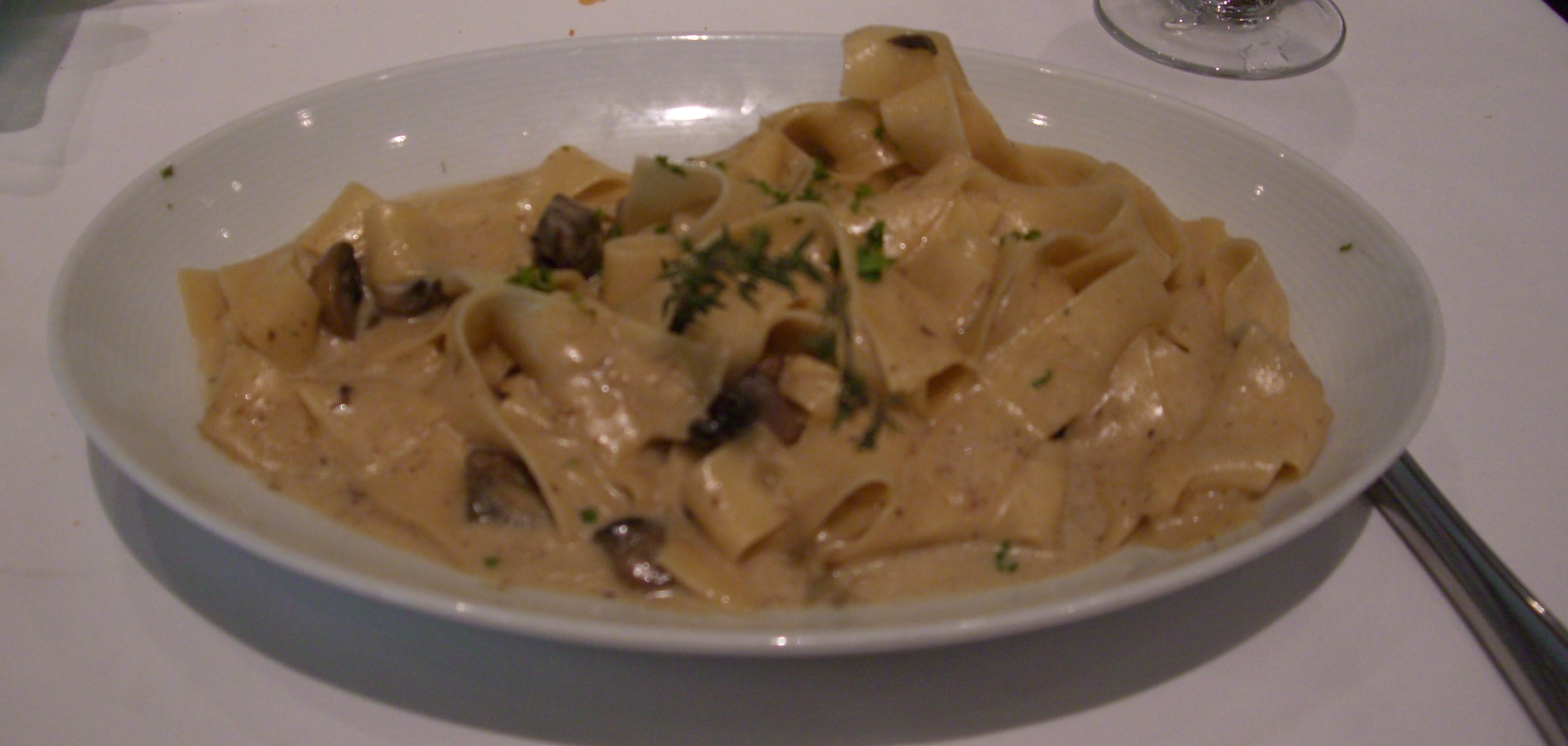 For our entrees…John chose the veal saltimbocca over mushroom risotto. This version consisted of veal wrapped in prosciutto.  You can pretty much warp everything John eats in prosciutto and he'd be happy, but this was very, very good. I'm not a fan of veal, but he actually moaned.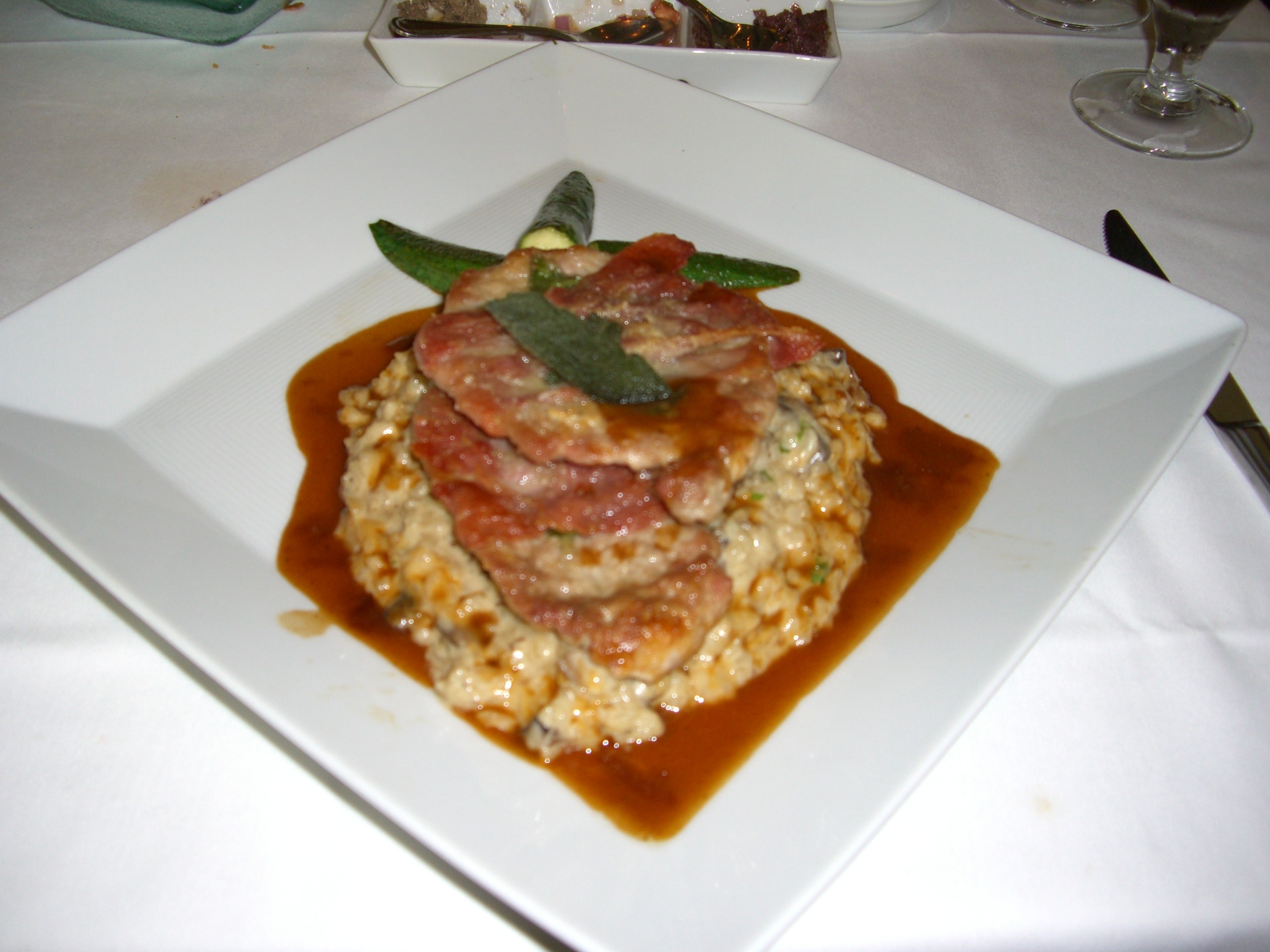 My entrée was pan seared halibut over citrus seafood risotto.  I can only rave about this dish. The halibut had a small dollop of pesto on top which only added to the delicious flavor. The citrus risotto contained full sized shrimp. Another spectacular dish.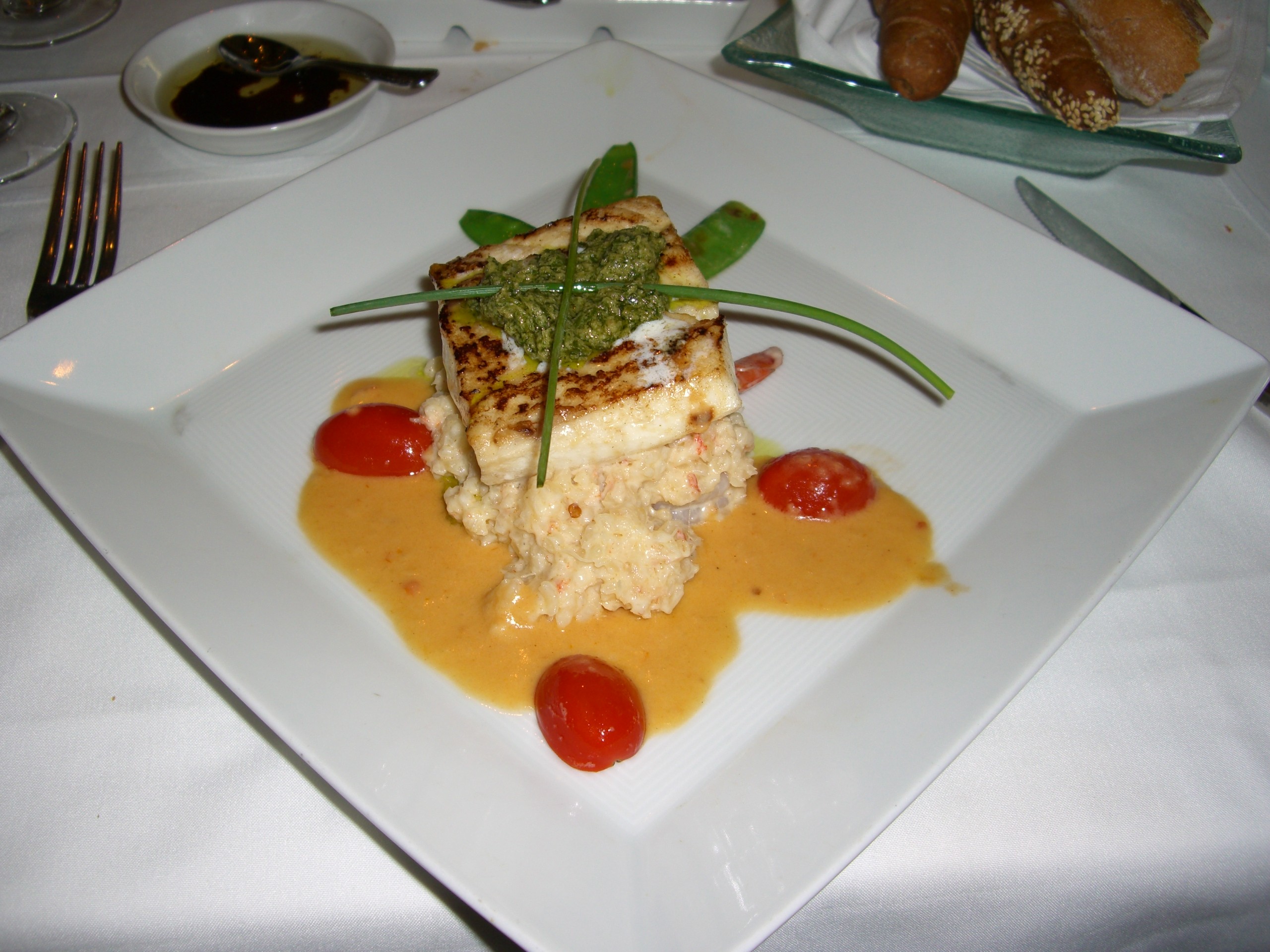 We refused dessert, but our wonderful server brought out two anyway. We had the tiramisu and the flourless chocolate cake. The tiramisu was light and delicious, while the cake was dense and fudge like. The cake would have been great two or three hours later, but was too rich after our wonderfully decadent meal.  They also bring out a tray of cookies and chocolate dipped strawberries that they call their 'sweet endings' to every table.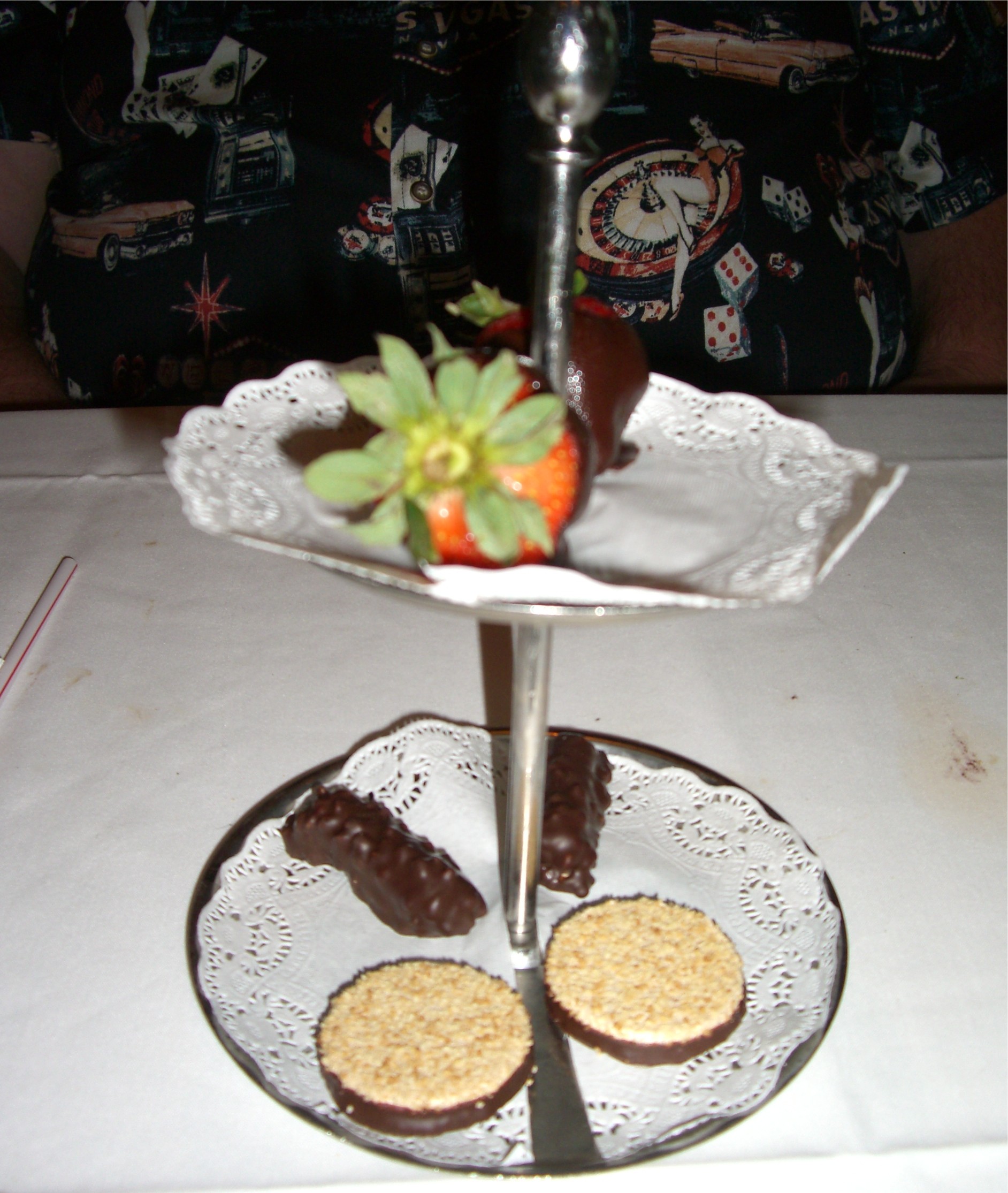 We finished our meal with rich, wonderful coffee. 
 What would have easily been a $200 (plus tip) meal at any fine restaurant on land, was $40 for the two of us. This figure supposedly includes your gratuity but Catania treated us so well, that we included additional gratuity. 
Dinner lasted about two hours, but the difference in quality, atmosphere and service was vastly different. 
It's not something I would or could do every night, but occasionally it's a real treat…..but hey…..we're on vacation.
Category: Disney World