The first day of any cruise is always a bit hectic.
For our Royal Caribbean Cruise (RCCL) sailing on the Liberty of the Seas we drove from our home in St.Cloud Florida to Miami, about 4 hours, and arrived at the ship about 1:30PM.  This is our 9th RCCL cruise but the first time on the Liberty.  Having sailed a few times out of Miami previously we were familiar with the port and what to expect, but I can easily see how first time cruisers may become a little unnerved. 
As we approached the terminal a porter motioned to us to park in a place I knew we would not fit.  A place that was bustling with about 30 other folks all looking to get their luggage unloaded and then get on the ship.  I pulled the car in the best I could and the porter quickly unloaded our luggage.  We booked very late for this sailing so we did not have luggage tags.  The porter looked up our stateroom number and after not finding Kevin's name found us under my name.  Kevin was a bit unnerved by this but I assured him I would have a good time on the cruise and send him a postcard. He porter then assured him that he was under my name and he was on the ship.

I then parked the car while Kevin waited by the entrance to the terminal.  We entered, had our ID checked, checked-in and was onboard the ship by 2:30PM – not bad at all. 
One of the things RCCL does that is different than Disney Cruise Line (DCL) is they take your picture when you board the ship and it is encoded on your room key.  This way when you get on and off the ship they scan your card and can see your picture – no need to show ID.  This is a very convenient way of handling this and I think DCL can take a hint from RCCL on this (and a few other things as well).
As soon as we get on the ship we head to Portofino and Chops, the two signature restaurants onboard (similar to Palo on DCL) and make our dinner reservations for the week.  We never have a problem getting what we want and know we don't have to worry about making these in advance.  This time was no exception.
Next was a quick bite to eat in the Windjammer Café.  This is their buffet and there is always a great choice for ay meal.  They offer breakfast, lunch, snacks and dinner here all week and Kevin and I prefer to eat here instead of the sit-down restaurant.  We love the flexibility, casualness and selection at this restaurant. 
Lunch was good, if not a bit hectic (this ship is very large and at capacity) and it will hold us over until our next snack/meal.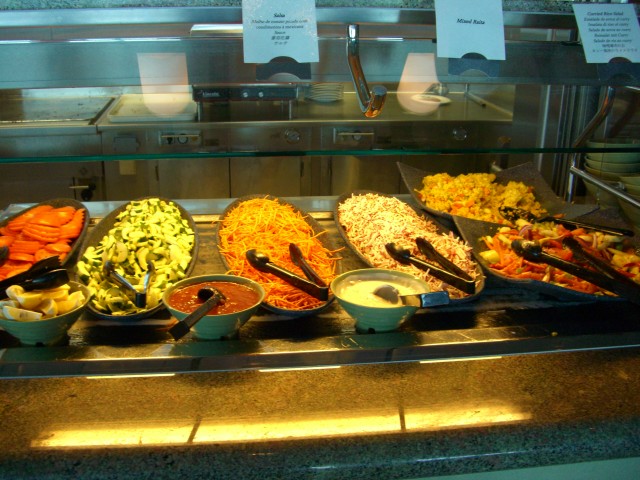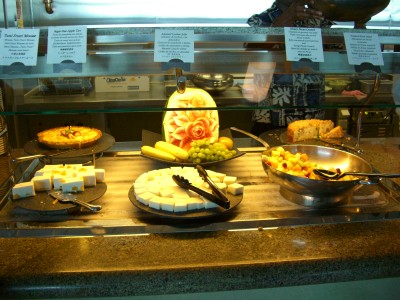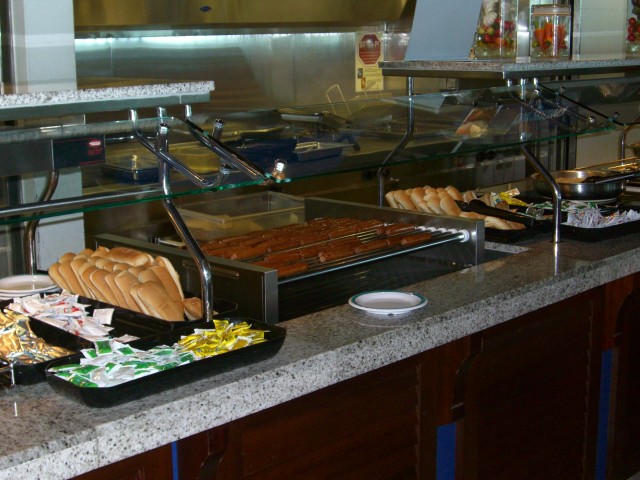 After lunch we buy the soda package.  RCCL does not offer free soft drinks like DCL.  Instead you either pay for them individually (which can be ridiculously expensive) or you can buy a soda package for your entire cruise.  The cost of the package is $6 per day.  You get a small sticker that is placed on your room key as well as a very nice souvenir mug.  You can then go to any drink location/bar and either have your mug filled or show them your card to get a glass of soda.  $42 per person for the entire cruise may seem like a lot of money to some folks for soda but for Kevin and I (and anyone who drinks a lot of soda) I think it is a bargain and we get it every time we sail RCCL. 
We then head to our cabin.  This cruise we booked a balcony stateroom in guarantee status since that was all that was available when we booked.  To our surprise we got a very nice Superior Balcony room (the biggest you can get before moving to a suite).  This was especially nice because we paid for the lowest balcony category – score!! Our room was clean and very nice.  Having sailed RCCL several times before we knew what to expect from the room so their really weren't any surprises. Some of the differences between RCCL and DCL is that RCCL puts their beds towards the back end of the room closest to the doors to the balcony – DCL puts their bed closest to the front of the cabin.  There are pros and cons to both designs.  What I like about the DCL dsign is it makes the sitting arae near the balcony more open and feel like one big space.  I do like the RCCL design better because you don't have to go around the bed to get out of the room or to get ther bathroom.  In addition when you get something from room service they don't have to go around the bed to put it on the coffee table (do you notice that much I talk about is food related).  This is all much more important when someone is napping or still asleep in the morning – you don't feel like you are disturbing them.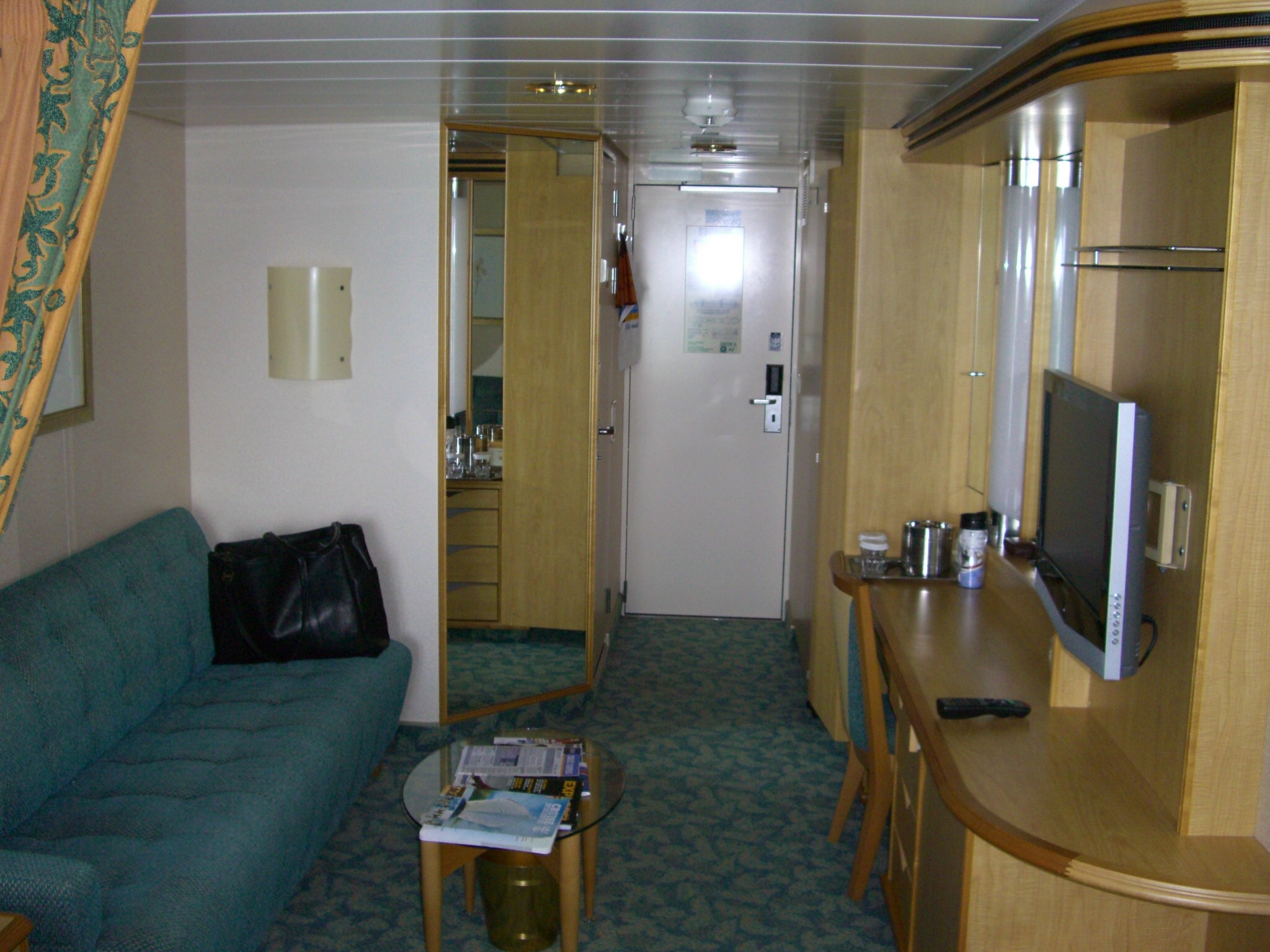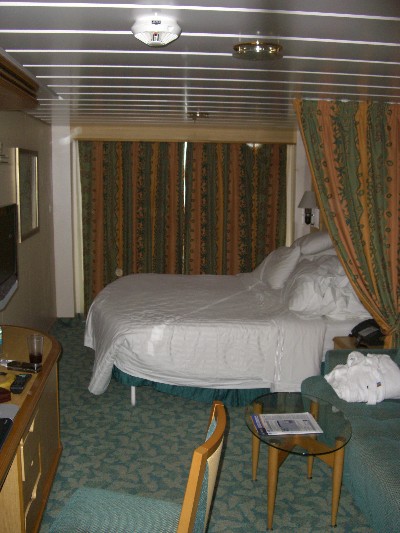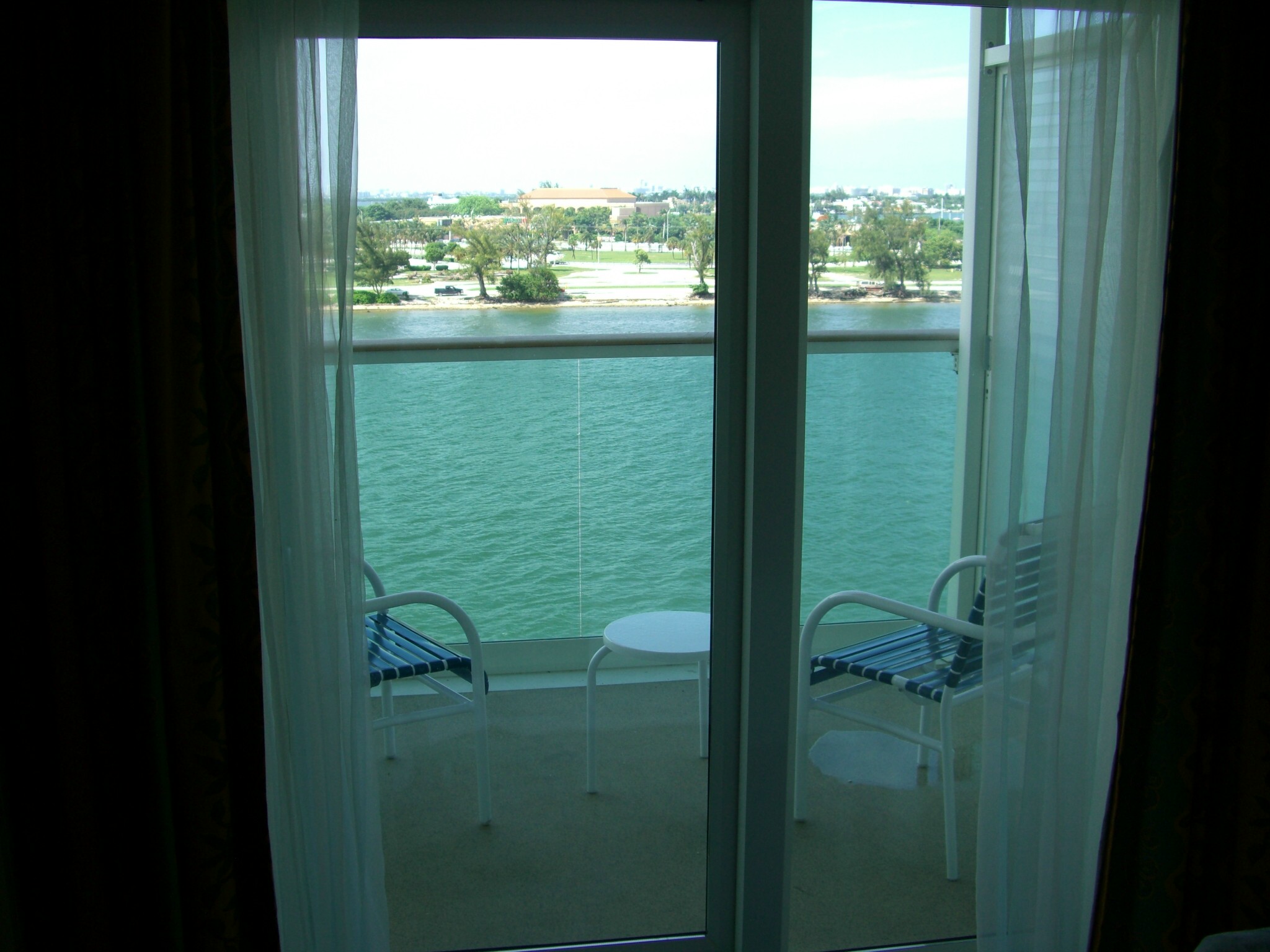 Another difference between RCCL ships and DCL is the bathroom.  On DCL you have the split bathroom design with one side being the toilet and sink and the other having the tub/shower and a sink.  RCCL's bathrooms are all one room.  Again – pro's and cons to both.  The one bathroom design gives you more space to move around.  The split bathroom gives you two different areas so two people can get ready at the same time.  There is no tub on the RCCL cruise, which is something folks with little ones seem to really like about DCL.  Oh, and on RCCL you have what we call the toothpaste tube shower stall.  It is cylindrical with plastic sliding doors for an enclosure instead of shower curtain.  Believe it or not Kevin and I found these very comfortable and roomy – and as you probably know we are big guys so this is a plus for us. 
After checking out our stateroom we unpacked the few bags we had and waited for the lifeboat drill. On every cruise the lifeboat drill is mandatory – they will take attendance.  It is kind of a nuisance but once it's over we consider vacation has officially begun. 
We come back to our stateroom to put away our life vests.  To our surprise we find our luggage has arrived.  Kevin unpacks (not because I am lazy or don't want to help but because 'I won't do it right') and I enjoy the balcony.  We pull out of port and wave goodbye to Miami from our balcony.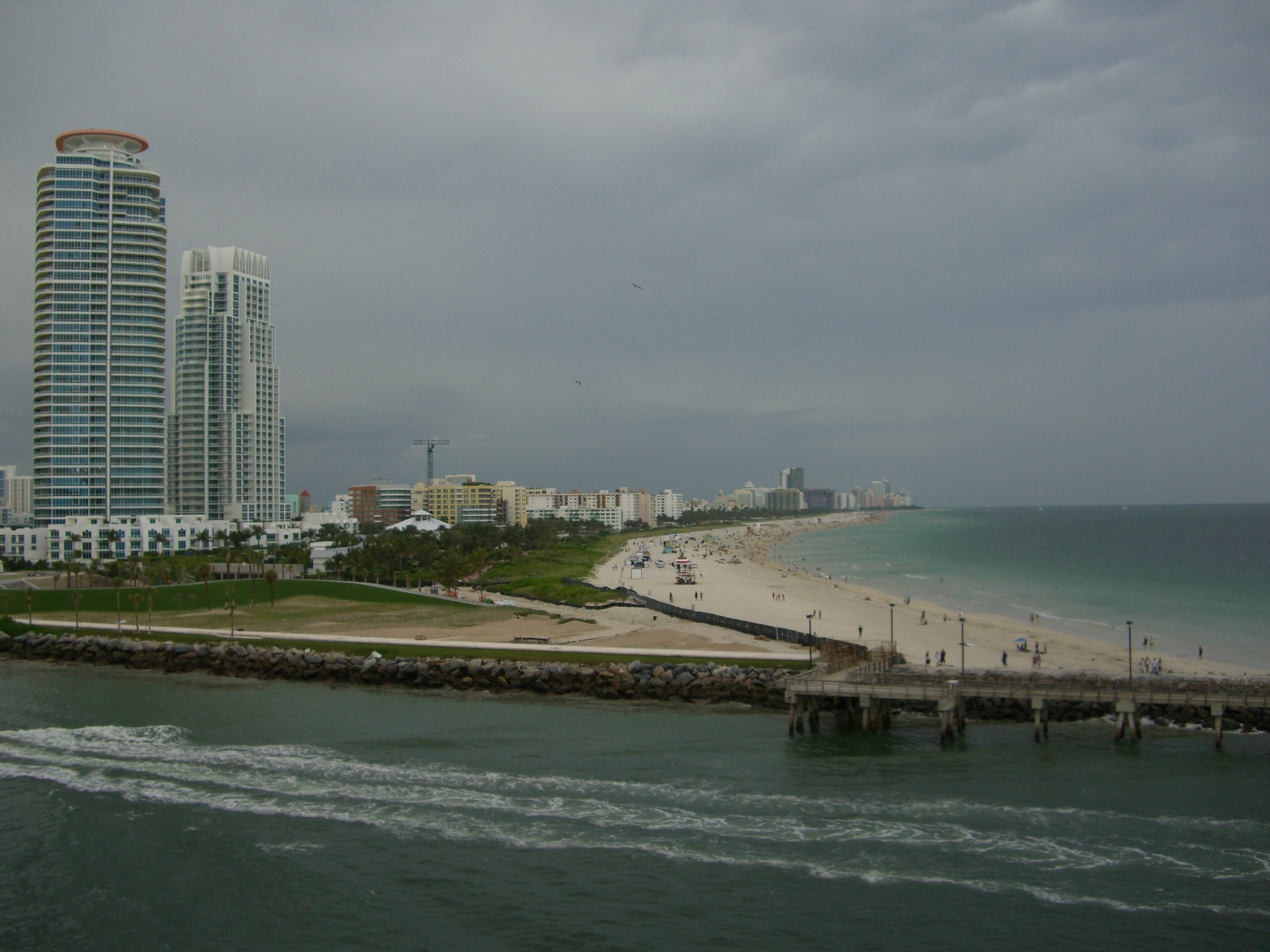 Next we head to the Casino (I know, we're pathetic) but it hasn't opened yet.  They can only open the Casino when the ship is in international waters and we were a little late leaving port.  So we head to the Promenade.  This is the massive 'mall like' area in the middle of the ship. This is where most of the shops are as well as places to get snacks and a drink.  We opt for a snack (see, more food) at the Italian deli/pizza place Sorrento's and we do some people watching on the Promenade.
After our snack we head to the Casino for a few hours of gambling.  We lose a little but have fun.  I can officially say we have cruised RCCL a lot when the dealers recognize us from other sailings.  My one big complaint on this cruise (well, so far) is that the Casino has added a fee to get money on the room.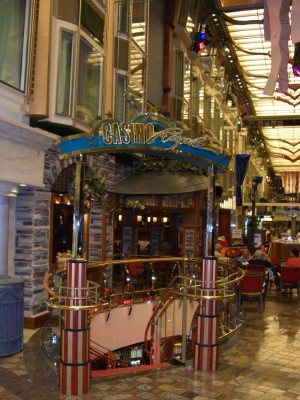 Let me explain…on RCCL when you want to gamble you need cash.  Everything else can be done on your room pass (they call it your Sea Pass – DCL calls it your Key to the World Card) which is tied to the credit card you use when you check-in.  If you want to gamble you have to use cash and you can get cash on your room card/account.  In the past there was no charge for this.  This time they charged me 3% of the amount I put on the room. Needless to say I was not happy.  I called over the pit boss and asked why they were charging me money to lose money to them in their Casino.  He said it was a new policy and they were just matching industry standards.  I very politely told him how much I disagreed (OK maybe not so politely – I may have a special note on my reservation now).  Needless to say I will not be putting money on my room any more, it's cheaper to use their over-priced ATM from now on. 
Since it was such a hectic first day we left the Casino relatively early, grabbed a snack for the room in the Promenade (see a pattern yet?) and went back to the stateroom. 
I checked email and did a little work before going to bed.  This ship has wireless internet access right in the stateroom, which is nice.  Oh, and Kevin called his Mom.  He was able to use his iPhone with AT&T service, my Nextel/Sprint phone does not work on the ship.
One small issue with our stateroom is that there is a lot of wind noise from the balcony.  I'm not sure if that's because of the location (we are very far forward on the ship) or because our first port of call is pretty far away (Puerto Rico) and the ship needs to sail at full speed to get their in time.  The good news was that we were so tired the first night it didn't keep us up at all.  We'll see how it goes the rest of the cruise and I will report back.
Category: Editorials