Whenever Disney develops a new ride, show or attraction there is always a lot of testing and reworking to make sure it is perfect for when guests arrive. One of the final phases of testing is called Cast Member Previews and, as the name suggests, Cast Members (aka Disney employees) will experience the attraction to help work out any kinks or problems. In most cases the Cast Member is allowed to bring family or friends along for the 'ride'. This not only provides Disney with some valuable feedback on how the ride, show or attraction functions and feels without having to impact the guest experience but it allows Cast Members a sneak peak before the general public experiences it.
Toy Story Mania at Disney Hollywood Stories is currently in Cast Member previews and I have some first hand info from someone who had a chance to experience this latest attraction. The following information was provided by the guest of a Cast Member and we are very grateful they decided to share this with us.
When you first enter the ride queue there are pieces from various children's board games.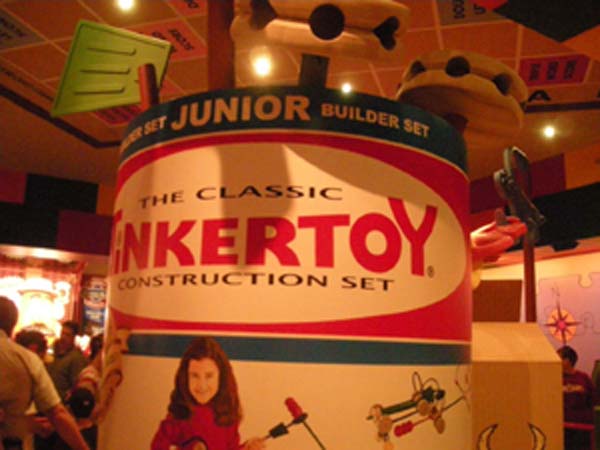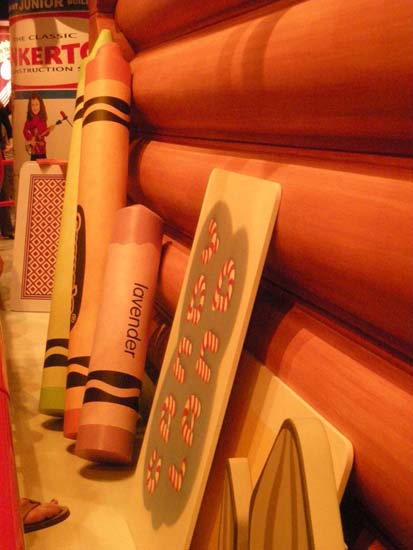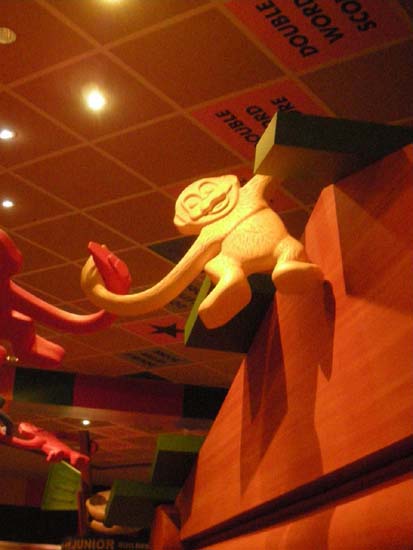 As you wind your way through the queue you come to Mr. Potato Head. He talks and reacts like Crush (from Turtle Talk with Crush) or the 'Monsters' (from Monsters Inc. Laugh Floor Comedy Club) but instead of being computer generated he is three dimensional and looks very 'real' – like he could walk towards you and shake your hand. He tells jokes, asks people questions and interacts in a very cool way.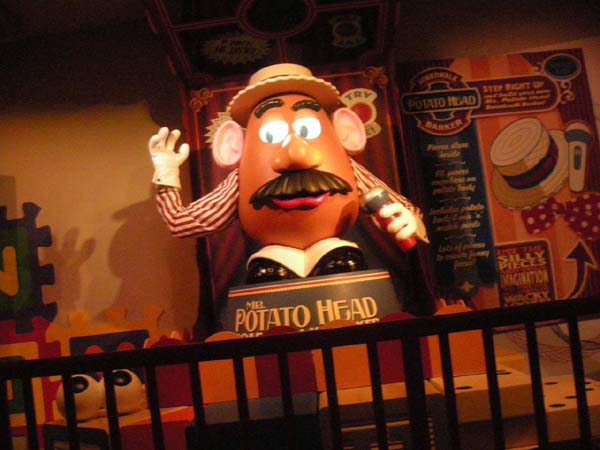 At the end of the queue line you have to climb two sets of stairs as you walk through the building. You pick up a set of 3-D glasses before you make the climb. Finally you go down a set of stairs and a CM assigns you to a line. There are lines numbered 1-8. The ride vehicles for this ride have a front and back. Two seats in the front and two seats in the back. The people in the front seat actually sit 'back-to-back' with the people in the back seat. Something that surprised me is that this isn't a continuous loading ride like Buzz Lightyear. The eight cars are moved to a 'testing' area for you to practice shooting your 'cannon'. These cannons have a string on them and you have to let the string come back all the way before you can shoot again. It happens quickly.As you go through the ride there are different point-value targets. There are separate screens for the front and back passengers each themed with characters or scenes either from or inspired by the Pixar film Toy Story.   You can see your total points in your car like Buzz.
The cars go through numerous screens that change. The items you shoot change as well. Some of the areas are a fun house, then a Barnyard where you shoot eggs at the targets. Then onto Pop and Win, Popping Balloons (Little Bo Peep is there). Next is Shoot Camp where you shoot balls at plates, then Buzz Lightyear Flying Tossers – shoot rings at aliens. Next is Rooten Tooten Shooting Gallery – more balls at targets.
Finally you come to a large screen where it shows you your total. Then as you are leaving there are two screens with the high point totals for the day.
There is a single rider line. The handicapped entrance is on the main level (no steps). Most shocking is it doesn't dump you out into a gift shop.
I really enjoyed it. I will be back for more.
Category: Disney World