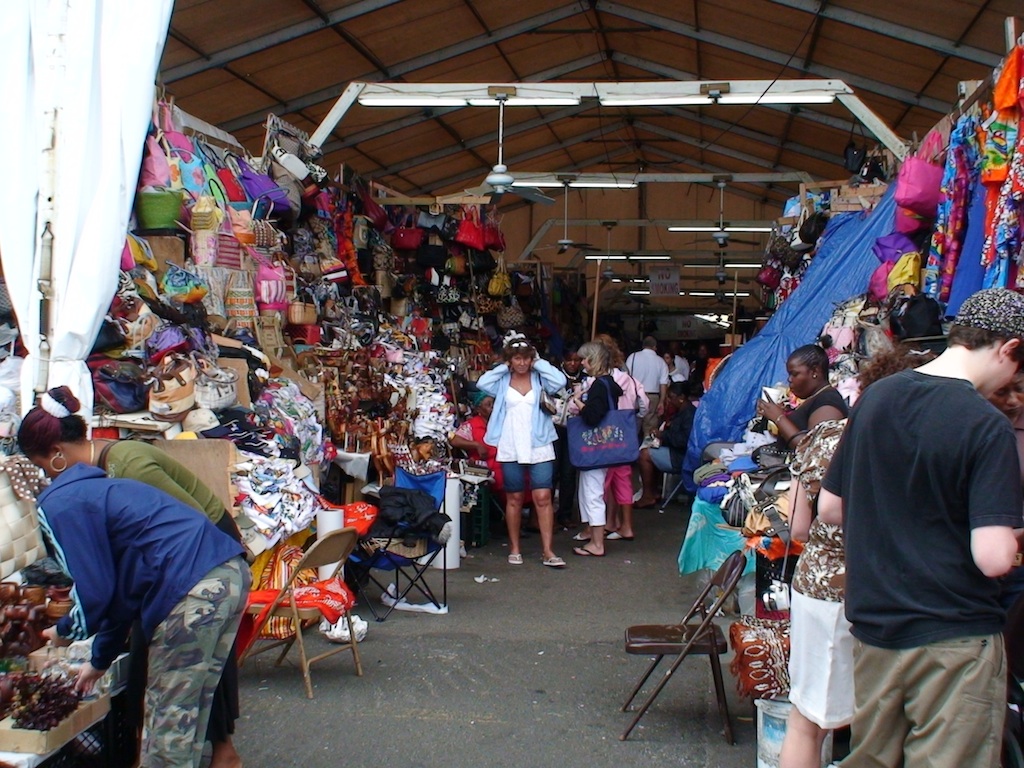 Okay, so this blog entry is a little late, I apologize. I'll be honest, the longer you're on this ship, the harder it gets to open a notebook or look at a cell phone. Also, the internet on this ship is LOUSY – it takes almost 45 minutes just to prep one of these blog entries.
BREAKING NEWS: Two, count them TWO stitches have now dissolved – oh wait, I'm being corrected – it's three stitches are now dissolved. This information was delivered to me with the kind of excitement usually reserved for birth announcements or the appearance of the Virgin Mother on a piece of grilled cheese. Apparently, my rather tepid reaction to this news was not to Scar's liking, so he pulled up his shirt, thrust himself about 2 inches away from my face and said "touch it". It seems that only if I ran my fingers across the scar would I understand the significance of this event. Not being one who considers himself a talent in the laying on of hands, I replied "Get away from me". For the record, we had no fewer than 7 scar checks yesterday. Thankfully, none of them took place on Nassau, which brings me to….

After my experience at the Contemporary last week, I started to think that I should really try and keep an open mind in going ashore in Nassau. Maybe I was too harsh – perhaps they had improved things since my last visit. After all, who would have guessed I'd give the Contemporary a 7.5 out of 10 when just weeks before I was calling for Disney to demolish the building and start again. So, I left the ship hopeful that maybe this time would be different, but alas, the magic of Disney isn't powerful enough to transform the island – in fact, it was even worse than I remember. They apparently have given up on trash collection as the streets were littered with garbage bags and their contents. I could take only a few minutes in the straw market because, all kidding aside, it was just sad to watch. Here are these people trying to make a living and because their government is apparently inept at every level, they are reduced to selling cheap t-shirts and bad Louis Vitton knock-off's.
Before the chorus of political correctness starts warming up, let me be very clear – I have nothing against the people of the Bahamas – it's the government who collects the taxes and port fees from the scores of ships that dock there and does nothing to improve the infrastructure of the place. No one wants poverty – it's thrust upon them by government failure, and this place is just a miserable failure. To make matters worse, we stopped in a few jewelry stores and I have to say, these people are completely out of their minds. Simple 14k Italian gold necklaces were $5,000, and that was after the '50% discount' from $10,000. My honest assessment is that unless you're planning a shore excursion over to Paradise Island, stay on the ship. If you're looking for good bargains on jewelry, do the 7 night cruise to St. Maarten/St. Thomas – they have real deals there, but the Bahammas – sorry – it is, in fact, the arm pit of the Carribean. You'll find better shopping deals at the stores on board the Wonder than you will in port – and I'm not the only one who feels that way. I did not talk to ONE PERSON who went ashore yesterday who enjoyed themselves – except those that went to Paradise Island, and even they had a few complaints.
Leaving Nassau is not as simple as just getting back on to the ship – there is a security line you need to go thru in order to get to the docks. I appreciate this, as they check both ship ID and photo ID very carefully before allowing you passage. It was here, however, that I discovered that I was apparently a fart magnet. Someone ahead of us in line (maybe it was the cousin of Chemical Ali) decided this was a good a place as any to give us all a sample of what was gestating inside his colon. Apparently, only some parents teach their kids that it's really not okay to let one rip wherever you happen to be. My father's parents can certainly be accused of this, as can the parents of at least two people on board the Disney Wonder. So, to all you Mom's and Dad's out there- stop reading this right now, go gather all your kids together, and have a nice long family talk about how FRIGGIN disgusting it is to fart in line while in public. Take your time…I'll wait……….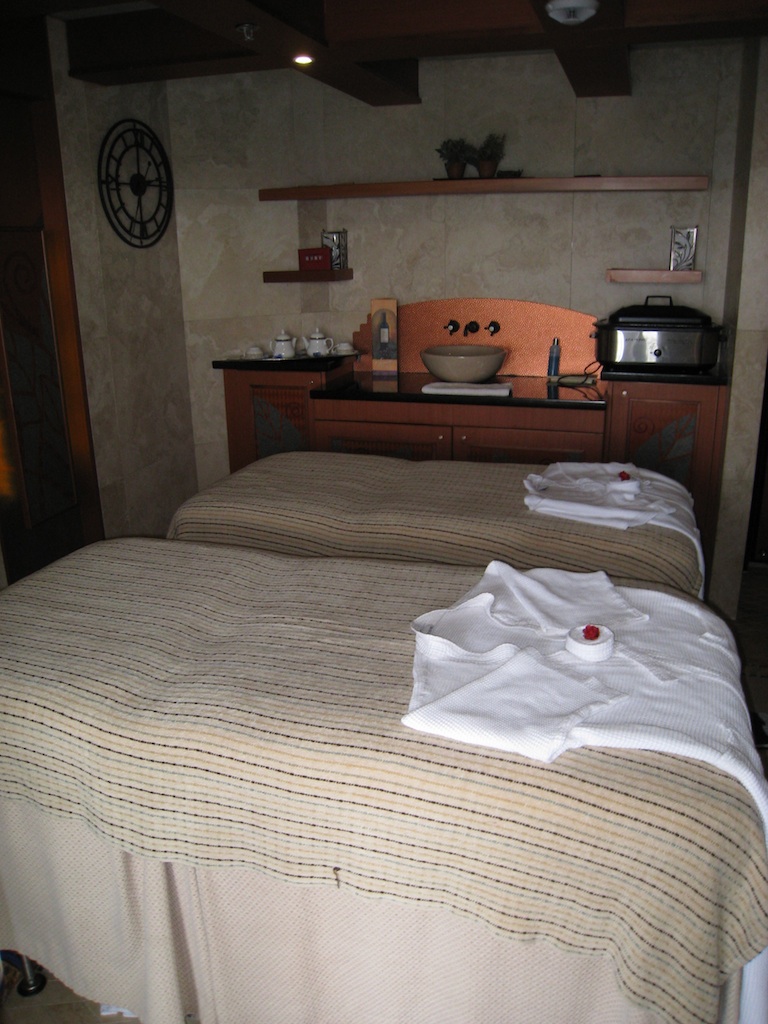 Thankfully, we had a spa appointment booked at 2:30pm yesterday, and what an appointment it was. As I previously mentioned, we booked the couples Villas treatment. This was 3 hours of unparalleled luxury, and simply the best spa treatment I've ever had – and that's REALLY saying something. This isn't cheap – by the time I was done with tips, product and the cost of the service itself, I was out nearly $900. BUT – it was worth every penny. You start off by getting into a private Jacuzzi, on the balcony of your villas. The villas itself is a work of art, but adding a Jacuzzi to this is simply too much for words. Now, I should mention that Walter and I did this same treatment on the Magic and it was wonderful, so for this particular experience to exceed my expectations is something special. The balcony has the Jacuzzi, as well as an oversize lounge for two. You start off by soaking for about 20 minutes in the Jacuzzi, which was a huge help to the poor SOB who had to try and massage the knots out of my back. After that, you step into the villas, where two massage tables are side by side. Our therapists were Billie (a beautiful young lady from Canada) and Tom (an equally beautiful young man from Canada, who just happened to be her boyfriend – they met at sea and were the most adorable couple). I'm also pleased to announce that Tom and Billie did not fart once during our treatment.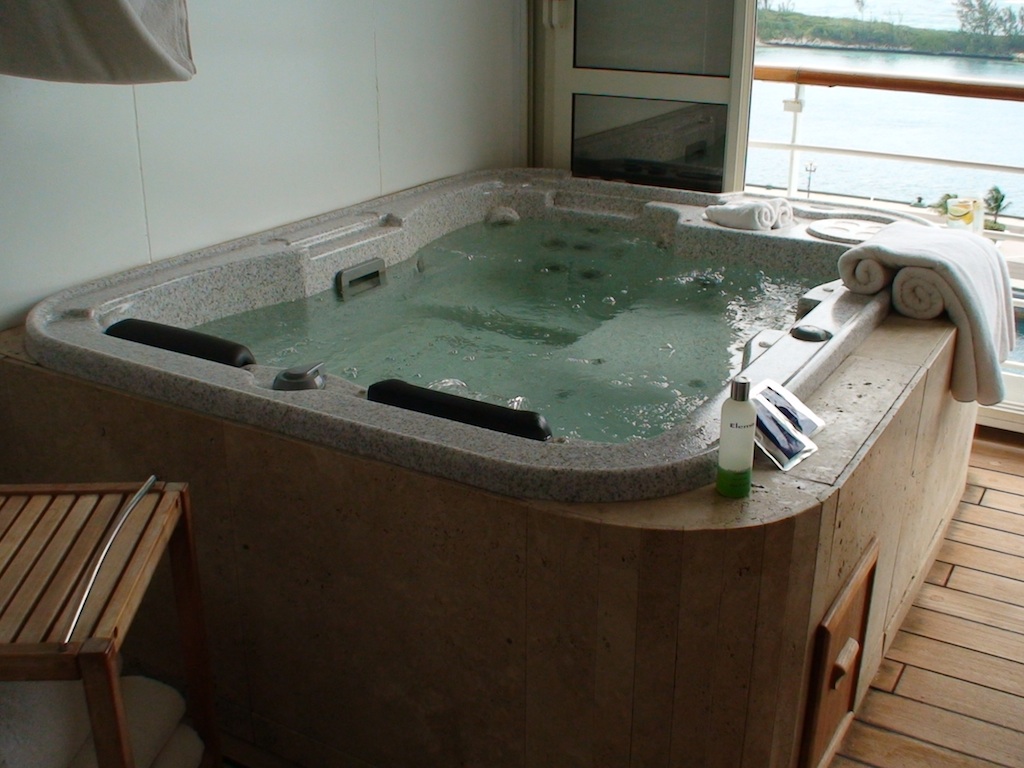 Walter had Billie – I had Tom (because Tom was going to need ALL his strength to work out the cantaloupe size knots that were all over my shoulders). After a fantastic 50 minute deep tissue massage, we were flipped over for an equally relaxing 50 minute facial. Embarrassingly enough, I snored thru the entire facial. Now, in my defense, I can count on one hand with fingers left over the number of times I've fallen asleep during a spa treatment. You may have gathered by now that I tend to be a bit on the 'high strung' side, so it really is very rare for me to relax to the point where I actually fall asleep, let alone start snoring. Poor Tom – I hope I didn't get any on him ☺
After the treatments, you retire to the lounge on the balcony, where you're treated to fresh fruit and a menu of herbal teas to enjoy while you contemplate just how good you feel. In all honesty, I'm not able "write" this experience with any justice. You just have to do it. Ladies: don't tell you husband what it costs up front – wait to spring that on him after it's done – because that's the only time he'll say "it was worth it". Also keep in mind that the price you're quoted in the Spa and what you'll actually end up paying are two different things. In this regard, the spa-bots are a little like used car salesman. They lure you in with one price, then nickel and dime you into another. But, even with that knowledge, I was a willing participant in this, so I have no complaints. Keep in mind that they usually end up bundling the tip into the 'base' price on the receipt your handed to sign at the end of the treatment.
We were too relaxed to dress for dinner last night – so we opted instead for casual dining at the Beach Blanket Buffet. In fact, dinner here is not a buffet, but matches the menu being offered in one of the regular restaurants. Last night the menu was from Animators Palate, and I was a bit of a pig – ordering appetizer, two entrée's and dessert – all of which were anywhere between okay, and 'Oh my god' good. This is a really nice alternative if you're like Walter and I and only have so much patience for getting gussied up night after night to eat dinner. Then again, we've been on the cruise so many times at this point, that the whole dining rotation thing and servers that follow you (like stalkers) is not as appealing as it was on our first time. I just want to relax, and dinner at Beach Blanket is a nice way to do it.
After dinner I had an interesting experience as I was waiting to get a chicken sandwich (insert oinking sound here) – a woman waiting on line for a hot dog (in more ways than one apparently) started making small talk. She was attractive, 40-something, and had two younger kids with her. At one point in our brief discussion she leans in and with a look I can only describe as downright creepy she asks me what I'm doing later tonight. I look over at her kids then lean in and say "My husband and I are going to bed early tonight". Talk about barking up the wrong tree – but c'mon – hitting on people outside the Mickey pool – that's just nasty. Perhaps she's married to Chemical Ali and is looking for a break from the noxious fumes, but c'mon.
Anyway, that was our night last night and now I'm getting ready to head back to BBB for another dinner – until next time….
Pete
Category: Disney Cruise Line, Editorials