It's cruel, I know – poor Walter had his surgery last Monday and I've now taken to calling him 'scar'. He's constantly showing me the surgeons handy work – yes – what I long for in the deepest recesses of my romantic mind is to stare longingly into the nylon stitches that now adorn my partner's once perfect torso. Already plans are underway as to how to avoid any permanent scarring – should we use vitamin E? Or will plastic surgery be required? Maybe there are Native American herbs that can do the trick (Walter is half Native American – I'm not allowed to say "Indian") Such are the trials and tribulations one can expect when you marry someone MUCH prettier than you are. All kidding aside, the poor boy needs this – he's had a rough week recuperating at home while I was frolicking around theme parks and throwing trash on the floor of my hotel room to see if housekeeping would find it.

We arrived at Port Canaveral at 12:05pm this afternoon – and before I go any further, let me say that Disney Cruise Line has to be the best run organization on earth. We pulled up at 12:05, dropped off our bags, parked the car, went thru security, checked our paperwork, got our 'Key to the World" cards and were on board by 12:35 – no lie!!
Something unusual happens to me the minute I enter the DCL terminal – I actually start to relax. For those that know me "relaxed" is not an adjective that comes up often when describing me. Historically, 'relaxed' usually requires serious medication. DCL is about the only place (other than Disneyland) where I really feel like I can unwind, shut the phone off and enjoy myself. Perhaps that's why this is somewhere close to cruise #20 for me.
Part of the ritual when I first get on board is to RUN to the Vista Spa and make my appointments for the week (and get my pass to the Rainforest Room). For those who haven't sailed on DCL, the Vista Spa is quite possibly one of the best spas on the ocean (and beats the hell out of many on land as well). It's run by the Stiener Corp., based out of London and the spa is just chock full of happy, pretty little Brittish women. I'm convinced these perfect creatures are manufactured in some factory somewhere, so I call them "Spa Bots". Imagine my horror when one of the Spa Bots was telling the man in front of me that there was only ONE massage appointment left – and he was taking it!!! Now, truth be told, I only booked this trip a few weeks ago and with all the medical drama going on, I never made any of my appointments on line, so I was at the mercy of what was available. My only option was to book a couples massage and facial in one of the Villas – a private treatment room with a balcony and private Jacuzzi. The price – a STAGGERING $475 – but, since Scar had a tough week, I bit the bullet and booked the room (and not for nothing, I could use a good massage myself right now).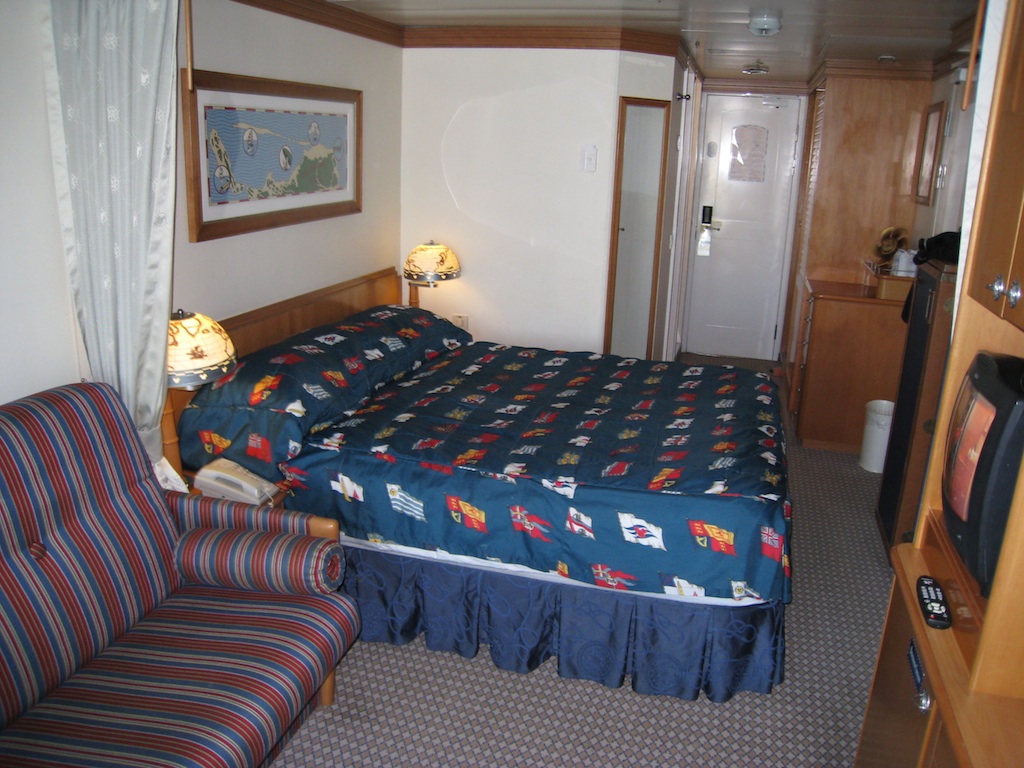 With those appointments made, we headed to our stateroom where I was very pleased to find H20 Spa products now being used on board. H20 has the contract with Disney for in room toiletries – the value and moderate resorts have the H20 plus line, the deluxe resorts have the H20 Aquatics line, and the Grand Floridian and DCL have the top tier H20 spa line. I just got done falling in love with (and purchasing) the H20 Aquatics product after my stay at the Contemporary, and I'm now forced to purchase as much of the H20 Spa product as I can reasonably carry home – this stuff is THE BEST. Yes, I'm a real queer when it comes to bath products, and I know my stuff – this is top of the line product and I'm happy to plunk down $15 for a tube of their shampoo. It's pricey, but much less expensive than the Elemis products being sold in the Spa (and much better if you ask me).
Our dinner tonight was at Parrot Cay, which is consistently the lesser of the four restaurants on board. Of course Palo is the pinnacle – followed by Tritons (Ariels if you're on the Magic), then Animators Palate, and finally – Parrot Cay.
Scar was particularly unimpressed with his dinner (a nasty salad, followed by Grouper for a main course, and a fairly bland Lemon Meringue tart). I fared a bit better with the Caribbean Chicken and French Toast Bread pudding, but honestly, it wasn't that great. The below-par dinner was only enhanced by the family sitting next to us whose two VERY OBNOXOUIS daughters kept throwing Disney Vacation Club beach balls all over the place. Walter was waiting for one of them to knock over his drink at which point I'm pretty sure Captain Happy would have spiked the two of them. Maybe it's just the way I was raised, but if I EVER acted like that in public, my Mother would have threatened me to within an inch of my life (okay, I did behave that way in public and she did threaten me to within an inch of my life). Why there are some parents who think it's okay to let their kids run wild like animals is beyond me – but hey, it's a Disney cruise and that goes with the territory – I'll let one of the spa bots massage away the memory tomorrow.
After dinner we headed over to the on board shops to buy Neosporin (have to protect the scars), and H20 (have to encourage the toiletry psychosis). It was here that I had my favorite moment of the day, and a bit of warning – this is a tad disgusting, and is very much 8th grade bathroom humor – you've been warned : As we're walking around the store, some guy let rip one of the nastiest, foulest, most vile farts ever released in public. Terrorists should hire this guy as a biological weapon. And I have a good point of reference on this – ask anyone who knew my father –the man was a walking gas bag. I couldn't help myself – the stench was so foul I just blurted out "Go see a damn doctor about that" – in doing so, the crew member working behind the counter nearly doubled over in hysterics. Clearly, something evil had crawled up this guys butt and died several years ago – either that, or he also had the Grouper at Parrot Cay.
Once we escaped from Chemical Ali, we headed back to the room where Scar prepared for slumber. After another review of the scars and stitches, I put him to bed so I could try and write this blog entry. I was interrupted not once, not twice but three times. "Where's the big blanket?" "These pillows are too fluffy", "I need a blanket for my feet". I quickly reminded him that someone got away with pushing a guy off the balcony of a Royal Caribbean cruise once.
So Scar is at peace and snoring like there's something inside of him trying to get out, I'm on my Mac writing and the ship is gently rocking as we head towards tomorrows destination – the arm pit of the Caribbean – Nassau. Even though I almost never leave the ship in Nassau, I'm making an exception this time as I'm in the market for a new camera and I want to see if I can find a good deal. I promise that experience will be fodder for tomorrow's entry. Oh, and for those of you who in the colder regions of the country who hate my temperature updates – it was 49 degrees in Orlando this morning J
Until tomorrow,
Pete
Category: Disney Cruise Line, Editorials