I've forgotten how exhausting a day at Disney World can be. After getting up yesterday at 5:45AM so I could be at least a little coherent for a 7AM character breakfast at Chef Mickey's and following that up with a full day at Epcot – well, I was too tired to breathe last night. It's also the first time since I was 8 that I went to bed at 8pm!!
Scheduling a character breakfast at 7am is one of those vacation planning things you do that sounds great when you plan it, but when it comes time to actually do it you start asking yourself that age old question "am I out of my friggin mind???". Maybe on some level I knew that I would be miserable and that's why I made the whole team show up to join me. Then again, being a 43 year old man going to a character breakfast by himself has "Dateline NBC" written all over it. It's somehow a little less creepy if you're part of a larger group.
I'm sure my team was not the least bit amused by having to attend this little soiree, but like the troopers they are, everyone was there on time. Notice how I didn't say 'bright eyed and bushy tailed'. There were a lot of heads buried in IPhones seemingly checking email, but I think Kevin was repeatedly typing "Kill Pete in his sleep". We were near the front of the line for check in at 7am, yet for some inexplicable reason, we were left waiting nearly 20 minutes to be seated. This is what we here in DIS land call a 'death wish' for a cast member – to leave me waiting for 20 minutes when I'm hungry, tired and haven't had my coffee yet. Corey went up to the podium and nicely inquired about when we would be seated, and was pretty much blown off. 5 minutes later I went to the podium and I think I scared the host (I have a bad habit of doing that) – but c'mon – the restaurant was freakin EMPTY and EVERYONE else was seated – the six of us were just sitting there like idiots. Maybe it was the aforementioned 'dateline' aspect.
Of course Bob HAD to have his picture taken with each character….this picture was my favorite – I told him to suck in his gut. The caption for this photo is "What is Mickey doing with his other hand??"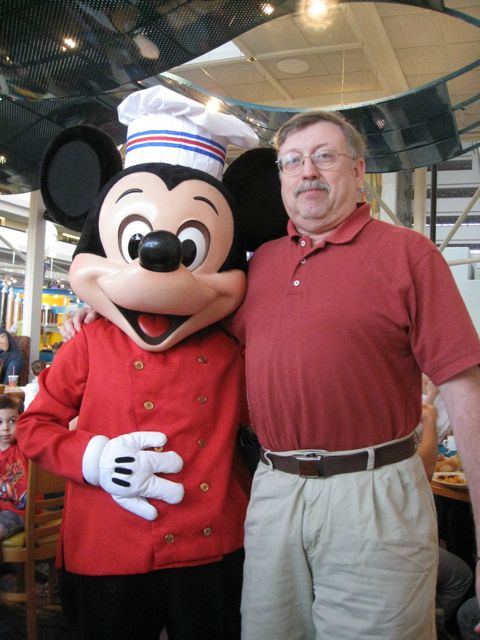 I will say that I really did enjoy the breakfast though. The food was good – not great, but above average – a great selection of items on the buffet and everything was very fresh. Also, if you want to get time with characters, this is a great place to do it. Characters were in abundance (Mickey, Minnie, Goofy, Donald, Pluto) and they would spend as much time at the table as you wanted them to. Really, I had a good time.
After breakfast, Corey & Julie were off to Port Orleans to check in and start their review, and Bob and I took the monorail over to Epcot, which brings me to my two favorite moments yesterday….
On my way into Epcot, I stopped to allow security to check my camera bag. In the front pouch was my medicine organizer which contains my multi-vitamin, Prevacid and Blood Pressure medication (it SUCKS being fat). The bag checker started telling me that if I just asked God every morning to heal me that I could stop taking medication. Okay, it's 9am, and I've already been up for 3 hours and I have Ezra the Bag Check Prophet giving me spiritual guidance on my way into Epcot. I was polite and told her that God answered my prayers by sending me good doctors and even better medication. Can you say NUT JOB!
This was followed by my next favorite moment as we were getting on to Spaceship Earth. For no apparent reason the Cast Member assisting us in getting into a car told me that he wanted to buy me a beer later. Now, there was absolutely no interaction between us other than him asking us "how many in our party?" – so where this charming non-sequitur came from I'm not sure. But it suddenly became clear to me that Disney must be meeting it's hiring quota by sifting thru the local halfway house.
Spaceship Earth has always been one of my favorite attractions, and I genuinely liked the updates they made to the ride. The touch screen technology in the cars reminded me a bit of the old Horizons attraction (my ULTIMATE favorite), and the enhanced animatronics are a nice touch. The people that were interviewed about the attraction on the local news the other day weren't as impressed, but hey – opinions are like…. oh, nevermind 🙂
Lunch was at Tuto Italia and let me state publicly that this will be the last time I don't follow one of Kevin's dining reviews. He pegged this one dead on. Food was just not good, and to pay $70 for lunch for two people, the food should be BETTER than good. I won't bother with a review – like I said, Kevin had this one pegged. Avoid this place.
Dinner last night was at the soon to be shuttered Concourse Steak House on the 4th floor at the Contemporary. They are closing this restaurant in May to make way for Chef Mickey's Express which will become the 'food court' so to speak for the Contemporary. A new upscale restaurant called "The Wave" will be opening in early June (that will be on the first floor). From what we understand, the Wave will be quite the space – offering steak and fish along with a variety of gourmet dishes. I've always enjoyed the Concourse Steak House and will be sorry to see it go, but progress marches forward. If it wasn't for the fact that Disney has a bad habit of closing good restaurants and replacing them with garbage, I might feel a bit more confident, but we'll have to wait and see.
Category: Disney World, Editorials