With Groundhog Day only a day away, Punxsutawney Phil has decided to try and squeeze a short getaway in at the Universal Orlando resort.  The country's most popular weather forecaster was recently spotted on the Hollywood Rip Ride Rockit attraction listening to some of his favorite music.  No one seems to know when Phil arrived, but all indications show he will be returning to Gobblers Knob in Western Pennsylvania before 7:00 am on February 2nd, Groundhog Day.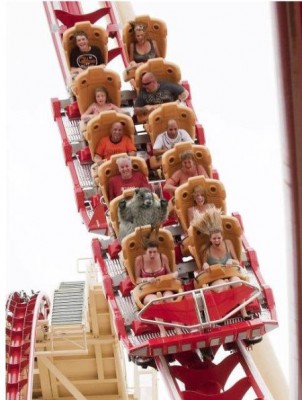 Photo courtesy of the Universal Orlando resort
Who knew Phil was a big theme park fan?  Predictions seem to favor Phil seeing his shadow on Groundhog Day, making many midwest and east coast residents unhappy with six more weeks of Winter to follow.   Considering the current weather conditions throughout the country, let's hope Phil makes it back in time to make his prediction!  Maybe he's having too much fun and will decide to postpone his prognostication?
Category: Universal / Sea World